Donna Huaman-Castillo and her daughter, Cipriana Castillo, moved into Railyard Flats on Saturday with just their suitcases and a dream about having a new home to start the next chapter of their lives.
Huaman-Castillo, who does not own a car, planned to walk daily to her new job at a nearby retailer starting this week. Her daughter will start studying cinematic arts at the Institute of American Indian Arts in the fall.
The lights went out on their dream late last week when an electrical shortage left the 50-plus apartments in the building, which opened in 2018, without power.
Earlier this week, the management company for the property informed tenants the problem is so serious they may have to move out — for at least one month and perhaps up to three.
"We have experienced unforeseen electrical issues and we are working with contractors on a permanent solution," Matthew Hinds, the community manager for the property, wrote in an email Tuesday to The New Mexican.
"Due to back order and supply chain issues, it could be a long term project," he wrote. "We understand the inconvenience this has caused for many of our residents and as a result, we are letting those impacted break their leases without penalty. In the interim, we have placed them in hotels."
The source of the electrical problem is unclear.
Several tenants interviewed at the property Tuesday said they were told to prepare to leave within two weeks.
That leaves Huaman-Castillo, her daughter and others with few choices as they strive to find lodging in hotels or short-term rentals — or find new housing altogether.
"I don't know what I'm going to do," said Huaman-Castillo, who moved to Santa Fe from Texas over the weekend, leaving her furniture and other belongings in a storage unit in Texas. "You can't find an apartment in two weeks."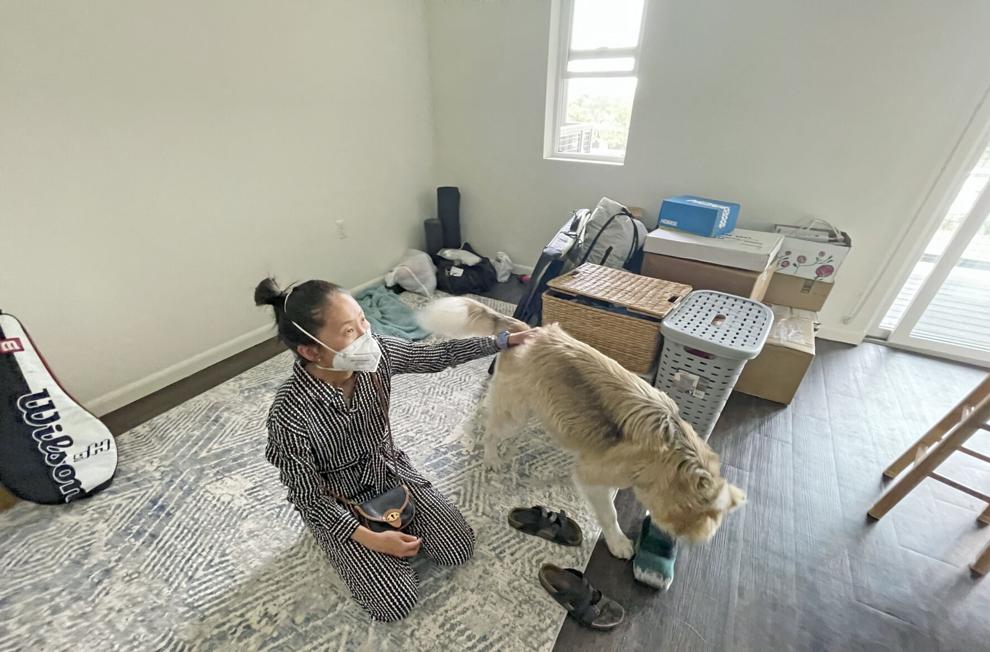 Some residents already have moved into hotels and are finding nightly prices pushing the $300 mark, said Railyard Flats tenant Helen Wang, who moved into the complex two weeks ago.
And who, she asked, can afford a $300-per-night hotel room for very long?
That the management company is willing to pay for rooms, deducting it from residents' rent payments, doesn't help when you have to come up with money for a hotel right away, she said.
"I don't have unlimited credit," said Heather Aronson, who has lived in the building for four years.
That's not the only dilemma facing the tenants, who were still awaiting more details about the situation Tuesday evening. They planned to meet later that night with representatives from Greystar, a property management company that operates but does not own Railyard Flats.
Residents can stay in the building where lighting still works in the hallways and water is accessible, but they have no air conditioning, no use of washers and dryers, no stove to cook on, no refrigerator and no lights in their homes.
There are a lot of candles being lit, Wang and others said.
Those staying on-site without power and working from home — as Aronson does — must go to the complex's community room, which is hardly private.
Residents wonder: If they do move out for one, two or three months, do they leave their belongings behind? Will everything be safe in what will essentially be a vacant building?
And what if the still unspecified electrical problem is not resolved? What if it takes more than three months or they can never move back?
"We can't plan," said resident David Carter.
Tenants said the problem first surfaced Thursday, though most residents did not learn until Friday there was an electrical outage. They said they were initially told they might go a week or so without power.
Ray Sandoval, a spokesman for Public Service Company of New Mexico, said it is up to PNM's clients to determine how long it will take to make repairs. PNM will then inspect and approve the repairs or sign an affidavit saying it will take responsibility for the work.
Sandoval could not confirm power was out at Railyard Flats without the client's permission, he added.
For now, residents are considering their options.
While some have found hotel rooms, that may be a challenge for others — and not just because of the money involved. The hotel occupancy rate in Santa Fe was nearly 77 percent this week, with the average price of a room nearing $200 a night overall — and $277 downtown. The city's tourism season, which leads to full hotels, has just begun, which means many hotels likely have lots of reservations.
Wang, who works as a corporate project manager and hoped to find work in Santa Fe, said she is considering moving to Washington state to look for work there instead.
One couple said they were planning to spend some time living with friends in another city until the problem is resolved.
Another resident said based on the Railyard Flats' situation and a recent attempted armed robbery he faced, he is leaving Santa Fe and moving back to his home state of Virginia.
As for Huaman-Castillo, there may be fewer choices. She said she cannot afford a hotel for long. While her daughter plans to live in the dormitory on the IAIA campus, that's still a few months away.
As tenants discussed banding together to negotiate terms with Greystar representatives or possibly file a lawsuit, she said perhaps she's been pulled into the fray to play a role.
"I'm an activist at heart," she said. "Maybe it's why I'm supposed to be here."