MADRID — Bagpipes played as a parade of dressed-up donkeys, kids with water guns, belly dancers and tractors made its way through Madrid on Thursday.
The village's annual Fourth of July Parade, which always follows a baseball game — the Madrid Miners vs. the East Mountain Riff Raff — maneuvered along the half-mile stretch of N.M. 14 that makes up Madrid's downtown. The whole thing lasted only about 20 minutes.
"Blink and you'll miss it," said Honore Hackett, president of the Madrid Merchants Association, said with a laugh a couple of days before the event.
Hackett called it "the most fun" and "most quirky" celebration honoring Independence Day. "This was one of the best parades we've ever had," Hackett said.
During the procession, a man wearing an American flag as a cape zoomed up and down N.M. 14 on a dirt bike, performing tricks.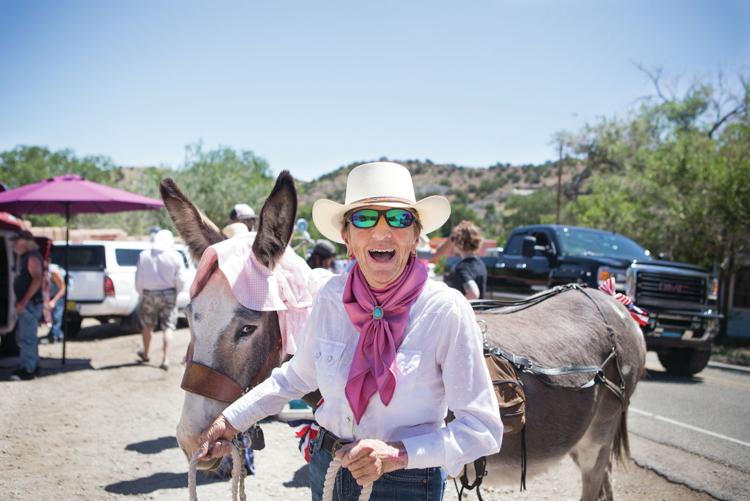 Two donkeys — one covered in flags, the other wearing a pink bonnet — trotted down the street.
And a woman seated in a bathtub with a bubble machine tossed candy to onlookers.
But most folks said there's also a deeper meaning behind the procession in the current political climate. As the U.S. sees a trend of dwindling patriotism, according to recent studies, participants and spectators of Madrid's Fourth of July Parade said it's increasingly critical to embrace freedom and take pride in being an American.
"We're here because we love our country," said Liz Paterson, an artist from the Spirit in Art gallery. She participated in what she dubbed a "peace parade."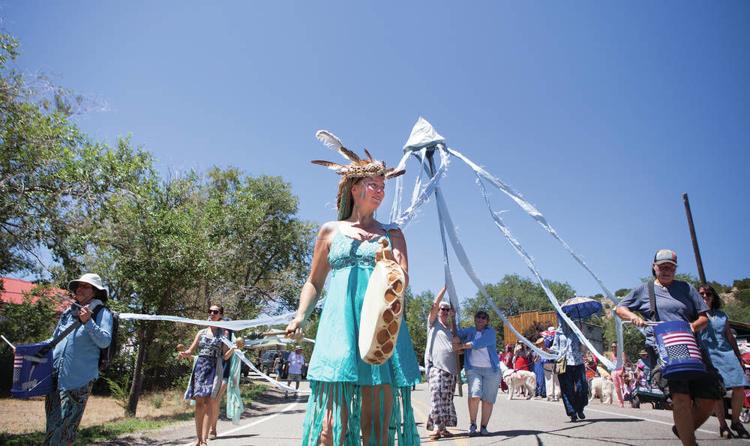 Joined with other artists from the Madrid area, Paterson held a blue banner with white doves, symbolizing peace, and sang songs such as John Lennon's "Give Peace a Chance."
On a day when President Donald Trump reportedly spent millions of dollars sending fighter planes flying over Washington, D.C., and had tanks and other armored vehicles in a display of the nation's military might, Paterson said the group's efforts to show a different brand of patriotism were vital.
"I think a lot of people here are horrified that tanks are being rolled through D.C. today," artist Lisbeth Fuge said.
Marching in Madrid's parade, she said, is "counteracting the tanks thing" and embracing that "peace is patriotic. … It doesn't get more patriotic than that."
For others, the parade was a reminder to celebrate democracy and liberty — things "we can take for granted," said Cheryl Wainscott, who was visiting from the San Francisco Bay area.
"We have a lot of things to work out," she said of the U.S. "It's important to be alert and pay attention."
Still, Wainscott added, "We're so lucky to have the freedom that we do."
Daniel Coyne, a volunteer with the Turquoise Trail Fire Department, said Thursday's festivities were a reminder that "it's important to separate patriotism from politics."
For 23-year-old Jenny Davis of the Ampersand Sustainable Learning Center, an eco-friendly residential community just north of Madrid, the short-lived procession was a way to "reclaim the Fourth of July in a way that feels relevant to us."
While shaking a maraca beneath a large, handmade rain-cloud puppet the Ampersand group created, Davis said the holiday is "normally about partying. … It's important to be conscious of how we're celebrating."
"Parading is a way of mobilizing," she added. "It's a positive movement in a positive direction."