ALBUQUERQUE — A raucous group of protesters yelling and screaming into megaphones outside the Albuquerque Museum's outdoor amphitheater disrupted Gov. Michelle Lujan Grisham's formal announcement Thursday that she's running for a second term in 2022, forcing the governor to cut her speech short and the event to end early.
Lujan Grisham, who took the stage to chants of "MLG!" from her supporters as she pumped her fist in the air, immediately made light of the situation.
"I know it's going to be loud, and I just have to say I'm sorry that we picked the same location that the QAnon lizard people meeting was at," she said, laughing.
"In spite of that," she added, referring to the boisterous crowd of protesters, "I'm running for reelection for another four years. … We're going to do what we do best. We're going to protect New Mexico, and no amount of noise will deter, intimidate or create a vacuum in leadership that makes a difference for every single New Mexican this day and every day. Can't be done. Can't be done."
Though Lujan Grisham had indicated in December she would seek another four-year term, she made it official during Thursday's kickoff event, which drew dozens of noisy protesters, several of whom were holding homemade signs disparaging the governor. The crowd also included anti-vaccine activists. The group screamed, yelled, booed, chanted, shouted and created a steady stream of noise with megaphones and what sounded like police sirens.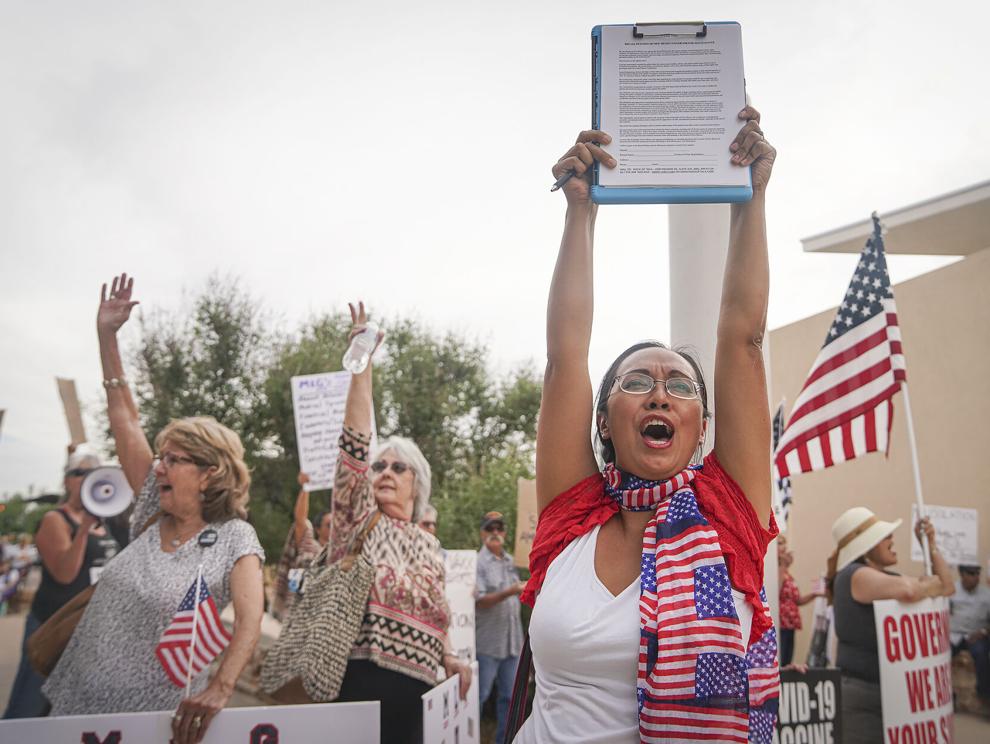 Leanna Derrick, a retired Albuquerque Public Schools teacher, said she helped organize the protest through social media.
"She put out her own advertisement saying she's going to talk about her fine accomplishments and all the good things she's done for New Mexico, and we are standing together because we disagree," she said, referring to the governor. "We believe she was a mistake for New Mexico."
Derrick described the group of protesters as "constitutionalist New Mexicans."
"Our Constitution has been marched all over because the World Health Organization and the pandemic has used emergency guidelines that overran our Constitution," she said. "We want our constitutional rights back."
John Ramacciotti, a gun-toting 35-year-old intensive care unit nurse who was wearing a black-and-white T-shirt emblazoned with "FU MLG" on the front, said the group represented people from "all walks of life."
"You have every type of race and religion and creed and different socioeconomic classes here," he said. "These are people that all feel strongly that MLG has done a terrible job at running this state."
Ramacciotti said the governor's public health orders, which included business shutdowns and remote learning for schoolchildren, hurt scores of New Mexicans.
"She's being praised by [President] Biden for being one of the best people for locking down this country, and she's being applauded for that, but we actually see that as tyranny because she actually forced people to not be able to work," he said. "I feel like she really has hurt our people, our kids."
Despite the commotion, Kendall Witmer, Lujan Grisham's campaign spokeswoman, she the governor accomplished what she set out to do: announce her reelection bid.
"The governor certainly made the shortest speech she's ever going to make," she said, adding that Lujan Grisham cut her speech short because she didn't want "our ears blown out" from the protest.
"But she made her point, and it's that she's delivering for New Mexico. She's focused on New Mexico, and she is running for reelection off of an incredibly successful tenure," she said. "The governor is going to continue to lead in a compassionate and science-driven way, and we certainly will continue to reach out to every New Mexican."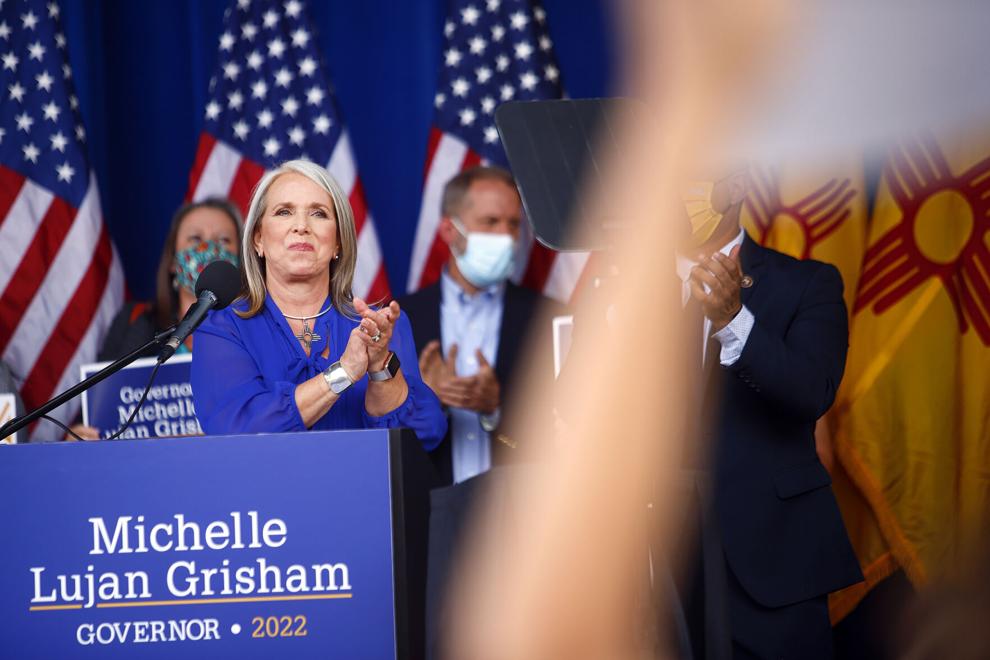 The governor's compassion is among the reasons Marshall Martinez, executive director of Equality New Mexico, supports Lujan Grisham's reelection.
"Having been an openly queer person in New Mexico since I was 16 years old, I have never experienced the level of compassion, the level of drive, the level of ferocity to protect queer and trans people that we've had under this administration," he said.
The event drew a who's who of New Mexico Democrats, including Lt. Gov. Howie Morales, U.S. Rep. Teresa Leger Fernández, Congresswoman-elect Melanie Stansbury, state House Speaker Brian Egolf, state Senate President Pro Tem Mimi Stewart, state Senate Majority Leader Peter Wirth and State Auditor Brian Colón.
"I think she can make a very strong case that she has led in the most difficult time in our 109-year-old history," Colón said. "She's got a track record of success, and she's celebrated coast to coast as having been a leader when it came to addressing the issues that were presented in New Mexico because of the pandemic."
Colón said the governor also has "already started turning the corner" on economic development, job creation and how New Mexico will move forward after the pandemic.
"For me, her leadership has been clear, and we hope to have that continuing in New Mexico the next 51/2 years," he said.
Before the governor took the stage, Jessica Velasquez, chairwoman of the Democratic Party of New Mexico, told the crowd of supporters that Democrats were off to a good start with Stansbury's "landslide victory" Tuesday in the special election for the 1st Congressional District.
"This is just the beginning," Velasquez said. "We know that with determination and hard work, we can and will continue to elect Democratic leaders up and down the ballot in every corner of New Mexico, and that begins with our powerhouse candidate at the top of the ticket in 2022: Gov. Michelle Lujan Grisham."
Stansbury, Leger Fernández and other high-profile Democrats also took the stage, but they, too, were at times drowned out by the noise on the other side of the wall, forcing them to yell into the microphone.
"Obey your master!" a man screamed into a megaphone at the top of his lungs when Velasquez was addressing the crowd. "Give her a standing ovation, you sheep! Obey your master! Obey!"
"I used to be an eighth grade school teacher; I'm having flashbacks," Velasquez joked. "Although I have to say, my classroom was much calmer and much more respectful."