A 233-unit apartment complex proposed for Airport and South Meadows roads would be the first market-rate project in Santa Fe to include units with rents meeting federal affordable housing guidelines.
The Casa Azul development team of Raul Ramirez, Richard Valdes and Ben Teasdel chose to meet the city's 15 percent affordable housing requirement rather the pay an in-lieu of fee option that all other apartment projects have chosen since the city offered it in 2016.
"I'm totally passionate about affordable housing," Ramirez said. "We may possibly even do 20 percent. It just makes sense for Santa Fe. I don't think it hurts the project. It just benefits it. The in-lieu just polarizes it. I'm more of a believer in blending everybody together. Why not have both together?"
Alexandra Ladd, director of the city's Office of Affordable Housing, confirmed Casa Azul, 5750 Airport Road, would be the first apartment project to integrate the affordable units in the same building as market-rate apartments.
Casa Azul is one of two large, south-side apartment projects expecting to start the permit application process with the city in the coming months. Villa Sendero Apartment Homes proposes 252 units at the eastern boundary of Fashion Outlets of Santa Fe. Both are represented by Jennifer Jenkins, a principal in the Santa Fe project management firm JenkinsGavin.
Casa Azul and Villa Sendero would be among the five largest apartment complexes in Santa Fe within the 17 apartment projects currently in various phases of approvals, permitting and construction.
The 355-unit Madera Apartments, which would be the largest apartment community in Santa Fe, is expected to start construction in spring near South Meadows and N.M. 599. The nearby 240-unit South Meadows Apartments are shooting for a February-March construction start, with the 240-unit Turquesa Apartments behind Santa Fe Place mall starting construction later in November.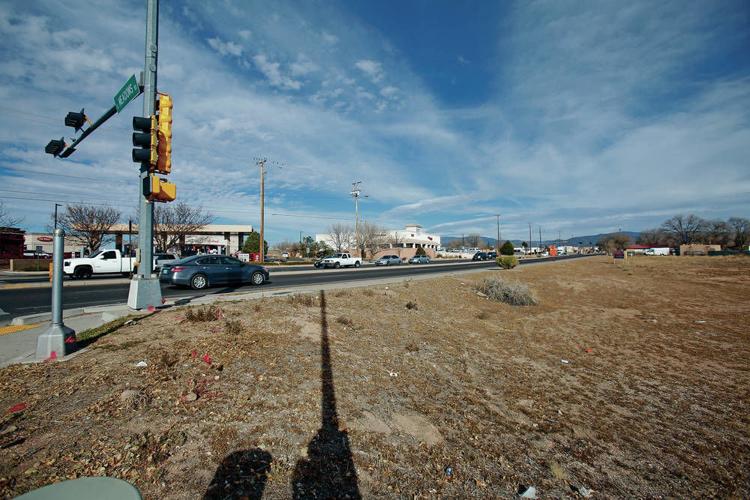 Ramirez expects a January-February 2021 construction start for Casa Azul, which will be a mixed-use project with a medical office and cafe in separate buildings along Airport Road.
Ramirez hopes to have a coffee shop lined up to announce when the project reaches the City Council, which Jenkins believes could be in February or March. Casa Azul is planned for the southeast corner of Airport Road and South Meadows on property zoned since 1997 for a supermarket and long owned by Smith's Food and Drug until a couple years ago. Ramirez will ask to remove the supermarket requirement.
The 46 studios will measure about 450 to 500 square feet, the 114 one-bedrooms about 600 square feet and the 73 two-bedrooms at 700 to 800 square feet. Ramirez expects the average rent to be about $1,300 a month.
"I don't want $2,000 units," he said. "I want top rents to top out at $1,500 or $1,600."
The 35 affordable units, based on the current federal affordability schedule, would be priced at $385 for tenants earning 30 percent to 50 percent of the area median income, $641 for 50 percent to 65 percent, $833 for 65 percent to 80 percent and $1,025 at 80 percent.
He expects a tenant mix of millennials, gallery owners, families and young professionals.
"I wanted to bring a big-city mentality to Santa Fe," he said. "Big cities are moving to micro units."
Casa Azul is planned to have one three-story structure wrapping around two courtyards with a swimming pool and hot tub in one courtyard and a more natural, landscaped setting in the other. The complex also has plans for a 2,100-square-foot gym.
"We want people who live there not to have to join a gym," Ramirez said
Villa Sendero at 5132 Beckner Road, on the other hand, has plans for 10 three-story buildings in a garden-style format with 114 one-bedroom units of about 700 square feet priced at about $900; 120 two-bedrooms at around 850 square feet and $1,100 to $1,200; and 18 three-bedrooms at about 1,100 square feet and about $1,600.
The developer is Tekin & Associates of Frisco, Texas, doing its first Santa Fe project. Jenkins expects the project to break ground in spring and take about 18 months to complete.
Villa Sendero borders the Fashion Outlets of Santa Fe to the west and the Santa Fe Community Based Outpatient Clinic veterans center to the east. The year-old Presbyterian Santa Fe Medical Center is one-third of a mile to the east.