A cloud of uncertainty hung over Santa Fe on Thursday afternoon as the city awaited the start of a downtown demonstration over the hot-button issue of monuments to controversial figures in history.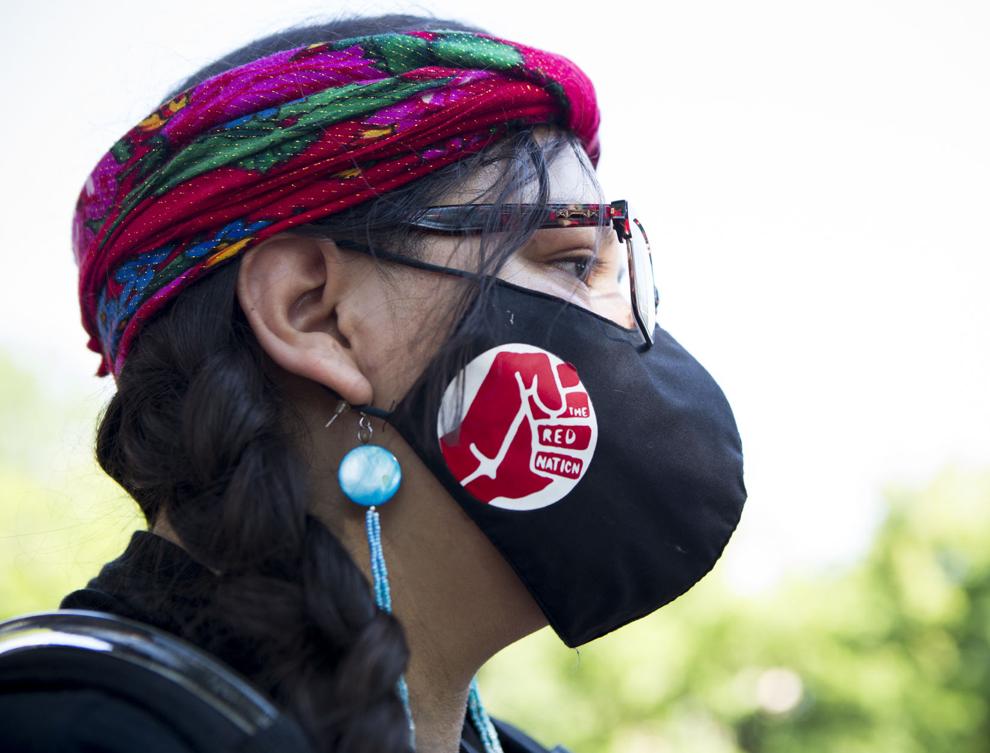 Indigenous activists had planned to stage a peaceful protest calling for removal of a war monument on the Santa Fe Plaza just days after a shooting marred a similar event in Albuquerque. There were some concerns tensions could escalate here.
But after Mayor Alan Webber announced Wednesday he planned to call for the removal of the obelisk, as well as two other monuments considered by many as symbols that glorify conquest and violence, event organizers announced they would instead hold a celebration.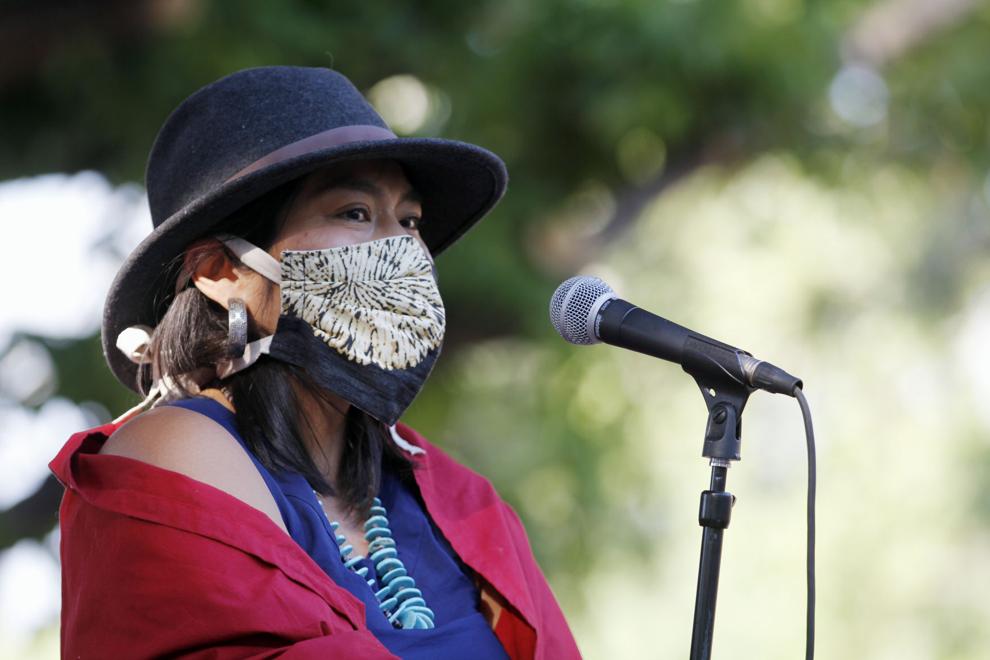 In a lot of ways, that's just what they got.
Several hundred people — a diverse crowd of Native Americans, Hispanics, African Americans and Anglos of all ages, most wearing face masks as protection from the novel coronavirus — gathered on the Plaza for two hours of talks that focused on social justice and reconciliation.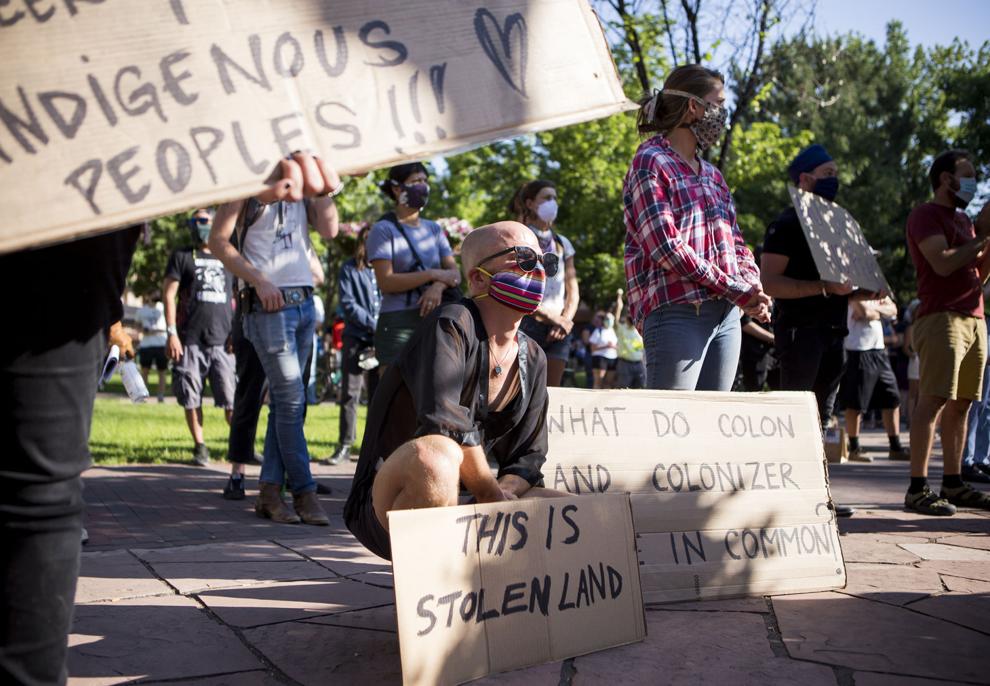 Jade Begay of NDN Collective, an indigenous-led activist group that had helped organize the celebration, along with the Three Sisters Collective and The Red Nation, cited a new era for civil rights.
"I want to acknowledge we are here because of the movement for black lives. They have created this momentum, and we are all a part of it right now," Begay said, referring to the Black Lives Matter demonstrations across the nation, including in Santa Fe, amid outrage over the death of a black man in police custody in Minneapolis last month.
Activists from a coalition of organizations lead a gathering on the Santa Fe Plaza celebrating the removal of some monuments around Santa Fe and rally support. Recorded live.
Previous protests in Santa Fe and Albuquerque in the wake of George Floyd's death have drawn armed men who said they were part of a civilian militia. But such groups did not attend Thursday's event.
Santa Fe police monitored the rally from around the perimeter of the Plaza, and Chief Andrew Padilla watched it unfold from under the portal at the Palace of the Governors.
Members of the Three Sisters Collective credited volunteer peacekeepers with helping to maintain a calm atmosphere as an alternative to a heavy police presence. The volunteers, wearing neon vests, stood at each entrance to the Plaza. There also were volunteer medics on hand.
While the Plaza rally was free of conflict, two men climbed the obelisk and marked it with red paint and handprints.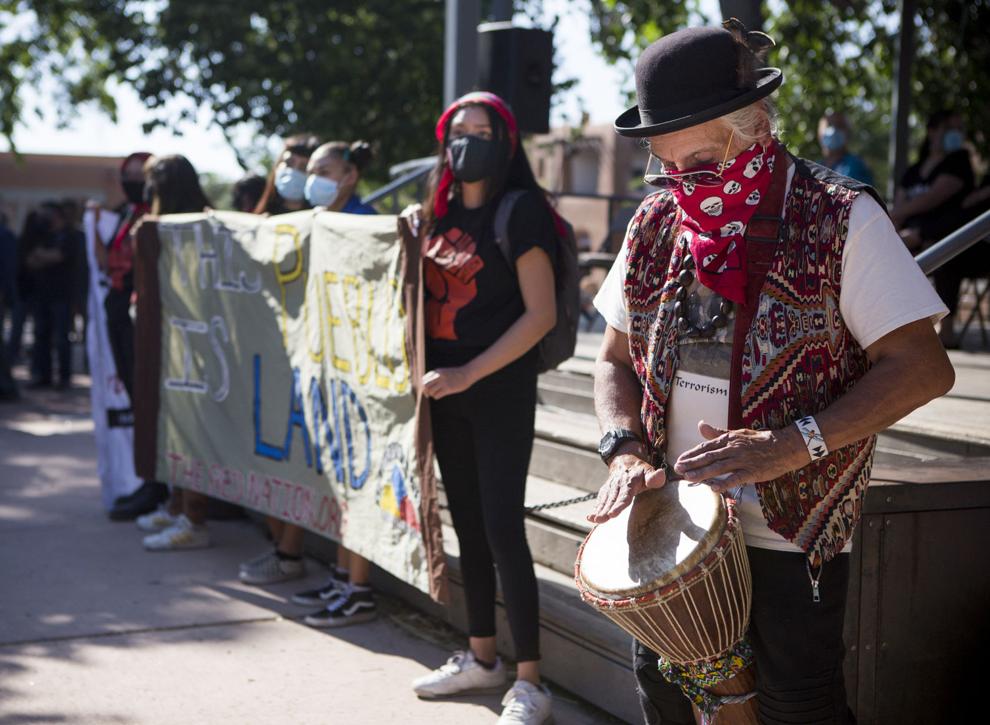 Some 15 hours earlier, the more than 150-year-old Soldiers Monument — dedicated to Union troops and soldiers who had fought in conflicts against Native Americans — had been damaged by a state-contracted crew in a failed attempt to remove it overnight.
A city crew later hauled away a statue of Spanish conquistador Don Diego de Vargas from nearby Cathedral Park. Webber said a third monument, an obelisk dedicated to Christopher "Kit" Carson, who led military campaigns against Native people, also will be removed.
Webber was asked to speak at Thursday evening's event following his announcement a day earlier that he would honor the groups' requests to remove the monuments from city property.
"Freedom is not a noun. Freedom is a verb," the mayor told the crowd. "Freedom is not something we have. It's something we do. It's something we practice or we risk losing it."
He asked the crowd to "think about the long march to freedom that we've all been on; the people who have been lost over centuries to violence, bigotry, hatred across all parts of Northern New Mexico and the country; the recent deaths that we mourn, the people we have lost to hatred."
In a statement issued ahead of the rally, Webber said, "The Mayor continues to call on all members of the community in Santa Fe to maintain the peace in our city; to reject expressions of anger that involve violence or hatred.
"The Mayor is asking our community to use this moment to engage in respectful dialog about our city's past and prayerful reflection on our city's future; and to embrace peace and reconciliation as a true fulfillment of the shared values of the people of Santa Fe," the statement continued.
Webber also signed a "proclamation of emergency — civil unrest from institutional racism," directing the city government to immediately remove the statute of de Vargas, which the city did at daybreak.
The resolution directs the city attorney and city manager to work with city staff "to begin the legal processes for removal" of the obelisk in the middle of the Plaza.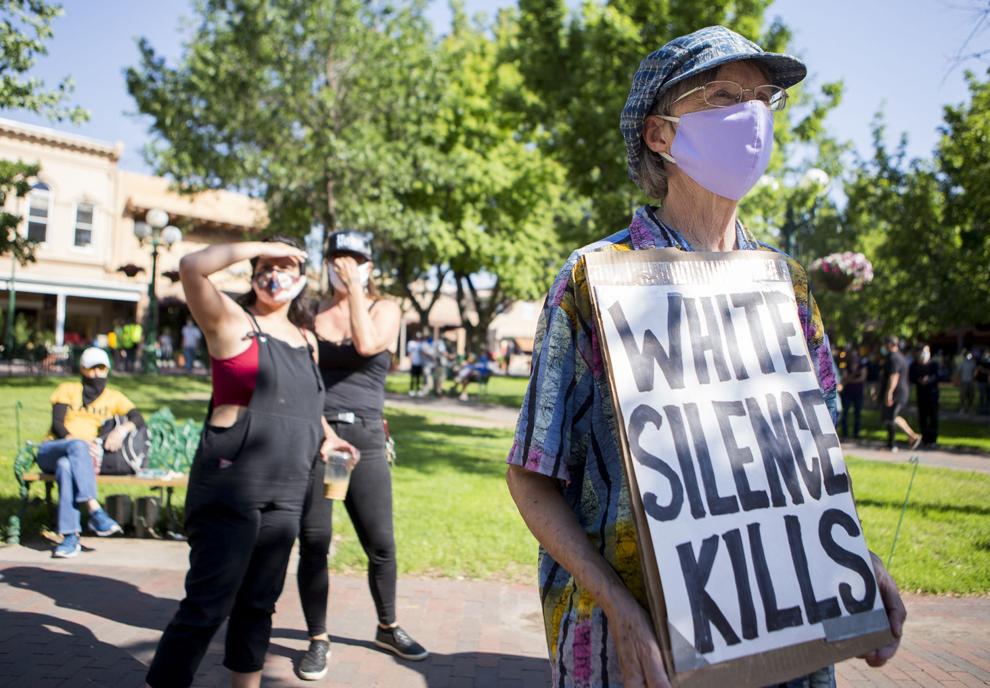 The decision to remove the monuments has angered some local Hispanics.
A young Latino man who identified himself only as Diego G. offered a different perspective: "We're resisting America's long-standing tradition of white supremacy here," he said. "I think it's about what side of history we want to be on. It's so important to show up and keep showing up. ...
"I don't think of this as an attack on my history," he added. "It's a correcting of history that is inaccurate or not whole. I stand here with the victims of genocide, not the victors. And I would encourage my fellow Latinos to examine why we identify more with the colonizers than the colonized."
"The monuments are not really what's important," Webber told the crowd. "What's important is the space that's created by removing the monuments so we can have the conversation we need to have."
He added: "More important than any monument is our reconciliation as a people."
He said the city will launch a Truth and Reconciliation Commission. "It will be charged with exploring our painful past and our joyful future as we make peace among ourselves for a better future for our children and our grandchildren based on our shared values."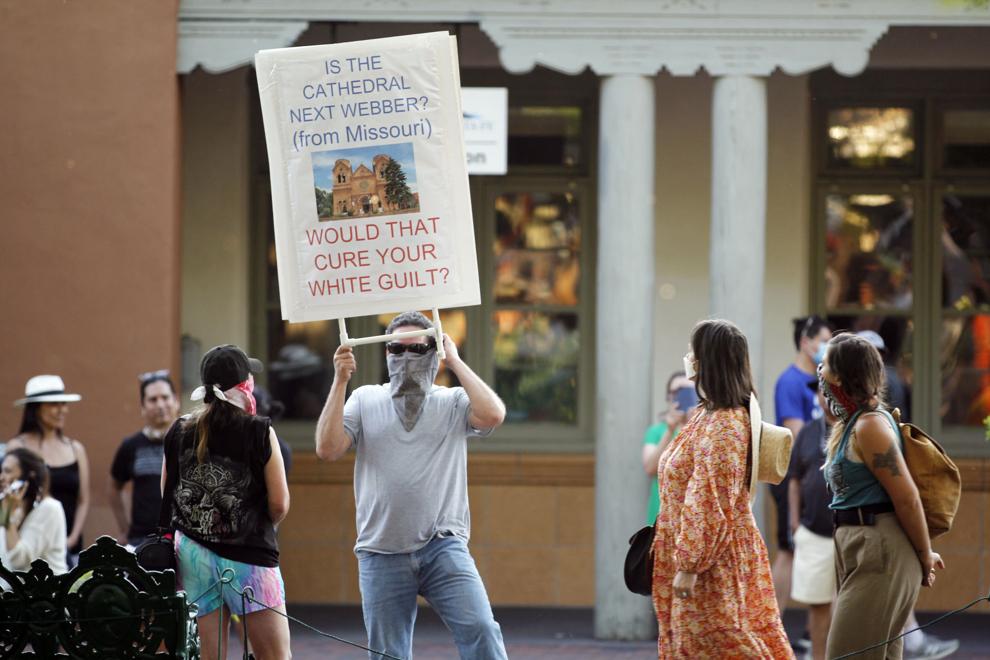 Nick Estes, a Red Nation co-founder, agreed the movement is about more than monuments.
That's because, he said, "the systems of colonialism and colonization are still in place. You can't just change the face of these systems and expect change."
The Soldiers Monument, with an inscription saying it was dedicated in part to the "heroes" who died in battle with "savage Indians," has long drawn controversy.
In the 1970s, an unidentified man wearing overalls climbed into the obelisk and chiseled the word "savage" away.
"He just did not like the word 'savages' of course," the man's daughter told the crowd.
"He's a tall Native man. [He] gathered some friends, decided to put on construction worker clothes, a blond wig. And keep in mind he was 6-foot-5 and he basically said he went out there in broad daylight with his fiends, put some traffic cones, some tape and chipped it out. No one stopped him. They thought he was an official Santa Fe employee."
"He passed away last year in February," she added, "and he would be astounded that the obelisk is going down."
Scott Wyland and Hannah Laga Abram of The New Mexican contributed to this report.