Los Alamos National Laboratory network security employee Nathan Williams roamed the Hilton Santa Fe Buffalo Thunder on Saturday dressed as a personification of a Vocaloid — a singing voice synthesizer software product.
On most weekends, he might have caused alarm. On Saturday, he was among hundreds of people, many in costume, who converged for day two of Santa Fe Comic Con, a celebration of anime, movies, gaming, comic books and cosplay that concludes Sunday.
"Everyone's talking. Everyone's out and about. There's some great cosplays," he said about the event, which returned after a COVID-19 cancellation last year.
"It's great to see people again."
Outside the ballroom, dozens waited to get an autograph and a selfie with film fixture Anthony Michael Hall, who stars in the recently released Halloween Kills.
"These things prove that people need more than Halloween," said Hall, who has been a guest at Comic Con events for years. "It's really a fun, interactive experience for families and friends."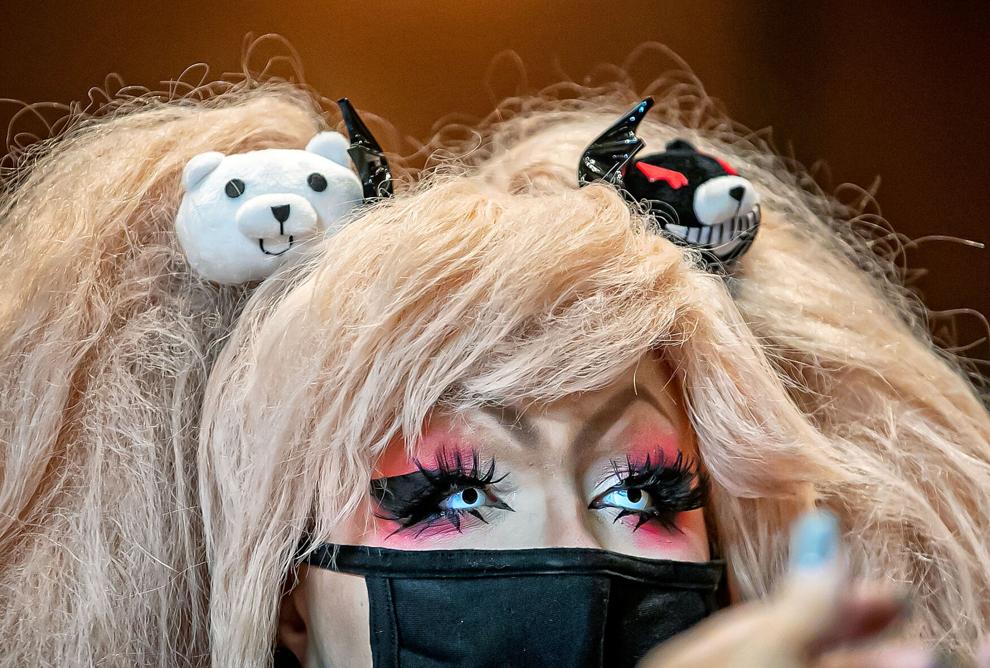 He said he was in New Mexico last month to film his new movie, Trigger Warning, also starring Jessica Alba. He's no stranger to the Santa Fe area: A decade ago, Hall said, he shot a series of commercials for Buffalo Thunder.
Daniel Estrada, a water resources cartographer for the state, dressed Saturday as a Starfleet commander. He said he came to Comic Con for the artwork; he bought a graphite drawing of an underwater monster from one of the event's many vendors.Estrada's wife, Randi, kept the Star Trek theme going, also sporting a Starfleet uniform, and his daughter, Iris, dressed as a witch.
"It was supposed to be Lydia from Beetlejuice, but I just came as myself," she said, referring to a character played by Winona Ryder in the 1988 film.
Hari and Sadna Khalsa of Española came with their two children, Siri and Akal.
"We've been coming for a while. Our kids like to dress up," Hari Khalsa said. "They're into anime. They like this time of year, getting all their costumes together."
Max Cuaron of Albuquerque was dressed as Chloe Price from the video game Life Is Strange.
"What we love about this game is it's about choices and how making choices really impacts the future and how things turn out for us," said his partner, Ben Hardy from Rio Rancho.
Other attendees dressed as Storm Troopers, Power Rangers and Organization XIII Nobodies and in numerous genre-bending costumes, while vendors filled two ballrooms with merchandise such as comic books, stickers, enamel pins and original works of art.
Other planned guests included familiar-faced actors Tait Fletcher, John Philbin, Emily Swallow and Darcy DeMoss. Comic guests included Nate Bellegarde, Larry Welz and Jason Meents, and cosplay — costume play — guests included Ashe Kai and Rosanna Rocha.
While interstate travel isn't quite the challenge it was a year ago, scheduled guests Ellyn Stern, Richard Epcar and Sean Kanan missed this year's festival because of canceled flights, according to Santa Fe Comic Con's Facebook page. It added that they'd be at Albuquerque Comic Con, scheduled for Jan. 14 to 16.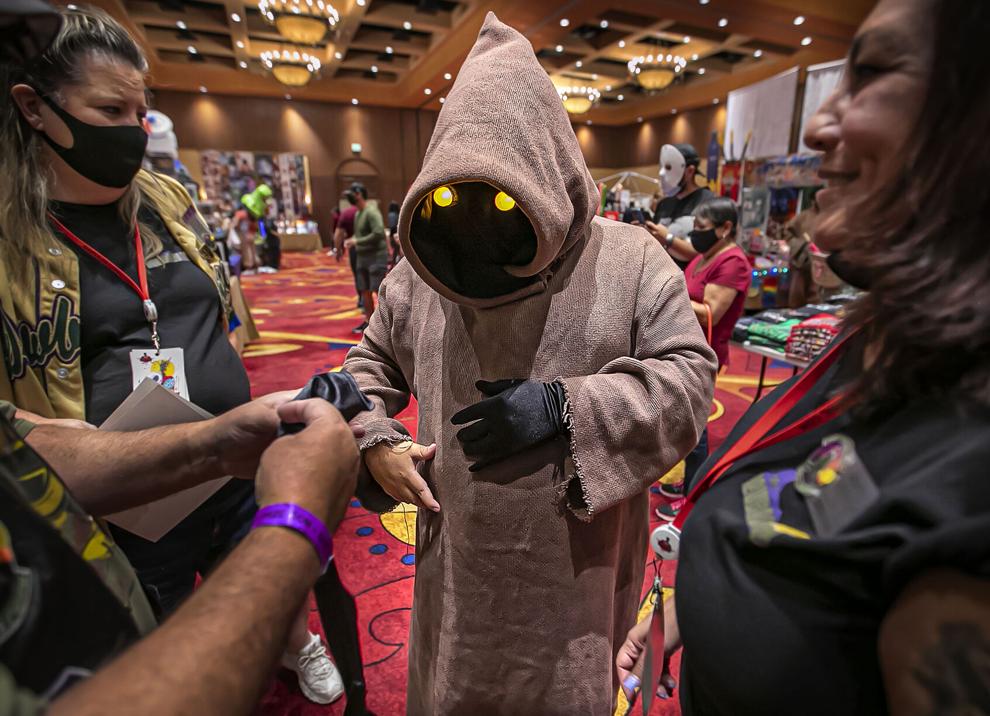 Los Angeles-based A La Brava, a graphic novel publisher that features all-Latina talent, was represented at the Santa Fe event.
Creator Kayden Phoenix said superheroes in the series take on social justice issues such as domestic violence, teen suicide, gun control and child trafficking. The series is aimed at issues affecting women "because we don't get our justice as females, or as Latinas," she said.
As for Comic Con's return, "People are very excited to be back, to feel some normalcy," said Jim Burleson, the Santa Fe event's owner. Among the differences this year: mandatory masks.
In the hours leading up to Comic Con's opening Friday, Burleson offered special access to fans with autism.
"They're in a quieter setting. We let them in for free, and for two hours, they can wander around the show before the big crowds start to form," he said, adding that a disproportionate number of creators are on the autism spectrum. He said he wanted those with autism to experience "the best part about our industry, which is getting together at a Comic Con."
Deborah Foreman, who starred in cult-classic films Valley Girl and Real Genius and horror films April Fool's Day and Waxwork, said she has been a guest at Comic Con events nationwide for seven years. She said she does it for "the people that come to your table. They share their love of the films that you've done.