After beloved Northern New Mexico singer Ernestine Romero was shot and killed by her estranged husband nearly three years ago, her grief-stricken coworkers at the Public Education Department banded together to pay for a memorial outside the government building where she died.
The General Services Department, which manages state facilities, erected a pedestal with a bronze plaque, as well as a brick border and additional vegetation, outside the Jerry Apodaca Education Building in downtown Santa Fe in honor of the late singer and state government employee.
The plaque memorializes Romero as a "dear friend and colleague who faithfully served the students of New Mexico."
"They did a beautiful job," Olivia Romero, Ernestine's mother, said Thursday.
But an integral element of the memorial is missing, she said.
Olivia Romero said a design plan presented to her family included a flat granite headstone. But she said an education department director, Angelo Gonzales, told her the state's chief operating officer, Teresa Casados, had "denied the orders" to install the headstone.
"I asked why. He said, 'Well, they feel that they don't want it to be like a cemetery,' " Olivia Romero said.
The "sad news" was painful, Olivia Romero said.
"Our hearts were just crushed all over again," she said.
Gonzales did not return messages seeking comment Wednesday or Thursday.
Maddy Hayden, a spokeswoman for Gov. Michelle Lujan Grisham, did not respond when asked whether Casados had made the decision to nix the headstone.
"In discussions between the General Services Department and the Governor's Office following the death of Ms. Romero, it was determined that a memorial garden and plaque commemorating her work at the Public Education Department was the most appropriate way for the state to honor her memory and her dedication to the children of New Mexico," she wrote in an email.
Judy Robinson, an education department spokeswoman, said in a statement the department first wanted to offer its "sincere sympathy to the family, friends and colleagues of Ernestine Romero, who are still grieving her loss in a terrible act of violence in 2019."
Ernestine Romero, whose married name was Saucedo, was fatally shot in July 2019 outside her workplace by her husband, 34-year-old Jessie Saucedo, before he took his own life. The shooting happened inside a vehicle, and a makeshift memorial of candles, flowers and notes immediately popped up near the parking spot where the murder-suicide took place. Flowers and other items were left in Jessie Saucedo's memory, too.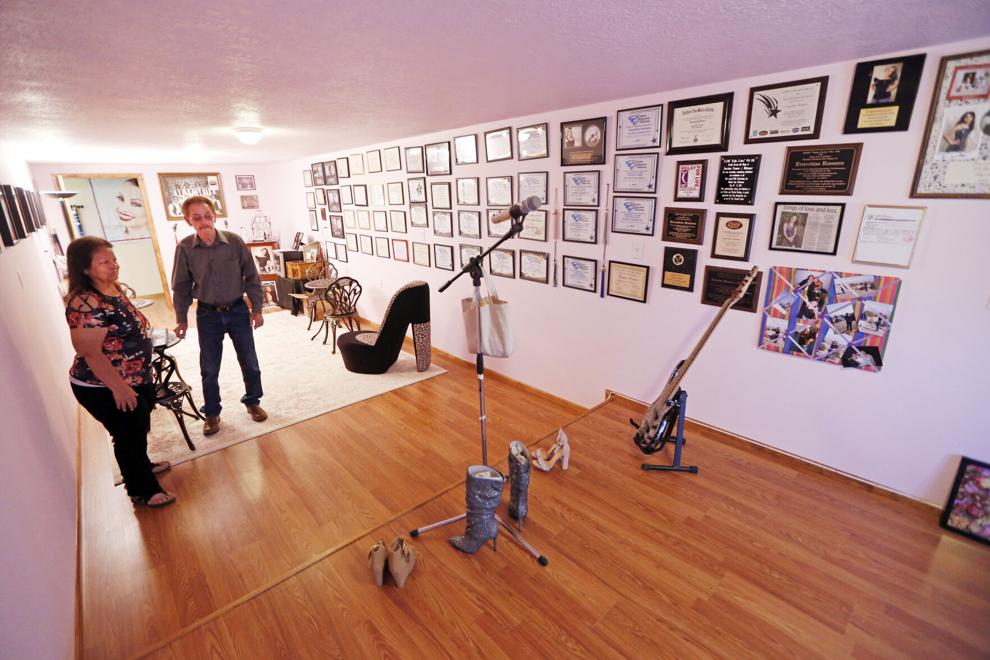 Ernestine Romero's violent death stunned New Mexico's music industry and left her family, close friends and loyal fan base in agony.
"The memorial currently in front of the Apodaca Building was planned and erected by the state through generous donations made in memory of Ms. Romero by her colleagues at the Public Education Department," Robinson said. "The design of the existing memorial is an appropriate and touching monument that provides a dedicated space for commemorating the life of Ms. Romero near her workplace."
Robinson declined to address the headstone issue.
"The statement stands as PED's response," she wrote.
In response to a request to interview Public Education Secretary Kurt Steinhaus about the headstone, Robinson said Steinhaus had "no role" in the issue.
"He wasn't even at PED when Ms. Romero was killed or when staff raised money for the family that was used to purchase the headstone, and PED does not make decisions regarding memorials on state grounds," she wrote.
Olivia Romero said she's grateful for the existing memorial to her daughter but that it feels incomplete without the headstone. She likened the headstone to a descanso, or a roadside memorial.
"It marks and symbolizes our culture," she said.
"When somebody gets killed on the road, they put up a cross. They put up, you know, a memorial on the side of the road. My daughter was killed there," she said, pausing before bursting into tears.
"I'm sorry," she said, apologizing for crying.
"I mean, I understand we can't put crosses and stuff because it's state grounds," she continued. "But this is just a flat stone with a picture of [Ernestine] on it, with music notes and flowers. No crosses, nothing symbolizing the faith, the Catholic faith."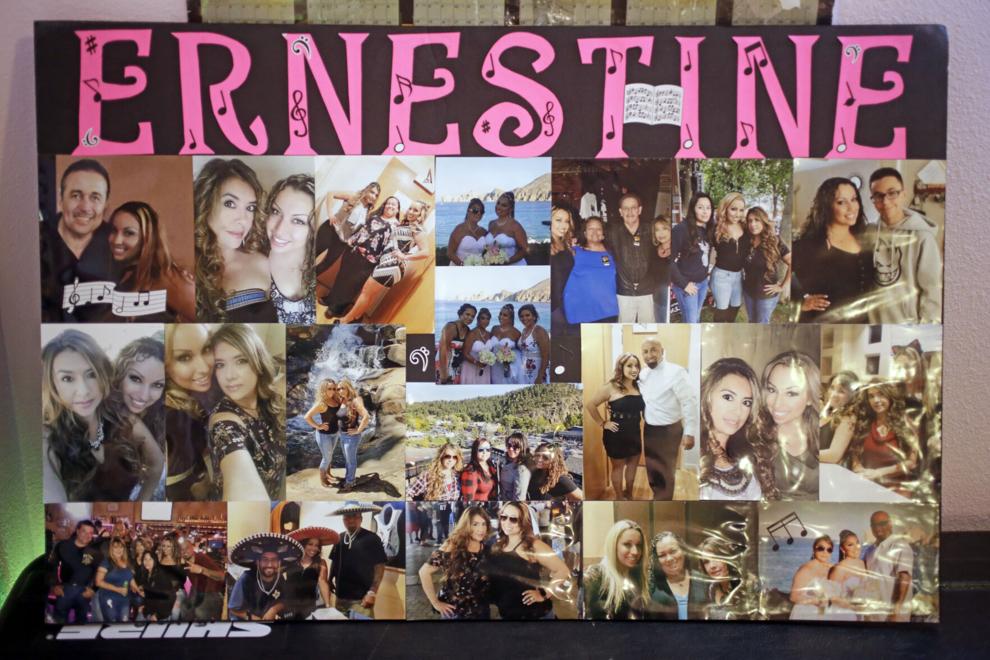 Olivia Romero said the state reneged. She said she wrote to the Governor's Office but has yet to hear back.
Asked whether the family had considered placing the headstone at Ernestine Romero's gravesite in the community of Rio en Medio near Tesuque, Olivia Romero there isn't enough room.
"We ordered a beautiful, expensive headstone for her, and there's no space to put it there," she said.
Willie Romero, Ernestine Romero's father, said it was his family's wish to install the headstone at the memorial near his late daughter's workplace.
"We're very happy with what they did already — there's no complaints about that, it came out beautiful," he said, adding his family would still like the headstone to be part of the memorial.
The Romeros, who established a memorial fund to provide scholarships to graduating seniors in the area, as well as donations for local organizations that work to prevent domestic and intimate partner violence, were headed to Taos to present a scholarship in their late daughter's honor.
"I get messages every day from people that loved that, that love her," she said. "She was so outgoing, and she loved her kids. Even though she didn't have kids of her own, she loved her kids that would go up on stage and perform with her and sing with her. She was always wanting to continue the tradition, New Mexico music, you know? She would say, 'You know what? If we don't do that, it's going to die down, and I want these kids to continue [the tradition of New Mexico music].' "
Olivia Romero said she doesn't know whether the state will grant the family's wish to install the headstone at the memorial. But she said she will continue trying, not only to honor her memory but in a nod to her fans.
"She had a lot of fans that loved her and still love," she said. "We're just doing it for the fans and for my hita."