The omicron variant is storming through the state, bringing with it characteristics that both are encouraging and discouraging in a seemingly endless fight against the coronavirus pandemic.
While omicron appears more likely to infect people, including both the vaccinated and unvaccinated, some physicians say it is far less likely to cause severe illness in those who have received their shots and boosters.
But as New Mexico remained above the 3,000-case-a-day threshold, it's clear the disease is highly contagious and swamping emergency departments in hospital systems throughout the state.
"It has spread like wildfire," said Dr. Jason Mitchell, chief medical officer for Presbyterian Healthcare Services. "Right now, we are packed."
Mitchell and Dr. Steve McLaughlin, an emergency department physician with University of New Mexico Hospital, held an online news conference on Monday and said their staffs remain overburdened. They encouraged patients who are only moderately ill to use urgent care or other options, such as telehealth.
"If you are very sick, we are here for you and we want you to come in," McLaughlin said.
As the second anniversary of the disease in the U.S. nears, the numbers of deaths are stunning — New Mexico surpassed the 6,000-fatality mark Monday, while the nation approaches 850,000 and the world 5.6 million.
The state Department of Health reported 9,284 new cases between Saturday and Monday and 37 additional deaths, putting New Mexico at 6,020 in nearly two years. The department reported the state has registered 378,363 cases in all, with 19,156 in Santa Fe County.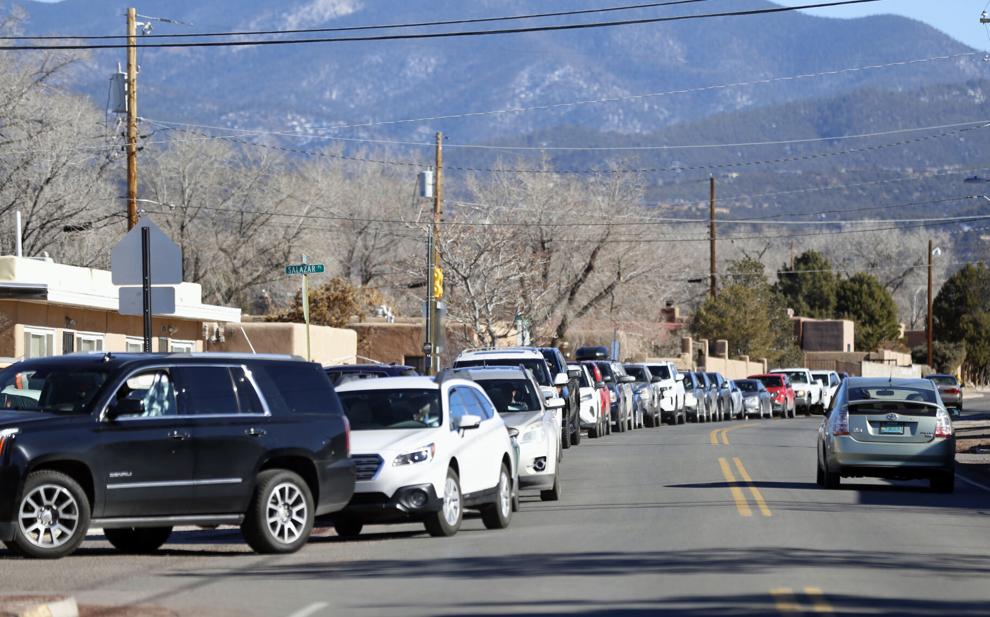 In late 2020, the United States worried the death total would hit 100,000, said Dr. Jeffrey Salvon-Harman, chief patient safety officer for Presbyterian. He and others said the ways to suppress increasing death tolls are by getting vaccinations and booster shots, wearing masks, washing hands, distancing and avoiding risky situations such as large gatherings and eating in restaurants.
Some doctors point to the fact that omicron is fairly new, especially in New Mexico, and predicting its course with confidence is difficult.
"We hope that there is a decreased severity of the disease, but we cannot say for sure that is the case," wrote Dr. Robert Underwood, chief medical officer at San Juan Regional Medical Center in hard-hit Farmington.
Dr. David Gonzales, chief medical officer of Christus St. Vincent Regional Medical Center in Santa Fe, estimated more than 80 percent of coronavirus cases in the state are from the omicron variant now.
"Our hospital is swamped as well," Gonzales said in a phone interview Monday afternoon. Gonzales also said "the number of kids hospitalized nationwide has skyrocketed."
State data lag and a report last week of omicron cases showed only 27 in New Mexico had been genetically identified as the new variant, although few specimens are tested with a meticulous, time-consuming method. The same report said the Centers for Disease Control and Prevention expected omicron to make up 95 percent of cases in the United States in early January.
The data from last week also indicated the majority of the 27 genetically tested were "breakthrough" cases — those involving vaccinated people.
Dr. Wendy Johnson, chief medical officer of La Familia Medical Center, said 27 is a tiny sample size and noted fewer than one in five people in New Mexico have contracted the coronavirus. "I see a lot of fatalism out there," she said, adding fatalism is unproductive.
Salvon-Harman of Presbyterian said U.S. data shows case counts are up, but hospitalizations and deaths are down with the emergence of omicron.
"We know it spreads rapidly," Salvon-Harman said of the variant. Like Gonzales, he said cases involving children are rising. He attributed that to the fact children under 5 aren't approved for the vaccines, and children under 2 shouldn't wear masks.
Further, some of the lockdowns of a year ago have been rescinded.
As the death toll rises, doctors found it impossible to interpret the numbers with any certainty.
"Now the question is, will we hit a million?" Salvon-Harman said. "My reaction to that is frustration."
La Familia's Johnson said the real death toll is higher because people can't get access to health care, some are afraid to see the doctor because of COVID-19 and surgeries are being pushed back.
"I think the numbers, as shocking as they look, are actually understating the real devastation the pandemic has caused," she said.