Steering his Toyota 4Runner through a dirt path in the town of Cerrillos, Todd Brown points to one of the piles of waste rock that have been sitting for decades in one of the most mineral-rich mining districts in the state.
"In the old days … they didn't even know what reclamation meant," Brown says about the process of restoring an abandoned mine site. "And people die, and people move and people sell. That's why nothing ever got cleaned up."
Brown's nearby Cerrillos mining museum caters to a familiar Old West narrative. But a few miles away, where Brown cares for private properties, waste rock piles that have been sitting on these rolling hills for decades attest to a different legacy that miners from the 19th century and earlier left behind.
Brown points to an open-pit turquoise mine that he said Native Americans first dug. Nearby, there's a foundation of what once was a coal smelter. Slag — rock stripped of its minerals through smelting — blackens the ground. He points to abandoned mine sites miles off in the distance, where, he said, yellow streaks tell of sulfuric acid runoff.
"It's a major problem in the West," he says of abandoned mine sites.
As local and federal officials continue to assess the damage wrought by the release of 3 million gallons of chemically tainted water from the Gold King Mine in Colorado, New Mexico has a staggering inventory of abandoned mines, many rated as highly dangerous as Gold King, and only a fraction of them remediated.
Money to address the problem has been slow in coming. The dangers presented by New Mexico's mines have more to do with hikers accidentally falling into one rather than chemical leakage into watersheds, state and federal officials say. But those officials also acknowledge the environmental hazards posed by those mines need to be assessed.
In fact, public officials and scientists don't know how many abandoned mines scar New Mexico's 121,697 square miles — much less the precise environmental dangers posed by tens of thousands of abandoned mines across the state.
Nationally, according to estimates by federal agencies, there are 500,000 abandoned mines. In 2008, the U.S. Government Accountability Office said 161,000 abandoned hard-rock mine sites dot 12 Western states and Alaska.
Nearly a quarter of those sites, roughly 33,000, "had degraded the environment, by contaminated surface water and groundwater or leaving arsenic-contaminated tailings piles," the GAO stated in a separate report to Congress in 2011.
Following the 2008 GAO report, which criticized several federal agencies for failures and inconsistencies in tracking mine data, the Bureau of Land Management, the U.S. Forest Service, the Environmental Protection Agency and other agencies launched an online portal to collect information about abandoned mines.
Bureau of Land Management officials have been spanning out across the West with GPS equipment to identify abandoned mines. They've collected the most comprehensive inventory of abandoned mines in New Mexico, but those are only the mines in and around public lands in the state.
Bill Auby, who heads the abandoned mines program for the BLM in New Mexico, said it's "going to take time. It's going to be a long process to get to all the mining districts and wander the hills and find these things and identify them."
Officials so far have identified 13,068 abandoned mines in and around BLM land in New Mexico, the bureau's records show. Of the mines identified, federal officials say 8,956 of New Mexico's abandoned mines "need analysis." According to Auby, that means "you recognize that there's waste rock piles and maybe pits and standing water. And perhaps there could be contamination from heavy metals."
Officials, however, say New Mexico's arid environment diminishes the possibility of pressurized water pushing out old mining waste like it did from the Gold King Mine in Colorado.
Close to 90 percent of the mines identified by the BLM — 11,751 mines in New Mexico — have not been remediated, according an analysis of the data by The New Mexican.
The agency's records show that officials located waste rock and tailings in 260 of those mines, including 20 in the Cerrillos Hills Mining District. The highest concentration of abandoned mines with waste rock and tailings, 56, is in the southwestern Hillsboro Mining District, where deposits of gold and silver have driven booms and busts for towns like Silver City for more than a century.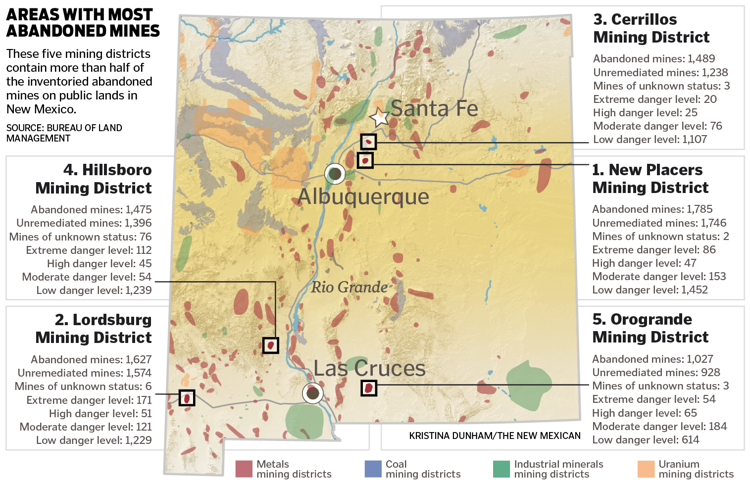 Republican Gov. Susana Martinez has criticized the U.S. Environmental Protection Agency for causing the Colorado spill and failing to communicate with New Mexico in a timely manner about its fallout.
"It's a site to see," the governor said at a news conference in Farmington after catching a view of the waste from a helicopter, "one we would have never expected to have in New Mexico and to have the EPA responsible for it."
She said the state would do "everything it takes" to hold the federal agency accountable for the spill. And she's blasted the EPA for slow communication with the state about the toxic spill.
"I'm hoping they will hold themselves to the same standards that they would hold any other industry or business," she told Fox News on Aug. 11. "There will be — I'm not taking anything off of the table," she said when asked if the state would launch a criminal probe into the EPA. "Right now we have people preparing for a lawsuit, if that's what we need to do."
Martinez's Energy, Minerals and Natural Resources Department says on its website that "the numbers of abandoned mines in the state are so numerous that one can only guess at the quantity."
"Some of them are small and not considered dangerous," state officials say on the Web page. "Others are extremely dangerous. The [Abandoned Mine Land] Program estimates that there are approximately 15,000 abandoned mine features throughout the state."
John Kretzmann, manager of the department's Abandoned Mine Land Program, has worked to identify and remediate abandoned mines in the state for decades. He praised Martinez's announcement that she would put at least $750,000 into addressing the fallout from the Gold King Mine spill.
"There's room for assistance for other abandoned land mine issues as well," Kretzmann added.
The state established the Abandoned Mine Land Program after President Jimmy Carter signed the 1977 Surface Mining Control and Reclamation Act of 1977 into law.
Congress wrote the federal law to address environmental impacts left from coal mining. That's why the state program has attempted to reclaim and secure coal mines since its passage. There's no dedicated funding source to clean up abandoned hard-rock mines — those that produce gold, silver, lead, copper, zinc — though the 1977 law does allow for coal funds to be put toward remediating hard-rock mines.
"We don't do cleanup unless it's at a coal site," said Randall Armijo, an environmental coordinator who works under Kretzmann.
Kretzmann said he believes "a comprehensive inventory would be a very good step so we know what's out there, where it is, and then we can take appropriate steps to find the funding and work to safeguard and reduce the hazards of those abandoned mines."
He said he'd like to see studies conducted on some of the "mine waste rock piles that have been sitting out in the environment for sometimes over a century here. It'd be nice to know if those are — even though they're not constantly weeping water or something like that — whether those are spreading contamination into the environment in any way."
He wants to know "whether there are any … minerals that cattle or people are being exposed to through the old mine waste piles.
"I'm not aware that a lot of study has been done — particularly in this semi-arid type of environment — on how those metal and other contaminants move through the environment," he added.
He said the department is working with the New Mexico Institute of Mining and Technology on "the possibility of at least beginning to do some preliminary work" to identify abandoned mines in New Mexico.
"But that's not a sure thing at this point," he added.
Navid Mojtabai, chairman of New Mexico Tech's Department of Mineral Engineering, said $100,000 to $200,000 would help the department and the state compile an inventory of abandoned mines "for a really limited area" and then try to evaluate the conditions of those mines, their stability and whether they have waste rock piles.
"This is something that takes time and energy and a lot of work to evaluate just to find out what's there," he said.
The state Abandoned Mine Land Program's database includes an inventory of just over 3,000 abandoned mines in New Mexico, including mines on private land.
Some $24.4 million has gone toward safeguarding and reclaiming 261 abandoned mines in New Mexico, according to state records.
Kretzmann said the program follows a prioritization scheme set up by the 1977 mining law.
"Under the provisions of this act, the first priority is public health and safety," Kretzmann said. "And in general, what that means is mine openings that are hazardous to people. So that's generally the first priority. The second priority is the same but is of a less immediate or hazardous nature. And third priority is environmental, you know, impacts: waters, lands that have been adversely impacted by historic mining practices."
The EPA has listed five mine sites in New Mexico on its Superfund or national priorities lists — some of the most hazardous sites in the nation. Cleanup at the Chevron mine in Questa, a Superfund site near the Red River mined for molybdenum, is still underway, according to the EPA.
Rachel Conn, the interim executive director of the nonprofit Amigos Bravos, points out that Chevron, which has contributed to the cleanup, is suing the Environmental Protection Agency to contribute a bigger share to the cleanup, arguing that the government encouraged the mining.
In New Mexico, state officials have successfully made similar arguments about the federal government's responsibility to clean up uranium mining waste in places like the uranium belt in Grants — pointing to the fact that demand for the chemical element increased during the Cold War.
Conn, whose group lobbied for the Superfund status of the Questa mine, said the 1993 New Mexico Mining Act provides strong provisions to ensure that more mines aren't abandoned without proper environmental reclamation.
"Companies can't leave a mine without performing adequate regulation," she said. "They have to create a self-sustaining ecosystem before they walk away."
But she said 1872 legislation signed into law by Ulysses S. Grant to encourage mining needs to be changed.
Pete Dronkers follows hard-rock mining issues in Southwestern states, including New Mexico, for the environmental nonprofit Earthworks. The organization is advocating for congressional changes to the General Mining Act of 1872 that allows hard-rock mining ventures to extract resources without paying royalties or fees to pay for the industry's past environmental messes in the same way that the coal industry is mandated to pay royalties for cleanup efforts.
"We know that these mines are going to generate acidic runoff for thousands of years," Dronkers said.
He said new mines being permitted — "well over" 1,000 times the size of the Gold King Mine — are allowed to be built with the knowledge "that these sites are going to generate water-treatment liabilities and basically acid mine drainage and pollution problems for thousands of years."
"And so the question is, 'Who's going to pay for that in the future?' " he said. "It's basically like we haven't learned anything from Gold King, and we're going to continue to build mines that have that same fundamental problem. But we're going to build them thousands of times larger."
Zoom and click the points to see information on each mine in the BLM database.