OHKAY OWINGEH — Her memories of growing up in a two-room adobe home once occupied by her ancestors are vivid: storytelling by the fireplace after dinner, dances and songs, conversations in Tewa with elders and siblings, babies rocking in swings hanging from vigas.
"That's how we grew up — in the swing," said Pauline Aguino, 67, a member of Ohkay Owingeh, a small pueblo north of Española that was known in her childhood as San Juan. "… There were 10 of us in those two rooms."
The Aguino home grew, swallowing up the rooms of neighboring homes with shared walls. Pauline Aguino recalled one purchase in the 1960s of an adjacent two-room house: "I saved a few dollars, my sister saved," she said. "It was $100. … Back then, it was a lot of money."
The home now has eight rooms.
"It's a beautiful home," Aguino said, illuminated with pride as she spoke about the structure, newly renovated through a major overhaul of Ohkay Owingeh's 700-year-old core, called Owe'neh Bupingeh.
The unique, multimillion-dollar preservation project — one that has received numerous national awards, including honors from the National Trust for Historic Preservation and the Harvard Project on American Indian Economic Development — is the result of the pueblo's vision to revive a crumbling spiritual center that until recent years had become largely abandoned. It drew tribal members several times a year for ceremonies and feast-day celebrations, but sat mostly barren in between.
When officials began the effort in 2005, only about a dozen homes were being used as primary residences. Aguino's revamped childhood home now belongs to her son, who lives there with his own children, she said. They are one of 42 families living in the historic heart of the pueblo in restored and expanded buildings.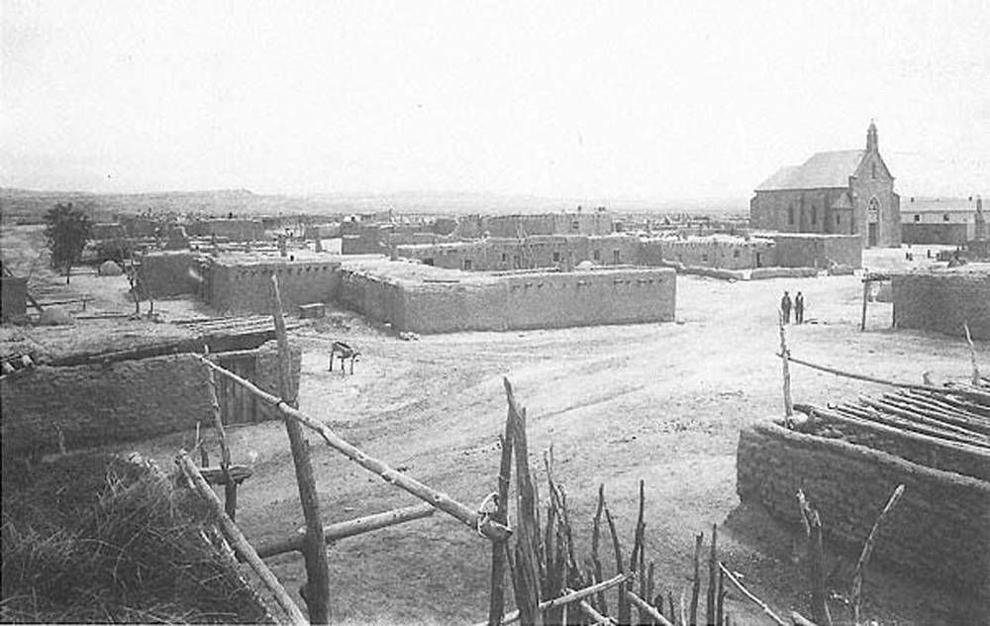 During a recent interview at the pueblo, Aguino and others described the signs of life that have returned to the plazas of Owe'neh Bupingeh since the restoration work began: children playing games outdoors, artists at work and the aromas of meals being prepared for big families like the Aguinos. Some of the signs are less tangible, tribal members say: young people embracing pride in their heritage, traditions and language.
The plazas have become learning spaces for children at the nearby Ohkay Owingeh Community School.
"I like to take the kids there and show them where different sacred sites are and where the families live," said Augustine Calvert, who teaches Tewa, traditional dances and songs to the schoolchildren. "There is so much history there. It's rich. … I'm always trying to instill in them a sense of pride in who we are."
Calvert, 35, points out to his students the home right next to the Gothic-style San Juan Bautista Catholic Church, just outside the historic pueblo, where he grew up.
"I tell the kids that was my Tewa classroom," Calvert joked.
The restoration work, he said, isn't just a housing project. It's a cultural renewal: "We're seeing a revival of the whole Tewa language. It's coming back."
His mother, Rexine Calvert, 53, sees the transformation from her workplace, the P'oe Tsawa Community Library, which sits between the school and Owe'neh Bupingeh. Children living in the pueblo now pour into the library after school to use computers, peruse the books and do their schoolwork.
She watches the children playing football or baseball in the old dirt plazas, Rexine Calvert said, "And it's like, oh yeah, we used to be the ones doing that."
So far, the pueblo has invested nearly $9 million in the restoration project — mostly federal dollars — to overhaul about 35 homes. The final phase calls for restoration of another 20. Ohkay Owingeh officials estimate the work will cost $5 million.
Fundraising efforts are underway, said Tomasita Duran, executive director of the Ohkay Owingeh Housing Authority, but it's been a bit of a struggle, and the project has stalled.
Duran isn't dissuaded. "I truly believe that we can raise the funds we need," she said.
The tribe has raised $240,000 so far through a state tax credit program in which donors can receive credits worth half of their contributions; a total of $500,000 in tax credits are available, allowing the tribe to raise up to $1 million.
Ohkay Owingeh also is reaching out to private foundations. While it has received some support from local and national sources — such as the McCune Charitable Foundation, the Chamiza Foundation and the Kellogg Foundation — officials have found such private funds rarely go to Native American projects (less than half of 1 percent of charitable giving, according to several studies in recent years).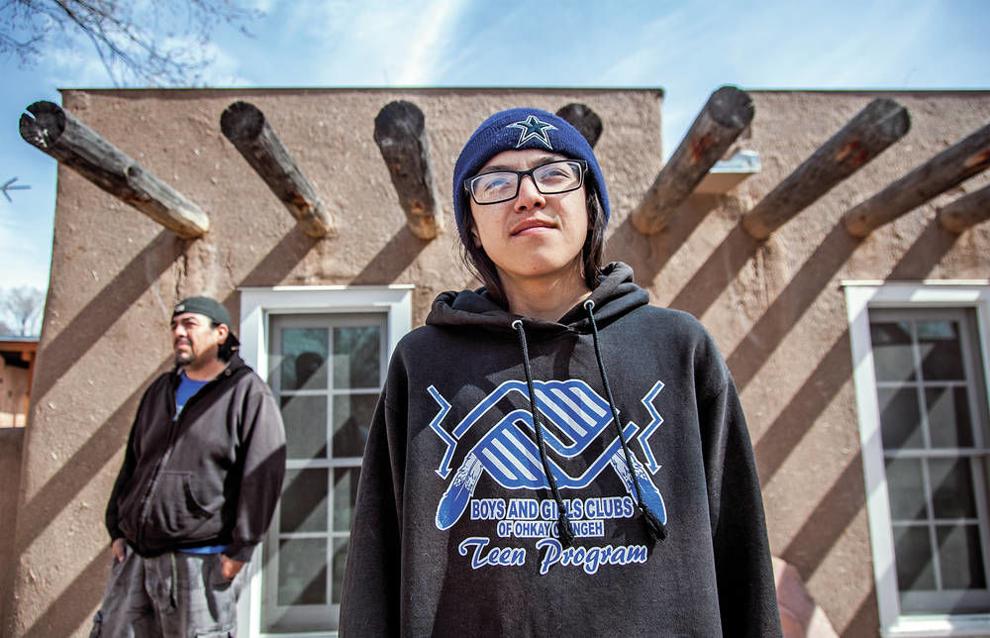 It would have been far less expensive to raze the ancient homes — many haphazardly modified through the years with particle-board additions and amenities such as electricity, toilets and running water — Duran said.
But the pueblo made a commitment to preserve as much of the original structures as possible, stripping some dilapidated homes to the thick adobe walls that still stood strong "and building from there."
"As far as we can tell, these homes are 700 years old," Duran said. "Our ancestors built this pueblo. How can we just go in and knock it down?
"… To me, I felt it was disrespectful to do away with what our ancestors did," she added. "So at the onset of the project, we made the commitment, through the tribal council, that we would keep as much as we possibly could and replace what was necessary."
That commitment, combined with a determination to create a contemporary living space — rather than a museum or monument to the past — presented challenges for the tribe as it worked to secure federal preservation grants with stringent requirements for maintaining the integrity of a site in relation to a specific period in time.
"We're preserving to tomorrow," Duran said, and that had not been done before.
Ohkay Owingeh was able to demonstrate to federal agencies why the traditional idea of historic preservation wouldn't work for this project, Duran said, and Owe'neh Bupingeh became a model renovation effort.
"We have broken ground in terms of preservation for tribes across the country," she said.
Before its renovation, the Aguino home, like many of the ancient structures in the traditional pueblo area, had started to fall into disrepair. The roof began to cave in.
Several decades ago, as homes began to deteriorate, some so badly they weren't livable, people started to leave Owe'neh Bupingeh, moving into modern complexes built nearby with federal funding through low-income housing programs.
Pauline Aguino lives in one of those units. But she still calls the house in Owe'neh Bupingeh her home. It sits on the pueblo's main plaza, right next to the kiva.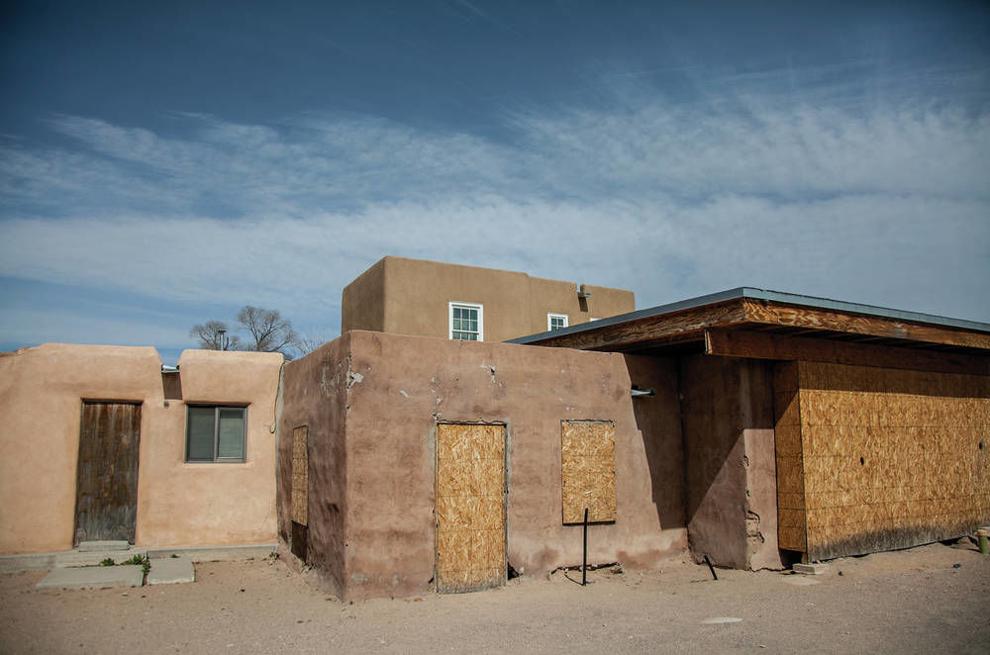 During a walk through the plazas, where some renovated structures with brand-new second stories stand next to dilapidated buildings with temporary roof sheds to protect what remains, Ohkay Owingeh Lt. Gov. Matthew Martinez said it's exciting to see the families return and bring life back to the pueblo's core.
"It's a sense of empowerment that this is again a gathering place," he said.
The construction project required massive improvements to infrastructure, Duran said. Water lines, gas lines, sewer lines and power lines that crisscrossed the plazas — "It looked like spaghetti," she noted — were buried in trenches.
The largest home in Owe'neh Bupingeh is about 3,000 square feet, she estimated, but most range from 1,200 to 1,600 — a livable size for a family.
The original adobe walls of some homes remain exposed, along with the old vigas.
"One of the things we discovered is that some of the vigas were gifted," Duran said, when a family was building the home. The gift-givers left messages that are still visible. "And you definitely want to keep that intact."
Duran and Martinez pointed out the homes of various families, some remodeled and some still on the waiting list: the Aguino home, next the kiva; the Martinez home; the Calvert home by the church.
Augustine Calvert, who lives in a home close enough to the historic pueblo that he can witness the activity there, children playing and homes filled with life, said: "It takes me back to when we were kids. … It was always the heart and soul of us Pueblo people."