A stubborn drought has increased wildfire risks throughout New Mexico's forests, and some areas are in greater danger of igniting than others.
Some of the most vulnerable forests are those untouched by natural fire or prescribed burns for many years, creating dense woodlands that are highly flammable in the dry summer heat.
Swaths of drought-strained Ponderosa pines — marked by yellowing canopies — also can become fire hazards because dehydrated trees can't make resin within their bark to repel invading pests that can kill them.
Crews collect debris and trimmings from trees and vegetation to measure moisture so agencies can determine how flammable a forested area is and how hot a wildfire would burn. As a wildfire increases in intensity, it becomes more destructive and difficult to extinguish.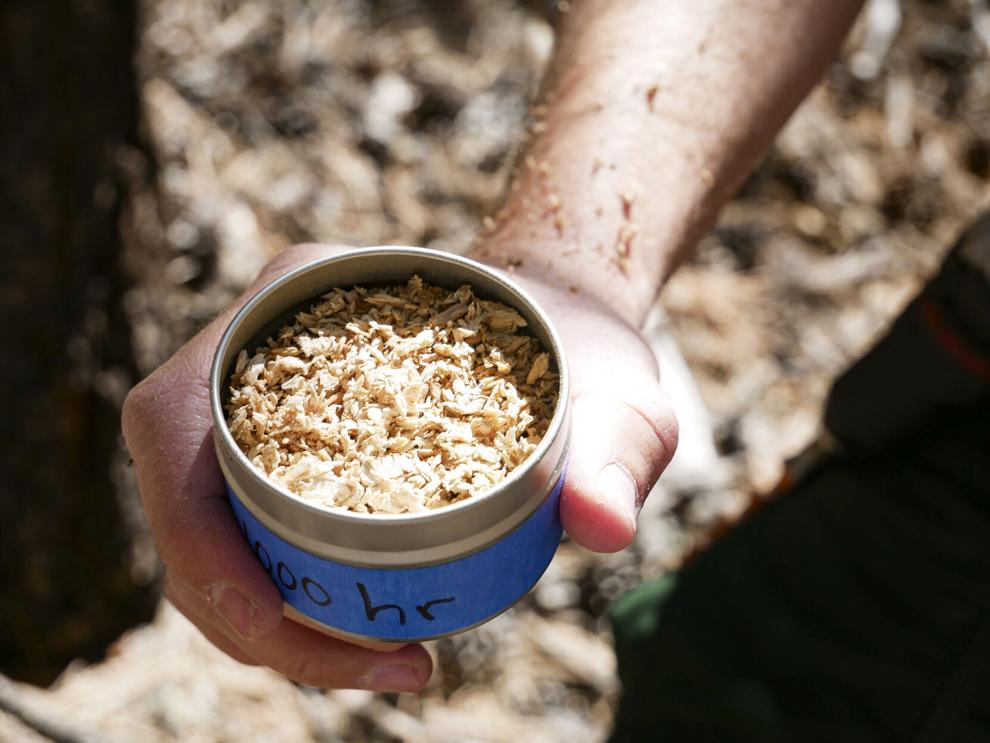 Agencies don't produce color-coded maps that show hot spots because there are too many variables such as weather and terrain, said Terrance Gallegos, deputy fire officer for Santa Fe National Forest.
Still, fire managers have a good grasp of which woodlands are more vulnerable because of dryness, tree density, bug kill, and the amount of dead and dying timber, Gallegos said. They're also attuned to where flames might not spread because of recent prescribed burns and scars left by previous wildfires, he said.
"They have really good corporate knowledge of where these things are on the landscape within their own district," Gallegos said.
The state's drought has been compounded by La Niña, an ocean cooling event that reduces evaporation and results in even more arid conditions in the Southwest.
It's creating wildfire hazards in all of Santa Fe forest's ranger districts — Coyote, Cuba, Jemez, Española and Pecos-Las Vegas, Gallegos said.
"The whole forest is much drier than it was last year," he said.
The areas that have had no wildfires in many years are not only more packed with flammable material but have no burn scars that can stop a fire from spreading, Gallegos said.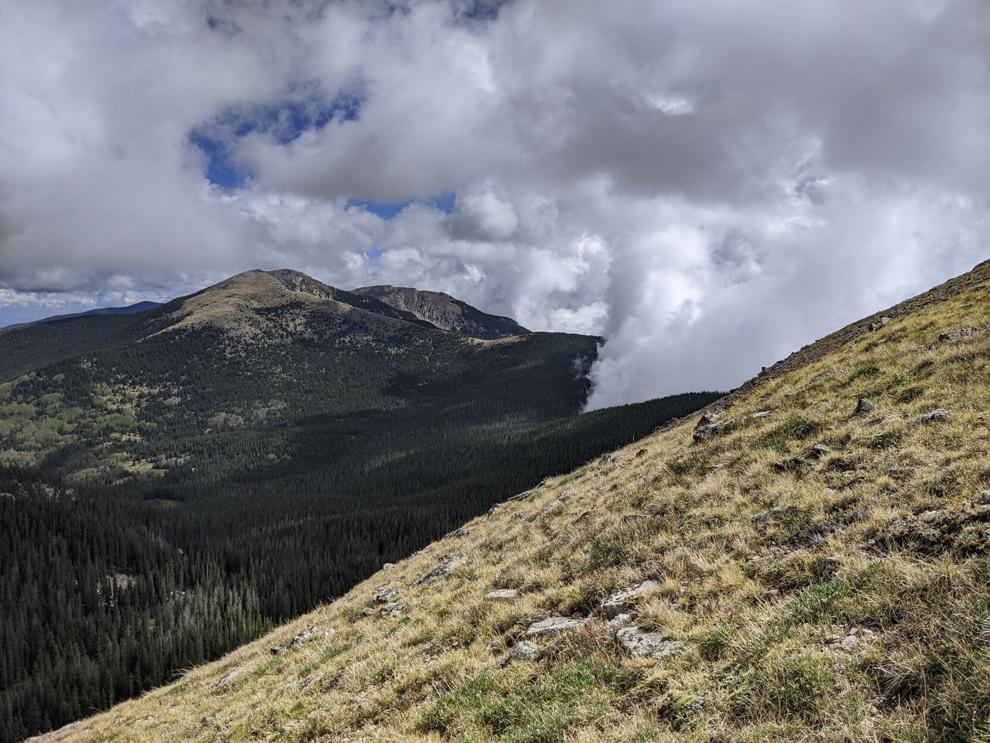 The Pecos Wilderness, Nacimiento Mountains and Santa Fe ski basin are prime examples of areas that are susceptible because they haven't had fires in a long time, he said.
Gallegos, who has been involved in firefighting for more than 20 years, said he finds Nacimiento especially worrisome. The mountain range extends into the San Pedro Parks Wilderness in the Coyote and Cuba ranger districts, he said.
It's dense and drought-stricken with only a few prescribed burns that have been done near where homes border the forests, he said. And it has steep terrain that would enable a fire to spread faster up hills.
"That's one area I've always been concerned about," he said. "You've got all the elements there."
Higher-elevation areas such as the ski basin have been spared from wildfires because they were cooler and damper, Gallegos said. But this summer, they will be drier and more vulnerable, and the lack of fire history means fuels have built up that could feed a blaze, he said.
Crews gather moisture samples most weeks during the peak of wildfire season, which goes from April until early July, the typical start of the monsoon, he said, noting last summer had meager rainfall.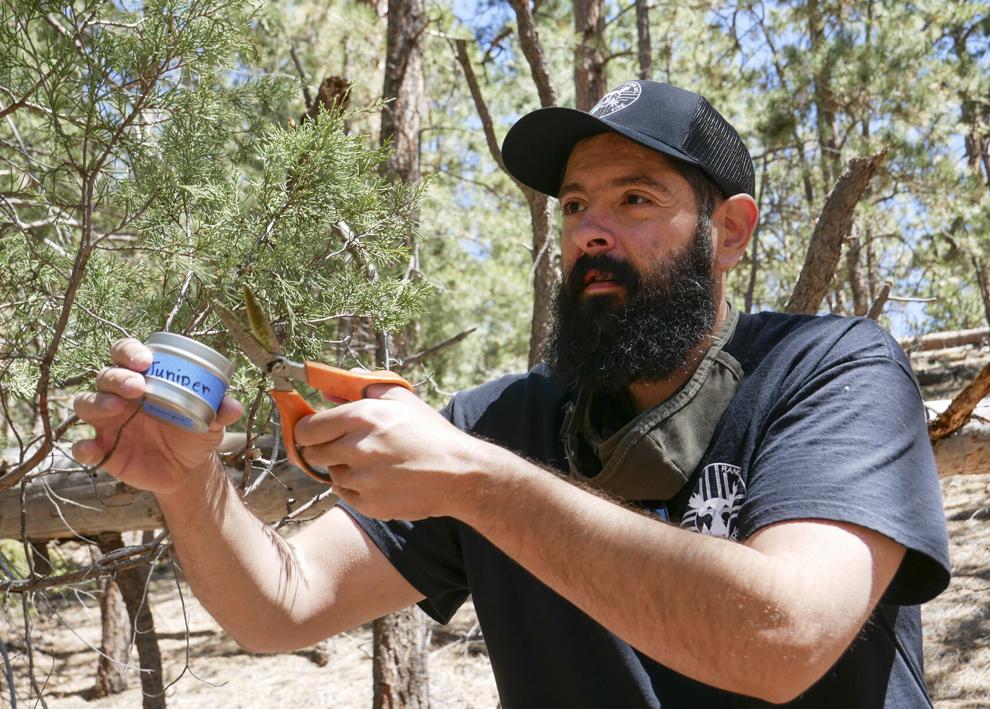 The samples include dead twigs and small logs from the forest floor, pine needles from trees and trimmings from vegetation.
The moisture level is determined by weighing the samples before and after they are dried in an oven, Gallegos said.
From those readings, a forested area is rated for dryness, he said, noting single digits mean it's very arid and a high fire danger.
For instance, the most recent data, compiled in 2020, showed the Santa Fe watershed in single digits, a significant drop in moisture from 2019. That area will be even drier this year, Gallegos said.
At the same time, weather stations monitor heat, humidity and precipitation in the forests. When debris, trees and ambient conditions in an area become dangerously dry, then fire restrictions are imposed, Gallegos said.
Pest infestations could lead to more forested areas becoming increased wildfire hazards in the next year or two, said John Formby, a state Forestry Division entomologist.
So far, bark beetle attacks have been relatively sparse, despite the drought intensifying since 2019, Formby said. More bug invasions could occur as thirsty trees grow weaker and their defenses erode, he said.
Dense forests are especially ripe for infestation partly because there is less water and nutrients for each individual tree, leaving them weaker if the resources decline, Formby said. And when trees are more jammed together, the wind can't blow out the pheromones a scouting insect drops to summon other beetles for an attack, he said.
It's one more reason why forests should be thinned, Formby said.
Aerial surveillance last year found 40,000 acres of yellowing Ponderosa pines between the northern parts of Gila National Forest and Santa Fe National forest near Las Vegas, N.M., Formby said.
The discolored needles are a sign that the trees are drought-stressed, which ultimately makes them more of a fire hazard, even if beetles don't infest them, he said. This is especially true on south-facing slopes, which tend to be drier, he added.
Formby said his main areas of concern are the Pecos Wilderness and Carson National Forest, where the spruce beetle is killing many trees.
A wildfire could rage through sections that the beetles have attacked because the forests are so dense and these trees retain their needles even after they've been infested, allowing for fast-spreading canopy fires to ignite, he said.
"Not many private lands or structures around there to be concerned about," Formby said. "But certainly if a wildfire got in there, it could take off and burn and burn and burn."
In addition, these forestlands are remote and mostly roadless, making it difficult for fire crews to access, Formby said. Agencies might deploy helicopters and hotshot crews but would likely let a fire burn itself out, no matter how monstrous it was, he said.
"It would be pretty catastrophic to those forests up there as far as damage," Formby said.
Gallegos said the Pecos Wilderness is another example of a high-elevation area that has an amplified wildfire risk this year because of the drought.
The area has seen brushfires in recent years, but much of this wilderness has been mostly free of fires, creating a lot of fuels, he said.
He agreed Carson National Forest is a hot spot, saying it is dense with little history of wildfires. It had the 10,000-acre Luna Fire late last year, he said, which is perhaps a sign it is becoming susceptible.
"There's lots of country in the Carson for that stuff to move around in," Gallegos said, referring to wildfires.
The Forest Service conducts thinning and prescribed burns in the state's national forests, including parts of the Santa Fe, Carson and Gila forests, to lower the risk of wildfires and pest infestations, agency spokeswoman Punky Moore wrote in an email.
These techniques make up for the loss of regular natural fires, which were stopped around 1890 in New Mexico, Moore wrote.
"Without regular fire, we see increased fuel loads and higher density forests," she wrote. "Combine a high fuel load with hotter temperatures and you have widespread concern for areas vulnerable to severe fire occurrence as well as insect-disease infestations."
But not all woodlands can be thinned with equipment and controlled fires. Priority is given to forests closer to residential areas, Gallegos said.
"We know that's where wildfires probably are going to have the largest impacts on communities," Gallegos said.