The governor of New Mexico consumes a lot of coffee — from Starbucks, local Santa Fe shops like Ohori's, even the Folgers in her office that was left over from previous administrations.
"I drink, frankly, way too much coffee," Gov. Michelle Lujan Grisham says while sitting on a couch in her office, a nearly finished cup of you-know-what nearby.
"On a terrible day — what I mean by that is a tough schedule, we're up early, 6 a.m. ready to go and I don't get home until midnight — 30."
"At least," she says, her press officer signaling he thinks she drinks even more than that. "I'm not kidding."
The added fuel sets the framework, if you can call it that, of Lujan Grisham's intense daily agenda, one that's jampacked with meeting after meeting — both scheduled and unexpected. If a 90-year-old Navajo woman she knew from her time as head of the state's Aging and Long-Term Services Department drops by the Roundhouse to see her, the governor is thrilled to visit, even if it makes her late for what comes next.
"You know what?" asks Lujan Grisham. "You tell me a job where a 90-year-old woman is willing to drive three-and-a-half hours and wait to see you to tell you they miss you, that they think you're doing a good job, that they'd like you to think a bit more about farming in their community that needs more water — and then gives you legitimate, productive ideas about how to get water to that community. What's not to love about that?"
Since taking office in January, Lujan Grisham has presented herself as a fearless governor — armed, perhaps by a 14 percentage point mandate in last year's election that allowed her to push an agenda bristling with hot-button issues. Politics and perception have blended in her first six months; she exhibits a daredevil image that extends past the Roundhouse and has found a place on YouTube.
In February, a political ad that went viral on Twitter featured her smashing through walls in high heels, covered in drywall dust, while promising to break barriers plaguing New Mexico and rebuking President Donald Trump's border wall. As recently as Friday, at an event to promote state tourism, she rode a zip line over a lake at Inn of the Mountain Gods in Mescalero and later jumped in a Ruidoso lake to swim alongside dozens of children at a new water park. She planned to raft the Taos Box section of the Rio Grande on Sunday.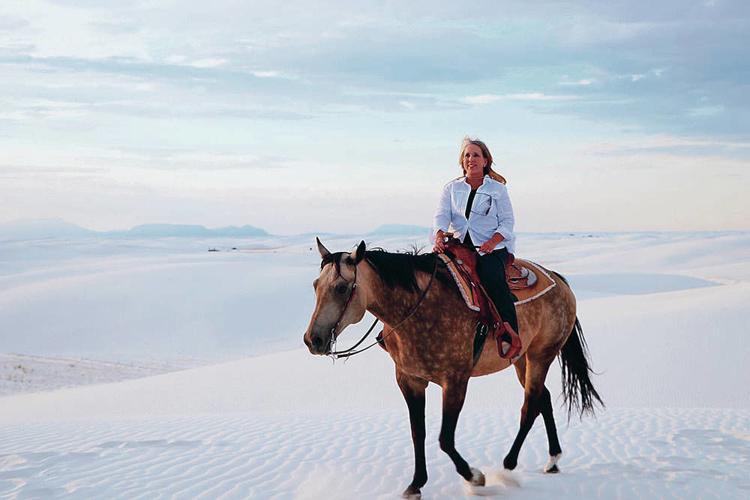 True, those are photo ops, designed to present an image. But Lujan Grisham says there's a reality beneath it all — she's determined to bring a risk-tolerant attitude to state government, a domain that's not been particularly known for its audacity.
"I was surprised by how fearful so many of the public workers are. They're very risk-averse," she says of how some responded to policy changes in her first months in office. "I was expecting such enthusiasm for getting to do your work."
"That they're not going to get it done, that we're going to be too hard, that policymakers are going to take it all away, that they're not going to have the resources, that they're going to overcommit," she says, listing the concerns she perceives. "It's interesting to me; kind of a PTSD for public workers."
Lujan Grisham, using the acronym for post-traumatic stress disorder, says she aims to reverse that trend by example, through the way she makes decisions. When policymakers are hesitant to take action on an issue she believes in because of its potential consequences, she says she tells them: "Well, we're still doing that because it's the right thing to do.
"One small problem should never outweigh a hundred great things that you can accomplish, and so I'm not fearful about this kind of stuff," she adds.
An example, she says, was the state's eligibility level for child care assistance. Under former Gov. Susana Martinez, the state Children, Youth and Families Department had rolled back eligibility requirements to 150 percent of the federal poverty level from 200 percent, and the agency's leader was sued for doing so without a public process.
Yet after a settlement agreement earlier this year, the new administration was concerned it didn't have enough funds to raise the level back to 200 percent right away, which meant children could lose access to day care and preschool benefits.
Lujan Grisham told the department to do it anyway, budget be damned.
"Yes, I can. I'm fixing it overnight," she says, recalling her thought process. "I just declared that we're going to 200 percent of poverty, and I'll have to figure out the money. And so I took away the fear and barrier from those folks."
The department then announced it was withdrawing a proposal to limit eligibility to parents earning 160 percent or less of the federal poverty level. The announcement came days before a scheduled public hearing to gather input on several proposed changes to the benefit program.
Children, Youth and Families Secretary Brian Blalock, who also took office in January, says he was immediately on board when the governor said she thought the state should raise the level to 200 percent, adding her willingness to help low-income communities is why he took the job.
"I think she's a fearless advocate for vulnerable people," Blalock says. "Working for a boss who is motivated at the core to do what's necessary for the most vulnerable folks makes this the most positive job I could have."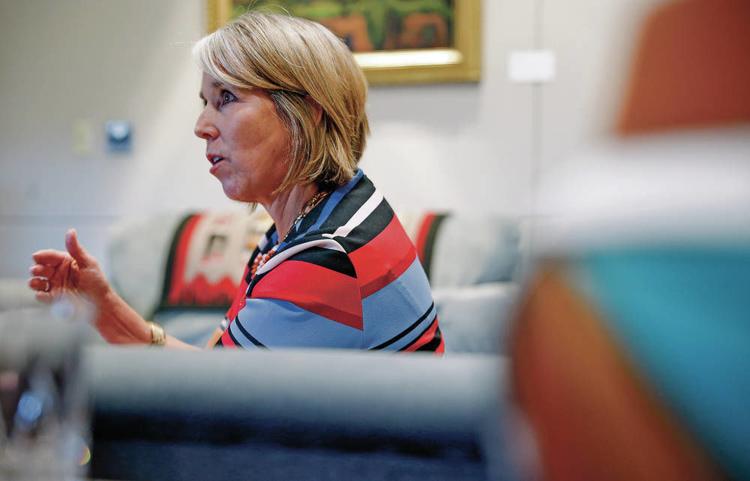 In an interview last week, Lujan Grisham said her administration has gotten a lot done in its first six months. She signed the largest budget in state history in April, at $7 billion, which included an 11.6 percent increase in spending and kept reserves at 20 percent.
She also signed a slew of bills, including a landmark clean energy bill, legislation to expand tax credits for film and television productions, a law to set up an independent ethics commission, as well as a series of criminal justice bills.
But she also had the benefit of a massive, $1 billion oil and gas windfall, something her predecessor wasn't blessed with. Her Democratic Party also has a majority in both houses of the Legislature.
So, do the checked boxes and her nonfearful attitude mean she's done a good job so far, or is she just fortunate?
"Both," Lujan Grisham answered. "I'm clear that I do have real opportunities, so I intend not to squander the environment that I have."
Still, other goals haven't been so easy to accomplish. Take her push to draw more money from the state's Land Grant Permanent Fund to pay for early childhood education. Or legislation to repeal an old, unenforceable statute that makes it a crime to perform an abortion.
Both efforts were defeated in the last session, opposed by more conservative Democrats in the Senate. The script could repeat itself with other controversial proposals in future sessions, such as a bid to legalize recreational marijuana that Lujan Grisham has said she will prioritize next year.
The governor says she would not use her position to try to unseat conservative Senate Democrats in next year's elections and would instead work to convince them of the merits of her proposals.
"I don't see anyone as an obstacle," she says. "Am I disappointed that somehow I couldn't convince them that the policy positions we were taking are better for everyone? I'm always willing to take another crack at that. But I really am working hard to bridge relationships instead of to create this sort of finger-pointing."
Nevertheless, powerful Senate Democrats such as Sen. John Arthur Smith, D-Deming, and Sen. Mary Kay Papen of Las Cruces — both of whom have opposed proposals to use a bigger share of the Land Grant Permanent Fund — will face primary challengers next year.
While Neomi Martinez-Parra of Lordsburg announced earlier this month she is running for Smith's Senate seat, the incumbent said he doesn't believe her campaign was fueled by the governor.
"She's been very sincere to try to continue to work with me," said Smith, who has been a senator since 1989 and, as Senate Finance Committee chairman, wields considerable influence over the state budget process. "I don't lose a lot of sleep over that."
The other side of the aisle
Predictably, perhaps, reviews of Lujan Grisham's first six months haven't been so positive among some Republicans.
"She says she's bringing government back to the people," said House Minority Leader James Townsend, R-Artesia. "But what she's really doing is injecting government into every facet of our lives — sometimes at the expense of our constitutional freedoms."
Townsend was referring to a law, signed by the governor in March, that requires a gun buyer to undergo a background check when purchasing a firearm from another person. Republican leaders in the House called for a statewide referendum to repeal the law, and more than 20 county commissions around the state then passed so-called Second Amendment sanctuary resolutions in opposition.
The backlash on issues such as guns and abortion may be what led the governor's disapproval rating to rise in the second quarter of the year in a poll by the national survey firm Morning Consult.
The survey, released last week, said 44 percent of New Mexico voters approved of Lujan Grisham, while 43 percent disapproved, making her the sixth most unpopular governor in the country. In the first quarter, 41 percent approved while only 33 percent disapproved.
"I suspect that her disapproval rating increased among conservatives and people in rural New Mexico," said longtime New Mexico pollster Brian Sanderoff, who noted he was speculating, given that Morning Consult did not provide geographic breakdowns for its governor rankings. "This governor has been outspoken and takes strong positions on things."
Townsend also referred to the poll, saying Lujan Grisham's disapproval rating increased because she wasn't "listening to the people."
"She and others said they were so proud and so encouraged with their successes in the legislative session, but yet when you look at the polls she had a dismal response from the public," Townsend said.
Other Republicans were more complimentary of the governor's political skills and said she was courteous, though they disagreed with her stance on many issues.
"She will smile to your face and be friendly while she's shoving a knife up your gut," said Sen. Mark Moores, R-Albuquerque, "and then thank you afterwards for the good conversation."
For his part, Sen. Pat Woods, R-Broadview, was happy the state had decided to take over a troubled correctional facility in Clayton and said the governor even took time out of her schedule during the legislative session to meet with middle school students from Clovis, which is in Woods' district.
"That's a Republican bragging on her," Woods said. "Hell, everybody gets to do something right once in a while."
Lujan Grisham has said she aims to seek common ground on polarizing issues. For instance, she's pushing clean energy goals and efforts to further regulate oil and gas production, yet on the other hand, the state's unprecedented windfall is due largely to that very industry.
Reconciling the two, she says, is like "threading a steel cable through a sewing needle."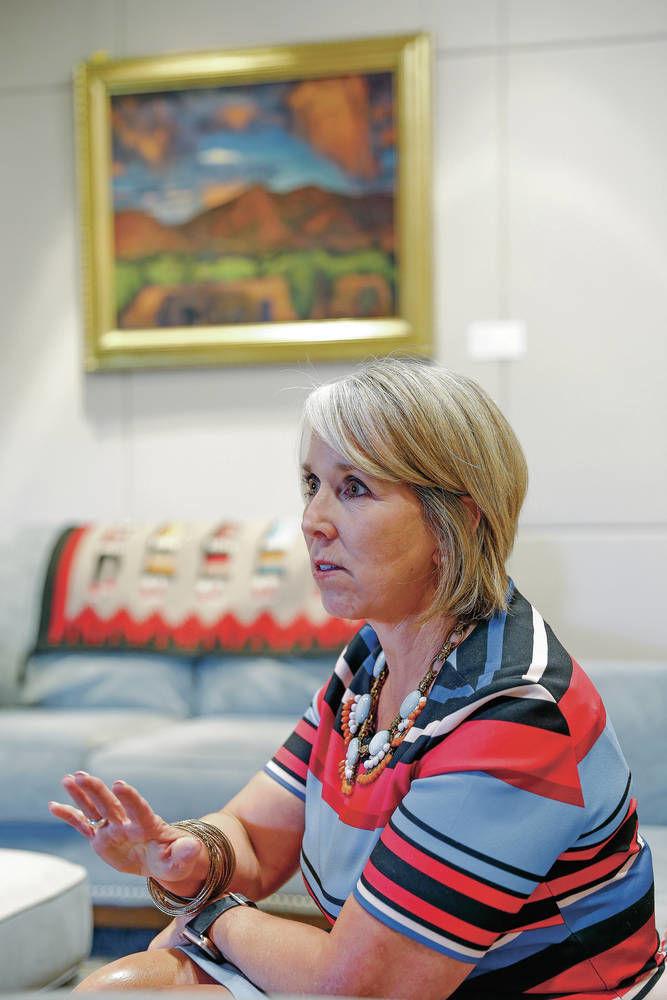 But Lujan Grisham rolls on, with a drive and schedule that are demanding for staff members who have to keep up with her frenetic pace, honed by five years in the U.S. House of Representatives.
"I'm tough to work for," she said.
If she's tough, she's also not dull: In her office last week, it was hard to miss dozens of little rubber ducks posted on her desk and across the room.
"Tripp seems to have inside knowledge about the ducks," she said, referring to spokesman and former Santa Fe New Mexican reporter Tripp Stelnicki.
Stelnicki later explained he had put them in different places around her office, even in locations where the 4-foot-11 governor couldn't reach them.
He was returning the favor after Lujan Grisham had put honey on the receiver of his phone on April Fools' Day so that it would stick to the base and be difficult to pick up.
"It's still sticky," Stelnicki said.