Some of the nation's best-known governors — California's Jerry Brown, New York's Andrew Cuomo and John Kasich of Ohio, to name three — won't be in Santa Fe for the National Governors Association meeting, which opens Thursday. But 21 governors have confirmed they'll be here.
Asked Wednesday whether she was disappointed that fewer than half the nation's governors would be attending, Martinez said that number could go up. She added, "I am proud to have the 21 governors in Santa Fe … and to host the national conference."
Here's a look at the political histories — and political fortunes — of those who are expected to attend this week.
Gov. Matt Bevin, R-Ky. With the help of tea party activists, Bevin made his first political race in 2014 running against Senate Republican leader Mitch McConnell. Bevin lost to McConnell by a landslide in that primary. But he came back a year later to be elected governor. He ran on a platform of ending the state's health insurance exchange. Just recently, Bevin has been widely criticized for his decision to end dental and vision coverage for 460,000 Kentucky residents in response to a federal judge's rejection of his Medicaid overhaul.
Gov. Kate Brown, D-Ore. Brown, who was Oregon's secretary of state, became governor in 2015 after the resignation of Gov. John Kitzhaber, whose fiancée ran a consulting business that dealt with state government. She was elected to the job in a special election in 2016. Brown promised to run a clean and open government. However, Forbes magazine earlier this year published an article detailing thousands of dollars in questionable expenses — including yoga classes, movie tickets, a kayaking trip in Canada and a vacation to Palm Springs, Calif. — that the governor charged to state credit cards. Oregon papers recently have reported Brown is considering legislation to impose new limits on what state employee information can be released to the public. (Brown last year signed a bill imposing a 15-day time limit for state agencies to release most records requests.) Brown still has fair approval ratings and is expected to win a full four-year term in November.
Gov. Steve Bullock, D-Mont. One interesting thing about governorships is that solidly Democratic states sometimes end up with Republican governors — and vice versa. First elected in 2012, Bullock succeeded another Democrat, Brian Schweitzer. Bullock, who was re-elected in 2016, has maintained good, sometimes great, approval numbers from Montana voters and has been mentioned as a possible presidential candidate. He'll become chairman of the National Governors Association when Brian Sandoval, R-Nev., steps down at the end of this year.
Gov. Doug Burgum, R-N.D. Burgum, who made a fortune as a software executive, was a political novice when he won the 2016 governor's race with more than 75 percent of the vote. In recent months, he's has been the center of some ethical controversies. In February, he was criticized by Democrats and Republicans alike for accepting Super Bowl tickets and other amenities for his wife and himself from Xcel Energy, the Minnesota-based utility that provides electric service for 90,000 households in his state. In response to the criticism, Burgum reimbursed the company $37,000 "to eliminate even the perception of any conflict."
Gov. John Carney, D-Del. Carney was first elected governor in 2016 after three terms in Congress and eight years as lieutenant governor. Carney, who lost a gubernatorial bid in 2008, won the '16 race with 58 percent of the vote. He has maintained good approval ratings since. In June, he proved he has talents beyond the political by taking the stage at the St. Anthony's Italian Festival and belting out Frankie Valli's "Can't Take My Eyes Off You."
Gov. Dennis Daugaard, R-S.D. Daugaard is one of the most popular governors in the country. He won re-election in 2014 with more than 70 percent of the vote and, after seven years in office, maintains approval ratings of more than 60 percent. Although he's conservative, Daugaard, a proud member of the National Rifle Association, last year vetoed two bills that would have loosened gun regulations. Because of term limits, Daugaard can't run for re-election this year.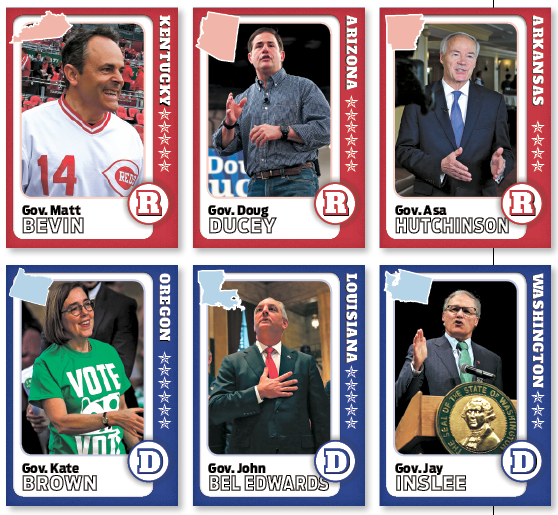 Gov. Mark Dayton, D-Minn. Dayton served a single term in the U.S. Senate beginning in 2001. He has admitted that his six years in Congress were a failure. Time magazine agreed with that assessment, naming Dayton to its list of the five worst senators in 2006 due to his "erratic behavior." He's been less controversial during his two terms as governor and has maintained decent approval ratings. Though he's not facing term limits, Dayton has decided to retire at the end of the year.
Gov. Doug Ducey, R-Ariz. There's no doubt that Ducey is a conservative politician. But compared to some Arizona Republicans of recent years, he seems pretty moderate. Arizona Republic columnist Elvia Díaz, in a column earlier this year, noted that Ducey has neither openly embraced nor decried President Donald Trump. "But he isn't Trump," she wrote. "And he certainly isn't former Maricopa County Sheriff Joe Arpaio or former Gov. Jan Brewer, who put Arizona on the international map as a 'racist' state." Ducey is up for re-election this year. Most pundits expect him to win.
Gov. John Bel Edwards, D-La. When elected in 2015, Edwards proved a Democrat could be elected as governor in a Deep South state. Of course, he's a fairly conservative Democrat, describing himself as pro-life and pro-guns — though he was a Barack Obama delegate at the 2012 Democratic National Convention and supported Hillary Clinton over Trump for president in 2016. He has expanded Medicaid to the working poor, threatened to sue oil and gas companies for destroying coastal wetlands, pushed for a higher minimum wage and reformed his state's criminal justice system.
Gov. Mary Fallin, R-Okla. Fallin was first elected in 2010, becoming her state's first female governor. She was re-elected in the deep-red Sooner State with a healthy margin in 2014. But voters seemed to sour on Fallin in her second term. She has battled bitterly with legislators, creating a budget impasse that's lasted more than a year. She also has butted heads with teachers, who went on strike earlier this year. And just last month, Oklahoma voters bucked Fallin by passing a ballot measure to legalize medical marijuana, which the governor claimed would open the door to legalizing recreational use of the drug. Fallin can't seek a third consecutive term.
Gov. Bill Haslam, R-Tenn. Haslam is one of the nation's richest governors. His family owns the Pilot Flying J company, which saw its plans to build a truck stop south of Santa Fe rejected by the County Commission. A couple of years ago, Haslam vetoed a bill, passed by his GOP-dominated legislature, that would have made the Bible the official state book. He opposed legislation that would have allowed carrying of concealed weapons by anyone legally allowed to own a firearm. Haslam, who cannot seek a third consecutive term, considered running for a U.S. Senate seat this year but decided against it despite high approval ratings.
Gov. Gary Herbert, R-Utah. Herbert has served as governor since 2009, when President Obama tapped Herbert's predecessor, Jon Huntsman, also a Republican, to be ambassador to China. Like virtually all successful Utah politicians, Herbert is very conservative, but he has shown some quirks that suggest some moderate tendencies. For instance, while he was vocal in his opposition to allowing same-sex marriage in Utah, he did sign a bill in 2015 that banned discrimination on the basis of sexual orientation and gender identity in employment and housing in the state. Through it all, he has remained popular. The 71-year-old Herbert has said he won't seek re-election in 2020, even though last year he raised more than $600,000 in campaign contributions.
Gov. John Hickenlooper, D-Colo. This former mayor of Denver — and former brew pub operator — was governor of his state during an eight-year period of economic growth and shrinking unemployment. It also was a time of social change. In 2013, Hickenlooper signed a bill legalizing civil unions in his state. Early the next year, Hickenlooper endorsed marriage equality — just a month before a federal court struck down a prohibition against same-sex marriage, which Colorado voters had approved eight years before. (In 2015, the U.S. Supreme Court legalized same-sex marriage nationwide.) Then there's marijuana: In 2012, Colorado became the first state to legalize recreational cannabis for adults. Hickenlooper — who had opposed the ballot measure — oversaw the implementation of regulations for legal weed. Hickenlooper is term-limited, so he can't seek re-election this year.
Gov. Larry Hogan, R-Md. Hogan is a Republican, but he's popular with voters in this solid-blue state. In fact, in a poll last month by the Baltimore Sun and the University of Baltimore, 60 percent of Maryland Democrats who said they were likely to vote in their party's primary approved of Hogan's performance. A quarter of Democrats told pollsters they plan to vote for Hogan in November. A profile of Hogan in the Washington Post last year said, "He has worked to create a personal brand that is affable, bipartisan and pragmatic — pretty much the opposite of Trump."
Gov. Asa Hutchinson, R-Ark. This won't be the Arkansas governor's first visit. In 2001, while Hutchinson was the head of the Drug Enforcement Administration, he came to Albuquerque to debate then-New Mexico Gov. Gary Johnson about legalizing marijuana and other drug policy issues. The debate, organized by a National Public Radio program, drew a passionate and enthusiastic live audience, but hardly anyone read about the debate in the newspapers the next day. The event took place on Sept. 10, 2001. Since he was elected governor four years ago, Hutchinson has maintained enviable approval ratings and is expected to be a shoo-in for re-election this year.
Gov. Jay Inslee, D-Wash. An eight-term congressman, Inslee ran for governor in 2012 and was re-elected in 2016. But Inslee wasn't known much outside of his home state until last year, when he became a leading critic of Trump's travel ban. Washington was one of several states that sued the administration, forcing the White House to go back to the drawing board. Inslee appeared on umpteen news programs to talk about his opposition to the travel ban, prompting the Seattle Times to run an article under the headline, "Jay Inslee for president? Governor's profile is on the rise." Inslee downplayed such talk, saying, "I love this job" and that a White House bid is "really not in the stars." He's up for re-election in 2020.
Gov. Dannel Malloy, D-Conn. According to a Morning Consult poll published in April, Malloy, who is finishing his second four-year term, is the most unpopular governor in the nation. The poll showed a 72 percent disapproval rating and an approval rating of 21 percent. He made enemies on the right in 2011 when his budget, passed by the state legislature, raised various taxes. Then in 2016, he was lambasted by labor leaders and progressives because he successfully pushed for a budget that cut at least 2,500 public-sector jobs. Malloy is not seeking a third term.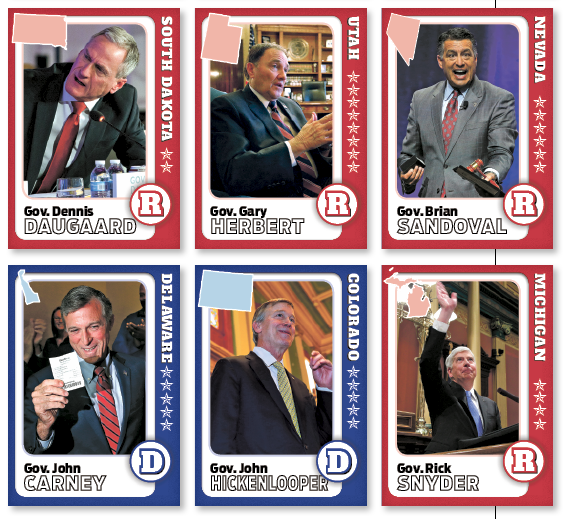 Gov. Susana Martinez, R-N.M. Before she even took the oath of office, many national pundits and talking heads were touting Martinez as a future national leader and possible vice presidential contender. By 2013 — following her trip to New Jersey to campaign for Gov. Chris Christie's re-election, some were openly salivating about the possibility of a Christie/Martinez ticket in 2016. That didn't happen. Martinez's political fortunes fell in late 2015 after a now-legendary "pizza party" in her hotel room following a staff holiday celebration. Recordings of Martinez trying to order Santa Fe police to call off an investigation of noise complaints — and trying to find out the name of the person who complained about the noise from her room — made national news. The state's lagging economy also hurt her. Martinez can't seek re-election this year because of term limits.
Gov. Brian Sandoval, R-Nev. Susana Martinez wasn't the only Hispanic Republican elected governor in 2010. But Sandoval, who like Martinez can't run for re-election this year due to term limits, is leaving his job with far better approval ratings than New Mexico's governor. According to a Morning Consult poll published in April, Sandoval has a 57 percent approval rating among Nevada voters. Sandoval apparently is popular among fellow governors. He is chairman of the National Governors Association.
Gov. Rick Snyder, R-Mich. Snyder probably would have been best remembered as the governor who pushed through so-called right-to-work legislation in a state where labor unions had thrived. Snyder remained popular in Michigan throughout his first term, winning re-election in 2014. But his approval ratings were poisoned during his second term because of the water crisis in Flint, Mich., where thousands were exposed to hazardous water. Flint residents are still drinking bottled water. Due to term limits, Snyder isn't seeking re-election.
Gov. Scott Walker, R-Wis. Walker, a former Milwaukee County executive who was first elected governor in 2010, gained national recognition shortly after he took office as a union buster. He helped ramrod legislation that limited collective bargaining privileges for state workers. That sparked massive demonstrations and prompted a recall election. Walker survived the recall in 2012, then came out on top again in his 2014 re-election. Many Republicans thought he would be an ideal presidential candidate. He announced his candidacy in July 2015. But following a couple of lackluster GOP debate performances and a steady decline in the polls, Walker left the campaign in late September 2015. At that announcement, Walker blasted Trump. But since Trump's 2016 victory, Walker, who is seeking a third term, has become more supportive of the president.