The coronavirus did not completely melt the ski season in Northern New Mexico.
But it did force some innovation.
The season that ended Sunday drew about 800,000 visits to the state's slopes, said George Brooks, director of Ski New Mexico, the state industry association.
He said skier business was estimated at 65 percent of normal — even with many ski areas sticking to 25 percent capacity throughout the season.
The demand to get on the slopes, even with the coronavirus threat, prompted operators to come up with flexible lift-ticket pricing, with some boosting prices on the weekends and offering discounts on weekdays.
"We had more people for Monday to Friday business than last year but Saturday and Sunday had a real decrease," said David Norden, CEO of Taos Ski Valley, which saw business drop between 30 percent and 35 percent from a year ago.
Sipapu Ski & Summer Resort also went flexible with the higher-priced popular times. That enabled the ski area 20 miles south of Taos to have similar lift-ticket revenue this year with only 60,000 skier visits rather than the 67,000 skier visits in 2019-20, said Christiana Hudson, spokeswoman for Sipapu and Pajarito Mountain Ski Area.
Hudson said food and beverage revenue at Sipapu was "way, way down" because the bars couldn't operate with indoor dining restrictions, and lodging was "down significantly" because of 25 percent room occupancy limits. Still, Ski Santa Fe, Taos Ski Valley, Sipapu and Pajarito weathered the storm better than expected — though they've had practice, with several years of uncertain weather conditions.
"It's fair to compare COVID to a bad snow year," said Tommy Long, operations manager at Ski Santa Fe. "Oddly enough, a ski area is in a unique position to deal with a year like COVID."
Ski Santa Fe sold out 41 times this winter. Its capacity gradually grew from 500 skiers a day to 2,000. In a normal year, Ski Santa Fe has as many as 3,500 skiers on the slopes per day, Long said.
Taos Ski Valley, open from Dec. 9 to April 5, never sold out. It is New Mexico's largest ski area, and all lifts and runs were open.
"We stayed under 25 percent the entire year," Norden said.
New Mexico's eight Alpine ski areas conducted 7,128 COVID-19 tests among employees and had 21 positive results, Brooks said.
Norden said Taos Ski Valley had no positive results from more than 2,000 tests.
Pajarito had one positive result from 550 tests, with 50 employees this year instead of the usual complement of about 85 workers. Sipapu had two positive cases from about 500 tests from about 90 to 100 employees, Hudson said.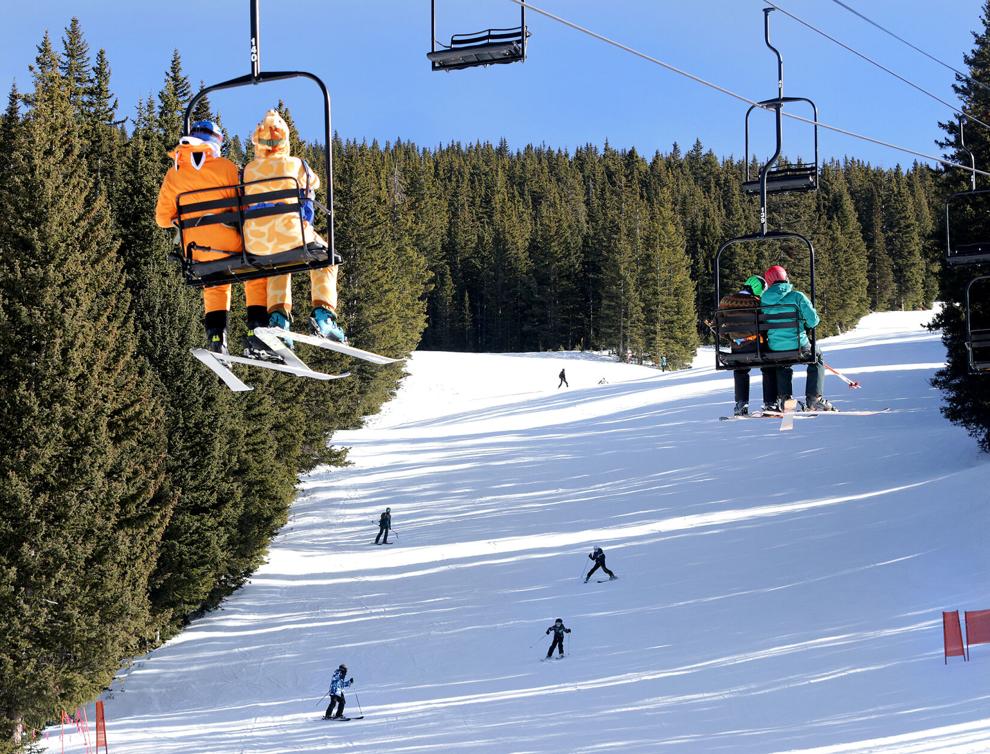 Ski Santa Fe reported 12 positive results from more than 1,800 virus tests. It employed 400 employees, Long said. The ski area started the season with only the lower mountain and four lifts open. By February, all lifts and all runs but one were open, Long said.
"As the season progressed, this season did not turn out to be a record breaker. But given the circumstances, it turned out pretty good," Long said. "People could come someplace for a slice of something resembling normalcy."
Skiing was pretty normal, though with fewer people on the slopes, but at the base, things were different due to the pandemic. There was no outdoor dining, no locker rooms, nothing really indoors (except indoor dining at Ski Santa Fe once Santa Fe County reached the state's green restrictions status).
"We asked everybody to use their cars as a locker," Long said. "You were not allowed to be inside to change. There were pretty positive results with that."
Taos Ski Valley set up a tent with sides open and heaters inside for people to change into ski boots. But cars were in play, too.
"You had tailgating at the end of the day," Norden said.
Pajarito, which relies on natural snow with minimal snowmaking, had a brief season lasting from Jan. 24 to March 21. The ski area just outside Los Alamos drew only 15,000 skier visits, far below the normal 37,000 to 40,000, Hudson said.
"Pajarito was really a challenging year because of [a lack of] snow that was even worse than COVID restrictions," Hudson said.
Norden said most ski area were committed to see the year through, no matter what challenges might arise. The commitment at Taos, he added, was particularly strong.
"A lot of people asked, 'Why open at all?' " Norden said. "We had four primary reasons: One, provide meaningful employment for our staff. Two, keep the economic engine of Northern New Mexico moving. Three, continue the momentum for our revitalization [a five-year $300 million project at Taos that addressed much of the base and the ski terrain]. And four, deliver an outdoor respite to reenergize the soul."