World War II forged a tragic link between New Mexico and the nation of Japan. In 1942, shortly after the war broke out, the sparsely populated Southwestern state was jolted by the deaths or imprisonment of hundreds of its men after Japanese forces subjected them to the Bataan Death March in the Philippines. Just before the war's end, in August 1945, American B-29 aircraft destroyed the Japanese cities of Hiroshima and Nagasaki with atomic bombs developed in New Mexico.
Today, the ripple effects of the war and the U.S. deployment of weaponry created by scientists at Los Alamos still fuel controversy, especially about the use and proliferation of atomic technology. Yet that same technology also binds the two places in partnerships that were unthinkable during World War II.
There is no debating the suffering on both sides, including the atomic bombings' immediate aftermath and the long-term toll on victims after the war ended.
At Hiroshima, the fiery, radiation-plumed blast killed an estimated 80,000 to 100,000 people instantly. Another 100,000 were seriously injured. The bombing of Nagasaki three days later, which missed its target by about a mile, killed an estimated 74,000 people and left another 75,000 severely injured. Most of the initial victims died of burn injuries and trauma, but tens of thousands more soon followed, succumbing to radiation sickness.
A study by Japanese scientists and social workers published in English in 1981 on the 36th anniversary of the Hiroshima bombing found that of 109,000 survivors who had been exposed to the radiation associated with both atomic bomb detonations, 25,924 died between 1950 and 1974. Social workers who authored the study referred to the havoc wrought by the atomic destruction as "genocide — if not also sociocide, ecocide, biocide and earthocide — for it is a complete negation of human existence." They also pointed to the social and psychological pressures endured by survivors, which often precipitated the breakdown of their social structures and personalities.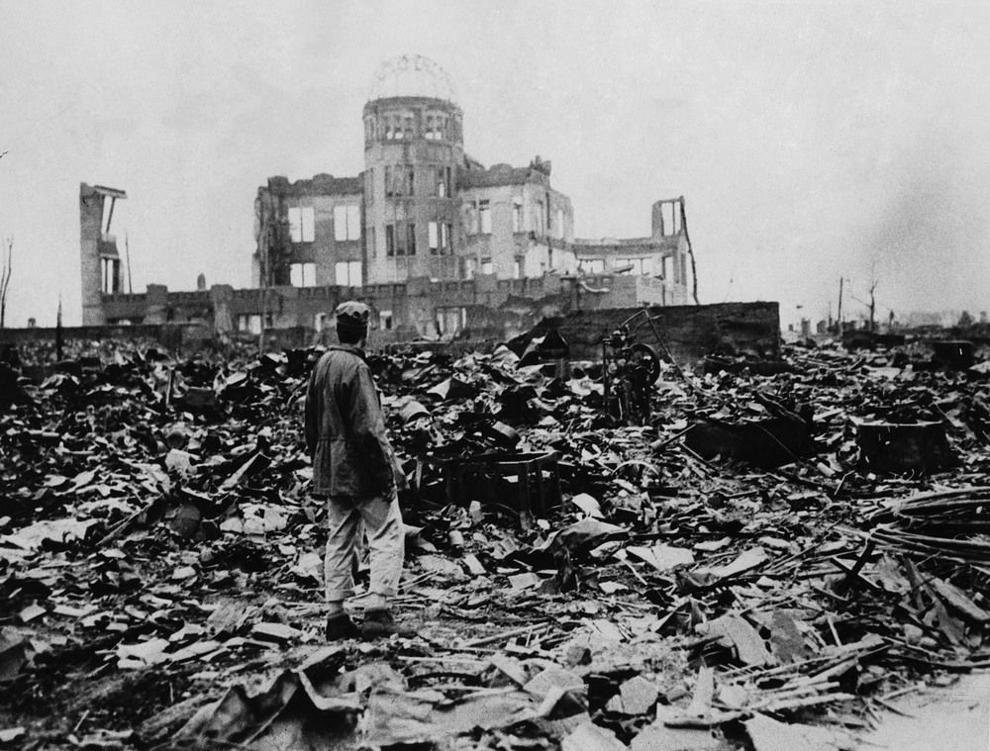 Other aftershocks of the atomic bombs, however — including the swift conclusion of World War II and post-war proliferation of nonweaponized nuclear technology — remain hotly debated.
In the eyes of Bud Ryan, an anti-nuclear-weapons activist and documentary filmmaker who lives south of Santa Fe, the use of atomic weapons against Japan was both horrific and unwarranted. Ryan has been active in the anti-nuclear weapons movement since he visited the Hiroshima Peace Memorial Museum for the first time in 1991.
After that trip, Ryan said, "I felt I'd been lied to about nuclear weapons, about how we had to drop the bomb on Japan." The work of historian and activist Gar Alperovitz, who argues in his book The Decision to Use the Atomic Bomb that U.S. leaders knew at the time the atomic bombs were deployed that they were unnecessary to force an end to World War II, also spurred Ryan to get involved in anti-nuclear activism. That led to work on his film, The Forgotten Bomb.
Ryan outlined the project's central thesis: "When the Cold War came to end, people just assumed that the U.S. and Russia took our weapons off high alert. We haven't." Considering the tensions that persist between both nations, he said, "This is a very scary period right now. There's no better country than Japan to lead the way in ridding the world of nuclear weapons. They need to put pressure on the rest of us to start getting us back down to zero."
During a recent interview at the historic Fuller Lodge in the heart of the Los Alamos Historic District, author and oral historian Nancy Bartlit agreed the effect of nuclear weapons deployment was almost incomprehensibly inhumane. Yet she added that it's important to view the U.S. decision to use them in the larger context of the war.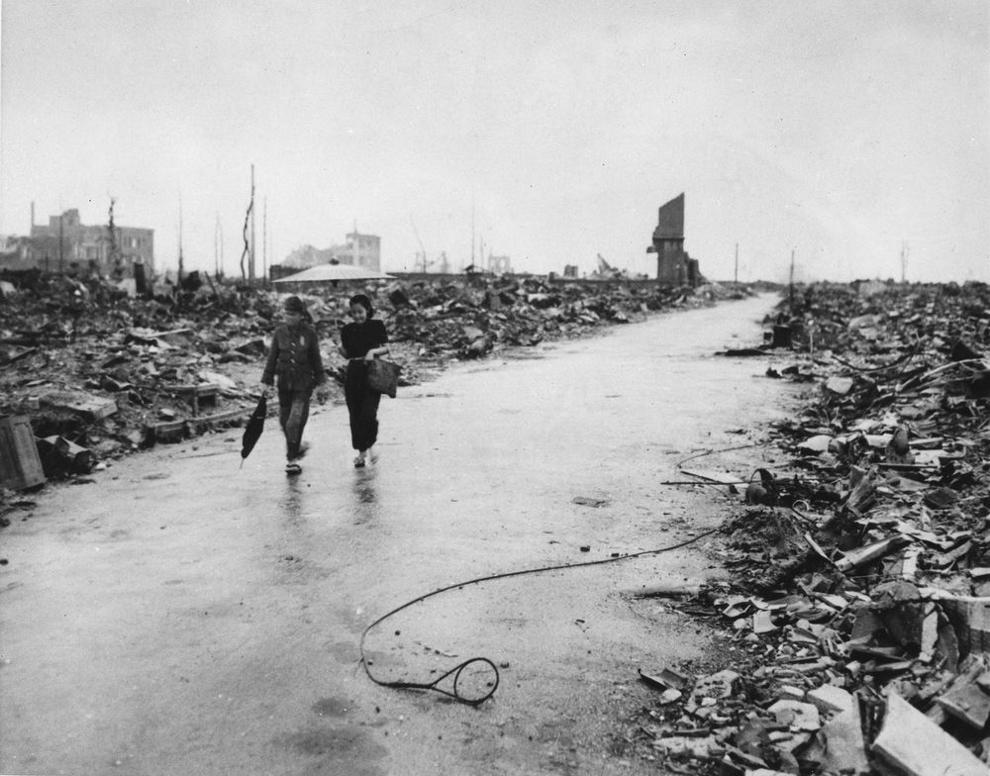 Bartlit has lived in Los Alamos since she settled there with her husband not long after her stint teaching English as a second language in Sendai, Japan, 15 years after the war's conclusion. She has had her feet planted in both places ever since. Her husband, a chemical engineer at Los Alamos National Laboratory, spent decades collaborating with and hosting visiting Japanese scientists studying nuclear fusion and the impacts of radiation. Barlit also served as chairwoman of the Los Alamos County Commission and devoted much of her subsequent career to the study of Japanese culture and history, much of which has centered on what she said are nuanced issues surrounding use of the atomic bombs.
"What is often forgotten by the people who thought the bombs should not have been used is the number of lives that were taken by the Japanese in Asia." An estimated 2.5 million Japanese civilians and military personnel were killed during those years, while conservative estimates of larger civilian casualties across the continent begin at about 17 million, Bartlit said. Toward the end of World War II, a quarter of a million people were dying of starvation across Asia every month, she said.
"When one looks at the lives that were lost in Hiroshima and Nagasaki, you have to look at the other lives that were lost in more conventional ways over a period of time." The U.S. military destroyed more than 60 Japanese cities with conventional bombing, Barlit said, "and that still didn't make a difference to the leaders who wanted to have one last fight against the Americans on Japanese soil."
The end of the war arrived when the Japanese emperor finally agreed to surrender within days of the bombings, she said. "People were starving, communism was filtering in, and the emperor was concerned about losing his power." In contrast, she added, acting Japanese War Minister Korechika Anami was relatively unconcerned by the havoc wreaked by the bombings of Hiroshima and Nagasaki.
Bartlit said she believes it was the threat of a third bomb that finally broke the will of the Japanese emperor. "Up to that point, three of the six ministers of the war council wanted to find peace and sign a surrender. There were three who did not. General Anami was in charge. He finally signed the rescript [to surrender], and it was unanimous with the war council and the cabinet. Then he went home and prepared for ritual suicide."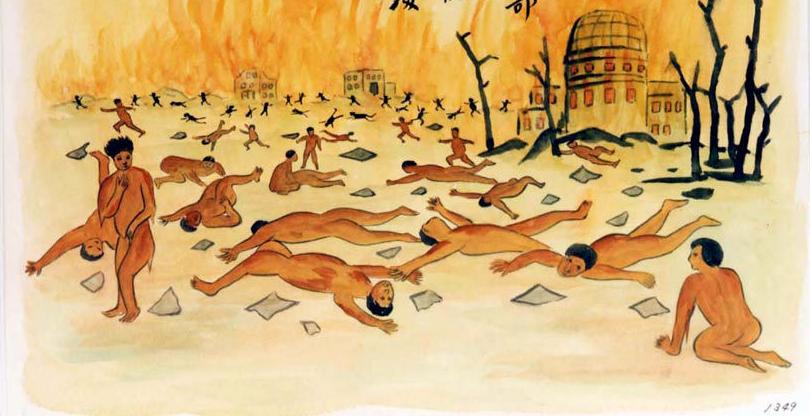 Despite their different interpretations of the history, both Ryan and Bartlit said they fear that younger generations are losing touch with it.
"The farther we get away from the bombings of Hiroshima and Nagasaki, the less of a grasp our leaders have on what these bombs can do," Ryan said. "Most of them never met with a bomb survivor and heard of the horrors these people went through."
At least one Hiroshima survivor is among the thousands of people who have visited the Bradbury Science Museum in Los Alamos. In August 1995, days after the 50th anniversary of the Hiroshima bombing, she signed a ledger maintained by the Community Programs Office of the Los Alamos National Laboratory, where guests record often diametrically opposed responses to the museum's exhibits. The visitor from Tokyo, whose name was recorded as "Fumiko A.," wrote that she was a 14-year-old resident of Hiroshima when the atomic bomb was dropped on that city.
She wrote that she knew Japan had committed crimes in Asia and across the Pacific, including the surprise attack on the United States at Pearl Harbor.
"Ever since I realized what war really is [murder], I have also seen the faces of the people who suffered at the hands of the Japanese when I recall my brother's face," she wrote. "There is no holy war, no matter what kind of war it is or what kinds of weapons are used. As long as nuclear weapons exist, there is no future for humanity. This exhibit has made me believe that even more. Science must be used for useful purposes. We must never in the future, nor continue now, to be slaves to the bomb."
According to Eri Hoshi, a native of Japan who now works as an economic development manager at The University of New Mexico's technology transfer program, the collective memory of havoc wreaked by the atomic bombings remains strong among average Japanese. "Because of the personality of the Japanese citizen, they really don't want to talk about it."
Plus, she added, the painful story of how Los Alamos' wartime atomic technology was used to bomb Hiroshima and Nagasaki has taken a turn unimaginable 70 years ago.
Video by Natalie Guillen/The New Mexican
Hoshi said New Mexico's national laboratories are playing a critical, cooperative role as the Japanese government moves to optimize the efficient use of renewable energy — a push that's increasingly urgent in the wake of the 2011 Fukushima Daiichi Nuclear Power plant disaster.
"It's kind of ironic to have both histories," she said.
Hoshi explained that in 2008, Japan's Ministry of Economy, Trade and Industry began forging collaborations with researchers at The University of New Mexico, Sandia National Laboratory and Los Alamos National Laboratory.
"Japanese leaders are interested in smarter ways to optimize the energy efficiency of renewable energy sources like solar and wind, to free ourselves from other sources like natural gas, coal, gasoline engines," she said.
There's been a strong push in Japan to marshal new technology and renewable energy sources to update the way cities are planned as well as to pursue so-called "smart grids" for improved electricity grid efficiency and transmission, Hoshi said. The Japanese government invested in New Mexico-based research projects related to those goals. Then the Fukushima nuclear disaster struck.
Then-Prime Minister Naoto Kan reversed his former stance, which had been supportive of nuclear power. He halted all plans for developing new nuclear plants, and in 2013, the country shut down nearly all existing ones.
Japan urgently needed to generate energy through other sources, Hoshi said, and the work underway in New Mexico has taken on increasing importance.
Yet another researcher at Los Alamos has partnered with Japan's Toshiba company in the pursuit of special remote topographical technology that could help track radioactive particles inside the nuclear plant at Fukushima.
"Los Alamos has been contributing a lot, and they're making a friendship based on the technology collaboration," Hoshi said. "It's really interesting to see how they are working together to solve these kinds of problems."
As a member of a younger generation, Hoshi said, she doesn't want to celebrate or dwell on dark parts of the shared history between the U.S. and Japan. "I want to see a bright future of brand-new technology. From my point of view, whatever happened in the past, we have to deal with it, but we also have to look forward together in this globalized world. That motivates me to work with The University of New Mexico and its Japanese counterparts to move these projects forward."
U.S. War Department survey of nuclear weapon damage.