Medical professionals in the region see no reason for booster shots to bog down vaccination efforts against the coronavirus.
Booster shots — inoculations that come sometime after the original vaccinations for a disease — frequently are part of vaccine regimens, they say. That doctors and scientists now see a need for boosters against the coronavirus only reflects the fact that they continue to learn about the disease.
Dr. Jagdish Khubchandani, a public health professor at New Mexico State University, wrote in an email that news from the federal government about a booster is "a welcome step and right in line with what was known about this virus and the vaccines."
Guidance came Wednesday from federal administrators, who said new information indicates the vaccines' strength against mild disease declines with time. They also said protection against serious disease might be found to decrease as well.
They said the booster shots are expected to go to people who received the two-shot Pfizer and Moderna coronavirus vaccines eight months after receiving their second doses, starting Sept. 20. They also mentioned those people should wait until the Food and Drug Administration rules that third shots are safe and effective.
And they said health care workers and nursing home residents should hold priority. The FDA last week already authorized use, however, for immunocompromised people. The Johnson & Johnson vaccine hasn't yet been cleared for booster shots.
Christus St. Vincent Regional Medical Center's specialty clinic at 433 St. Michael's Drive in Santa Fe had plenty of business Wednesday for COVID-19 vaccinations, including people who received the booster shot.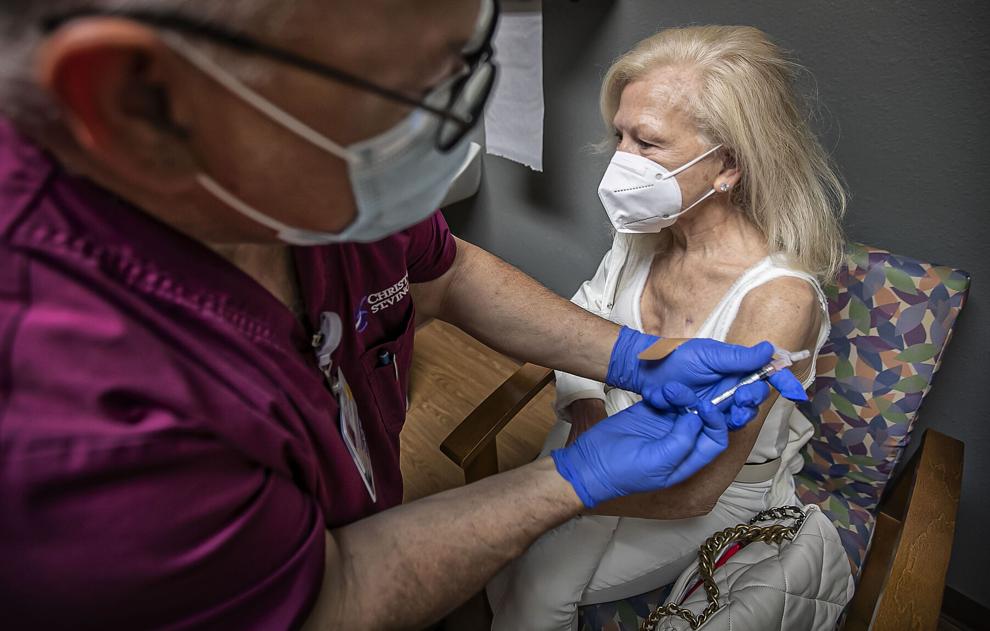 JoBeth Cash of Santa Fe said she had a prescription from her doctor for a coronavirus booster because of her severe asthma.
Cash, 67, received that booster shot Wednesday afternoon.
"Well, so far, so good," she said later. "I just was very anxious to get it."
Christus spokesman Arturo Delgado said those receiving the booster shot at the clinic at this time must be immunocompromised and have a doctor's order for the shot.
Jennifer Reich, a University of Colorado Denver sociology professor who has written extensively about vaccination hesitancy, said it's not clear if additional booster shots will be needed. If the core aspects of the virus remain similar enough over time, the immune system will continue to recognize it and respond, Reich said.
If the virus mutates profoundly, the immune system won't recognize it from before. "And I think we can't quite know yet," she said.
Dr. Jeff Salvon-Harman, chief patient safety officer with Presbyterian Healthcare Services in Albuquerque, said needing a booster shot shouldn't lead to questions about the vaccines' effectiveness or safety.
Salvon-Harman said studies have found the antibody levels decline a bit over time and that a booster shot after eight months may strengthen the response against the delta variant of the virus.
He said scientists managed to devise the coronavirus vaccines in surprisingly short order with minimal complications.
That "should give us incredible confidence in science and in the medical community," he said.
The state Department of Health reported Wednesday that 75.2 percent of New Mexico residents 18 and older have received at least one COVID-19 shot.
The delta variant here and elsewhere has significantly driven up the coronavirus caseload. As of Monday, the state Department of Health reported, there had been 4,915 cases in the state in the previous seven days. That rate hasn't been seen since early this year.
Historically, most vaccines have required boosters, said Jasmine Meyer, clinical programs manager at La Familia Medical Center in Santa Fe. The delta variant is a "vast mutation," Meyer wrote in an email, but the coronavirus vaccines are "still quite effective."
She added, "It's natural, and to be expected, that we would need a booster for additional protection."
David Morgan, a spokesman for the New Mexico Department of Health, wrote in an email the booster shouldn't fuel any arguments against the vaccines.
"In our view, this is less about arguing and more about understanding and — where appropriate — respectful efforts at persuasion," Morgan wrote. "At this point, we see daily stories across the country — and some here in New Mexico — about people who choose not to get vaccinated, get sick, and express regret on their deathbeds. We don't want that to happen to more families."