More than half of Santa Fe's public schools received D's or F's in statewide ratings this year, leading New Mexico Public Education Secretary-designate Christopher Ruszkowski to call it a "district in crisis."
"For Santa Fe, the trend is not good," he said during a visit to a Santa Fe charter school Friday as students completed their first week of classes for the new school year.
Noting that a strong principal can make a difference in a school's success, he added, "But when a district is not doing well, you have to look at its superintendent."
When the department issued the grades Friday morning for public schools around New Mexico, the announcement included a comment that Santa Fe's scores were "most concerning."
Santa Fe Superintendent Veronica García responded with a statement saying Ruszkowski was "engaging in political warfare" by singling out her district in its news release, particularly because student achievement rates in the district have risen slightly in the past year.
In a follow-up phone interview, García said she was "very disappointed" with Ruszkowski's comments and indicated the district may appeal some of the grades for individual schools. But, she added, "when we have done that in the past, it has not availed us of anything."
The state's A-F grading system has been a point of contention for many since Gov. Susana Martinez and former Public Education Secretary Hanna Skandera, with the support of the Legislature, implemented the ratings in the 2012-13 academic year.
The grades are determined by a complex range of measures, including graduation rates, student performance on standardized tests, student attendance and parental involvement in schools. Advocates believe these grades provide a clear picture of how schools are performing and encourage communities to help struggling schools. Critics say the formula is so confusing that the grades are of little use. They also complain that the system relies too much on test scores.
Last year, 46 percent of Santa Fe's public schools earned a D or an F. This year, it was 56 percent.
Of the district's 29 educational facilities, eight received an F, eight earned a D, four scored a C, five got a B and four received an A this year.
Wood Gormley Elementary School received an A for the seventh straight year — one of some 15 schools in the state that have maintained a top grade through the years, Ruszkowski said. The Academy for Technology and the Classics, which Ruszkowski visited Friday, received its sixth A in a row.
Ortiz Middle School, on the other hand, received its fourth F in as many years.
Under the state's new plan under the federal Every Student Succeeds Act, the state can take steps to intervene, including closing a school, if a public school receives an F for five or six years in a row.
Ruszkowski praised some of the Santa Fe public schools that are faring well in the grading system, including Piñon Elementary. It serves about 545 students, roughly 65 percent to 75 percent of whom are enrolled in the free- and reduced-price lunch program, a federal indicator of poverty.
But as in past years, the Santa Fe schools serving a large majority of such students mostly earned D's or F's. A 2016 legislative study found a link between a school's grade and the income levels of the families served, and it said schools with a higher percentage of English-language learners and special-education students often get D's and F's.
García said Friday she believes the school grades do "correlate with income."
The superintendent also said low grades for schools can discourage effective educators from wanting to teach in those schools.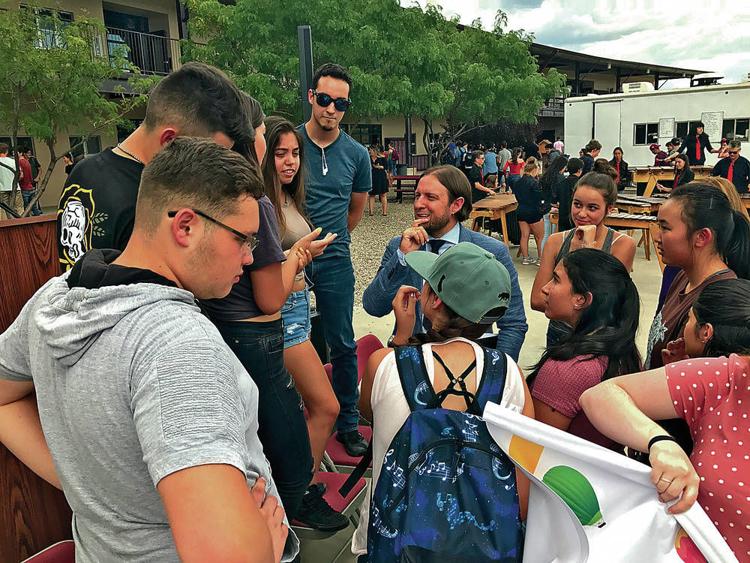 Nine Santa Fe schools saw their ratings slide. One school — Amy Biehl Community School — dropped to a D from a B. Two other schools — E.J. Martinez Elementary and Tesuque Elementary — notched up to a C from a D.
Capital High School got a C, just like last year. Santa Fe High School got a D, a drop from last year's C.
The Santa Fe district is also home to a number of charter schools that fall under state oversight. The New Mexico School for the Arts, a rare public-private enterprise that focuses on training students in visual and performing arts, earned its seventh A in a row. Turquoise Trail Charter Elementary School earned a B, as it did last year. The MASTERS Program, a dual-credit school housed on the Santa Fe Community College campus, earned an A, as it did last year. Tierra Encantada Charter School moved up to a D from an F. Monte del Sol Charter School dropped to a D from a C.
Statewide, of 843 public schools, about 13 percent received an A, about 26 percent a B, 24 percent a C, a little over 22 percent a D and just under 15 percent were rated F.
Districts can appeal grades they believe are inaccurate. Santa Fe school board President Steven Carrillo said Friday he expects the district will appeal "quite a few of the grades."