At a rally in Santa Fe on Monday, Elena Ortiz stood among a crowd of 1,500 people in the city's historic Plaza in a show of solidarity with the people of Charlottesville, Va., where a demonstration by white supremacists last weekend turned deadly. She held a sign that read, "No hate, no KKK, no fascist USA."
But as one speaker after another took the stage, Ortiz grew increasingly frustrated.
"There were no Native Americans," said Ortiz, a member of the Ohkay Owingeh pueblo north of Española. "Of course [Mayor Javier Gonzales] gets up there and starts talking about what a wonderful place Santa Fe is because, you know, we don't put up with this kind of racism."
For Ortiz, who grew up in Santa Fe, the speakers' comments overlooked a fundamental truth about their own city and its tradition of honoring figures with histories of killing and enslaving Native Americans. Soon she joined a small chorus of others in the crowd who began chanting: "Abolish the Entrada!"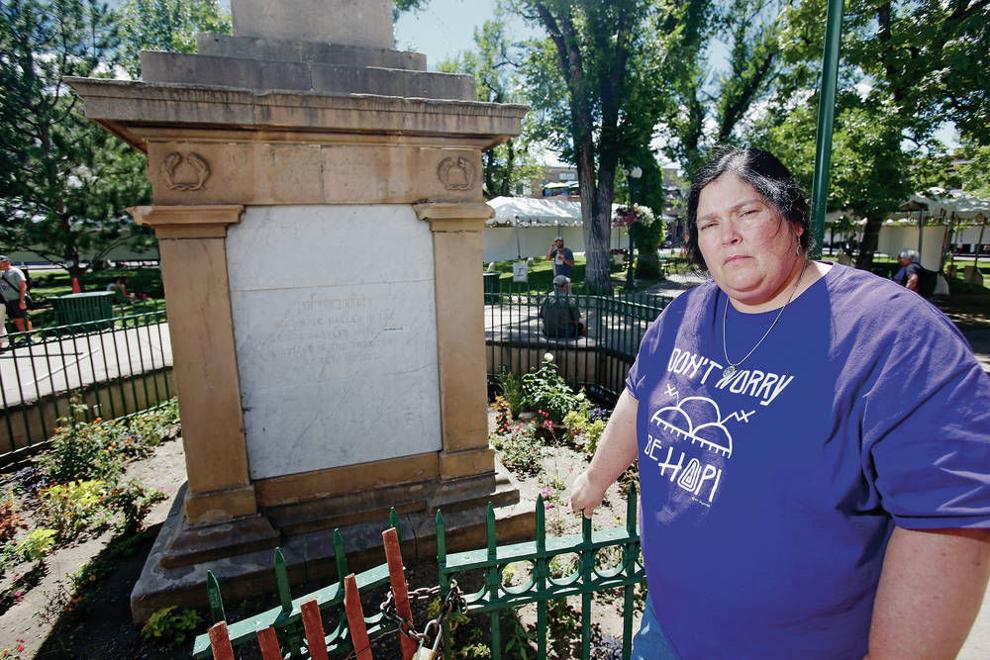 They were referring to the annual re-enactment during the Fiesta de Santa Fe each September that celebrates what organizers call the "peaceful resettlement" of the city by Spanish conquistador Don Diego de Vargas in 1692 — an event that historians say was anything but peaceful.
As much of America debates the removal of Confederate statues in the South, a similar dispute has been stirring in New Mexico for decades over the appropriateness of honoring Spanish conquistadors and other historical figures who, while helping to colonize the region, also had a destructive impact on the Native Americans already living here. Statues of conquistadors like de Vargas and Don Juan de Oñate adorn the state, serving as recurring flashpoints between residents of Hispanic descent and Native Americans whose ancestors suffered at the conquistadors' hands. The same debate roils over other historical figures in Southwest history, such as Kit Carson.
Across the nation, cities and states are considering removing or relocating Confederate statues and monuments. The city of Baltimore quietly removed four Confederate statues last week, and the mayor of Lexington, Ky., is working to relocate two Confederate-era monuments after the tragic events in Charlottesville.
The removal of such monuments comes after South Carolina permanently lowered the Confederate flag from its State House last year and New Orleans removed the final Confederate statue in the city in May.
President Donald Trump, a Republican, called the removal of such monuments "so foolish."
"Sad to see the history and culture of our great country being ripped apart with the removal of our beautiful statues and monuments," Trump tweeted Thursday. "You can't change history, but you can learn from it. Robert E Lee, Stonewall Jackson — who's next, Washington, Jefferson?"
The dissidence over historical figures has played out in different ways in New Mexico.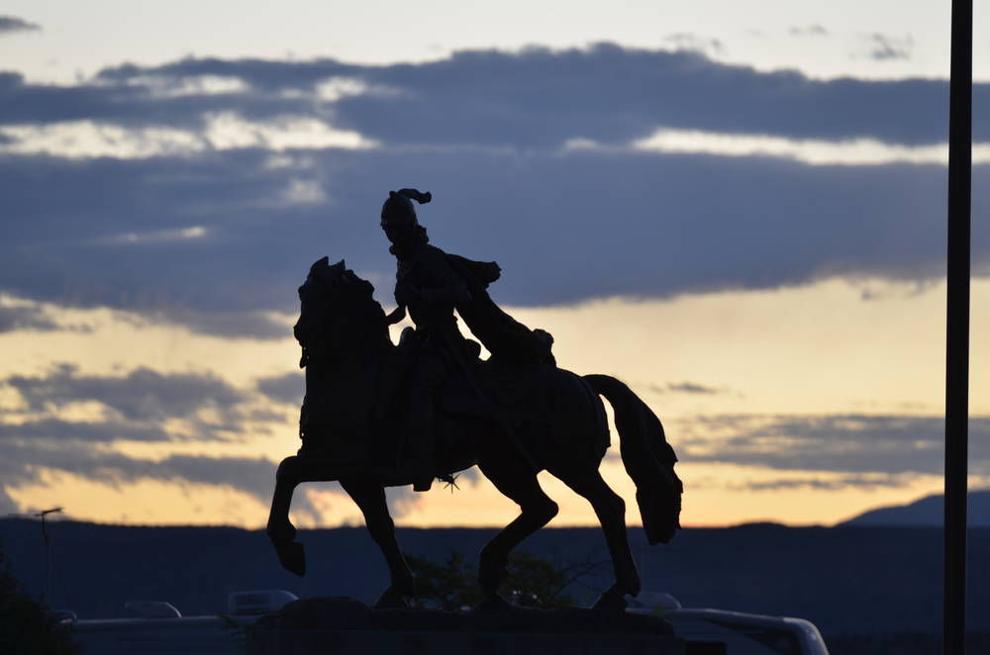 In 1998, for example, the right foot of a bronze sculpture of Oñate was sawed off at a cultural center in Alcalde named after the conquistador, just as the state was preparing to celebrate the 400th anniversary of his arrival.
When the Northern Rio Grande National Heritage Area moved into the building last fall, Thomas Romero, the nonprofit organization's executive director, said a name change was an important consideration. He said the group is "actively pursuing coming up with a way of minimizing the effect of the statue without just doing a removal."
"We've started talking about the concept of building a culture garden in that area where the statue is right now and that we would, over time, create new images there that would tend to represent and reflect all of the cultural mix," Romero said.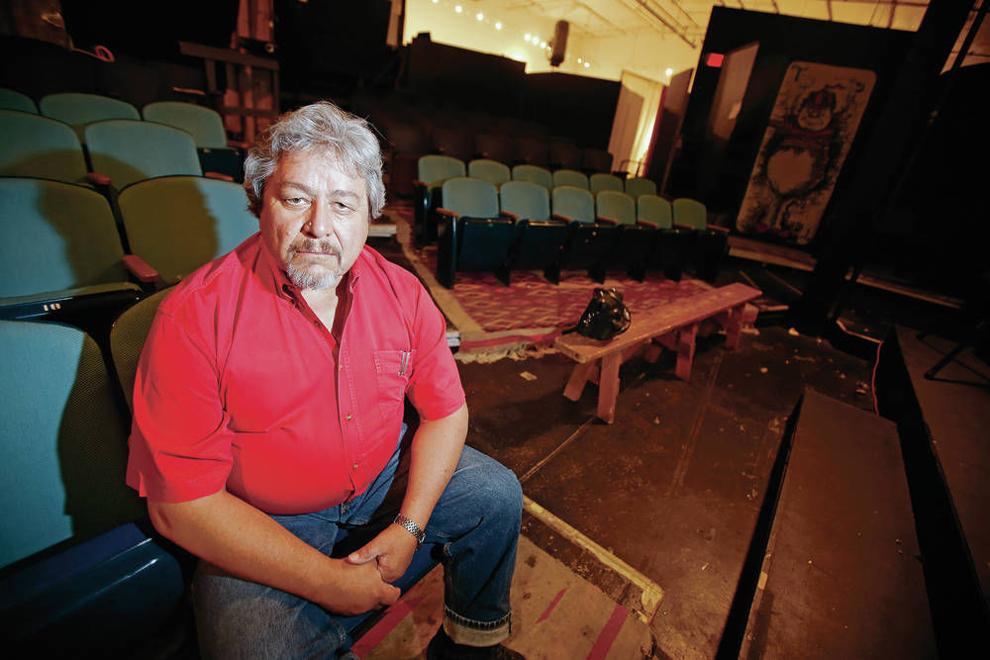 In Santa Fe, Mayor Gonzales also is tackling the issue of monuments and statues with a cautious approach.
Gonzales announced Thursday "a plan to address Santa Fe's own complicated history with race and memory head on."
Gonzales said he plans to ask the city manager to deliver a report or a timeline for a report that includes "all city property that holds memorials, monuments or markers of historic events or people." The mayor also is requesting "a process by which the public may submit and comment upon events, memorials, monuments and markers that celebrate or recognize historic events or people for inclusion."
"From there, I will ask the City Council to take action consistent with the findings of the manager's report," Gonzales said in a statement. "I believe we can be a leader in racial healing and transformation towards a more unified city, but it will take more than a mayor or city council. It will take our entire community coming together."
State Historian Rick Hendricks did not return a message seeking comment for this story. Some historians have argued that removing such statues is allowing history to be overtaken by political correctness.
"Given the nature of sensitivity, it's not possible to commemorate anybody in history or honor anything," New Mexico historian and author Marc Simmons, who has written a biography of Oñate, told The New Mexican after the Oñate statue in Alcade was vandalized.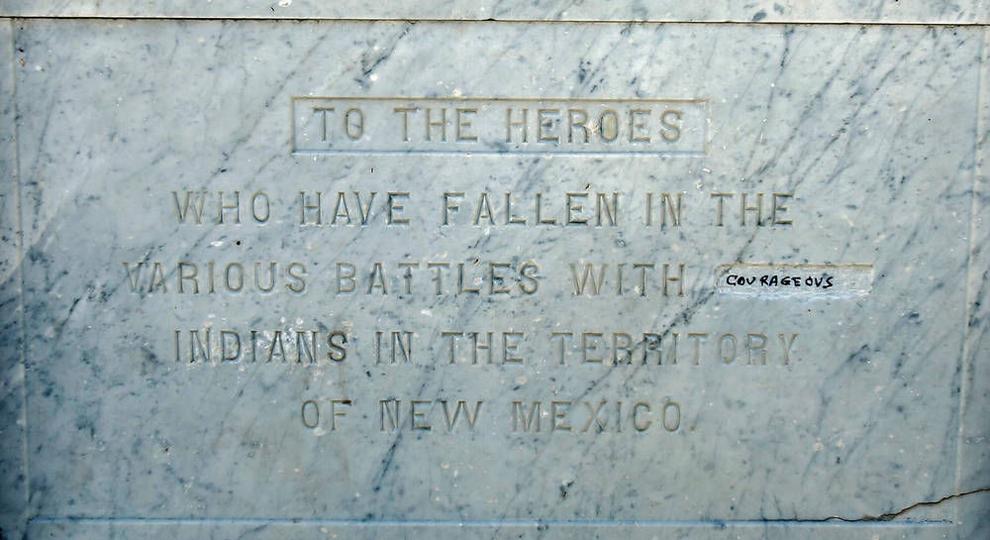 Standing outside the obelisk in the center of the Santa Fe Plaza, which originally included an inscription that read, "To the heroes who have fallen in various battles with savage Indians in the Territory of New Mexico," James Palmer and his friend, Preston Pollard, both visiting from Dallas, bemoaned the removal of such monuments, including statues of Confederate Gen. Robert E. Lee.
"Instead of tearing down these statues, they ought to put an explanatory plaque. You learn from history," said Palmer, 80.
In 1974, an unidentified man wearing coveralls chipped the word "savage" out of the inscription on the obelisk. Sometime between Thursday and Friday, the word "courageous" was written in.
The obelisk was dedicated in 1868 as a memorial to those who fought in the Civil War — and those who fought the Native people.
For decades, people offended by the monument have called for its removal. In the early 2000s, Santa Fe's chapter of the NAACP, the nation's oldest civil rights organization, asked for the monument to be replaced, but it still stands today.
Outside the obelisk is a plaque stating that "monument texts reflect the character of the times in which they are written and the temper of those who wrote them" and that "attitudes change and prejudices hopefully dissolve."
"It should be done all over the country like this rather than tearing down the monuments that we see, because you learn from history," Palmer said. "You don't just ignore history. You learn from it."
Pollard, also 80, agreed.
"It has nothing to do with the thoughts and hearts of people that's going on with them right now, be it the far left or the far right," he said. "This stuff needs to stop and stop now."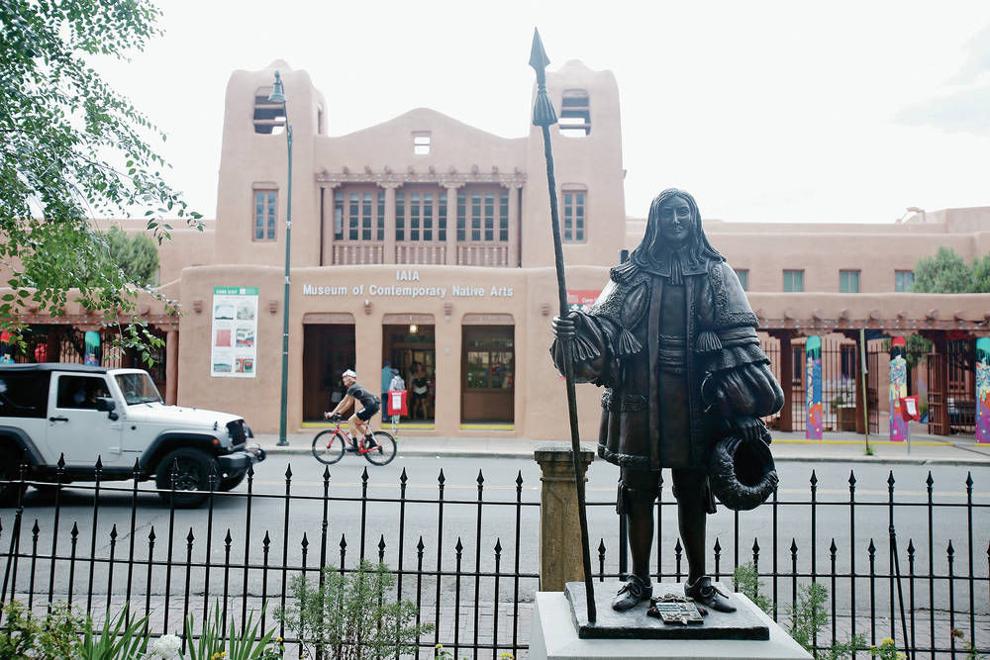 Last weekend's deadly confrontation in Virginia, which started with the proposed removal of a statue of Lee from a college campus, has not only reignited the debate over monuments of people whose histories are marked with violence and bloodshed, but intensified efforts to abolish the Entrada.
The dramatization is a sore point for some Native Americans and others.
The Entrada is one of many events that take place during the Fiesta de Santa Fe each September, but the dramatization has sparked the most controversy — not only because it is held in a public venue but because it is described as an "accurate account."
The Entrada features a man portraying de Vargas and his so-called cuadrilla marching onto the Plaza on horseback. As a group of Pueblo people watch de Vargas approach, a narrator says de Vargas has "a nervous fear and heart" but "the strength that comes from sincere confidence and the faith of God."
The narrator says de Vargas removes his sword and armor as he approaches the Native Americans.
"He is ready to walk into this ancient villa unprotected," the narrator says, reading from a script. "The Pueblo people at the palacio were not afraid to do battle, but they could not quite understand such an unusual feat of courage."
The narrator then says that Cacique Domingo, the Tesuque Pueblo governor who negotiated with de Vargas for the resettlement of the city, lays down his shield and spear and meets de Vargas.
"They have a friendly exchange," the narrator says. "De Vargas talks of peace and shows him the image of Our Lady on royal standard, then he shows him the statue of Our Lady of Assumption. Domingo shows de Vargas a crucifix he is wearing and his pouch where he had an Agnus Dei. He then shows him the holy rosary. Domingo does not feel threatened and invites Vargas into the villa."
At the end, the narrator says de Vargas "had spoken words of peace and now with Cacique Domingo, they convert this message into reality."
History tells a different story.
Historians agree that de Vargas reclaimed the city for the Spanish crown without any bloodshed, but he did so, as former State Historian Robert J. Torrez wrote, "utilizing a masterful mix of diplomacy and a not so subtle threat of a siege."
Author David Roberts writes in The Pueblo Revolt that it was still dark when de Vargas and his contingent of 50 soldiers, 10 armed civilians and 100 Native allies approached Santa Fe in September 1692.
In his journals, de Vargas wrote, "They replied that they were ready to fight for five days, they had to kill us all."
After a stalemate, de Vargas sent four soldiers to block Santa Fe's only water supply and gave the Pueblo people an hour to surrender, Roberts wrote.
"If they did not," de Vargas threatened, "I would consume and destroy them by fire and sword, holding nothing back."
Some historians believe the Native Americans, seeing that de Vargas' party did not include women and children, let him into the city, knowing he would soon leave and believing he did not intend to recolonize the area.
When De Vargas returned to Santa Fe a year later, this time with 100 soldiers, 70 families, at least 18 Franciscan friars and a number of Indian allies, the encounter with the Native Americans erupted into a battle that lasted through the night and into the next morning.
De Vargas and his Native American allies emerged triumphant, and in reprisal, ordered every warrior who had fought against the Spaniards — 70 in all — executed by firing squad. The 400 who had surrendered voluntarily, including women and children, were divided up among the colonists and sentenced to 10 years of servitude, according to historian John Kessell, former director of the Vargas Project, which compiled and translated de Vargas' journals.
Similar scenes — with similar repercussions — played out over the next three years as de Vargas and his Native allies campaigned against recalcitrant pueblos until most had surrendered.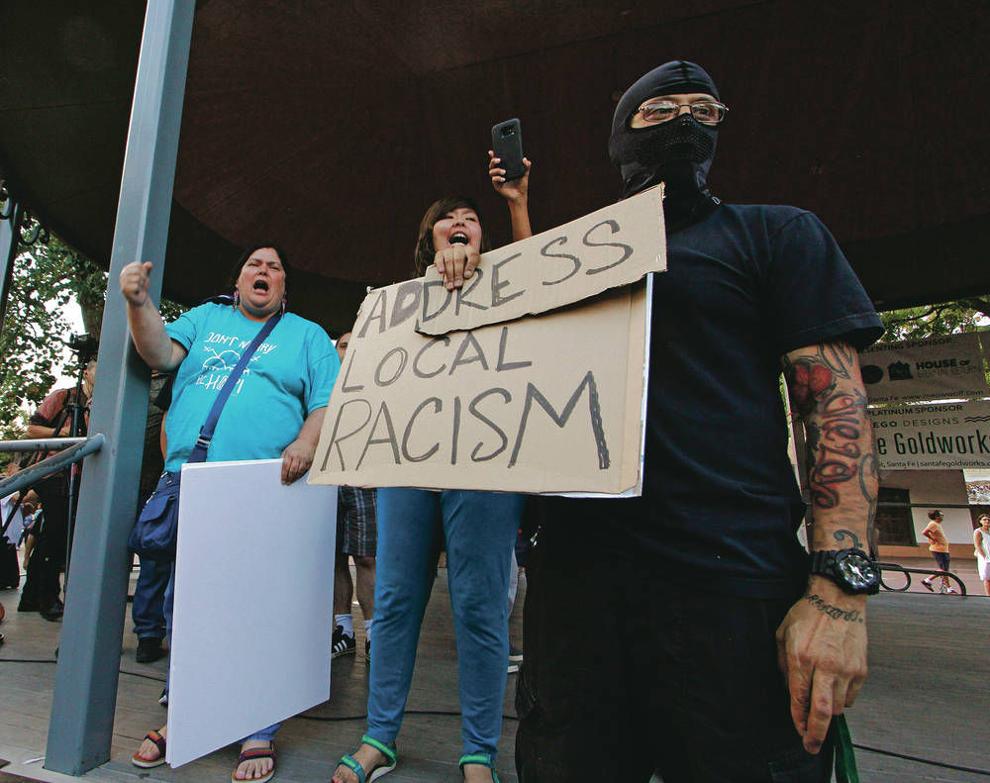 The Rev. Adam Lee Ortega y Ortiz, rector of the Cathedral Basilica of St. Francis of Assisi, said the Entrada commemorates one event of the entire resettlement — a moment of peace.
"Absolutely, the resettlement was not totally a peaceful event," he said. "There was bloodshed, absolutely. We're not commemorating the whole event. We're commemorating a point when Don Diego de Vargas came and had that reconciliation, even if just for a brief moment, which I think is a sign of hope, and that's what we want to build on."
For some, the dramatization is offensive.
"I'm sorry, but that's not accurate," said Jessica Eva Montoya Trujillo, who served as a Spanish princessa on the Royal Court in 2008, referring to the description of the Entrada as an "accurate account" of the "peaceful resettlement."
"The Caballeros need to put that play inside a theater and call it a day," she said, referring to Los Caballeros De Vargas, a religious group in charge of the annual performance. "Pride in European heritage is damaging, as we've witnessed this week in our country."
Dean Milligan, president of the Santa Fe Fiesta Council, and Manuel Garcia, president of Los Caballeros De Vargas, did not return messages seeking comment.
Some Native Americans view the Entrada as a celebration of the slaughter of their people and the occupation of Pueblo land.
The Entrada has sparked protests, including one last year that spooked some of the horses amid constant shouting and chanting into a megaphone. Another protest is planned this year, and organizers say they expect more protesters to join in the call to end what they consider a tradition rooted in racism.
"It's time for [the mayor and other officials] to stand up and say this is not OK anymore," said Ortiz, the Ohkay Owingeh member who yelled "Abolish the Entrada!" at last week's rally against racism.
"Just like toppling Robert E. Lee," she said, "it's time to topple this revisionist history and say, 'It wasn't peaceful. It wasn't bloodless, and we acknowledge what happened in this area. We acknowledge that the Entrada takes place on the corner where the gallows stood where 12 Pueblo religious leaders were hung. We acknowledge that what we're celebrating is wrong, and we're going to stop.' "
Jennifer Marley, 21, a member of San Ildefonso Pueblo who protested last year's Entrada, said the protest this year will be framed "in tandem with what we're seeing at the national level."
"I think it's very necessary to point out just how much the rhetoric of those defending the Entrada mirrors that of the neo-Nazis we saw rallying around a statue of Robert E. Lee," said Marley, a student at The University of New Mexico in Albuquerque. "It is disturbing because their defense literally mirrors the white supremacist narrative and, in fact, we're seeing that it is white supremacist in nature where people are emphasizing their Euro-Spanish heritage."
Police spokesman Greg Gurulé declined to disclose how the police department would handle any protests at next month's Fiesta.
"We will not be talking about our plans for Fiestas and the Entrada," he said in an email. "We will be staffing it. However, we will not disclose manpower or other plans for the event."
Ortega y Ortiz, the cathedral rector, said he would prefer a dialogue over a protest, which can lead to violence.
"In light of what happened [last] weekend, I think what serves our community of Santa Fe best is for us to sit down and talk with each other and respect all sides of what's going on rather than resorting to protests and yelling out things right when the event is taking place," he said. "That just promotes more disharmony rather than harmony."