DENVER — As awkward as it sounds, Convergence Station makes no sense and yet perfect sense as the name of Meow Wolf's third and newest permanent exhibition, which opens Friday in downtown Denver.
Putting a twist on sense is a hallmark for Meow Wolf and its surreal immersive and interactive art productions. Following the opening of installations in Santa Fe in 2016 and Las Vegas, Nev., in February, the Denver project is the entertainment giant's largest yet — and, some say, most audacious. It's at a site near Empower Field at Mile High wedged between a curving Interstate 25 off-ramp and an elevated stretch of Colfax Avenue.
Meow Wolf chose transportation as the installation's theme, with traffic zooming all around the 90,000-square-foot, four-story structure.
The front door reads "Quantum Department of Transportation" as do the elevator banks — or "tram lines" — whisking visitors to the four colliding universes: Emmia, C Street, Numina and Ossuary.
Caity Kennedy, a Meow Wolf co-founder, said Numina, also called "The Swamp," is "a living universe unto itself" and a "six-dimensional conscious plant."
Kennedy is one of six people who founded Meow Wolf in 2008. Since then, it has evolved from a band of scrappy artists to a corporation with 1,000 employees in three states, a three-CEO structure and an emerging creation system to produce several new Meow Wolf exhibitions at a time.
While Meow Wolf's Denver and Las Vegas installations were first announced in January 2018, elements of the projects have been floating around in artists' minds far longer.
"This project has been gestating for four years," Kennedy said of Numina, largely displayed in one open space of Convergence Station. "So many different ideas in here have been long-term individual ambitions of the artists. Every concept of time you can list."
A cathedral in the "deeply plagued ice planet" of Eemia was built and boxed up in 2017 before a site was even selected in Denver.
The cathedral was one of the first pieces installed. It and other very large pieces were lowered into the building before the roof was put on.
C Street has the vague flavor of the original Blade Runner movie. It is a street scene with lots of neon, exterior facades crowded with signs and other visual elements evoking some vague past but also future era, reminiscent of a stylized Tokyo or Los Angeles.
Scrambling past and future is a common theme at all three Meow Wolf locations.
"Our storytelling is really in various types of futurism," said Joanna Garner, Meow Wolf's senior story creation director. "It's really rooted in nostalgic elements as well."
Ossuary is also known as "The Catacombs," Convergence Station's ancient underground world.
Like the concert venue at Meow Wolf's House of Eternal Return in Santa Fe, Meow Wolf Denver will have a performance space, The Perplexiplex, with a capacity of 500.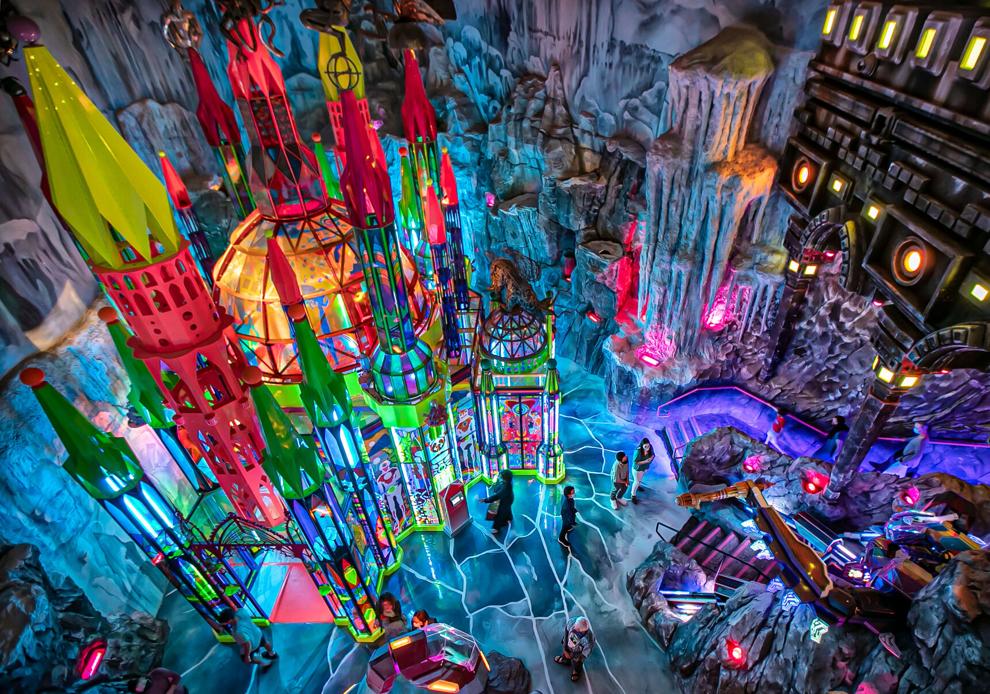 The Convergence Station experience starts a half-mile away at Colfax Avenue and Seventh Avenue. Visitors will take a labyrinthine journey through a college campus and under a highway overpass to reach a building with a "sleepy pizza slice shape," in the words of Sean Di Ianni, another Meow Wolf founder.
"This site itself is a convergence of the Platte River, a highway and a freeway," Di Ianni said. "We didn't think this was possible when we started it."
That has been a common refrain for each Meow Wolf project for 13 years.
Convergence Station is also a convergence of cultures. Rooms were brought to life by 300 artists, including some who are Indigenous and Mongolian, and many who have a disability. About 130 contract artists collaborated with those on Meow Wolf's staff, most of them based in Denver and elsewhere in Colorado.
Denver artifacts pop up all over the four universes, including old business signs on C Street and a 1960s Denver bus which carries visitors from C Street to another universe.
"We wanted to make sure some of Denver history was in here," Denver artist Andrew Novick said.
Convergence Station, unlike the tourist-driven exhibits in Santa Fe and Las Vegas, more heavily targets residents of the metro area.
Convergence Station sold 35,000 tickets in the first 24 hours they were available for sale in August. As of Monday, 110,000 tickets had been sold, with all weekend days sold out through October and most weekdays sold out in the first two weeks of operation.
Denver tickets have been sold in all 50 states, Meow Wolf co-CEO Carl Christensen said.
House of Eternal Return has sold more than 256,000 tickets since reopening in March, and Omega Mart, the Las Vegas installation, has sold more than 600,000 tickets since opening in February, company officials said.