Ariela Rittner, a student at Piñon Elementary School in Los Alamos, was in science class Friday when the lockdown order came.
Someone in the room turned off the lights, so the students would stay out of sight, she said. Ariela, 9, is nearsighted, and she'd left her glasses on her desk during the scramble; she jumped at the sounds she heard in the darkness.
What Ariela and some of her fourth-grade classmates didn't realize right away: It was only a drill.
"I was terrified," she said. "…I'm scared that something could happen at my school because it's spreading all over the nation."
Ariela and her mother, a teacher, joined about 4,000 people from Santa Fe and surrounding communities who flooded downtown streets and packed the Plaza on Saturday afternoon as part of a youth-led demonstration urging legislative action to curb gun violence — an epidemic increasingly targeting U.S. schools with tragic results.
Carrying colorful signs with slogans reading, "Fear has no place in our schools" and "It could have been me," marchers chanted for change as they marched from the state Capitol down Old Santa Fe Trail. Choruses of voices, both old and young, shouted, "Enough is enough."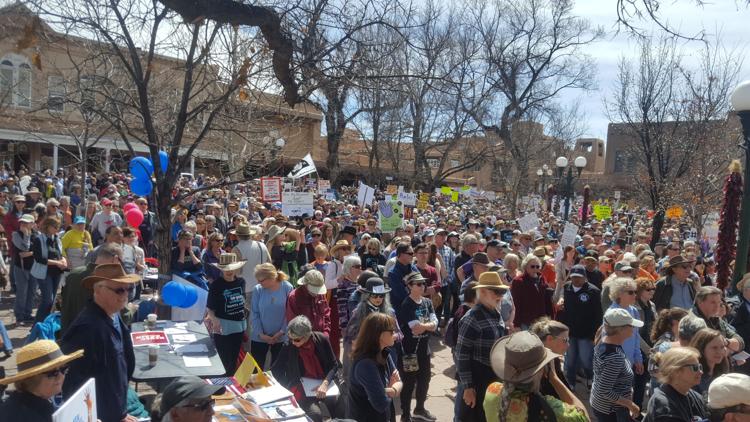 Assault-style weapons were the target of the crowd's fury. Many held signs decrying the AR-15 semiautomatic rifles used in several mass school shootings in recent years.
"I want them to ban assault rifles," said Tom Bannon, who held a pink sign reading, "Gun Owner 4 Gun Control."
Bannon, a veteran, owns an assault rifle himself.
"I love that gun, but it needs to go away," he said.
March for Our Lives Santa Fe, organized by students from more than a dozen Northern New Mexico schools, was one of more than 800 events held worldwide Saturday in a call for tougher gun control measures. Hundreds of thousands of people marched in cities from Washington, D.C., to San Francisco and in six continents around the globe, largely in response to a February mass shooting at a high school in Florida. Marchers were inspired by the activism of young survivors of the Florida massacre who have pressured lawmakers to take action.
Following the Feb. 14 shooting at Marjory Stoneman Douglas High School in Parkland, Fla, where a former student killed 17 students and staff, the Parkland youth have galvanized an international wave of activism branded as the #NeverAgain movement.
Earlier this month, about 3,000 schools across the nation, including many in Santa Fe, held student-organized walkouts to honor the Parkland victims and call for more stringent gun control measures and other school safety efforts.
Thousands gathered on the Santa Fe Plaza on Saturday as part of the March for Our Lives demonstrations that took place in cities around the country. The event grew out of frustrations over gun regulations and in support of the victims of the Parkland, Florida shootings in February. View a live-video archive from the march.
Though Saturday's crowd in Santa Fe was dominated by older adults, young people ran the show.
And they made their message clear.
"They constantly said: 'If you see something, say something,' " said Capital High School student Anna Martinez, one of the student speakers at a post-march rally on the Plaza. "But what about all the times I said something, and nobody did anything? If we say something, then you must do something!"
Some young people recited poetry at the event. One teen rapped. Many told stories about times they feared for their personal safety.
"In the 17 years of my life, there have been approximately 188 shootings in America," Pojoaque Valley High School student Samantha Baca said. "We're not going to ignore what's happening — or more importantly, what isn't happening."
Newly elected Mayor Alan Webber, one of the few adult speakers at the rally, commended their efforts and said city officials are listening to their demands.
"We are standing shoulder to shoulder with the students of Santa Fe and Northern New Mexico," Webber told the massive crowd. "…We're linking arms and saying, 'No more.' "
Adult co-organizer Andrea Thede told the crowd she was in high school when the Columbine High School massacre in Colorado killed 12 students and a teacher in April 1999. "And they're still happening today," she said. "… I'm mortified."
She encouraged young people in the crowd who were over 18 and not yet registered to vote to visit one of the voter registration booths set up for the event.
"That's how we're going to make a change," she said. "Vote them out!"
Many in the crowd targeted politicians who haven't backed gun control measures. At one point, they began chanting, "Where's our Governor?"
Organizers said Gov. Susana Martinez was invited to the event — but if she was there, she didn't take the stage.
A student speaker singled out U.S. Rep. Steve Pearce, blasting the Republican gubernatorial candidate for taking campaign money from the National Rifle Association and then sending his "thoughts and prayers" to victims of school shootings.
Webber, in an interview with The New Mexican after the rally, said, "What I heard today that is really a constant refrain among young people is how scary it is to go to school. … That is so disturbing to hear."
Asked how he would address gun control issues in Santa Fe, Webber said state law limits what the city can do to restrict firearms. However, he said he is looking into whether it would be possible for the city to pass an ordinance regulating the capacity of a firearm magazine.
Such a measure, he said, would show the state Legislature "that they've pre-empted our own opportunity to have a local approach to gun safety, and show them that we want our authority back."
The City Council in 2013 voted on a similar measure that would have outlawed firearm magazines holding more than 10 rounds. The proposal was struck down 6-2.
Veronica García, superintendent of Santa Fe Public Schools, has said she plans to speak with Webber's administration about the possibility of stationing armed guards in some schools. Webber said talks with García and the city police department's acting chief, Andrew Padilla, haven't yet taken place, and he wasn't yet sure of his stance on the proposal.
Other politicians used Saturday's marches as an opportunity to announce their plans to tackle gun control.
U.S. Rep. Michelle Lujan Grisham, a New Mexico Democrat and a candidate in the state party's gubernatorial primary race, sent an email Saturday, saying, "New Mexico's gun laws remain among the weakest in the nation."
Her plan includes efforts to ban semiautomatic weapons and high-capacity magazines in the state, ban firearm sales to anyone convicted of a domestic violence or stalking misdemeanor, and commission a New Mexico Department of Health study on gun violence.
Jeff Apodaca, who is running against Lujan Grisham in the Democratic primary, sent an email on the issue Friday, saying if he were elected governor, he would ban "weapons of war" and bump-stock gun modifiers, and work on "implementing mandatory background checks and closing the gun show loophole."
Saturday's march, while centered on gun violence, also touched on race, politics and the deadly mix of mental health issues and guns.
"We will no longer ignore race when it comes to gun violence," Webber said, "like describing a white perpetrator as 'just mixed up,' but a perpetrator of color is called a 'terrorist.' "
Raised high above the crowd of rallygoers was a reminder of a tragic storyline that New Mexico and the nation knows too well: a young man in need of behavioral health services, who instead found a tragic end.
The banner commemorated Victor Joseph Villalpando — a 16-year-old aspiring dancer who died in Española in 2014 after being shot in a confrontation with police in which, officers said, he pointed a toy gun at them.
"A boy who was screaming for help is dead," his adoptive mother wrote to The New Mexican at the time. "Because we didn't know how to listen."
Mateo Peixinho and his teen daughter Malaya said they carried the sign Saturday to honor Villalpando's memory and to draw attention to what they see as cultural permeation of violence.
The sign bearing Villalpando's picture read, "Not one more life lost to gun violence."
"I talk to people my age. They're like 'shooting is fun,' " said 16-year-old Malaya. She pointed to a prevalence of violence in video games and on television. "It's all in our culture. We've accepted that killing people is the norm. … Taking that out of our culture is the first step."
As she marched Saturday, Malaya shouted so loudly her voice grew hoarse.
"What do we want?" she'd cry.
"Gun control!" the crowd would respond.
"When do we want it?" she asked.
The youth-led movement to end gun violence has faced pushback from the NRA and some politicians, and it remains unclear whether Congress and state legislatures will enact more firearms restrictions — or whether schools will again start to feel like safe places for kids.
But students, in Santa Fe and across the nation, are working hard to move the needle.
"We are marching for the people we've lost today and the lives that we can save tomorrow, and we will continue this fight," said Maki Omori, a student at the New Mexico School for the Arts.
"We will sit in," Omori said. "We will lie down. We will march. We will vote. And we will rise."
Generation Next writer Wyatte Grantham-Philips, a Santa Fe High School senior, contributed to this story.