During the first week of classes at Ortiz Middle School, an interventionist and a restorative justice coordinator taught math while a digital learning coach took over a history class.
Principal Felicia Sena said at least during the opening days of the school year, she pairs classrooms with full-time staff members who will be at the school through May.
"Any staff [member] not teaching a class during a particular period is asked to cover a class without a teacher for at least the first week of school," Sena said. "At the beginning of the year, I never want my kids to walk into classroom with a substitute."
But across New Mexico, students have no choice but to do just that, thanks to a widespread teacher shortage. Now that the school year is underway, there are precious few full-time teachers left to hire — forcing school districts to bridge the gap with long-term substitutes they hope can fill a gap that could stretch for months.
In Santa Fe last school year, long-term substitutes' tenure ranged from 21 to 168 school days.
Sena said Ortiz, a school of about 600 students in the sixth through eighth grades, has vacancies for four math teachers, two special-education teachers and one history teacher. In total, Santa Fe Public Schools has 32 teacher openings and used 67 substitute teachers during the first week of school for those vacancies and teacher absences. The district has a pool of 144 substitutes to call on each day.
Although many substitutes fill in quite ably, superintendents and principals say they would much rather have full-time staffers in their classrooms, both in terms of instruction and classroom management.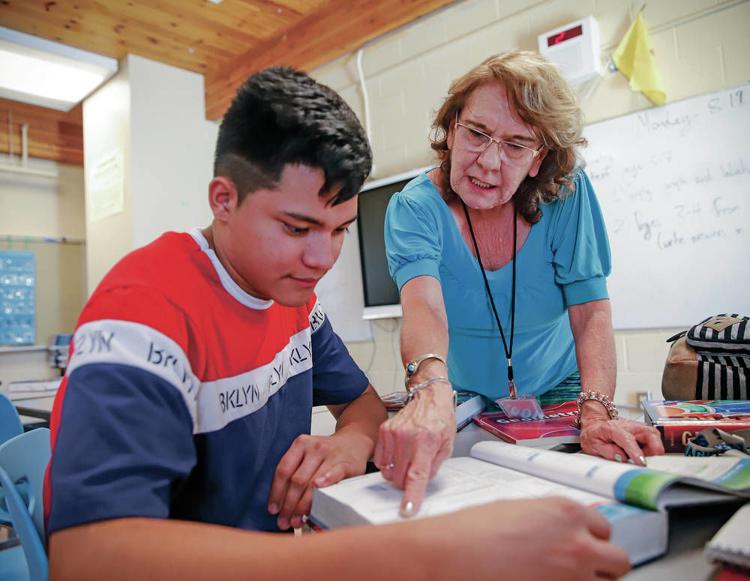 "Some substitutes don't have all the strategies for managing a classroom," said Sena, noting her school does everything possible to make long-term subs part of the school's team, including professional development and sharing lesson plans. "Even full-time teachers don't have all the strategies."
One of the fill-ins in Santa Fe Public Schools is Stella Esquibel, who said she worked as a prekindergarten teacher and director in Santa Fe for 40 years, and is now in her third school year as a substitute. She is spending the first two weeks of this school year teaching five geometry classes at Capital High as school administrators look to hire a full-timer.
Monday afternoon, Esquibel answered questions about angles and triangles in both English and Spanish. Next week she'll be teaching a bilingual classroom of second graders at César Chávez Elementary.
For Esquibel, substitute teaching is about learning on the fly.
"It's not only being a sub, it's learning along with the kids. That's what I like about it," Esquibel said. "I did pre-K math with kids for so long and now here I am doing high school geometry. I'm still picking it up."
The teacher shortage, which has long worried superintendents in rural districts, is now a reality in more populated cities.
Albuquerque Public Schools, by far the biggest district in New Mexico, said more than half of its 180 vacancies are for special-education teachers, who often are harder to find. The district, which has around 84,000 students (compared to around 13,000 in Santa Fe) has a pool of about 1,100 substitutes.
Small districts are struggling as well. Los Alamos Public Schools, which has around 3,800 students, still has four teacher vacancies and a pool of 88 substitutes. Pojoaque Valley Schools, which has around 2,000 students, has three teacher vacancies and a pool of 35 substitutes.
"Sometimes, students finish college in the fall or winter, or the spouse of somebody who is hired at Los Alamos [National Laboratory] is a teacher," Pojoaque Valley Superintendent Sondra Adams said. "We always still hope that we can find full-time teachers, but there are times when we have to look for the best substitutes possible."
According to a study by New Mexico State University, the number of teacher vacancies across the state's public schools jumped from 476 in 2017 to 740 last fall. To help with hiring, the Legislature raised the minimum salary for a beginning teacher to $40,000 a year from $36,000 and set the base pay for Tier 2 and Tier 3 teachers at $50,000 and $60,000, respectively. Those salaries previously were $44,000 and $54,000.
Director of Human Resources Howard Oechsner said the base pay for substitute teachers with college degrees in Santa Fe Public Schools' elementary schools is $100 per day. In middle and high schools, it's $115. Long-term substitutes make $125 per day.
Substitute teachers with a degree in education make $160 per day, and those with a degree in a STEM field make $185. Substitutes with a special-education degree make $210 per day.
"We're interested in speaking with anyone who's interested in being a substitute teacher," Oechsner said.
Last week, Ortiz hosted two potential long-term substitutes to tour the school and speak with full-time teachers. If hired, they'll spend a few days observing classes and shadowing staff before they step up in front of their own classroom.
"Sometimes when substitutes get the job, they don't know what they should be doing," Sena said. "We try to avoid that by providing as much support as possible. Of course, we'd love to replace to a rock star math teacher full-time, but they're not necessarily walking through the door."