In the end, Shoeless Joe Jackson defied his nickname.
He died a wealthy businessman, rising from the ashes to own dry-cleaning and liquor stores in the South.
Still, much of America regarded Shoeless Joe as a bum — a perpetrator of the Black Sox scandal.
Jackson and seven of his teammates on the Chicago White Sox faced criminal charges of consorting with gamblers to fix the 1919 World Series. The Sox lost the best-of-nine series to the Cincinnati Reds, five games to three.
A jury in Chicago acquitted the players in 1921, but baseball Commissioner Kenesaw Mountain Landis didn't think much of the verdict.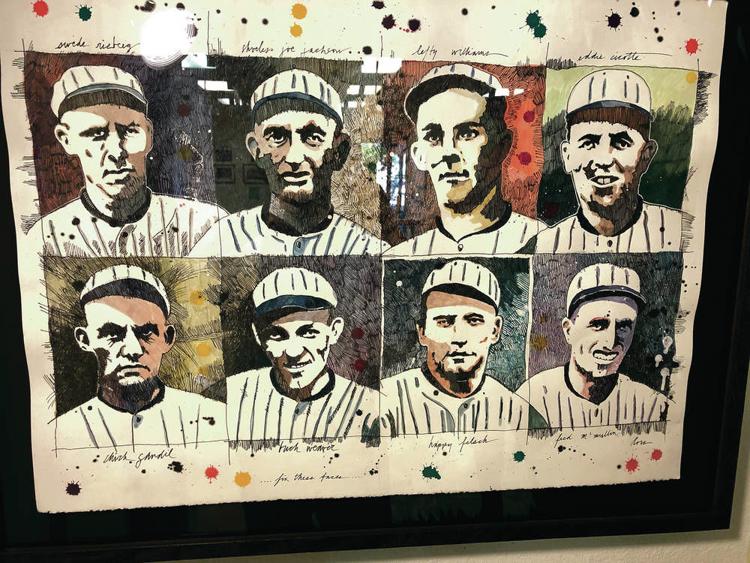 He banned all eight players from big-league baseball for life.
Artist Thom Ross of Lamy believes the commissioner sized up the case correctly after star-struck jurors ignored the evidence.
Ross says the players did the unthinkable by losing a World Series on purpose. They are the sort of talented but flawed characters who inspire his art.
He retraces the story of lawbreakers in baseball pinstripes with 67 watercolors on paper and acrylics on canvas. His collection — The Black Sox a Century Later — is on display all month at the Dean Howell Gallery, 7 Avenida Vista Grande in Eldorado.
Ross, 66, says the players were more foolish than evil.
"They weren't the sort of guys who would come to your house for dinner and steal the silverware and candelabra," he said. "Everybody has weaknesses. They showed the darker side of who we are."
All the players engulfed in the scandal were white. The major leagues practiced segregation until 1947. But English is full of words in which black is a negative — black clouds, blacklisted, blackballed, black widow.
Crooked White Sox players became defendants in the Black Sox scandal.
Shoeless Joe, an outfielder who could not read or write, signed a confession before heading to trial and winning an acquittal. Having avoided jail, he spent the last 30 years of his life proclaiming his innocence.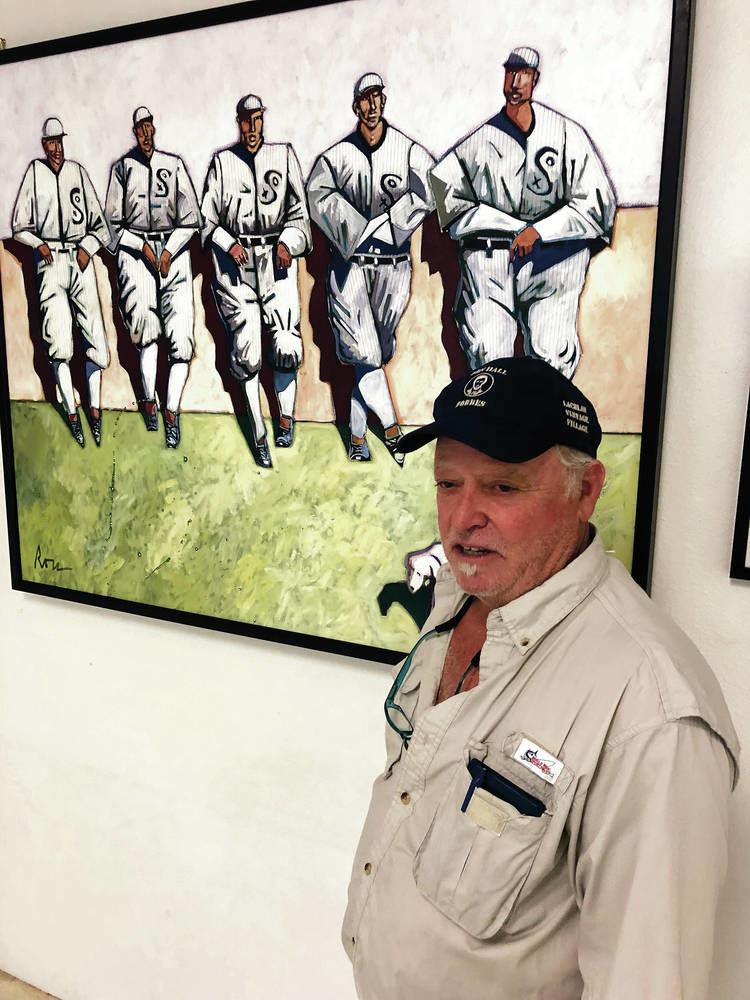 Hollywood took up his cause, most notably in the 1989 movie Field of Dreams. Ray Liotta portrayed the ghost of Shoeless Joe, one of many famed baseball players who emerged from cemeteries to shag fly balls in what had been a cornfield in Iowa.
The movie promoted the idea that Shoeless Joe was an immortal player and an innocent man suffering in the afterlife.
This odd rendition of history inspired countless people to become advocates for Jackson. One was U.S. Sen. Tom Harkin, D-Iowa.
He asked Major League Baseball to lift its ban against Shoeless Joe. Had Harkin succeeded, Jackson would have become eligible for posthumous induction to the Baseball Hall of Fame.
Ross' exhibition includes a depiction of Jackson and his cohorts in a cornfield. Field of Dreams, though a fantasy, has become part of the Black Sox story.
The movie is lighter than popcorn. Ross found the evidence against Shoeless Joe and his cohorts to be damning.
Shoeless Joe, he said, accepted $5,000 from gamblers who expected to make a killing off a rigged World Series. He and the other players were to receive another $5,000 each after they had thrown the games.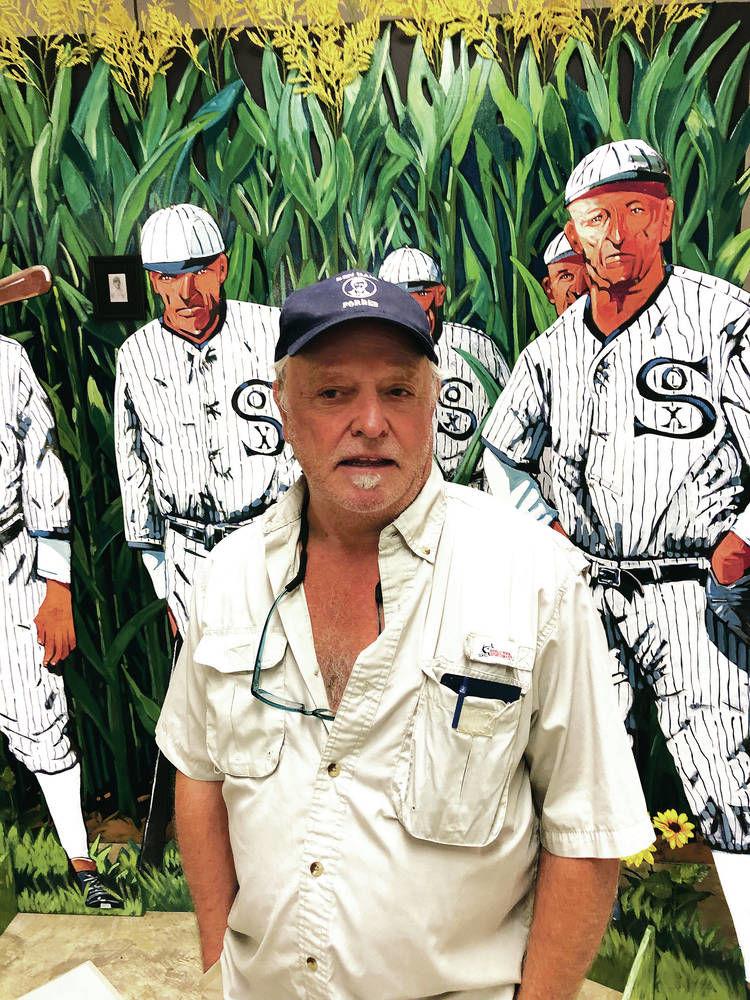 A better case for innocence could be made for third baseman Buck Weaver. He took no money, but Ross says Weaver was aware of the fix and did not report it.
Weaver pleaded for reinstatement, losing every appeal. Major League Baseball wanted nothing to do with him.
Ross was drawn most to pitcher Eddie Cicotte, who decided to admit he took a dive for money.
Cicotte returned to his native Michigan, ashamed that he had betrayed White Sox fans and everyone else who believed the series was on the level.
Whenever someone asked him about the scandal, he said he had done wrong and regretted it every day of his life.
"I liked that he owned up to it. He knew it was a great loss — a loss of innocence for the country," Ross said.
He also empathizes with White Sox owner Charles Comiskey. Ross says Comiskey has been portrayed unfairly as a skinflint who helped cause the scandal.
This was a theme of the 1988 movie Eight Men Out, directed by John Sayles. The movie reduced Comiskey to a villain who treated his players as slave labor.
It recycled an old claim that Comiskey ordered Cicotte benched so he would not have to pay the pitcher a $10,000 bonus if he won 30 games. It's unlikely the story had any truth to it. Cicotte's contract contained no bonus clause.
The record also shows Comiskey had the third-highest payroll of the 16 teams in the major leagues.
Ross' exhibition in Eldorado comes after it flopped in Chicago.
He had expected a good turnout during the 11 days he showed his paintings in the White Sox hometown. Outside of those involved in the exhibit, only three people attended.
Ross still believes it's a whale of a tale. He can talk all day about how the Black Sox scandal deflated a country.
A hundred years ago, baseball was the only professional team sport of any consequence. Eight players sabotaging their team's chances in a World Series seemed like the plot of a bad novel.
Lore has it that a small boy approached Jackson after his indictment and pleaded for reassurance: "Say it ain't so, Joe."
Movies and apocryphal conversations have contributed to the faulty portrait of Shoeless Joe.
Jackson wasn't a pauper after the commissioner drummed him out of baseball.
He wasn't innocent, either.
Ringside Seat is an opinion column about people, politics and news. Contact Milan Simonich at msimonich@sfnewmexican.com or 505-986-3080.