Flamenco flows through La Emi. A fiery spirit inhabits her, even away from the dance floor. She smiles easily, she gestures, she speaks with fervor, she leaps from her seat, like an exclamation point.
It makes sense: Flamenco, for La Emi, extends beyond the performance. The 25-year-old from Chamisal understands it as more than dance, guitarra and song. Flamenco is home; it is community; it is tradition. Flamenco is a way to live.
"It's a way of expression, and it came from us, it came from tierra — that's the beauty of flamenco," she said.
La Emi — Emmy Grimm off-stage — has felt the pull of its rhythm since childhood. She began flamenco dance lessons at 4. She started teaching flamenco dance at 12. She's studied under flamenco luminaries in New Mexico and Spain. She's taught in Truchas, Dixon, Española, all over the region.
Two years ago, she established her own Santa Fe company and found a home theater at Skylight, where Emi Arte Flamenco performs a monthly show for standing-room-only crowds, featuring her godfather, Vicente Griego, the magnetic flamenco cantaor.
Now La Emi, a picture of hustle, hopes to bring flamenco to the next generation, with a new Santa Fe studio offering dance classes to children as young as 3 set to open this month.
And where else but Northern New Mexico? This is her home, a place where flamenco, she says, has become as much a part of the fabric as the blue skies, family and faith.
"It is the biggest blessing to do what I love where I was born and raised, a place that I love, with the people I love," she said. "I mean, you can't ask for anything else."
Flamenco originated centuries ago with los gitanos in southern Spain, but the kinetic, sensual style has since traveled the world, and far-flung peoples have in turn imprinted their own identities on its music and movements.
If La Emi embodies an enthusiastic local soul of flamenco, Griego is its heart, the genre's sage elder, a vault of contextual, cultural wisdom. Griego, from Dixon, thinks flamenco here has come to tell a story. It exists as one vibrant aesthetic among many in art-happy Santa Fe, he said, a representation of what he calls the "noble sarcasm" of Northern New Mexican people.
"This art form is a testament to the beauty of our people," Griego said. "And in New Mexico, we're flamenco people. … I don't think of flamenco as a performance. Like, you say, 'Oh, it's entertainment.' That's a word we use. But the truth is, it's a ceremony."
"Flamenco takes on our movements, our gestures, our very subtle sarcasm," he added. "We have a funny, sarcastic way of communicating in New Mexico. It's tough, but it's also very generous."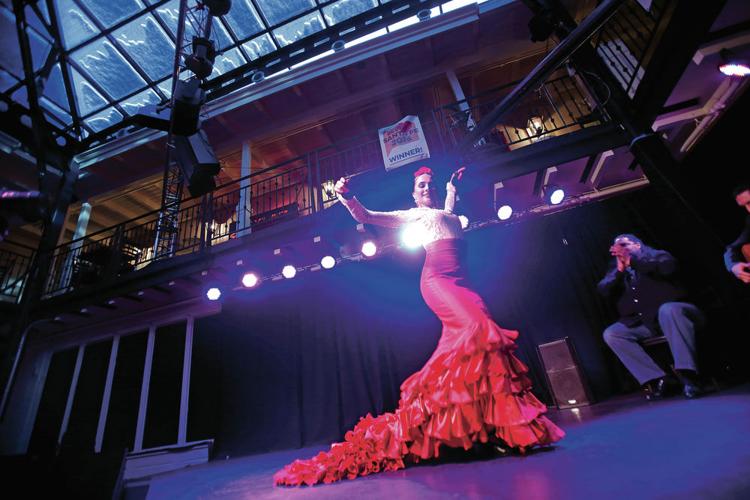 Generosity drives La Emi. She remembers her parents shuttling her an hour or more each way twice a week to lessons for many years; she feels she can now take her turn in making flamenco accessible to kids.
Her own relationship with dance began in the womb. Her father once managed the box office for María Benítez at what was then a Radisson Hotel, now The Lodge at Santa Fe. Her mother, pregnant, would attend the shows there.
Not long after that, as a toddler, Emmy came, too, and she would stand on her seat and try to dance along with the performers. This is La Emi's earliest memory.
She scoffs, half-kidding, at her earnest, inauspicious beginnings: "It was probably so terrible."
If it was, she soon afterward had begun to improve, studying under Benítez, the living flamenco legend, and performing with Flamenco's Next Generation, a renowned local youth company. Only a few years later, she was teaching classes in Benítez's program.
Benítez helped La Emi find her feet, she said. Carmela Greco then helped her find the camino, or path.
The eldest daughter of José Greco, a hallowed name in flamenco circles, Carmela is a famed flamenco dancer in her own right. She has hosted La Emi in her Madrid, Spain, home for a pair of invaluable months-long apprenticeships, most recently last fall.
"There's a difference between taking dance classes and bringing someone in," Griego said. "We call that camino: This is how we walk, and I will show you the road."
La Emi first arrived in Europe with only a reference from Griego, who toured with José Greco in the 1990s. But Carmela Greco immediately took to La Emi and assumed a sort of Mr. Miyagi role, showing her how to live by teaching her how to dance.
"She took me under her wing," La Emi said of the woman she calls her maestra. "She showed me everything — from how to cook, to how to respect others, to how to present yourself. … Every time I go [to Spain], I feel like I learned a lot and still have so much to learn."
Griego remembers well his own mentor, whom he met while touring North America with Greco. His name was Alfonso Veneno. They would sit together as they traveled between gigs and talk flamenco the whole way. Veneno showed him how to practice, how to warm up his voice, how to cool down, how to be a professional — how to live flamenco.
"You learn it as it is passed on," Griego said. "A very sacred way."
While holding your left mouse button, move the picture to see a 360-degree view of Skylight in Santa Fe, which La Emi considers her home theater.
La Emi wants to do just the same. Many students she taught at the Benítez program have stuck with her, and a recurring cast of these pupils opens each Emi Arte Flamenco show at Skylight. La Emi dotes on them, an exacting instructor with a gentle touch. She glows at their mention. "I've seen incredible changes in children," she gushes. "I see a lot of growth. Just coming right out of their shells."
Juliana Lovato, 16, has been with La Emi for six years.
Lovato had played soccer and basketball, her mother, Jennifer, said, but she "did 'em just because she did 'em." Flamenco classes, on the other hand, lit a fire.
And La Emi has been a devoted mentor, Juliana Lovato said, teaching not only flamenco technique but confidence.
The sophomore contrasts dancing flamenco at Skylight with performing as a member of the cheer team at St. Michael's High — the former feels more natural, more personal than the latter. She credits that to La Emi.
"She's opened a lot of doors for us," Lovato said.
Six years on in her flamenco study, Lovato has even begun to step in and teach a few of La Emi's classes, just as La Emi did under Benítez.
Flamenco classes ensure a continuity, Griego said. The more opportunity for the youth to feel and shape their own local culture, he said, the better. And the end goal shouldn't be fame or a flamenco career. In fact, there needn't be an end goal at all.
"When these kids become whatever they become, that method of studying art, that devotion to an art, to our community, that's in them," he said. "This world needs someone like Emmy, someone who will guide them and rear them in the right way in the art, but also somebody who can bring them into the family."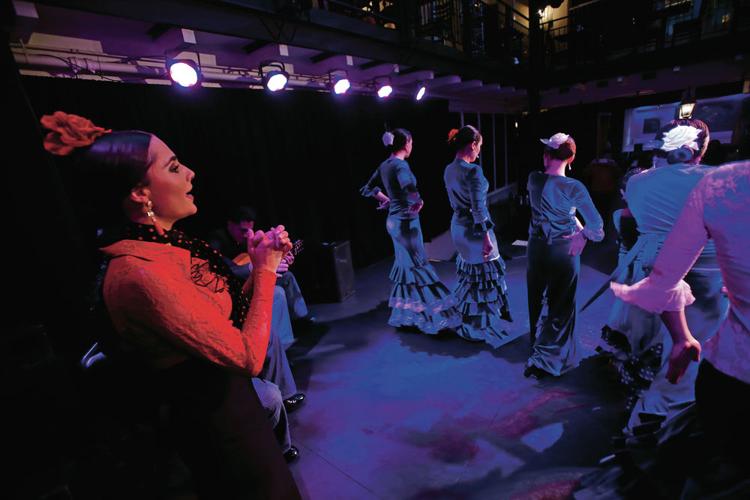 Emi Arte Flamenco Academy is set to open Jan. 16 in a newly redesigned, 600-square-foot flamenco-specific section of Heart and Soul Dance and Fitness Studio on South St. Francis Drive. La Emi is currently the lone instructor, but she has plans to expand the studio offerings into guitar, singing and Spanish lessons as well.
Should she win the lottery tomorrow, La Emi said, she wouldn't change a thing. She's living her dream. With her flamenco company, she can express herself and sustain a cultural tradition. And with her studio, she can inspire the next in line to do the same.
"That's the beauty of flamenco," she said, smiling. "It's never-ending."