For a limited time, you can see original paintings by the legendary Mexican artist Frida Kahlo during the run of Frida Kahlo, Diego Rivera and Mexican Modernism at the Albuquerque Museum.
And, more important for some, buy a startling range of products bearing her likeness in some way.
Kahlo painted in the decades after the 1910 Mexican Revolution and is well known for using her work, including her many self-portraits, to address the tough hand life dealt her: Childhood polio left her with weakness in her right leg, and a devastating bus accident at 18 required many surgeries until her death in 1954. (Somewhere in there, she married and divorced and married world-renowned muralist Diego Rivera.)
Today, Kahlo's haunting self-portraits inspire artists, artisans, and capitalists all over the world to create art in her image — even if it's on a pair of socks, a pillow or a postcard.
Welcome to the Church of Frida Kahlo (known to many fans simply as Frida).
"The museum store … they're ecstatic because this is a merchandising gold mine," said Josie Lopez, curator of art at the Albuquerque Museum. "As for whether [Kahlo] would appreciate the commercialization of her image, I think part of her would hate it but part of her would love it. Frida certainly promoted herself. But the commercialization of her is really a reflection of how people connect with her on a personal level."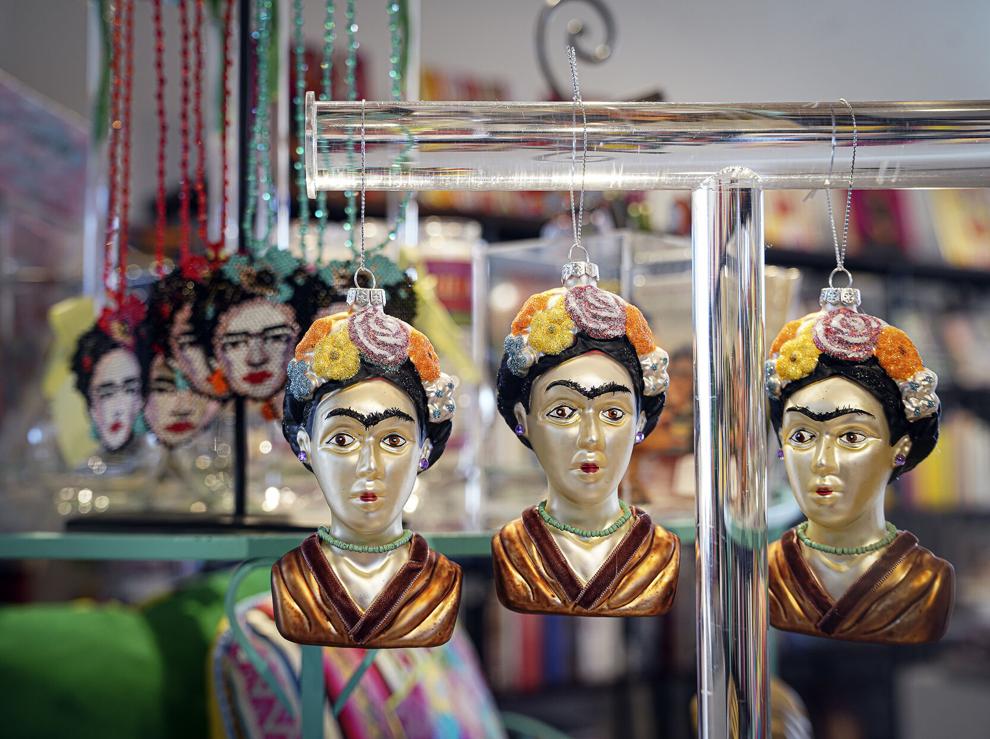 The museum store doesn't typically stock Kahlo merchandise, "but I've been shopping for this show for more than a year," said store manager Maureen Ryan. "We wanted to make it special, really go all-out. I was confident that it was going to be a blockbuster, even during the time of COVID. I was not wrong."
More than 13,350 visitors have seen Frida Kahlo, Diego Rivera and Mexican Modernism since it opened Feb. 6. The month before, in January, the museum clocked 1,063 visitors. February was the museum store's most successful month since The Jim Henson Exhibition: Imagination Unlimited in December 2019, before the beginning of the coronavirus pandemic.
Ryan said that when people come into the store after seeing the exhibit, "they're so excited. The store is bright and colorful. A lot of them have been cooped up for months."
Venerable downtown Santa Fe retailer Doodlet's and the Museum of International Folk Art shop also stock Kahlo paraphernalia — year-round. Among the wares available at the folk art museum's store are pillows, handbags, jewelry, stationery, flower crowns like the ones Kahlo famously wore, and Kahlo altars built inside glass bottles.
"We really like these nichos, made in San Miguel de Allende, that are tin and glass with Frida's image inside [and] embellished with all kinds of crystals," said Sara Birmingham, vice president of retail for the Museum of New Mexico Foundation and Museum Shops. Many items are sourced from the Southwest, and "we import lots of [Kahlo] things directly from Mexico. It's a big export for them, to use her image to sell products."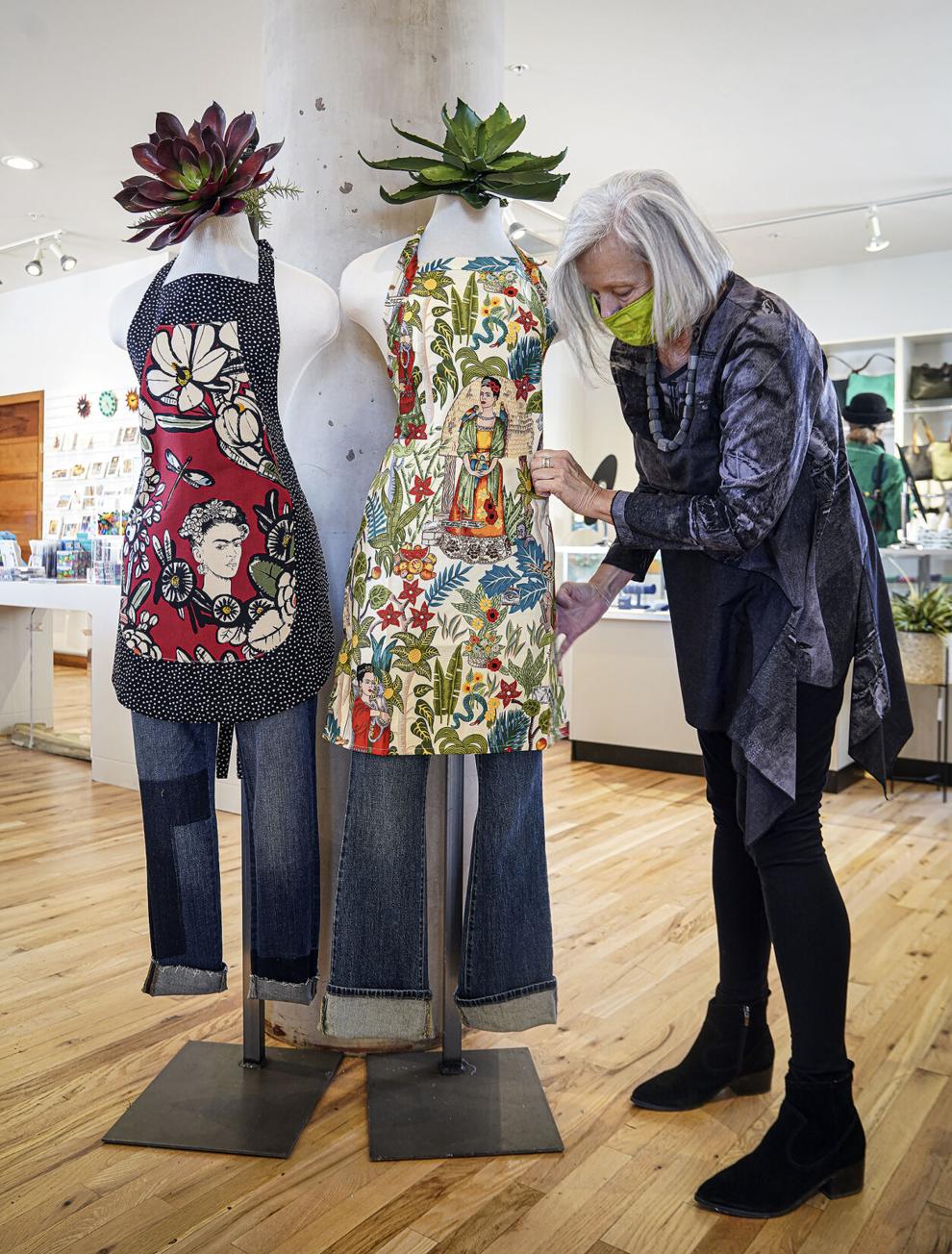 Kahlo is one of Doodlet's best-selling brands, if you will, said owner Lisa Young. Kahlo's visage is sprinkled liberally throughout the store — on greeting cards, garlands, books, small altars, arts-and-crafts sets, finger puppets, wrapping paper, aprons, lip balm and even cocktail napkins that feature Kahlo's famous unibrow and no-nonsense stare on the faces of cats.
"If you can imagine it, we probably carry it," Young said.
"Frida is a beloved historical figure who represents a lot of things, especially to women," Young said. "Creativity, independence. We just have so many people that love her and follow her — 'Fridaphiles' is what we call them. Sometimes they come in looking for her, and sometimes they discover her as they walk through the store. But everyone knows who she is."
Doodlet's carries a decorative, Kahlo-inspired ukulele that costs $100, but most of the store's Kahlo items are priced under $45, with postcards less than $2. At the Folk Art Museum store, Kahlo merchandise prices range from recycled bottle cap earrings for $15 to about $150 for a pillow embroidered with Kahlo's face and $250 for earrings from Oaxaca, Mexico. Some of the priciest items are at the Albuquerque Museum Store, such as sterling silver earrings for $700 to $800. Not everything is so high-end, although it all will be gone as soon, as the traveling exhibition concludes May 2.
"One of the cutest things I found doesn't even have Frida's face on it," Ryan said. "It's a little plush taco with a white Chihuahua inside, like one of Frida's dogs. It makes people smile. Kids love it."