RIO RANCHO — How big was it?
So big that three members of New Mexico's congressional delegation — and the governor — showed up.
So big that the money figures bandied about dwarfed Facebook's investment in the state.
Intel Corp. on Monday announced a $3.5 billion modernization of its Rio Rancho plant to increase the manufacturing capacity for its next-generation advanced semiconductor technology research and manufacturing — a move that gives new momentum to the New Mexico production facility and provides some badly needed good news on the state's economic front.
The investment exceeds the $1 billion-plus Facebook has invested in its Los Lunas data center since 2016, with Gov. Michelle Lujan Grisham calling Intel's commitment the "single largest investment by a company in New Mexico."
Lujan Grisham, U.S. Sens. Martin Heinrich and Ben Ray Luján and U.S. Rep. Teresa Leger Fernández attended the announcement — an indication of just how much impact an Intel plant with renewed vigor could mean for the state's economy, which is largely dependent on the oil and gas industry.
Santa Clara, Calif.-based Intel is the largest U.S. semiconductor manufacturer and among the three largest in the world. Its Rio Rancho plant — which until the past few years had been a significant chipmaker within the company's portfolio — has existed since 1980. Officials now describe the Rio Rancho plant's mission as the company's "innovation hub."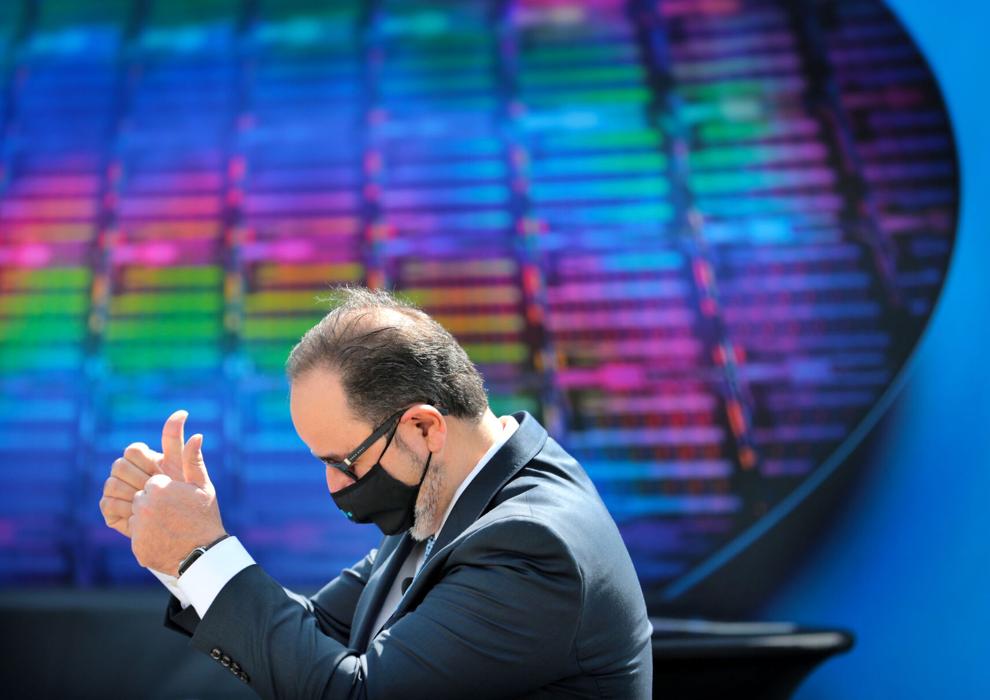 "This is an important part of Intel's global operations," said Keyvan Esfarjani, Intel's senior vice president of manufacturing and operations. "Now Rio Rancho is even more critical to Intel's success."
The three-year modernization converts the Intel plant from its past as a central processing unit and traditional semiconductor manufacturer to an advanced semiconductor technology manufacturer. Intel is pioneering stacking semiconductor tiles on top of each other rather than side by side. The practice saves space in components like cellphones and personal computers.
Heinrich could not resist describing it as "stacked enchiladas."
"This is an opportunity for New Mexico to lead in science and technology," Heinrich said at the announcement, conducted on the lawn in front of the Intel campus.
The state Economic Development Department is investing $5 million in Local Economic Development Act funds to the project if hiring metrics are met. Intel announced 700 jobs should be added in the next three years to the 1,800 now in place at Rio Rancho.
Sandoval County pledged $500,000 if specific job goal requirements are met, and Rio Rancho plans to add $250,000. Intel also will be allowed to keep $14 million, half the projected $28 million in gross receipts tax revenue, generated by the construction.
"This launches a new economic reality in New Mexico," Lujan Grisham said. "We have expectations of more of this kind of work."
Intel has been on a rebound in Rio Rancho the past two years after employment dropped from more than 5,000 in the first half of the 2000s to 1,100 in 2017 and 2018 as central processing unit manufacturing was phased out and Intel transitioned into advanced semiconductor technology.
The $3.5 billion modernization principally will enable Intel to install its Foveros 3D chip-stacking technology, introduced in 2019, and enhance technology already in place since 2017 to simplify and optimize semiconductor packaging, memory and connectivity, said Erika Edgerly, Intel's director of public affairs for New Mexico, Texas and Massachusetts.
"Foveros plays into many of our future product lines," Edgerly said.
The modernization will update and optimize the 350,000-square-foot Fab 11 and Fab 11X structures from the early 1990s and revive the more than 70,000-square-foot Fab 9 building that has been unused since 2008-09, Edgerly said.
"It's about the efficiency of running the factory," said Katie Proudy, Intel New Mexico's site leader and vice president of manufacturing and operations. "The biggest thing is automated manufacturing and data analysis. We have a lot of capability, but this is a way to transition into a new way of doing things."
Intel no longer produces CPUs in Rio Rancho.
"This will serve to modernize our existing facility so they can support advanced packaging," Intel spokeswoman Linda Qian said. "It's a new era of innovation for Intel in New Mexico. New Mexico is evolving as a hub of innovation for advanced packaging."
Intel first built Fab 7 — the seventh company fabrication facility — on a sod farm in what had yet to become Rio Rancho in 1980. At the time, the population was 10,000; the city incorporated in 1981. With Intel as an anchor, Rio Rancho has evolved into New Mexico's third-largest city with about 100,000 residents.