McNEES CROSSING, N.M. — Charles Jordan has seen a lot of living — and enjoyed it.
His eyes are searching, his smile welcoming, the lines just below his eyes a roadmap of possibility. You can almost imagine him joining a caravan of traders on the Santa Fe Trail some 200 years ago.
Standing in a vast prairie of beautiful emptiness, Jordan looked at a 1920s-era monument surrounded by grazing cows that commemorates a long-forgotten historic event, one tied to the events on that trail.
On this spot, July 4, 1831, the first American Independence Day celebration in New Mexico took place. It was conducted by members of a Santa Fe Trail caravan, whose participants were no doubt happy to celebrate not only the anniversary of the nation's independence, but the view of a nearby mountain range called Rabbit Ears.
Rabbit Ears — which looks nothing like rabbit ears, and was named after a long-dead Native chief killed in battle near the area — meant they were on the right track to their destination: Santa Fe.
As he imagined that July Fourth celebration 190 years ago, Jordan said, "My guess is, there was alcohol and lots of gunshots up in the air."
But there was a discordant echo in all that noise — one heard a few years before that would waft through decades and even centuries afterward.
The arrival of the Americans into lands that had belonged to Native peoples was not always easy, nor welcomed.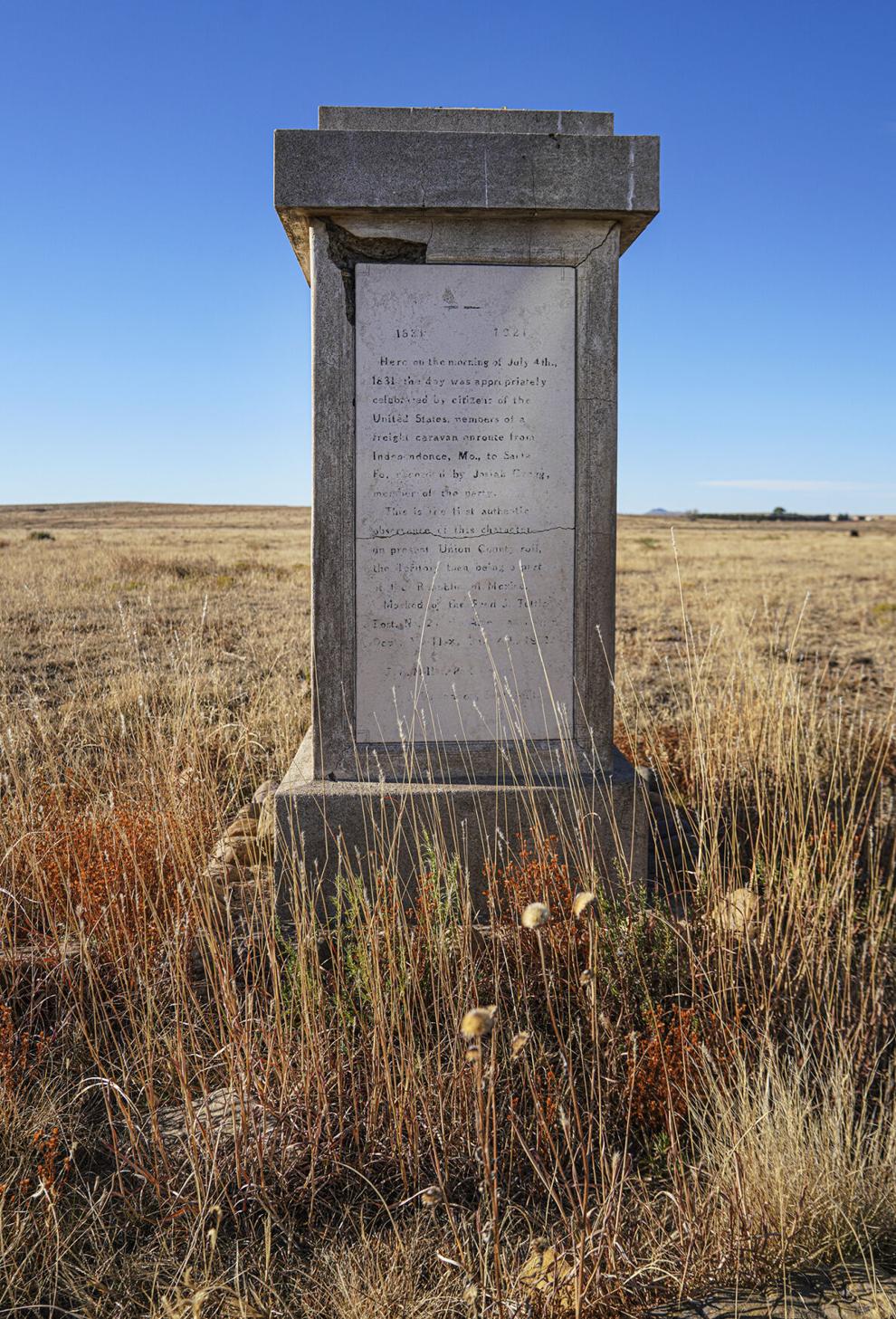 Initially planned as a commercial trade route, the trail eventually played a leading role in the 1840s concept of Manifest Destiny — the belief the United States was entitled by God to lay claim to lands from the Atlantic Ocean to the Pacific and beyond.
These traders taking the southern, drier route of the trail would have sought out water, and Corrumpa Creek, a tributary of the Canadian River just a few miles from the Oklahoma border, was one such place.
Water meant life. But it could bring death, too. According to historical accounts, in 1828 two men — Robert McNees and Daniel Monroe (sometimes spelled Munro) — scouted ahead of their caravan and stopped at a crossing in the creek, where they were attacked by members of a Native tribe. McNees was killed that day while Monroe died later, on the trail, from his wounds.
The site, about 20 miles north of Clayton in the farthest northeastern corner of New Mexico, became known as McNees Crossing.
Jordan is a historian of the trail and the director of the Herzstein Memorial Museum in Clayton. A native of Texas, Jordan spent 30 years as a ranger and manager for New Mexico's state park system.
He's the sort of guy who can drive you around the Clayton area and, in pointing out various structures in and out of town, tell you what they used to be when they used to be something.
Clayton was not founded until the late 1880s, so it was not a stop for the Santa Fe Trail caravans, he said. But the area is awash in Santa Fe Trail historical riches.
Stepping into the backlands of the plains is almost like stepping back in time.
Besides McNees Crossing and Rabbit Ears — the latter is visible to anyone traveling the nearby highways — there's the Turkey Creek camp, which still sports the remains of a rock corral built by Santa Fe Trail travelers to hold the oxen and mules drawing their wagons. Jordan estimates it dates to the 1840s.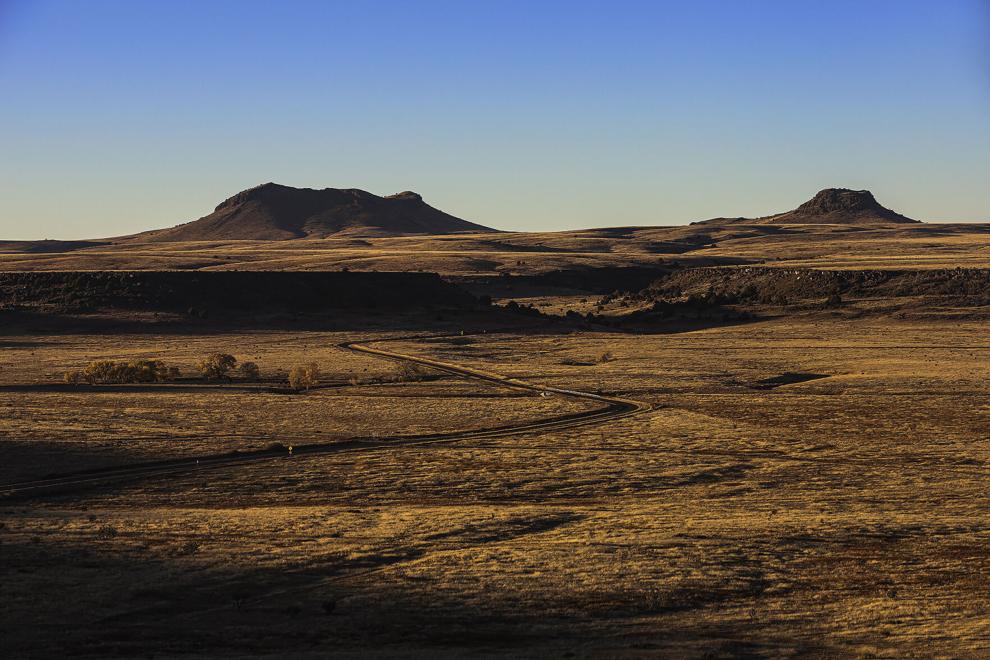 Nearby are the remains of a pair of dugouts, one of which likely was used as a temporary mercantile shop where travelers could restock needed supplies.
"It was all for profit," Jordan said of the Santa Fe Trail, which remained a commercial enterprise until 1880, when the railroad came to Santa Fe and took over transport for commercial goods.
You might be able to make out the faint remains of trail ruts from the wagons that ran this way for some 60 years. But mostly, the area up around McNees Crossing is marked by mountain lion tracks and cow patty piles.
But you can see the stone bottom of the creek bed — easy for wagons to traverse, Jordan said — at the crossing. Jordan's theory is the doomed McNees and Monroe found the creek, maybe stopped to take a bath (a rarity and luxury along the nearly 900-mile trail) and then took a nap on the creek bank. There, they met their end.
The event was typical of those that pitted the traveling merchants against Native American communities they encountered along the way. When a band of Natives came across the caravan members, the armed merchants opened fire, killing several. Those men had no proof that those they killed had anything to do with the death of McNees and Monroe, historians say.
James Riding In, a recently retired professor of American Indian Studies at Arizona State University and a member of the Pawnee Nation, said the killing of McNees and Monroe might have been used and even exaggerated to persuade the U.S. government to start providing military escorts for trade caravans — a practice that began in 1829.
He said the fact that American traders fired on a band that may have had nothing to do with the deaths of McNees and Monroe stems from the travelers' ignorance of the different Native American tribes.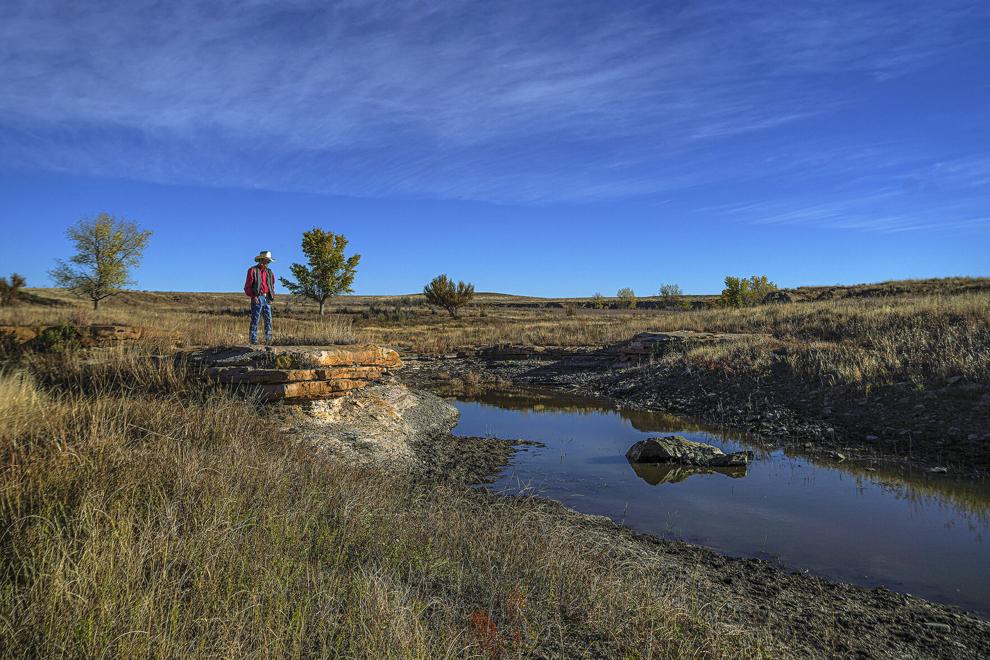 "Especially in those early years, most of the conflict and violence was blamed on Pawnees and Comanches," he said. "And oftentimes those making those claims probably didn't know the difference between Indians and assumed they all belonged to one of those groups."
Jordan said it's difficult for present-day travelers, who can travel by motor vehicles and stop for any convenience they want, to imagine what it was like to trek the Santa Fe Trail on foot while facing the possibility of illness, thirst, starvation and death.
"Think about it," he said, pointing to the Rabbit Ears Mountains in the distance. "You wake up on one side of a mountain and the wagon master says, 'Look, if everything goes well we might make it to that mountain over there tomorrow.' "
Rabbit Ears was a well-known visual signpost that meant the end of the trail was within reach, he said. Ernestine Franke Huning, who rode the trail with her husband, Franz Huning, in 1863, wrote in her diary of entering the area: "We can see several mountain ranges, called Rabbit Ears and Sierra Grande. We are in the territory of New Mexico now, and the scene is constantly changing: forests, mountains and plains."
As such, seeing Rabbit Ears provided hope that the trail's end was near, Jordan said.
"It had to mean something to them," Jordan said. "Imagine: They were two to three months on the trail, sleeping on the ground, no baths, cooking with buffalo chips.
"I know it would have made me happy."