Every Mother's Day, Capital High School senior Lauren Gallegos would wake up with a sense of excitement.
She would get up long before her mother, Connie, to set the kitchen table with flowers, a card and chocolate-covered fruit. Then came time for breakfast with the family. Then a trip to the zoo in Albuquerque.
"It was just something we'd always do every year," said Gallegos, 18, her face lighting up as she shared the memory. "It was a nice way to spend the day with my mother."
This Mother's Day, things are different. Gallegos is a mother herself. Looking lovingly at a photo of her 5-week-old son, Josiah, she understood what her gift would be.
"Him," she said, flashing a wide smile and shedding tears. "It's going to be a special day with him, just being with him."
She, in turn, will give him a gift nearly two weeks later. On May 25, she will don her cap and gown and graduate with the rest of her class at Capital High.
"It's nice to know that I could still do it, that I didn't have to not finish because I was pregnant," she said.
That's not an idle concern. According to the National Conference of State Legislators, only 40 percent of teen mothers graduate from high school. And New Mexico's teen birth rate, though declining, is still one of the highest in the nation at 29.4 births per 1,000 girls ages 15 to 19, based on 2016 data.
Many teen moms cannot muster the time and energy it takes to earn enough credits to take that walk on graduation day.
But others, like Gallegos — whose bright-eyed countenance mirrors that of her baby — and Stephanie Solis Mendoza, 18, who has a 2-year-old boy, Aiden, are going to do it. Sitting together in Capital's New Mexico GRADS program classroom, they reflected on their experiences.
GRADS supports teen parents by teaching them life and parenting skills, and helping with academic challenges. But teen moms need much more than that, both students said. They need friends and family members to support them, as well as educators and others to understand that they are undertaking a crash course in mothering while still studying algebra, history and science — and, oh, yes, holding down part-time jobs.
And they don't want to be judged.
Gallegos might have had it a little easier. When it came to credits, she was ahead of the game, having earned more than enough as she entered her senior year to ensure she didn't have to work overtime to play catch-up.
She was fortunate, too, to be supported by family members and Capital High educators, who worked with her to keep her on track academically. The baby's father also has been supportive through it all, she said.
But it wasn't an easy start. She was distraught when she discovered she was pregnant and terrified one day in July, when she decided to tell her parents. The beginning of motherhood felt nothing like the joy she experienced every Mother's Day with her own mom.
"We went to bed not speaking to one another," she said.
Connie Gallegos also said it was a difficult day when she learned of her daughter's pregnancy.
"It was tough because I thought she and I could talk about anything," Connie Gallegos said. "We had open conversations. … I kept asking her if there was anything going on between them and she kept saying, 'No, no, no.' "
Lauren Gallegos said she was aware that she might get pregnant. All the same, she believed it wouldn't happen to her — at least, "not so quickly."
"I thought, 'This is my whole future,' " she said. "How did I get myself into this?"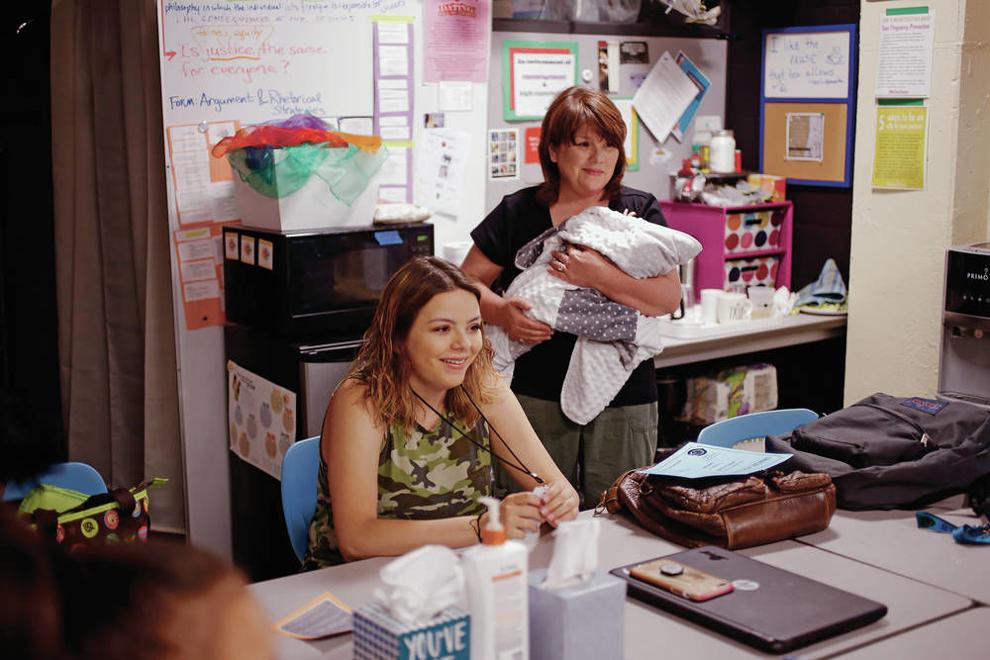 Lauren Whitehurst, an educator in the GRADS program, said teen parents often find themselves grappling with such questions.
"They're teenagers," Whitehurst said. "They're still trying to figure out who they are in the world around them and discovering their own identity as adults. And for most teens, that is not connected to figuring out that identity as a parent."
Lauren Gallegos soon adjusted to the situation and grew into her new role.
"I didn't worry what people said about me," she said. "I didn't need to put on makeup or the 'right' clothes in the morning. I could accept myself more. I could accept that he was coming into the world."
And she realized she needed to be there for her son. "If I didn't have him, I'm not sure I would have graduated yet," she said. "I pushed myself because of him."
Whitehurst said that's common for some teen mothers. They see graduating as an opportunity to "turn it around. They say, 'I can't drop out. I have this kid and I want to give him everything, and what I want to give him is contingent upon my education.' "
Still, she estimates that two to four teen moms a year at Capital High drop out; though, some return later to earn a diploma.
Mendoza almost became one of those dropouts. She was 15 when she gave birth to Aiden. The boy's father disappeared from her life, much as her own father did, she said. As she walked outside with her son, watching him climb walls and fences along the way, she would not talk about either of their fathers.
Like Gallegos, Mendoza was terrified of telling her mother about her pregnancy. It didn't help that her mother found out about it when she lost consciousness and had to be taken to the hospital.
"It wasn't a good day," Mendoza said, with a matter-of-fact tone and a guarded smile.
Her friends were more interested in hanging out and having fun after school than watching her change the baby's diaper. They drifted away. She missed a lot of classes and could not keep up with either the medical careers program she had enrolled in at Capital or the school's college-preparatory AVID program. She lost track of who she was.
Depression enveloped her.
"I was scared," she said. "My family, friends, even some of my teachers didn't have faith in my capacity to succeed."
Mendoza found comfort and faith in two young mothers who had graduated previously.
"I thought, 'If they can make it — one with two children — why can't I?' " she said.
"I started working harder for my son and me."
She got a job at a refrigeration company and began putting more time into her school work to earn enough credits for a diploma.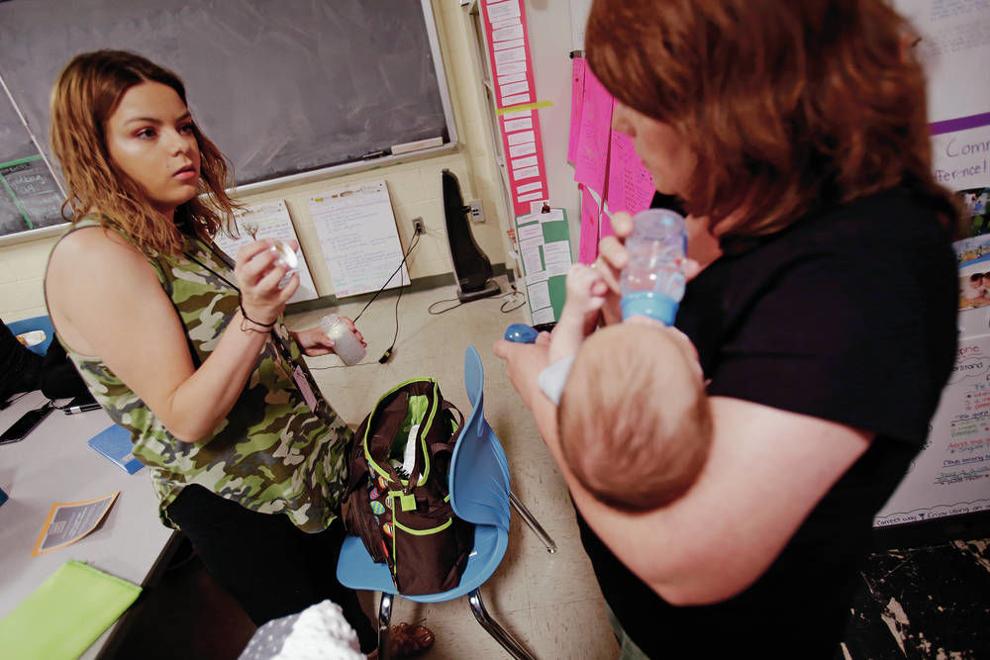 Mendoza also began speaking publicly about her experience to inspire other girls and is writing an essay for a staged reading of works by teen moms scheduled May 20 at Zona del Sol, a south side youth center.
Though she still quarrels with her mother, Mendoza now sees her as a kind woman who helps take care of Aiden. The child has brought the two women closer over the past year, she said.
To Gallegos and Mendoza, graduation day is a chance to start over. Both plan to take classes at Santa Fe Community College and earn degrees. Mendoza wants to be a makeup artist or a nurse. Gallegos would like to be a lawyer — "because I'm good at arguing," she said.
That could be another tough hill to climb. The National Conference of State Legislators reports that only 2 percent of teen moms manage to complete college by the age of 30.
But neither young mother seems deterred. "It will be a fresh start for me," Mendoza said.
Both expect their sons to graduate from high school when the time comes. In the meantime, they have a job to learn: how to become mothers.
Connie Gallegos said she's watched her daughter develop confidence and patience — key parenting traits. "She has more of an understanding of a mother's role in the world."
For Mother's Day, Connie Gallegos is planning to continue the family tradition, taking both her daughter and grandson to the zoo, where there's a new baby elephant with a proud mother watching over it.
Mendoza at first expressed indifference about her Mother's Day prospects. Although she was born in America, her family is from Guatemala, where Mother's Day is celebrated May 10.
Mother's Day in the U.S., she said, "will be just another day."
Then, following a moment of reflection, she changed her mind.
"On Mother's Day, I will thank my mother," she said. "Maybe buy her flowers or take her out to dinner. She's a good woman."