Hundreds of protesters gathered in front of the Roundhouse early Wednesday evening for a peaceful protest, the largest of several held in Santa Fe since the death of George Floyd, an unarmed black man who died in police custody in Minneapolis last week.
The protesters spoke out against police violence in the black community, with some holding signs displaying messages like "Black Lives Matter," "Prosecute Killer Cops" and "End Racism."
They marched downtown and through the Plaza before stopping on the steps of the Cathedral Basilica of St. Francis of Assisi.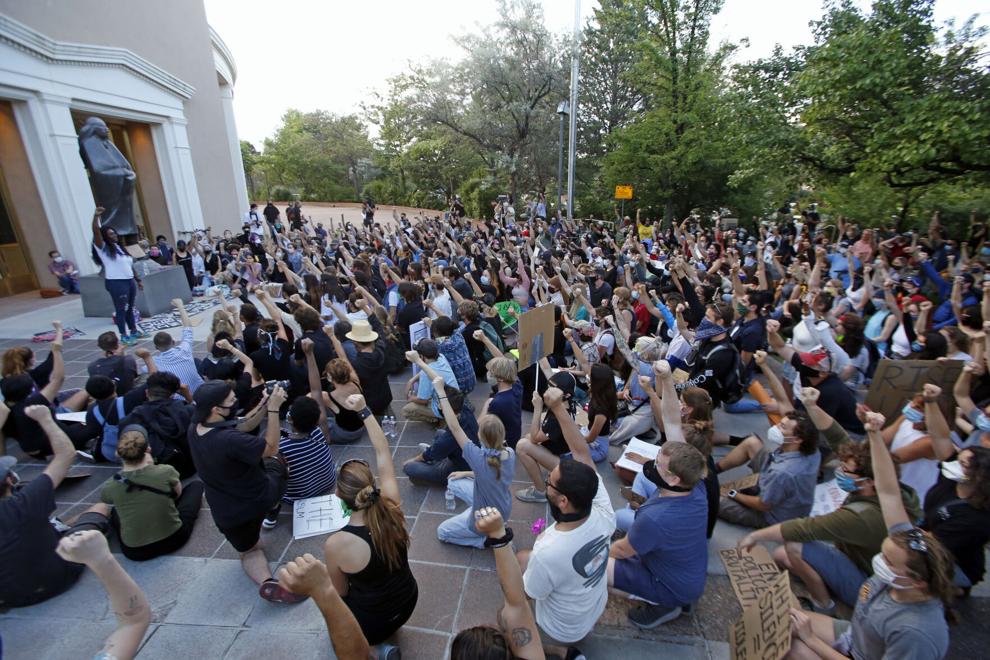 "Systemic racism exists in all of us," said Tigre Bailando as he addressed the crowd in front of the cathedral.
Bailando asked everyone to get on their stomachs with their faces against the concrete and their hands behind their backs.
A widely shared video shows Minneapolis police Officer Derek Chauvin with his knee on Floyd's neck as he is handcuffed and on the ground saying he cannot breathe.
"Nobody should ever die in this position," shouted Bailando as hundreds of people lay on the ground. "Nobody should ever die in this position with their body pressed into the ground with their hands behind their back."
Wednesday's crowd was peaceful, and a group of Santa Fe police officers watched from underneath the portal at the Palace of the Governors as they walked through the Plaza.
Mayor Alan Webber stood on a street corner as protesters passed by.
"People are out and I'm happy people are speaking up against racial injustice and I'm happy people are peaceful," Webber said.
Webber said he is talking with Santa Fe police Chief Andrew Padilla and City Manager Jarel LaPan Hill to figure out how best to maintain peace in the city and also make sure people have the chance to speak out and "challenge behavior that should be challenged."
"We're talking about all kinds of ways to increase the levels of engagement and conversation," Webber said.
While there were people of many ages at the protest, the majority appeared to be young.
Noni Miller, a young black woman who lives in Santa Fe, said she was there to educate and learn.
"As one of the very few black people in Santa Fe, coming out to support my movement means a lot to me," she said. "I've been trying to share as much information I can through all aspects of social media."
She said it is difficult to talk about police violence against the black community, but she hopes to one day see a fair justice system.
"I think that the biggest thing is being able to look at the way the police and judicial system is set and how it was built against brown, black and [people of color] bodies and how we can break that down and rebuild that in a way that is more community friendly," Miller said
As the protest wound down near the state Capitol after snaking through downtown streets, protesters encountered six armed members of the New Mexico Civil Guard — five men and a woman — standing on the patio of a building near Rio Chama Steakhouse on Old Santa Fe Trail. Members of the organization called it a "Second Amendment citizen militia group."
"We exist to protect innocent life, liberty and property," said member Nicolas Lomas, who was carrying what he said was a loaded .308-caliber bolt-action rifle.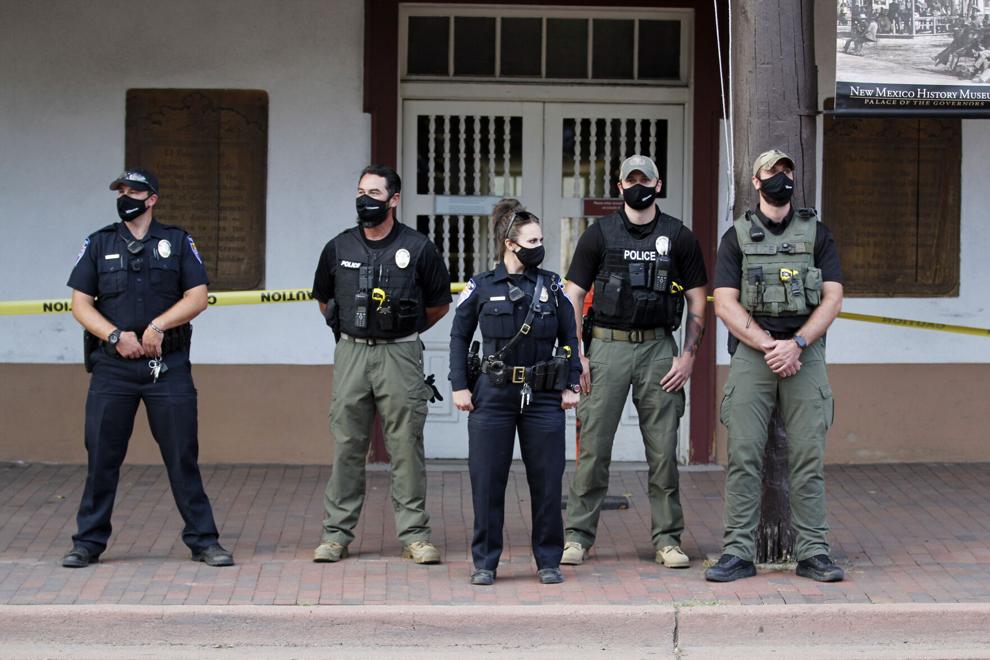 Though some protesters started to clash with the rifle-toting militia members, tensions quickly died down as protest organizers encouraged marchers to keep walking and Lomas and others explained they were there to prevent looting and rioting that has occurred in other cities.
"We're here to help keep peace," Lomas said, adding that their show of force doesn't instigate violence but "deters the bad guys that infiltrate the peaceful protesters."
"We're just ordinary citizens like everybody else," he said.
At least three armed men were also seen standing underneath the portal in front of shops along East San Francisco Street.
A man, who refused to give his name, wearing a yellow sweatshirt with a rifle slung around his body and a black handgun on his hip, said he would patrol the area until the early morning to make sure no one was looting.
The protest ended as peacefully as it began.
"[Racism] is baked into the system of education. It is baked into the system of the economy and property," Bailando said. "It is the foundation of this country. It is up to every single one of us to commit to doing the hard search of digging inside, finding that racist seed and ripping it out."