Before Santa Fe voters approved a $30.3 million bond issue for park and trail improvements in 2008, Bette Booth was one of its biggest champions.
Booth, who was then chairwoman of the city's Parks and Open Space Advisory Commission, as she is again now, actively campaigned for the bond issue, trying to build public support one voter at a time.
"People said, 'I want to vote for this, but I don't think the city will spend the bond money the way they promised.' I told them personally, 'As chair of POSAC, I promise you that if I see anything funny, I will bring it to the public light.' Once I gave my word, that was it," Booth said.
What Booth discovered years later was anything but funny.
Questions over how that bond money was spent is the focus of a burgeoning scandal at City Hall after a stinging report last month found that the capital improvement program was administered so haphazardly that parts of it were never implemented or were not properly accounted for. City Councilor Signe Lindell called the report "horrifying."
Yet nearly four years after Booth and others began raising questions about the bond spending, a full audit has yet to be conducted, and hopes for one appear dim.
The report causing all the fuss, which was conducted by Albuquerque-based REDW LLC, was an independent review but not a full audit. And despite calls for the state auditor to conduct an in-depth review and the attorney general to look into a possible criminal investigation, the State Auditor's Office said Friday it would help the city fix the problems raised in the REDW report but said the report made a full audit unnecessary.
Booth and others who want an audit disagree. REDW's report, she said, is "incomplete and inconclusive."
"We deserve to know how our taxpayer dollars were spent," she added. "We can't move forward as a city until we know exactly what happened."
Without a full accounting, Booth worries the city will never regain the voters' trust.
"It's just so sad," she said, "because I don't know how we're ever going to get another bond" issue approved in Santa Fe.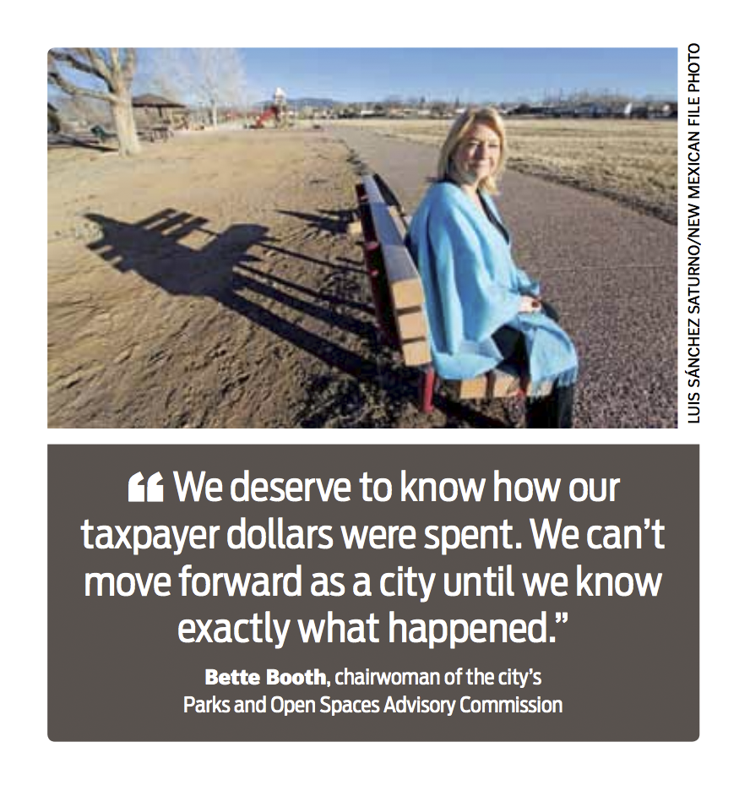 Voters had expressed a lack of confidence in the city's ability to manage the bond even before it passed.
"I am a hundred percent in favor of building and improving city parks and don't begrudge the extra $85 per year that the bond issue would add to my taxes," Maxine Davenport wrote in a My View opinion piece published in The New Mexican in November 2007.
"However, before I vote for such a bond, I would like for the City Council to assure me that a trustworthy review board will monitor the proposed plans for each park, plus audit the budget to make sure the money is well spent when and where the Public Works/Parks Division proposal says it will be. This is not presently happening," Davenport said.
Despite concerns, voters overwhelmingly approved the bond issue by a ratio of 2-to-1.
The budget included $9.1 million for citywide trails, including completion of the Rail Trail and Santa Fe River Trail; $9.2 million for regional parks; $2.1 million to $2.6 million for projects in each of the four council districts; and $9.2 million for outdoor recreation projects in the city-owned Northwest Quadrant.
As part of the bond campaign, "the city committed that all funds would be protected in a separate bond fund, subject to independent annual audit," city documents state.
Two years after the bond passed, Booth touted what had been accomplished.
"We promised that monies would be spent in accordance with the proposed Master Plan, and they have," Booth wrote in a letter published in The New Mexican in 2010.
But in 2011, Booth and other parks advocates became increasingly concerned when they found out thirdhand that the City Council was considering a resolution to reallocate bond funds to cover salaries of city employees.
"That's when it started," Booth said.
As time went on, others continued to call for an audit.
"The city promised that it would conduct an independent, third-party audit to demonstrate that the bond funds were expended as promised. That audit has yet to happen," Margaret VeneKlasen, a former member of the parks advisory panel, wrote in a letter to the editor in 2013.
That May, Booth said she would include an action item on the parks advisory panel's June meeting agenda calling for an independent audit of the bond. A few weeks later, former Mayor David Coss replaced her as chairwoman, which struck Booth as more than just a coincidence.
But in her final act as chairwoman, Booth got the audit on the agenda.
Coss, who served as mayor from 2006 to 2014, which covers the period in which the bond was approved and implemented, declined an interview request at the time to discuss his decision to replace Booth as chairwoman.
While Booth was no longer the chairwoman, she continued to serve on the parks advisory panel. During a meeting in November 2013, Booth sounded the alarm, saying parks and trails improvements promised to voters had changed significantly or never materialized based on a report provided by the city.
Booth gave startling examples.
At Monica Roybal Park, for instance, trees were supposed to be replaced, but Booth didn't see any new trees. At Orlando Fernandez Park, the city was supposed to upgrade the irrigation system and install four park benches. But when Booth took a closer look, the grass looked worse than before, and there were no new benches.
Other discrepancies surfaced.
The city reported spending money on projects that had been canceled. Money also was spent on projects the city had labeled completed, including $13,529 at Melendez Park, $10,331 at Espinacitas Park and $2,163 at Peralta Park.
City officials offered explanations for the changes. At Monica Roybal Park, for example, the city didn't plant trees, because "adding trees would have required a cost prohibitive irrigation update."
"It would have been futile to put trees in a park that doesn't have an irrigation system," former Parks Director Ben Gurule said at the time.
Gurule said then the city kept its promise to voters. "Every penny that was spent was spent towards the bond," he said.
Gurule retired in May 2014, and efforts to reach him for comment for comment were unsuccessful.
Isaac "Ike" Pino, director of the city's Public Works Department, which used to include city parks, also insisted back then that the paperwork was in order. At the time, he said every reallocation and budget adjustment was approved by the appropriate City Council committee or the entire City Council.
"There is a paper trail for everything," Pino said at the time.
The REDW report, however, found otherwise.
"Projects were not completed as listed in the implementation plan and there was no comprehensive documentation to support changes," the report states.
In an interview Friday, Pino said he was talking about a paper trail in a different context, not as it related to policies and procedures or accounting practices.
"We had so many, so many boxes of files and drawings and everything in the world that you could imagine associated with doing a project, that I look at those kinds of things and I have to believe, just from experience and as a practical matter, that there is enough paper for me to tell you that there's a paper trail for everything," Pino said. "Clearly, the auditors disagreed, but I wasn't thinking in that context. I was talking from a project development or a project completion point of view, not from an accounting point of view for certain."
In August 2013, the City Council approved a resolution "directing staff to acquire a third-party independent audit" of the parks and trails bond "upon completion of projects authorized in accordance with the bond." The resolution called for the audit to be completed by the end of the fiscal year.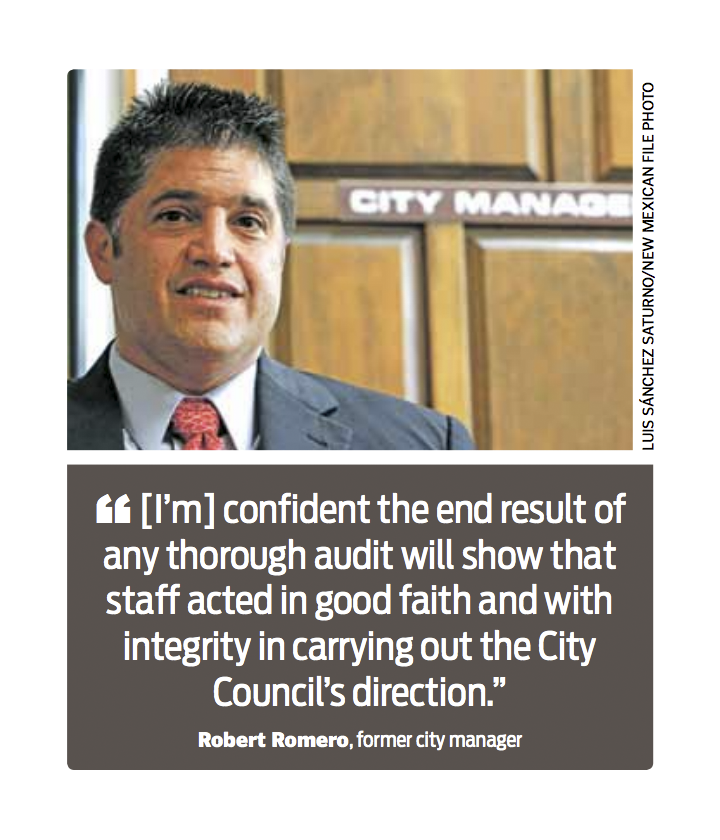 But in February 2014, the council approved a separate resolution that repealed the first one and authorized "a special external audit" of the 2008 bond. That resolution called for the city staff auditor, Liza Kerr, to develop "agreed-upon procedures" under which the special audit would be conducted.
According to Government Accounting Standards, agreed-upon procedures "consists of auditors performing specific procedures on the subject matter and issuing a report of findings based on the agreed-upon procedures. In an agreed-upon procedures engagement, the auditor does not express an opinion or conclusion."
Said Kerr: "I'm just following the resolution. I think the councilors were looking at me like, 'What? We ordered an audit.' But what they're telling me to do here is an agreed-upon procedure. That's what we did."
The resolution approved last February called for the review, which was later awarded to REDW, to be completed by December. But Kerr's office asked for more time because of what she called "extenuating circumstances," including the departure of former Finance Director Marcos Tapia. The Finance Department also was busy working on the city's Comprehensive Annual Financial Report, she said.
The REDW report, which cost the city nearly $50,000, was submitted by the new March 31 deadline and caused an immediate furor. But the 14-page report, while scathing, was by the company's own admission not an audit.
"We were not engaged to, and did not, conduct an audit," the report said.
The company added that it couldn't do all the work it had been contracted to complete.
"Due to the unorganized and incomplete condition of the documentation provided there were several items in the original scope of work that could not be addressed within the budget allotted," the report said.
The report added that "REDW cannot assert that all laws were followed."
Limited as it was, the review was damaging enough to prompt calls for a deeper, more extensive review.
City Councilor Carmichael Dominguez, who heads the council's Finance Committee, has said he plans to introduce legislation calling on the state auditor to conduct a forensic audit and, depending on the findings, a criminal investigation by the state Attorney General's Office.
But on Friday, State Auditor Tim Keller's office indicated that while he would assist the city in correcting problems identified in REDW's report, his office would not conduct its own audit.
Attorney General Hector Balderas, Keller's predecessor as state auditor, said his office would get involved if necessary.
"I take allegations of misuse of public funds very seriously," Balderas said in a statement. "State Auditor Keller will inform my office if concerns arise regarding potential criminal activity, and we will analyze any credible criminal allegations accordingly."
Former City Manager Robert Romero said last week that he never found evidence that someone was lining his or her pockets or colluding with vendors.
Romero also said that a "thorough examination" of minutes from past committee and council meetings would reflect that the implementation plan and "material changes" to bond projects were presented and ultimately approved by the council.
"I believe it was City staff's obligation to carry out the direction from the Governing Body which occurred in implementation of the parks bond," he said in an email.
He added that he was "confident the end result of any thorough audit will show that staff acted in good faith and with integrity in carrying out the City Council's direction."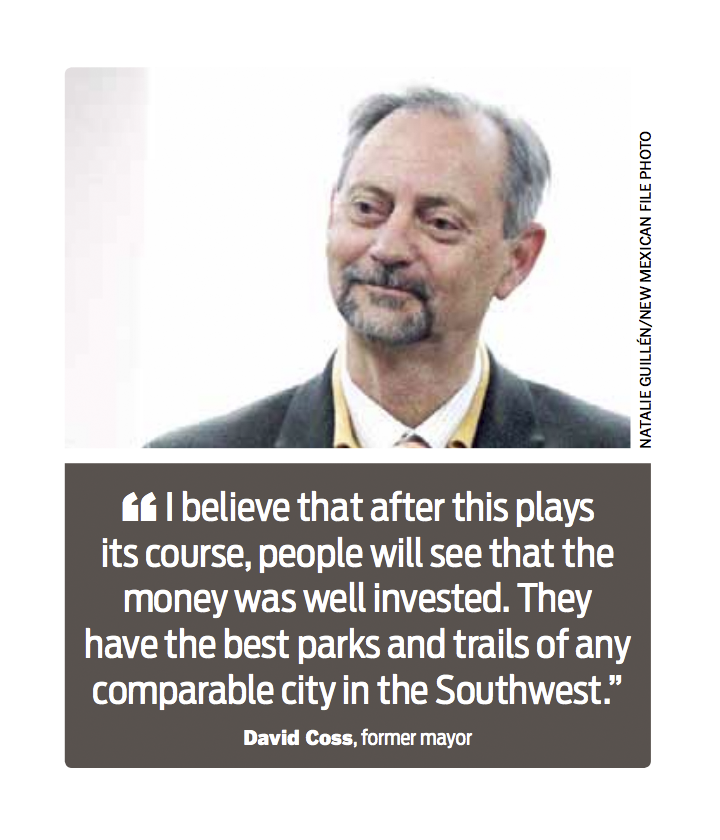 Coss, who left office last year after serving two terms as mayor, said he has a "great deal of confidence and pride" in what the city did regarding parks. Like Romero, Coss said he believes a more thorough review than what REDW did would "probably show something different."
"Of course it's a negative reflection on the city government," Coss said about REDW's report. "But I don't believe it's founded, and I believe that after this plays its course, people will see that the money was well invested. They have the best parks and trails of any comparable city in the Southwest, and we accomplished that while I was mayor."
Since the REDW report came out, Booth said people have been congratulating her for her effort to bring questions about the bond issue to light. But she said that doesn't mean she feels vindicated.
"It's like when you think your lover is cheating on you and you even have the hotel receipts," she said. "There's this hope that it's not what you think it is, and then you walk in on them."