WAGON MOUND — Jacob Daniel Schmidt can sit in his living room recliner, not far from a 21st century interstate highway, and imagine trade caravans on the Santa Fe Trail trudging by on virtually the same path.
That's how close Schmidt, 93, is to the present — and the past. Both are right outside his front door.
"It's an important part of the history of this part of the country," the U.S. Army Air Corps veteran and longtime heavy equipment contractor said one recent afternoon. "I don't want to see it [the history] fade away."
A child of migrants whose family lineage can be traced to Ukraine and Germany but is decidedly centered in Wagon Mound, Schmidt said it can be difficult for people today to understand just how grueling the lengthy Santa Fe Trail trek was for those who undertook it from 1821 to about 1880.
Or how important that history is for New Mexico.
"Think of it this way," he said. "My family history is from central Kansas. We can get in a car and get over there in seven, eight hours. They [the trail's pioneers] could make one trip a year."
Schmidt, a longtime member of the local chapter of the Santa Fe Trail Association, wants to keep knowledge about the trail alive.
Hobbled by back problems — though he can still get around in a golf cart — it's not as easy for him to attend gatherings about the trail, though he used an old movie camera to shoot footage of many held in the region in the past.
He has attended theatrical performances about the trail, watched reenactments of trail founder William Becknell meeting with Don Pedro Ignacio Gallego and his militia just south of Las Vegas, N.M. — an event, some historians say, that cemented the trail in history since Gallego's men led Becknell and his party to nearby Santa Fe in November 1821.
Now, in his living room, with walls adorned by paintings of cowboy and desert images and a portion of the floor covered by lots of newspapers, Schmidt holds a Santa Fe Trail history lesson for one or two visitors.
Wagon Mound played a significant role in leading those travelers to the end of the trail in Santa Fe, he said. Travelers coming west would be able to see the "mound," as it was known, from 20 miles away, he said. Once they camped by the Santa Clara Springs near the volcanic structure, it was just another 100 miles or so — six, seven, maybe up to 10 more days — to Santa Fe and the end of the trail.
It's one reason some called the area below the mound the Valley of Hope.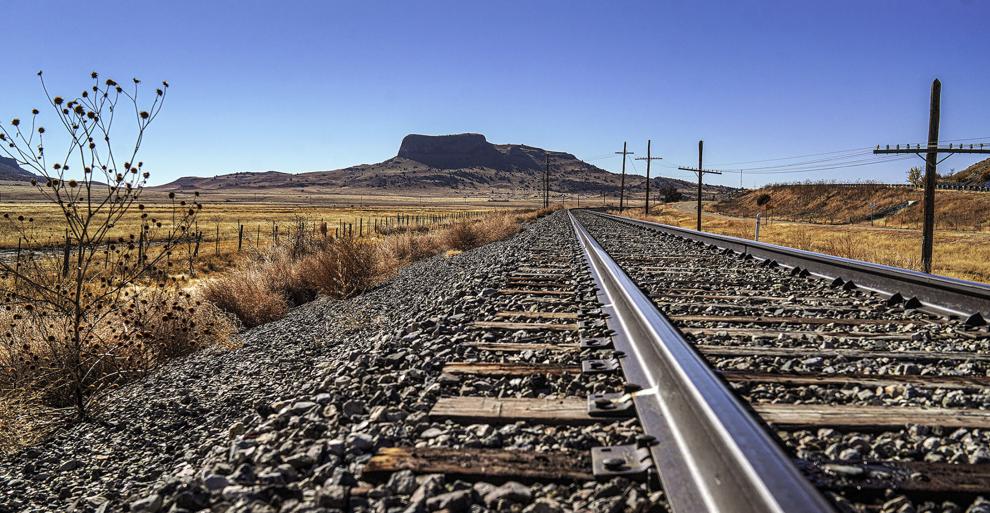 Just as important, the mound meant water "entirely free of alkali" and abundant game, according to a journal entry by Hezekiah Brake, who crossed the trial with a trade-driven caravan in 1858.
But it was the striking, wagon-shaped rocky topping to the mountain that gave travelers a comfortable sense of place, historian Doug Hocking said.
"Good grass and water are enough, but it was also identifiable from a distance and therefore on trackless plains it was something to steer for," said Hocking. "It was also a split and a union of trails, going east or west of the Turkey Mountains to arrive at La Junta — the old name for Watrous. Because of its unique shape, it was easily identifiable and therefore fit easily into accounts in explaining to people where you were."
Schmidt has a good sense of his place and understands what it was like to travel west. His family settled in Kansas before moving to the Texas Panhandle and then, in the Depression era, to the long-gone community of Nolan, about 11 miles north of Wagon Mound.
There, J.D. Schmidt, as he is known, attended public school up through the seventh grade. While his own troubles could not match those faced by merchants on the trail, his father, who ran a small farm, died unexpectedly during the Depression, when Schmidt was still a child.
Schmidt's mother moved with her two sons to Wagon Mound, where Schmidt began attending school in eighth grade. The Santa Fe Trail was always with him. Every day, whether he was walking or on a bus, he crossed the remnants of the old trail as he went to school.
Like many communities in rural New Mexico, the coming of the railroad changed Wagon Mound's world. It effectively killed the trail because trains could easily transport goods in days over terrain it took pioneers months to cross.
The trains were just the beginning of technology and urbanization. After World War II, Wagon Mound's economy virtually died — a victim of the go-go-go 20th century. The once-vibrant Railroad Avenue area is now home to a string of vacant buildings, including an empty store and pool hall. A general mercantile shop run by the late Archibald MacArthur still sports a sign in the window advertising women's dresses for $1.95, making you wonder just how long ago it closed up shop.
Schmidt said it makes him sad to see downtown Wagon Mound, once alive with economic activity, so quiet and vacant.
"Little towns are shrinking and dying, and the big cities are taking over," he said. "It's a different lifestyle. It's a different world than when I was young, just a completely different world. The United States used to be a rural country. Now, it's big cities."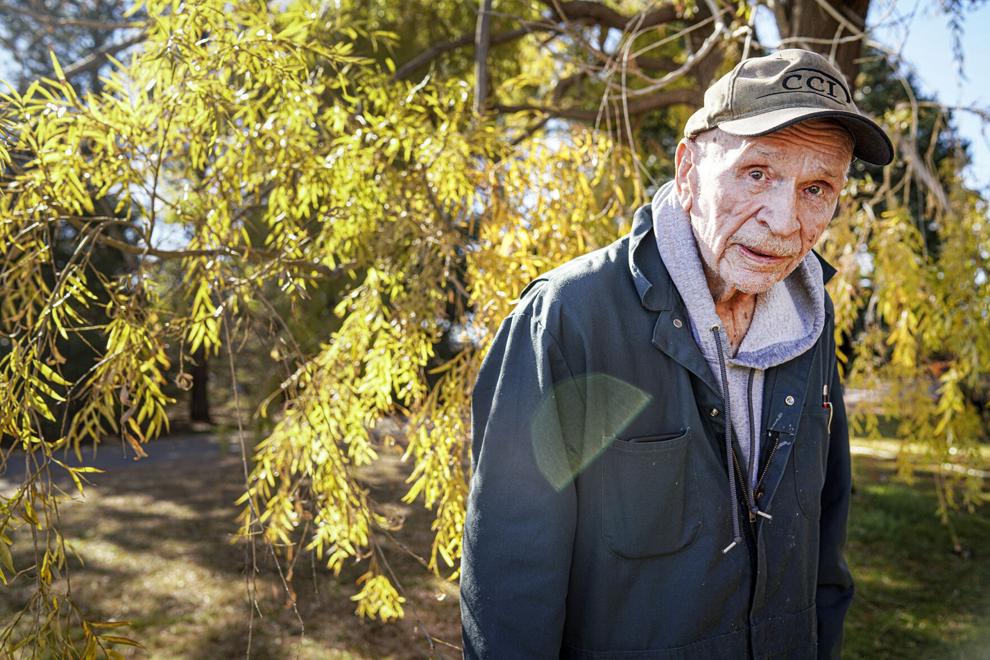 Schmidt served in the military as a radio operator from 1946-48 and later worked as a freelance heavy equipment contractor for local ranchers and the state Highway Department. He said he worked into his mid-70s. These days, he reads the newspaper, watches the television news and reruns of the Lawrence Welk Show and sometimes watches John Wayne Westerns because his wife likes John Wayne.
Whether those films have any connection to the reality of the West is not his concern, but at least, he said, you can tell who are the good guys and who are the bad guys.
"And right now you don't have to watch the news too long to wonder if there's any good guys," he said.
He's alert for being one month shy of 94. His wife, Lucille, said he still possesses a "remarkable mind."
He often thinks about the history of this place he knows so well. Schmidt said he wonders if people will learn or care about the Santa Fe Trail in 2121, when it marks its 300th anniversary. Asked if he expected someone to teach his energetic great-grandson London about the trail's significance, Schmidt cast a weak smile and replied, "Good question."
He knows the trail brought its share of controversy as the United States flexed its muscles to use it to battle and conquer Mexico and push Native Americans off their land, but he bemoans the desire to rewrite history and erase the unpleasant parts of it.
"There's a lot of parents now starting to question the way our education system is going in the United States," he said. "And tearing down some of these historic monuments and things like that. Whether you agree with it or not, it is part of our history."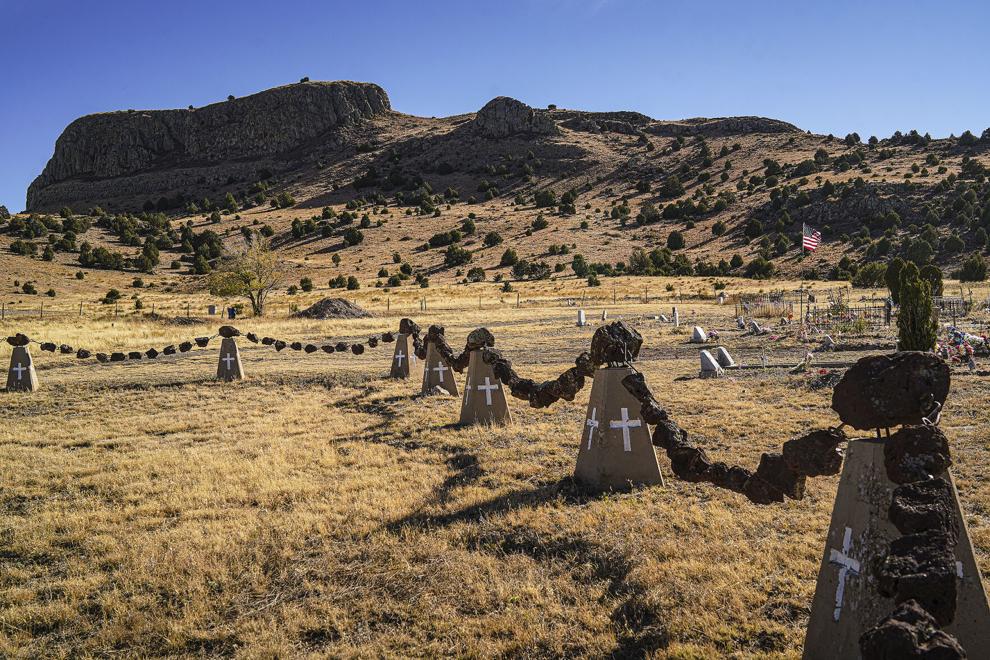 Joy Poole, cofounder of the Santa Fe Trail Association, said it would be difficult to say whether people will care about and still want to learn about the trail in another century. But she points to school programs, like one in Kansas, that take students on a field trip along the trail to instill a sense of its historical value in them.
"I think people will continue to be interested in the Santa Fe Trail history and the fact that it is a national historic trail, which means it is part of the U.S. National Park Service, means there will always be signage along the Santa Fe Trail," she said.
Her hope is "people traveling through those states will surely continue to promote different trail activities."
J.D. Schmidt said he thinks a lot of people don't realize the trail may have moved through their backyards at one point. Though the wagon ruts from the 19th century are only faintly visible here and there along the way, he can still find solace in the view out the window and the fact that history passed right by his house.
"It makes me proud," he said as he prepared to climb into his golf cart to tool around his property. "Proud to be a Westerner."