Gonzales Community School teacher Gabby Kahawai began Wednesday morning with the routine task of monitoring third graders.
By afternoon, she'd been honored during a surprise ceremony at the school as a Milken Educator Award recipient, earning national clout and $25,000 in cash.
The California-based private Milken Family Foundation selects public school educators every year across the U.S. to surprise with a no-strings-attached cash award and an honor it describes as "the Oscars of teaching."
This year, Kahawai is one of two recipients in New Mexico, joining Loving High School science teacher Tyler Finch, who received his award at an assembly Tuesday. The foundation identified 60 elementary and secondary educators across the U.S. to receive the award this year.
To those who know her, Kahawai, 33, is an obvious candidate.
"She will do anything in her power to make sure her students are taken care of," Principal Chris Lopez said following the assembly. "From fed, to hugged, to making sure they know they're loved. 'Cause not everybody knows that, unfortunately."
The Milken Family Foundation credited Kahawai for her ability to adapt to online learning at the onset of the coronavirus pandemic in 2020, when she set up a comprehensive digital classroom and became a resource for other teachers working to navigate online systems required for remote work.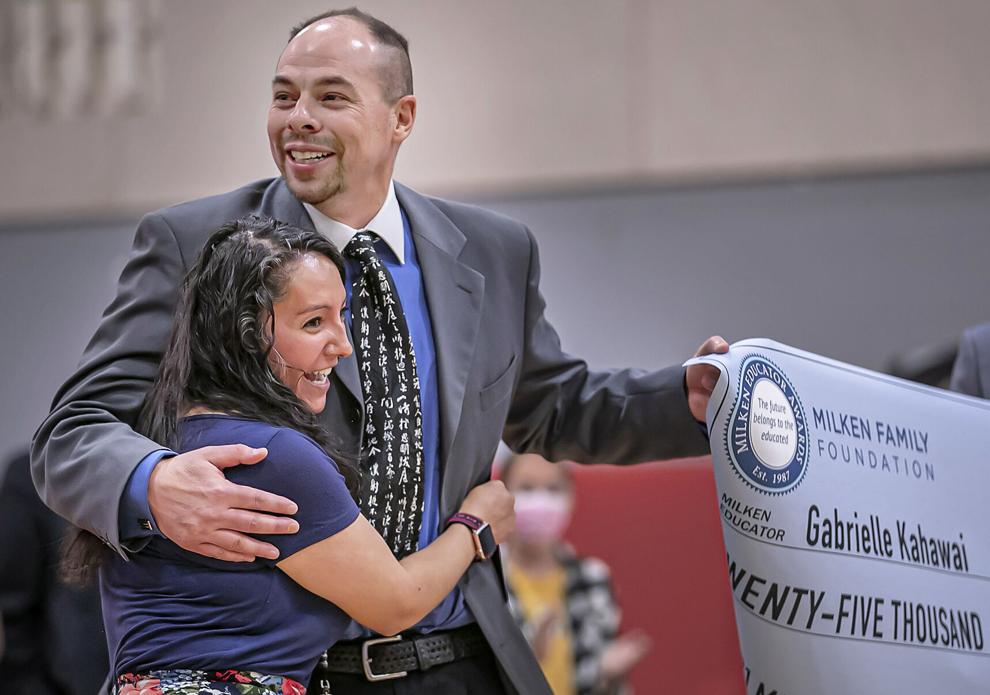 She also leads students on hikes in the Santa Fe National Forest as coordinator of the hiking club.
Kahawai also sits on the school's site-based management team, helping guide schoolwide policy.
She additionally is credited for helping establish a literary fair for students, in part out of her own love for reading.
"I really want them to enjoy school, especially reading," she said of her students.
Kahawai said a big part of her classroom philosophy involves recognizing students sometimes spend more time in class than anywhere else.
"We're a family in here," she said. "And so we really have to build up that community."
The Milken Family Foundation doesn't accept nominations or applications for the Milken Educator Award. Panels appointed by state education officials seek out educators based on factors like instructional practices and student outcomes.
The Public Education Department praised Kahawai for her data-driven teaching, which groups students according to academic need, and illuminating topics like science and math for students.
The state estimates Gonzales third graders have had short-cycle math and reading scores twice as high as the rest of the state on average.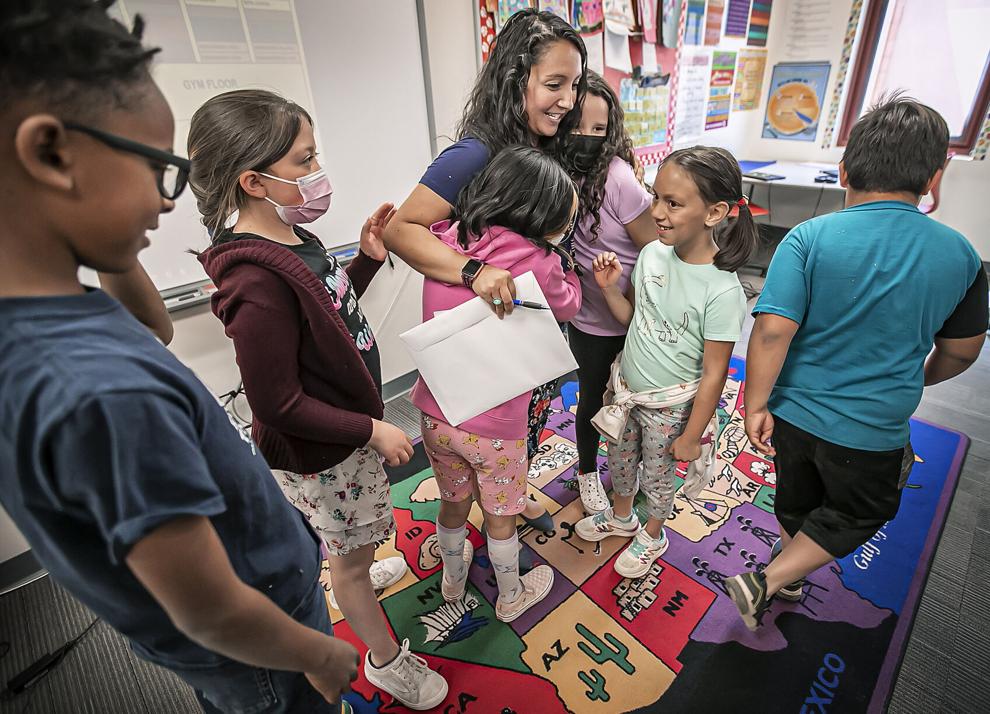 Kahawai is the first teacher at Gonzales to receive the Milken Educator Award, but she and other educators there said they were familiar with the honor because assistant principal Melissa Kovac received it while teaching at Amy Biehl Community School in 2016.
Since New Mexico joined the Milken Educator Award initiative in 1992, 62 New Mexicans have received the honor.
Finch and Kahawai are set to join other award recipients at a forum in the Los Angeles area in June and will receive the chance to participate in coaching from previous recipients.
Kahawai is not yet sure what she'll do with the money she has received, adding she might invest it in her 3-year-old son's college fund.
Kahawai, a 2007 graduate of St. Michael's High School, studied elementary education at New Mexico Highlands University. She's in her eighth year of teaching at Gonzales.
She said she had wanted to be a teacher since high school and volunteering in a local bilingual classroom for a service learning class sealed the deal.
"I absolutely fell in love with it," Kahawai said in an interview Wednesday. "The teacher was amazing, and that was the day I decided I wanted to be a teacher."
One of the greatest challenges in education this year, she said, is attendance and making sure families understand how important it is for kids to show up to class following years of learning disrupted by COVID-19.
"One of the hardest things is finding accountability for families," Kahawai said. "A lot of students are just absent, which is really difficult."
The Milken Educator Award goes to early- and mid-career teachers.
"Recent studies have emphasized the toll job-related stress can have on the teacher supply long term, with the concern that the pandemic may have only exacerbated the situation," states a news release from the Milken Family Foundation.
Kahawai said she plans to stick to teaching but might look into working as an administrator once she has more experience.
"One of the reasons we give the awards is because we want her to stay in education for 20, 30 more years," Milken Educator Awards Vice President Jane Foley told Kahawai's class after Wednesday's assembly.
Still, some of Kahawai's third grade students thought the flashy assembly and check presentation meant the 33-year-old was headed into retirement and expressed grave concern. Some even joked they'd like to repeat third grade, just to have her as a teacher for longer.
"I don't want you to leave," 9-year-old Lorena Jaramillo said as students settled back into their seats after the assembly.
"I'm not going anywhere," Kahawai replied.