Some of the best arcade game players from around the world have descended on Santa Fe for the Galaga World Championship at Meow Wolf, which set up an arena inside the local art venue for video gamers to compete in a four-day event billed as Score Wars.
With staccato tapping bursts on a trigger button with his right hand and his wrist-banded left hand moving a joystick, Armando Gonzales of Los Angeles on Thursday morning tried to keep a seemingly endless swarm of blue and red invaders at bay.
He could be at this for hours. The payoff: a $10,000 prize and perhaps a new world record at this event, which will be live-streamed on the internet this weekend.
"He could be playing for 14 or 15 hours if he wants the record," said Meow Wolf art director Chadney Everett as he watched entrants try to qualify for Sunday's final. Meow Wolf put up the funds for the grand prize and flew in the world's 12 best players of Galaga, a game developed in Japan that reached U.S. video arcades in 1981.
That was an era of electronic entertainment that still inspires many of the people who help create the immersive art installations with multimedia elements at Meow Wolf.
"The Meow Wolf founders and many of the artists of Meow Wolf are of the video game generation," said John Feins, Meow Wolf's vice president for communication, when asked what led the arts production company to sponsor the gathering. "They grew up in the classic video game era."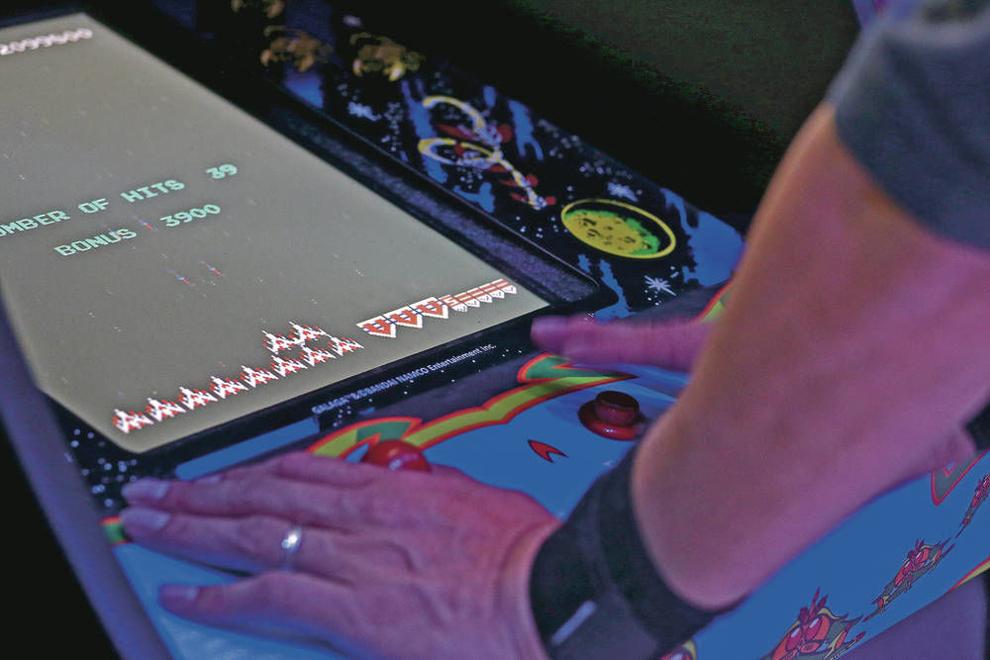 He explained that "video games make storytelling interactive, which set the stage for Meow Wolf to make storytelling interactive and immersive."
Several onlookers at Thursday's initial competitions said they consider Gonzales, 44, a relative newcomer to the venerable arcade game, a "dark horse" favorite to win. Others like Keith "Arcade Doctor" Swanson of Orlando, Fla., or world record-holder Andrew Laidlaw of Seattle had other ideas. But "invaders" like Andrew Barrow of New Zealand and Philip Day of Australia could be spoilers.
Meanwhile, other players are trying for records in several other classic arcade games.
The players are on an otherworldly level, said Meow Wolf creative director Adam Drucker. "The difference between a guy who can score a million points and a guy who can score 5 million points, that's like five people in the world," he said.
The gathering, which features a simultaneous amateur competition, drew freelance journalist Nicholas Mainieri from Indiana, who pitched the story to Longreads.com, a long-form journalism website. "It's pretty cool," he said. "It seemed significant to me that an artists' collective was sponsoring a video game competition."
Laidlaw set the world record for Galaga's tournament mode with a score of 4,525,150 in 2011, taking the title from Day. The tournament mode has finality because a "kill screen" eventually stops the game. Marathon mode, however, means exactly that, a game limited only by a player's durability, need for water or a call of nature.
Laidlaw watches a standing Gonzales, who is too preoccupied to talk, fire away with bursts of "missiles" at the invaders or "bugs," while Barrow, twisting on a stool at his Galaga machine, asks art director Everett for a bottle of water.
For Laidlaw, 52, the game hearkens back to the days when he started going to arcades as a kid. "We didn't have Xbox, we didn't have PlayStation," he said. "We rode our bicycles to the arcade."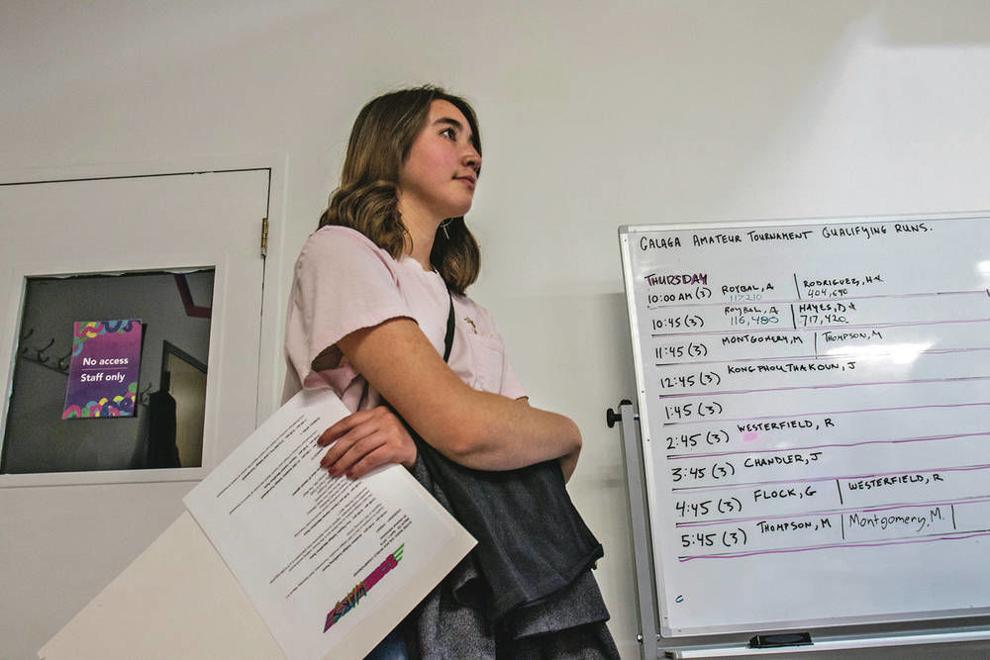 Galaga was developed by Namco Japan as a sequel to a game called Galaxian.
There were other classic arcade games at the time such as Pac-Man and Donkey Kong, but Laidlaw fixated on Galaga. "It was the one that fascinated me the most."
For Swanson, 49, the carrot this weekend is cash. A game he previously played only for fun took on monetary meaning. "It's not like my favorite game," he said, "but with the prize money for this, I've got to see what I can do."
While he holds the record for Gorf, another classic arcade game, Swanson said he's a long shot in this competition. "I have been practicing since I heard about this tournament," he said. "I've only been playing this game about two and one-half months seriously to qualify."
While the pros traveled from around the country and across the globe to get here, 14-year-old Arielle Roybal and her family drove the 60 miles from Albuquerque. Roybal is the only female and youngest competitor in the competition, but she has played the game since she was 6, and plays about three hours a week.
"It's just really therapeutic for me," Roybal said. "There is something about it that I found really intriguing."
It's a family affair for the Roybals, with mother Clara, father Glenn, and sisters Bella and Gabby accompanying Arielle to Santa Fe.
Arielle will find out Friday night if she'll get to move on as part of the top 10. Amateurs will compete Saturday for a $1,500 top prize.
Clara Roybal, a high school math teacher, is all for it. "I think this game teaches strategy and teaches problem solving," she said. "It increases her confidence because she [Arielle] is always trying to improve her score."
Improving one's score with an eye to perfection seems to be a theme for Galaga fans. "For somebody who likes to bowl, trying to always do better, or play golf or do anything to always try to be better, it's addicting in that aspect," Laidlaw said.
To be error free in the face of the swarming bugs is one aspect that drew Laidlaw to the game. "This game is a series of patterns. If you memorize them, then you know all you need to know," he said. "The key, though, is to repetitiously do it without mistakes, to be as perfect as can possibly be and without error, or you crash and you die."
Swanson said the game requires laser focus. "It's very challenging. You gotta totally be focused. You look away for a second you're dead," he said. "You make one mistake; it's hard to get out of it. You gotta be perfect if you are going to put up a decent score. You have to be pinpoint on your shots if you are going to do some big scores."
Qualifiers in the pro contest will go into a bracket Sunday, and the highest scorer will walk away with the $10,000. Laidlaw plays the game for fun, but a payoff could validate his idle days as a kid in the arcade.
"If I could walk out of here with $10,000, that would be a nice payoff for a game I have played since 1981," he said, "and with all the quarters I have put into it, that might break me even."