For the first time anyone can remember, women will make up a majority on the Santa Fe City Council with Tuesday's election of Jamie Cassutt-Sanchez, a political newcomer who campaigned on the notion that all policy is health policy.
The 34-year-old stay-at-home mom with a master's degree in public health emerged as the clear winner in a three-way race for the south-central council District 4 seat being vacated by Mike Harris, who opted not to seek a second term.
It was the only race in the city's first local consolidated election where ranked-choice voting came into play, but after receiving 57 percent of the vote in the first round of tallying, Cassutt-Sanchez won outright.
"My team knocked on over 3,000 doors. I personally knocked on close to 2,000," said Cassutt-Sanchez, who often walked the district with her now 14-month-old son in tow and even suffered two dog bites on the campaign trail.
Cassutt-Sanchez will be joined on the council by another political neophyte, Michael J. Garcia, 40, who won the race for the southeast-side District 2 seat with about 67 percent of the vote, according to unofficial results.
"I think we are going to ensure that we are looking out for the future of Santa Fe, not only because Jamie and I are younger, so to speak, but we've got children," said Garcia, who has two young daughters. "When you have children, you really focus on ensuring their success and well-being, and we want to take that ideology and ensure that city government is looking out for everybody, and that includes young families."
Cassutt-Sanchez's victory against Xavier Anderson and Greg Scargall, who fell under a cloud of controversy after domestic violence allegations were uncovered in their records, will make her the fifth female on the nine-member governing body.
"Glass ceilings are meant to be shattered and barriers to be broken," said former longtime City Councilor Patti Bushee. "Our city has been fairly traditional when it comes to electoral politics. I am grateful we are changing with the times."
Cassutt-Sanchez, who grew up in Santa Fe and moved back more than a year ago with her husband to raise their son, said her hard work on the campaign trail, as well as her unique message, seemed to resonate with voters.
"I think I also offered a very different perspective on what can be done as a city councilor and what we can ask of our City Council and what we can ask of City Hall — that message of yes, the bread and butter is really important, but we need to have a larger vision for Santa Fe," she said.
Garcia, a Santa Fe native with a master's degree in public administration, defeated Alysia Lori Abbott, 55, an archaeologist and former historic preservation planner for the city. He will replace Peter Ives, who decided not to seek reelection.
They weren't the only winners in Tuesday's election. Daniel "Danny" Maki served as campaign manager to both winning candidates. Maki is married to the city's finance director, Mary McCoy, leading to speculation that Cassutt-Sanchez and Garcia will be reliable votes for Mayor Alan Webber.
"They're their own people. They're their own decision-makers. They will do what's right for the community and their constituents," Maki said. "There is no rubber stamps. They disagree on some things and agree on others, just like every other councilor."
But former City Councilor Ron Trujillo, who ran unsuccessfully for mayor against Webber in 2018, said he was concerned about the two new councilor-elects and their "direct ties" to the Webber administration.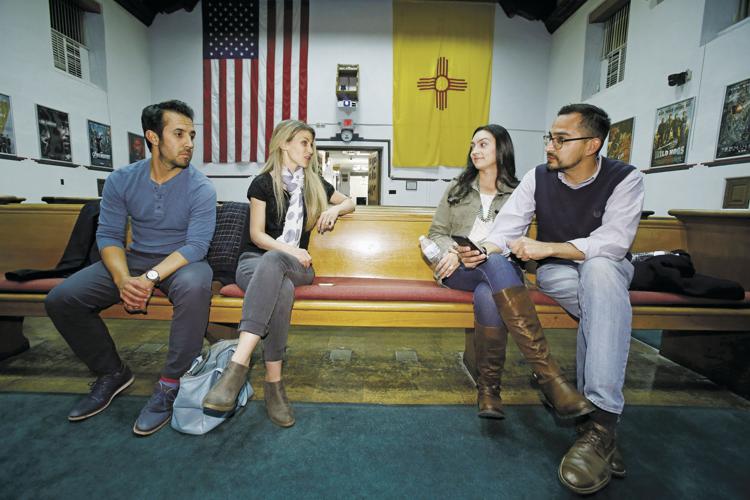 "Will they just rubber stamp everything that comes before the council?" he asked. "As it is now, only councilors [JoAnne] Vigil Coppler and [Chris] Rivera are willing to ensure that this administration does not run amok and stays true to representing all Santa Fesinos."
Though he attended candidate forums, Webber didn't issue any endorsements and mostly stayed on the sidelines throughout the campaign.
"I put an offer out to every candidate to meet with them if they wanted a meeting," Webber said in an interview last week.
Webber said he also emailed each candidate an update of the work his administration had done to address dozens of findings in the so-called McHard report, a scathing 2017 external audit of the city's finances, after a forum in which one of the candidates — Scargall — claimed the city had done virtually nothing to respond to the deficiencies identified in the report.
"We [also] sent every candidate this end-of-summer summary report that we put out so that they could familiarize themselves with the work of the city government that they want to join," the mayor said. "Beyond that, I haven't knocked a door, raised a nickel, spoken in public. Those races are on their own."
Only two of the four council seats up for grabs were contested.
District 1 City Councilor Renee Villarreal, a former planning commissioner, and Rivera, who is Santa Fe's former fire chief and represents District 3, both ran unopposed and won a second and third term, respectively.
Municipal Court Judge Virginia Vigil didn't have any opposition either and was reelected to a second term.
Follow Daniel J. Chacón on Twitter @danieljchacon.