Firefighter Jon Boe wielded his drip torch like a flamethrower as he repeatedly tried to ignite a roughly 8-foot-tall slash pile of mixed conifer in Santa Fe National Forest.
Loaded with three parts diesel, one part unleaded, Boe's device sparked a conflagration that would burn a pile sitting on the floor of snow not far from the entrance to the Black Canyon Campground off Hyde Park Road.
It wasn't an easy task, thanks to the snow on the ground. But Boe was undaunted.
"If we leave 'em and walk away in this condition, it's gonna be all right," he said, suggesting the forest was no worse off for the long line of tepee-shaped piles.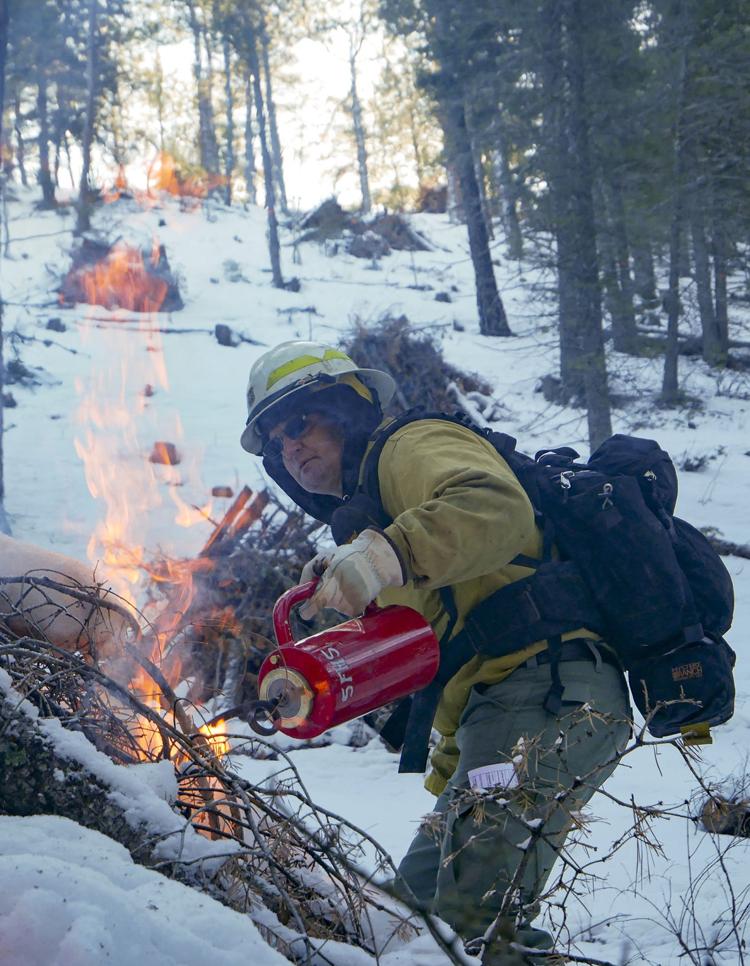 But that's true only for as long as winter lasts.
Come the spring thaw and increasingly warm temperatures, officials and workers said, the piles — often composed of 12 to 16 logs — could pose a hazard. So as winter progresses, the clock is ticking.
"If we left them all winter, we would have fuel loaded on the ground," Boe said as he eyed dozens of similar formations — full of ponderosa pine, spruce, needles and other wood debris — dotting the wintry hills nearby. "That's something we don't want."
Efforts to ignite and destroy the handmade piles, put there by contract work crews thinning the forest a year or so ago, are just one step forest firefighters take in conducting prescribed burn activities. They are considered a much more conservative technique than a broad burn in which fire protection lines are set up and firefighters on both the ground and in the air work together to prevent that fire from spreading.
Winter is a good time to conduct such slash pile fires, Boe and others said, because the ground is likely to be wet and the fires are unlikely to become unmanageable.
"When you have a blanket of snow in between the piles, there's no chance the fire will move around on its own," said Dennis Carril, fuels program manager for Santa Fe National Forest.
For now, the Forest Service has a window to burn some 140 acres of piles now that a federal judge in Arizona has approved a modification lifting certain bans under an injunction that initially put a stop to all timber management activities in New Mexico's five national forests.
United States District Judge Raner C. Collins ruled in September the Forest Service had to cease prescribed burns because of its failure to monitor the population of the Mexican spotted owl, an endangered species.
But under pressure from New Mexico's congressional delegation and the environmental organization WildEarth Guardians, the plaintiff in a court case asking the judge to rule on the action, Collins in October lifted some of the bans — including those on cutting and collecting firewood and Christmas trees.
He also approved limited prescribed burning projects outside the owl's critical habitat and the cutting of hazardous trees that could present a risk of injury to life or property.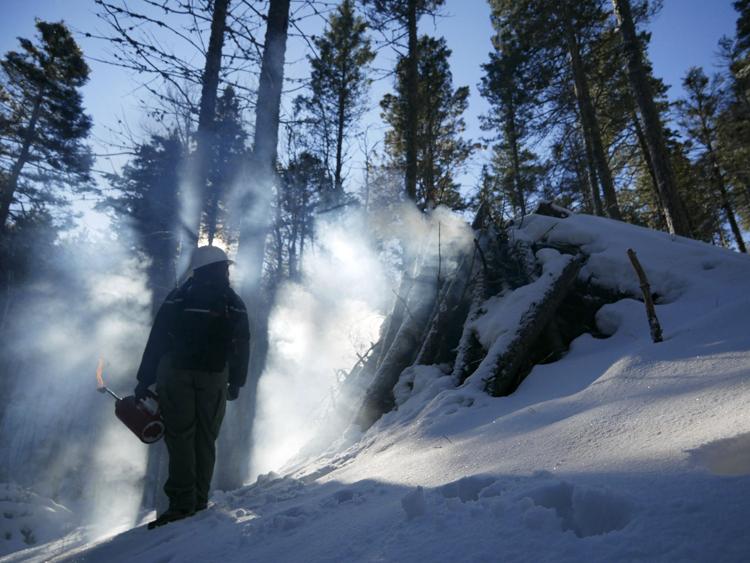 Since then, Santa Fe National Forest officials have been looking for a weather-friendly window to conduct some of the pile burns. They picked Tuesday as a start date in the Hyde Park Road area.
Success was limited, though some crews in elevated areas where piles had been warming in the sunshine called Boe on his radio to say they were managing to light some up.
"When the sun hit them up top there, they lit up just fine," Carril said.
Crews managed to burn up 25 acres of slash piles Tuesday.
The conflict over prescribed burns has been playing out for years. Proponents of tree thinning and planned burns in densely forested regions say they reduce the risk of insect infestation and disease, plus prevent dangerous wildfires.
Critics counter that such methods unnecessarily kill trees, threaten wildlife, send sediment flowing into waterways and even increase the chance of a wildfire breaking out.
But even those critical of prescribed burns express less concern over ridding the forests of piles.
"I agree that the piles can be a bit of a hazard," said Teresa Seamster, chairwoman of the Northern New Mexico Group of the Rio Grande Chapter of the Sierra Club. "Just by virtue of being on the ground, when it gets warmer and hotter and drier, they can be an ignition risk.
"Getting rid of them now when it's wet and cold makes sense. The timing is good."
Ideally, she added, pile fires produce smaller amounts of smoke, which may make the impact on smoke-sensitive residents nearby "negligible."
John Horning, executive director of WildEarth Guardians, said he would like to see the logs in the slash piles "spread across the forest floor instead of piled and burned."
That way, he said "we don't have unnecessary smoke that harms human health at a time of year when smoke can settle in the valleys where most people live."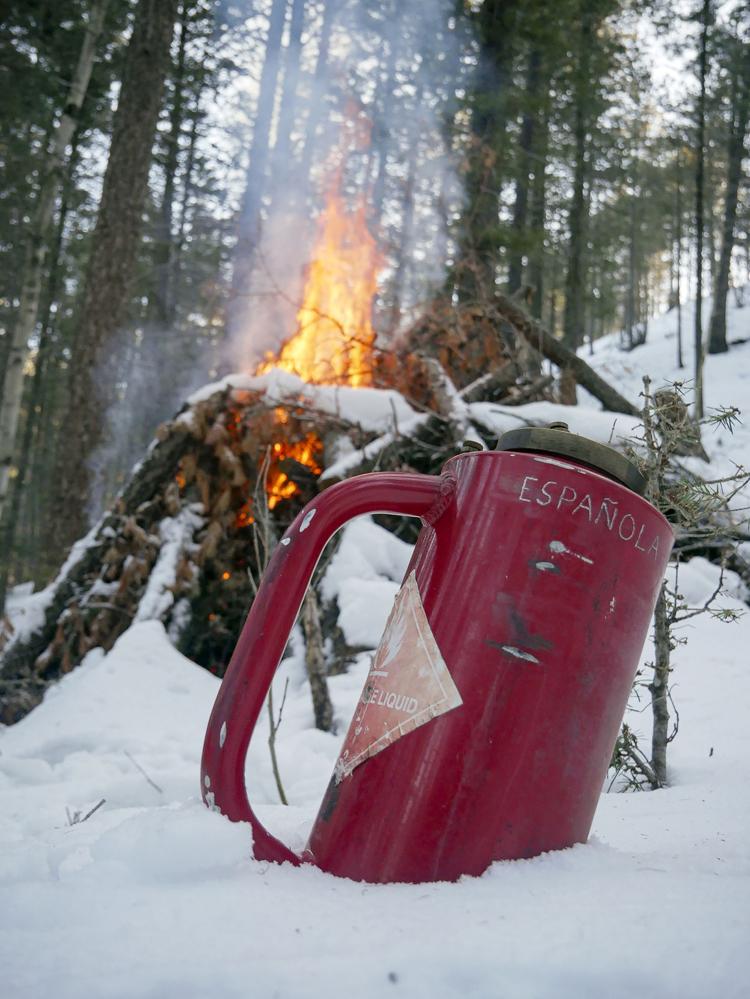 But he said his group agreed to the changes in the court injunction "with respect to controlled burns because fire is a natural and necessary force in our forests. We need more fire, in more places at varying intensities."
A number of recent studies suggest intense pile burns can negatively impact the temperature of the soil underneath the fire, harming, as a 2017 Scientifica article said, "understory plants, seed banks and water-holding properties."
But both that report and a U.S. Department of Agriculture study on the subject say those risks are minimized when dealing with handmade piles, which are shorter and less dense in makeup.
"The larger the diameter of the material, the longer the residue, and you have a bigger chance of impacting the soil," Carril said. "But hand piles don't have as much potential for making that kind of impact."
Carril said the Forest Service will plan another slash pile burn, depending upon weather conditions, between now and the end of winter.
"The quicker we can take another step to create desired conditions, the better," he said. "And this is one of those steps we have to take."