CHAMA — As Ray Martinez signals for the robust Cumbres & Toltec steam locomotive to pull forward, his son moves toward the rear of the train, inspecting the brakes of every car.
Moments later, under a mist of rain, Martinez — the train's conductor — bellows, "All aboard."
While the historic train meanders out of Chama in far Northern New Mexico along narrow-gauge tracks Martinez's great-grandfather helped build in the 1880s, the father and son, 21-year-old Evan Martinez, reconvene in the concession car, exchanging jokes and gazing out a window in awe of the vast landscapes passing by.
The time spent together, the two agree, makes every day feel like Father's Day.
"It's still a good time we have together," says Ray, 55, adding they'll likely work on the train most of Sunday. "We don't mind at all. We enjoy it."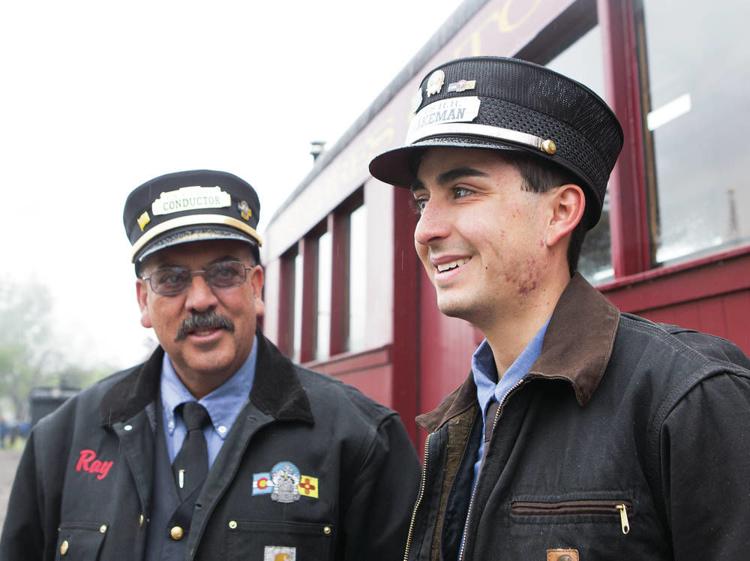 The father and son are among five generations of the Martinez family who have been drawn to the railroad.
"It's not only the story of early America," Evan says. "… It's my family, too."
The Cumbres & Toltec Scenic Railroad, dubbed "America's highest, longest and most authentic steam railroad," was built in 1880. Ray's great-grandfather, Jose Inez Martinez, was on the crew. As the railroad evolved, Ray's grandfather, Jose Inez Martinez Jr., and his father, Orlando Martinez, continued the work of "gandy dancers," maintaining the narrow-gauge tracks that stretch through the San Juan Mountains from Chama to Antonito, Colo.
The train, a line of the Denver and Rio Grande Western Railroad, initially served the silver mining industry, according to its website, and decades later got a boost from a natural gas boom. But its operations began to slow in the 1960s and came to a stop in 1969, when the Rio Grande Railroad abandoned its remaining narrow-gauge lines.
The Cumbres & Toltec was jointly purchased by New Mexico and Colorado in 1970 and began offering passenger rides through the mountains the following year. Today, it continues to traverse its historic 64-mile route, crossing back and forth over the state line 11 times in one trip and passing over spots more than 10,000 feet in elevation.
Riding along the pathway, the Martinezes say, gives passengers a deeper appreciation for "the way things used to be."
"There's a rich history here," says Evan, who has worked various jobs for the railroad since he was 16. "This is literally the way it was in 1890. … This helped shape America."
"The smell, the smoke, it takes you back in time," echoes Ray.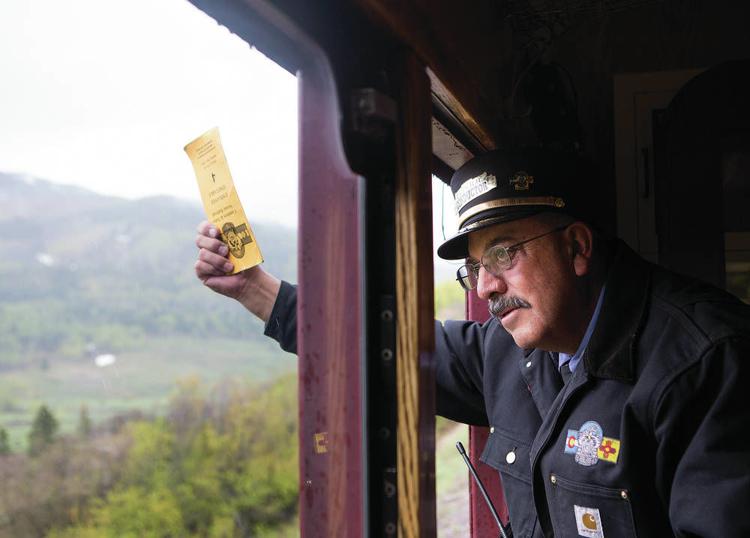 As he was growing up, Ray would run up to the train as it chugged through town, catching candy from the brakeman, who threw sweets to children from the caboose.
He remembers watching cattle being loaded onto the train and hearing the sound of coal being shoveled into the engine. And he recalls the voices of several generations of family members telling stories about what it was like working full-day shifts, hammering nails into steel tracks.
"I was amazed at it every day, the things they do," Ray says.
At 13, he started working with the railroad, primarily sweeping coaches during its season, from late May to- mid-October. In the last 40-plus years, he says, he's worked miscellaneous jobs with the Cumbres & Toltec, such as fire patrol and brakeman. (He does construction work in the offseason.)
He's now 18 years into his service as the train's conductor — "a dream come true."
His wife of 36 years, Roberta Martinez, also has deep roots in the railroad. She, too, is a fourth-generation Cumbres & Toltec employee, serving as the human resources and reservations manager. Her great-grandfather, like her husband's, helped construct the tracks in the 1880s. Her grandfather was the railroad's station manager, and her dad worked on track maintenance.
"I just feel like it's in our blood," Roberta says, adding she gets teary-eyed. "[The railroad] is very historic, but it's also living and breathing. … I see it in my son."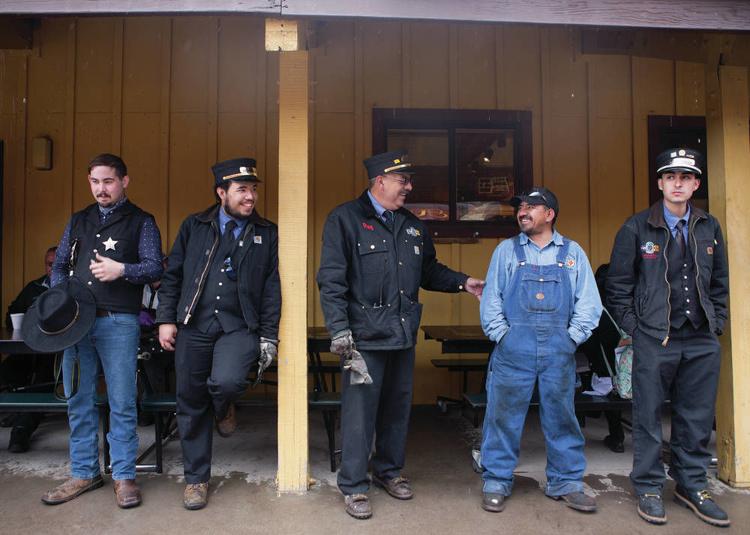 Evan, the couple's youngest son, says he has done just about everything for the operation, from working as a ticket agent and cashier in the gift shop to becoming a brakeman. This year, he was promoted to conductor, like his father.
Evan's older brother, 28-year-old Dominic, also worked on the train for about eight seasons.
Evan and Dominic are the first generation in their family to go to college. Evan says he is likely to pursue an out-of-state career after graduating from the University of New Mexico's business school in December, but he will always look back on his days at the railroad fondly.
One day, he says, he hopes his children will work for the train, just as so many family members did before him.
"It's important to keep it going," he says. "You have a lot of respect for the people who keep this going."
Continuing the Martinez legacy is a privilege, he says.
"It's very special coming to work every day and getting to work with a family member," he says. "I have great memories working here with [my dad] teaching me things. … It's great accomplishing things together."
"I'm very proud of him," Ray replies, smiling at his son.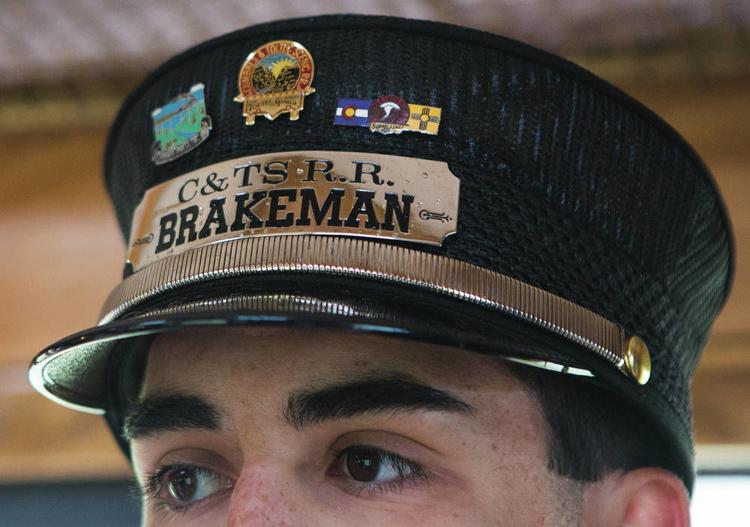 Outside of work, the father and his two sons enjoy fishing and attending basketball games at their alma mater, Escalante High School, where Dominic and Evan both played in their teen years.
In March, during his spring break from UNM, Evan and his father went to Knott's Berry Farm's Calico Railroad in California. And over the years, Ray says, his family has taken vacations to visit other railroads, including the Grand Canyon Railway in Arizona, and the Georgetown Loop and Royal Gorge Route railroads in Colorado.
"We're a railroad family," Ray says, "so we enjoy visiting all the different railroads."
As the Cumbers & Toltec turns onto a steep wooden bridge, its cars shift below passengers' feet, creaking over the steel tracks.
A group of elk that includes three newborns crosses a stream and an eagle soars over a snow-topped mountain peak. Around every corner is some sort of view: a rocky canyon, a pasture of sheep, a colony of aspen trees or a valley where lush flora rises from snow.
"Just another day in the office," Evan says, as the train's whistle blows and a thick cloud of charcoal smoke gathers in the sky.
"It doesn't feel like work at all, really," Ray says with a laugh.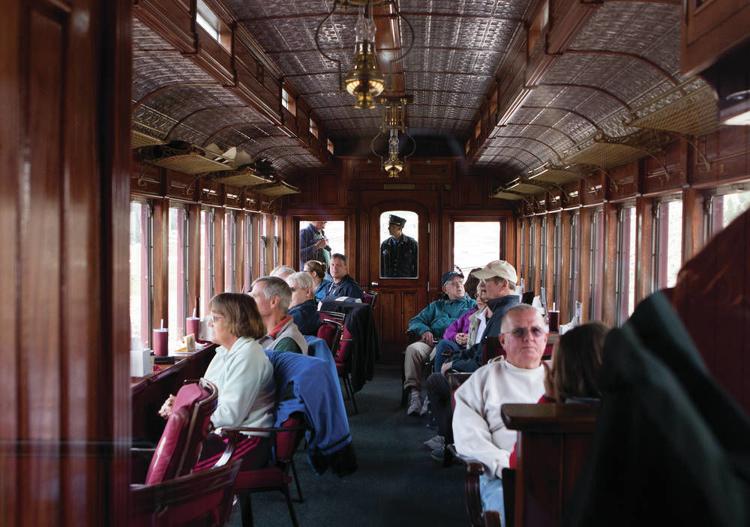 Most people he grew up with in Chama have moved away to pursue other lifestyles and versions of success, Ray says. But, he adds, "I feel blessed. … I'd rather be here and enjoy myself."
Upon the train's return to Chama in the afternoon, the father and son help passengers off the train before turning the locomotive around and prepping its coaches for the next morning's ride.
When they're finished Ray says, they will head home for dinner or go fishing on the Rio Chama.
Sunday, he says, will be no different.
On Father's Day and every day, Evan says, he is reminded of the man he strives to be.
"[My dad] upholds so much tradition and values," he says. "I want to be at least half the person he is."