Tuesday morning broke over Santa Fe with bright blue skies, clear as a stream, and warm, summery temperatures.
There was little outward indication — from the sky, at least — of the hellacious deluge that had nearly washed away the City Different the night before.
A look around town, however, made abundantly clear the impact of the extraordinary monsoon rains that struck New Mexico's capital city Monday night, an event forecasters described as almost impossibly unlikely and one that put city residents and officials on high alert for the risk of more flooding through the rest of the week.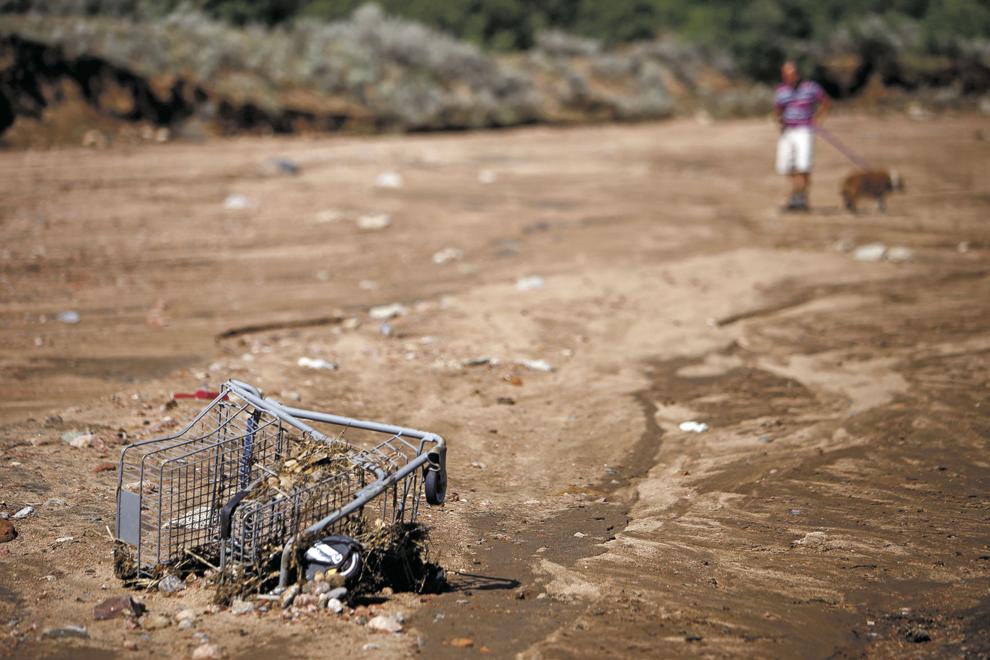 Streets were covered in banks of sand and gravel, left over by the stormwater that had turned roadways into rushing rivers of mud the previous night. Trees came down, and normally bone-dry arroyos were washed out, swamped in detritus. Low-lying homes and businesses took on water, although how many and the extent of damage to private property were not immediately known.
A sidewalk on West Alameda Street collapsed as the earth beneath crumbled in the flow of water. Newly planted saplings in the Santa Fe River were uprooted and crushed.
"I've never seen it this fast, that furious," said Dr. Jodi Lang, an author whose east-side dirt road became a vicious stream, exposing gas lines. "We had whitewater rapids here."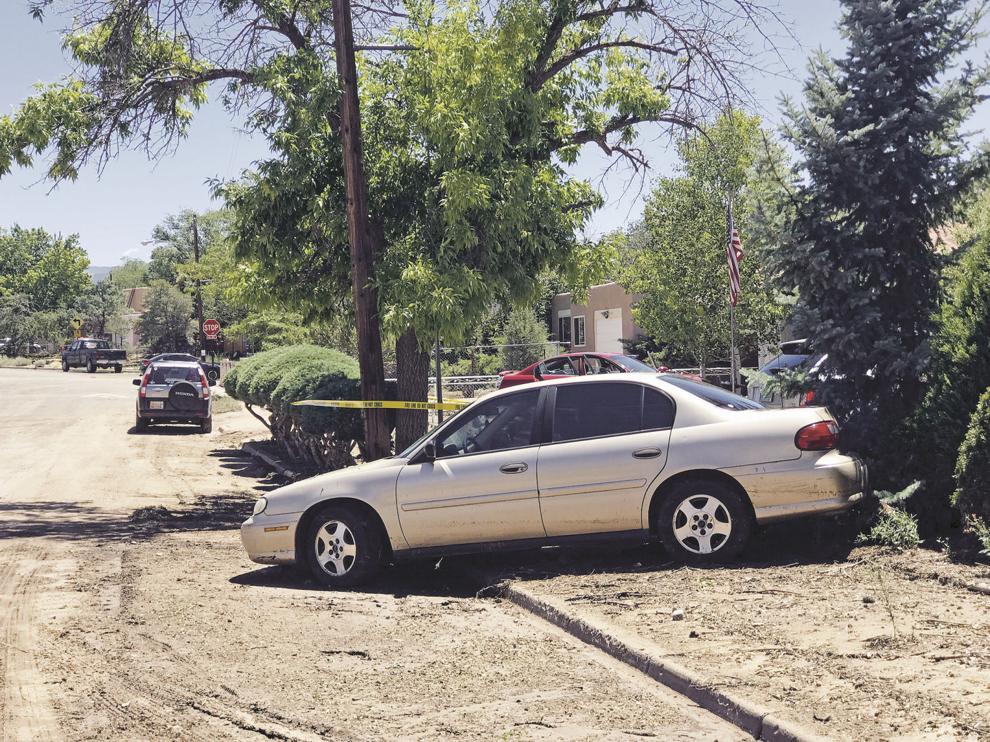 City firefighter Antonio Candelaria and a few colleagues pulled a woman from her fast-sinking Cadillac off Camino Carlos Rey late Monday night. "Her car was literally floating," Candelaria said.
Ten city street crew members worked through the night, clearing major roadways of debris. Mayor Alan Webber, who was in New York attending a conference, said first responders performed seven "swift-water rescues" overnight.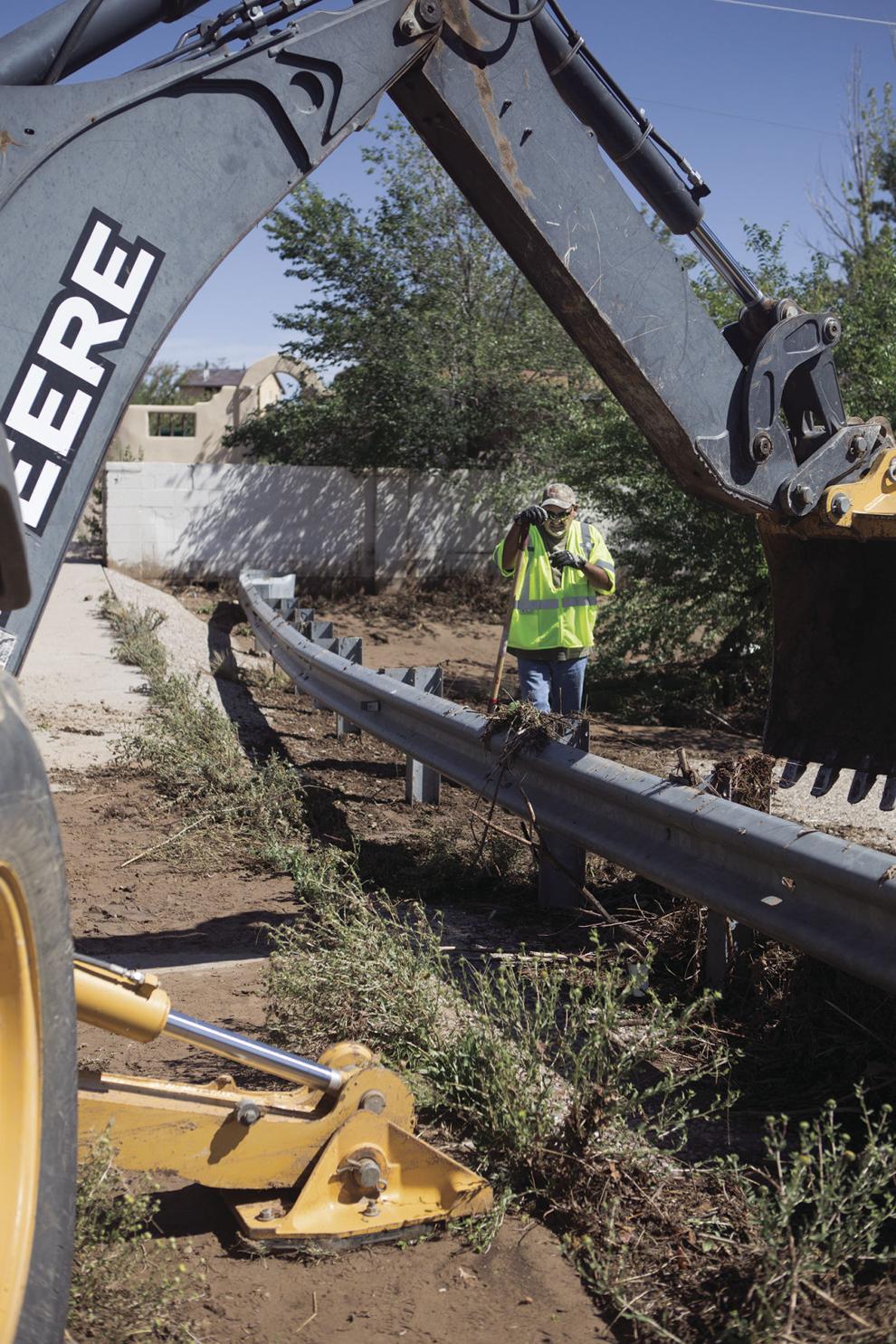 By midday Tuesday, more than 200 dedicated city staff were in the field. Some were assisting at a south-side firehouse, where the city made 6,000 sandbags available to the public. "That's all we have on hand," a fire official at the Siler Road filling station said. By Tuesday afternoon, some 4,500 had been filled and taken away.
At City Hall, the basement flooded. The La Farge Branch Library sustained "extensive" flood damage and was closed until further notice, the city announced. The main lap pool at the Genoveva Chavez Community Center was closed Tuesday because floodwater had come through the sliding glass doors on the ground floor.
Downtown and the city's center were the hardest-hit areas, according to forecasters, who reported 3.57 inches of rainfall south of the Plaza — more than a fourth of the city's annual average rainfall delivered in one delirious night.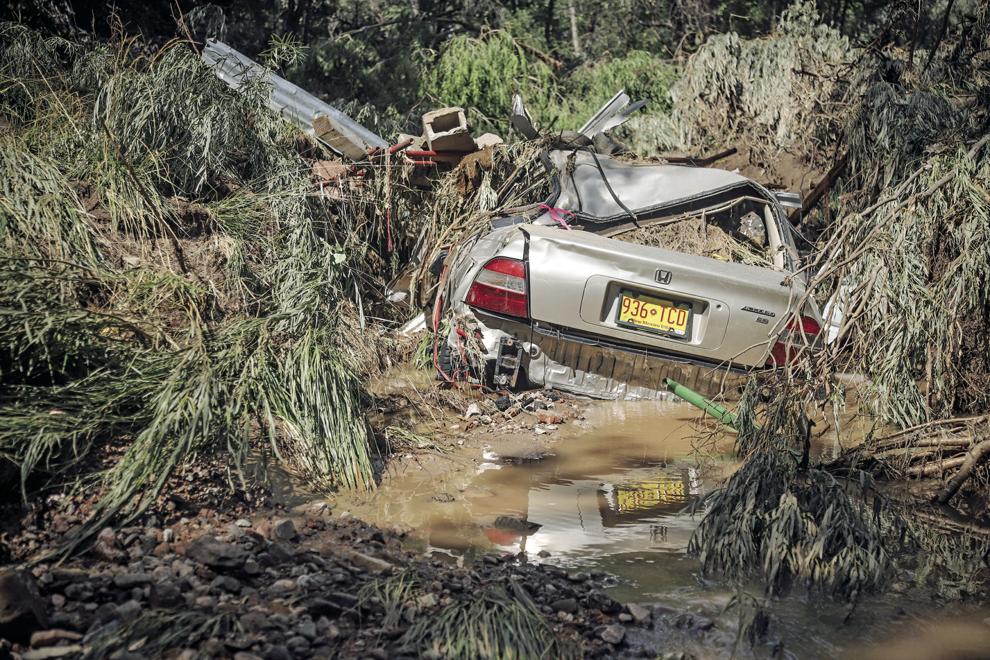 It was the sort of storm Santa Fe can expect to receive, statistically, maybe once every millennium.
Santa Fe's chances of receiving such a downpour in any given year are 0.2 percent, said David Craft, a meteorologist with the National Weather Service in Albuquerque.
That translates into a "500 or 1,000-year rain event," he said.
The reason he couldn't be more specific, Craft said, is simply that the National Weather Service hasn't been monitoring heavy rain events in Santa Fe for a thousand years.
Some were freer with hyperbole.
"This was over a 1,000-year event," said Scott Kaseman, a Santa Fe County project manager who oversees the joint city-county Santa Fe River Greenway Project. "This came through and wiped out everything."
The project recently completed a one-mile segment of riverbed restoration and paved bike trail from Frenchy's Field Park to Siler Road, with thousands of newly planted willows and 150 cottonwood saplings. The young trees had struggled to survive in drought conditions.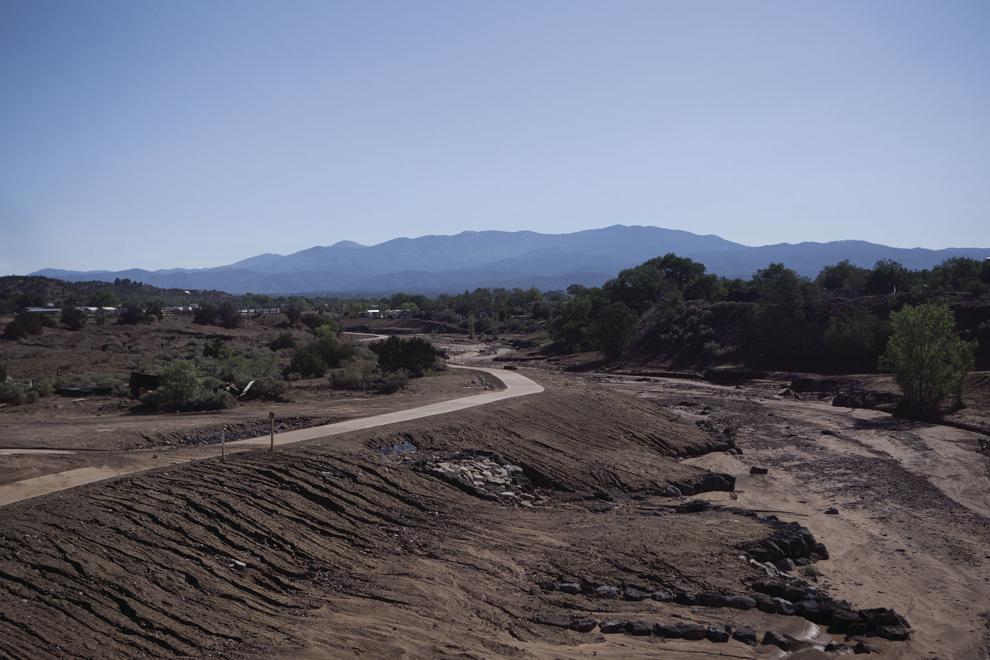 On Monday night, rainwater rushing down the Santa Fe River wiped out all of the cottonwoods, Kaseman said, though he expects many of the willows to recover because their roots remain intact. He said the project would seek to file an insurance claim for a reimbursement.
There could be more rain in store.
Forecasts showed a risk of heavy rainfall Tuesday night. The area is in a "wet pattern," Craft said, "and it's going to be a situation where every afternoon and evening there's showers and thunderstorms" through the end of the week.
The weekend, he added, could be even wetter. And more floods are possible.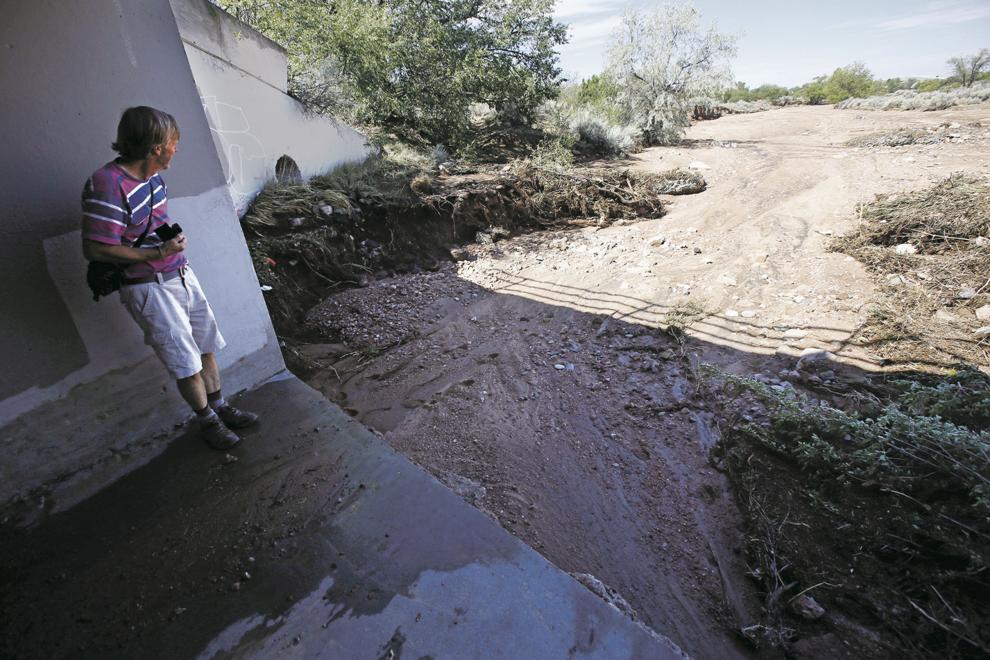 "The ground's completely primed," Craft said. "You don't need it to be that much more rain to cause significant flooding. Even a one-inch event would probably cause significant problems for Santa Fe if that were to happen."
The weather service established a flash-flood watch in Santa Fe and some surrounding areas for Tuesday afternoon and evening.
City officials would continue to huddle at a makeshift emergency operations center into Tuesday night, city spokesman Matt Ross said, adding Webber had been in "continuous contact" with city leaders and was expected to return Wednesday.
The city was not aware of any loss of life or serious injury as a result of the storm, or any disruptions to utility service beyond some power outages, Ross said. There was no estimate yet of the cost of the damage to city infrastructure.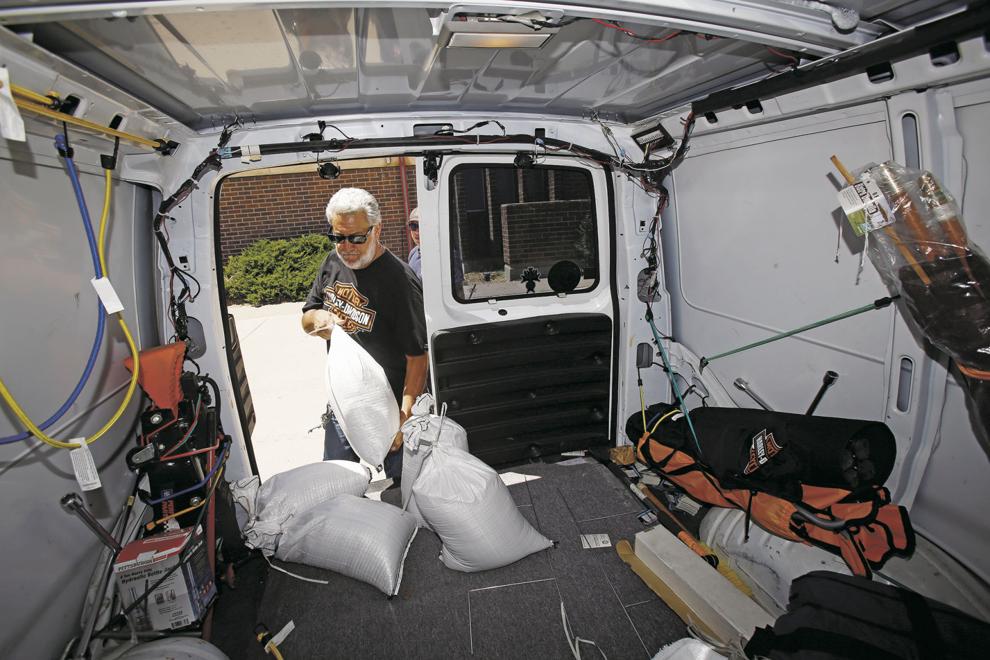 Municipal emergency services took more than 60 911 calls Monday night; a map showed the calls were concentrated downtown and in the St. Michael's Drive corridor, where rainfall was heaviest.
Calls to several Santa Fe County officials were not returned.
Frankie Lucero, a teacher and artist, took photographs on his phone of the 3-foot ledge carved out by the rushing water on his street.
"We've seen it big before — but this was big," Lucero said.
A pair of massive city trucks lumbered up and down the steep dirt street Tuesday afternoon, dumping and scraping sand into the precipitous carved-out depressions left by the flooding water.
"We're prioritizing our response based on public safety," said Ross, the city spokesman, who added there had been gas lines exposed in the area.
Some of the public safety response was instinct more than anything else.
Candelaria, the city firefighter, described a fraught scene as the rain began to intensify. He and cohorts from Fire Station 3 near Ashbaugh Park, who were in the area to try to move parked cars that were quickly becoming overwhelmed by the tide, watched in disbelief as a woman driving a Cadillac pulled into a drainage area near Franklin Miles Park.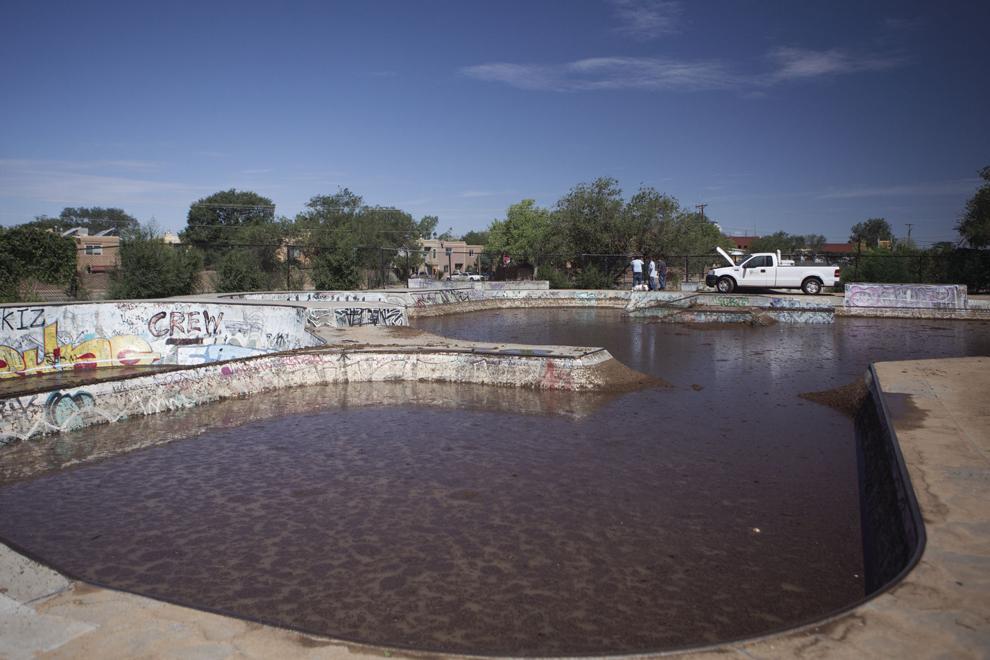 Candelaria said one colleague, John Schaumburg, simply dove in and began to swim out. "That was his decision; he just made that call," Candelaria said.
Firefighter Daniel Gutierrez and Candelaria grabbed life vests and followed into the water.
"We literally pulled her out two seconds before the roof went under," Candelaria said. "If we aren't there looking at those cars, they would've pulled her out a couple hours later. She would've been gone."
The city encouraged residents to place water-damaged items on the curb or toward the front of their property and call 505-955-6949 to set up collections, which will begin Thursday. The city also asked residents to call the same number to report damage to public infrastructure.