It took Norma Lopez 15 years to seek help for the abuse she had suffered as both a child and an adult. When she finally reached out to the Esperanza Shelter for Battered Families, she said, she found a sisterhood that changed her life. "Having all these women empowers you."
A couple of years ago, as the shelter partnered with a local film company on a project aimed at raising awareness of domestic violence and some alternative coping tools, Lopez decided to step on board, though she was nervous, she said. The project would culminate in a public dance performance, something Lopez, now 37, had never done.
She doesn't regret the experience, which she said helped build her confidence and "left a footprint on my soul."
As she watched herself onscreen during a Monday evening premiere of Through the Door, the short documentary produced through the program, Lopez shed tears. "It was so beautiful," she said. "It shows that you don't always have to be a victim. You're a survivor now."
Esperanza rolled out the red carpet at the Center for Contemporary Arts for Lopez and several other women featured in the film, which documents the healing powers of movement, meditation and joy. Each woman also was honored with her own version of an Oscar during an emotional awards ceremony.
Nine shelter clients participated in the three-week dance program, designed to help them overcome the trauma they have experienced.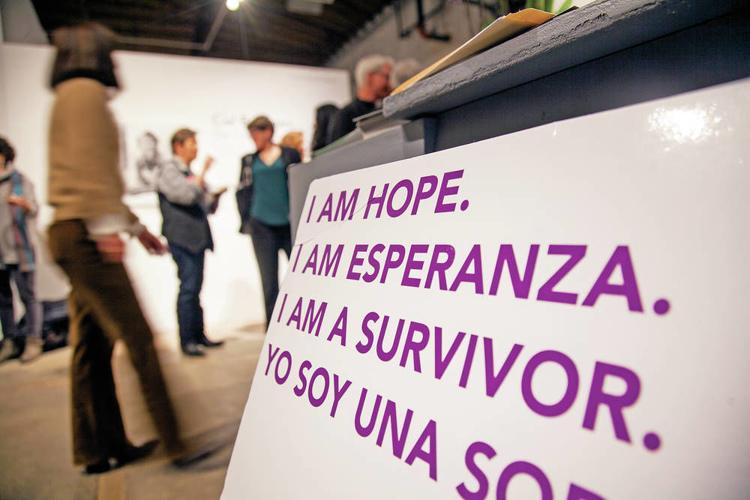 Filmmakers closely followed their progress, including their performance in September 2016 at CCA and their transformation as their confidence and self-esteem began to grow. Producers hope to use the film as a model to promote similar movement programs at other domestic violence shelters and nonprofits serving victims of trauma. They also announced that a new nonprofit is forming to continue movement and meditation programs for abuse survivors — without the film component.
JoAnne Tucker, the film's producer and president of the Santa Fe-based nonprofit film company Healing Voices — Personal Stories, said the effort was rooted in an experience she had years ago with a dance company in New York that worked with women in prison.
Tucker, a dancer and choreographer, said she worked with incarcerated women who had murdered their abusers. "They made a wrong choice," she said, "and they ended up going from a prison in a marriage to a prison with bars and concrete blocks. I found that their stories haunted me."
She's not a therapist, Tucker said, but she felt that her work with the women was healing. "I bring my dance skills to the women, and out of that, amazing stuff happens."
In 2009, Tucker moved to Santa Fe and created the nonprofit to tell the personal stories of domestic violence survivors who have rebuilt their lives. Healing Voices' newest survivor portrait, featuring a New York blues singer, was screened at Monday's event.
Through the Door was a more complex undertaking, Tucker said.
She developed the program with Áine McCarthy, a Buddhist chaplain she had met through the Upaya Zen Center.
McCarthy and Tucker had begun working on dance projects in jails and prisons in New Mexico. Then they decided to reach out to Esperanza, where they wanted to help women who had suffered from trauma launch themselves into new lives.
"From it the beginning, it was like it was meant to be, the match," said Samarí Rodríguez-Ríos, a therapist who manages Esperanza's nonresidential services and has a background in dance. She was intrigued by an opportunity to offer such a program to her clients.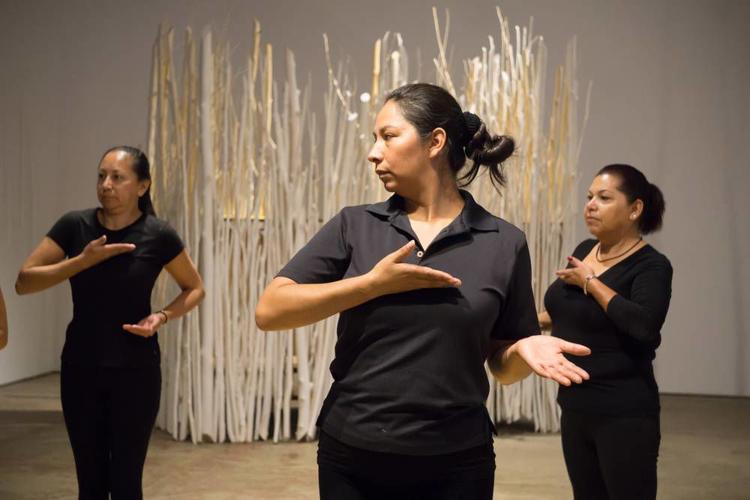 During Monday's celebration, Rodríguez-Ríos told the program's participants that it was life-changing for her. "You taught me a lot about myself from the bravery and resilience that you hall have."
Denise Vermeulen, a spokeswoman with Esperanza, said in an interview that what struck her about the women's performance at the end of the program was "how those women held their heads up high and performed with all their hearts. … They knew their routines beautifully, and they were so confident. It was a beautiful thing to watch."
"I think there's something else, too, that happens, particularly when we're working toward a goal, such as a shared performance," Tucker said. "We become a family."