Maybe there wasn't a sea of people flooding the streets around the Plaza during this year's Fiesta de Santa Fe, but that didn't stop people from celebrating.
Older couples danced to the mariachi music, parents pulled young ones around in Radio Flyer wagons, and people lined up at food booths for turkey legs, Navajo frybread and, at one booth, an enchilada dish called La Reina.
The pandemic may have curbed the crowd size — you could count hundreds rather than thousands of people on the Plaza on both Saturday and Sunday afternoon — but it didn't quell people's appetite to celebrate something, anything that made them once again feel alive.
"People just want to go out again," said Celina Grife, co-owner of Celina's Biscochitos, an Albuquerque-based, family-run business that was enjoying surprisingly good sales despite the smaller crowds.
"They're trying to spend more quality time with family, get out and do it, and Fiesta provides that opportunity," she said.
Fiesta de Santa Fe goes far beyond that, organizers say. And neither political strife or a respiratory virus will ever stop people from coming together this time of year to express their faith in tradition, community, family and God, they say.
So what if the annual parades were canceled because of health concerns? Or that the pandemic led organizers to limit attendance at the burning of Zozobra? While those popular revelries have become associated with the annual Fiesta tradition, this year's event helped cast a spotlight on the ceremony's origins, they say.
"Everyone wants a parade, and we want to make sure we can have that next year," said Aaron Garcia, president of the Santa Fe Fiesta Council, which organizes the Fiesta de Santa Fe every September. "But the most important part of Fiesta is the religious part."
To that end, the faithful gathered for a Sunday morning Mass at Cathedral Basilica of St. Francis of Assisi to pray for those affected by the coronavirus and those who lost loved ones in the Sept. 11, 2001, attacks.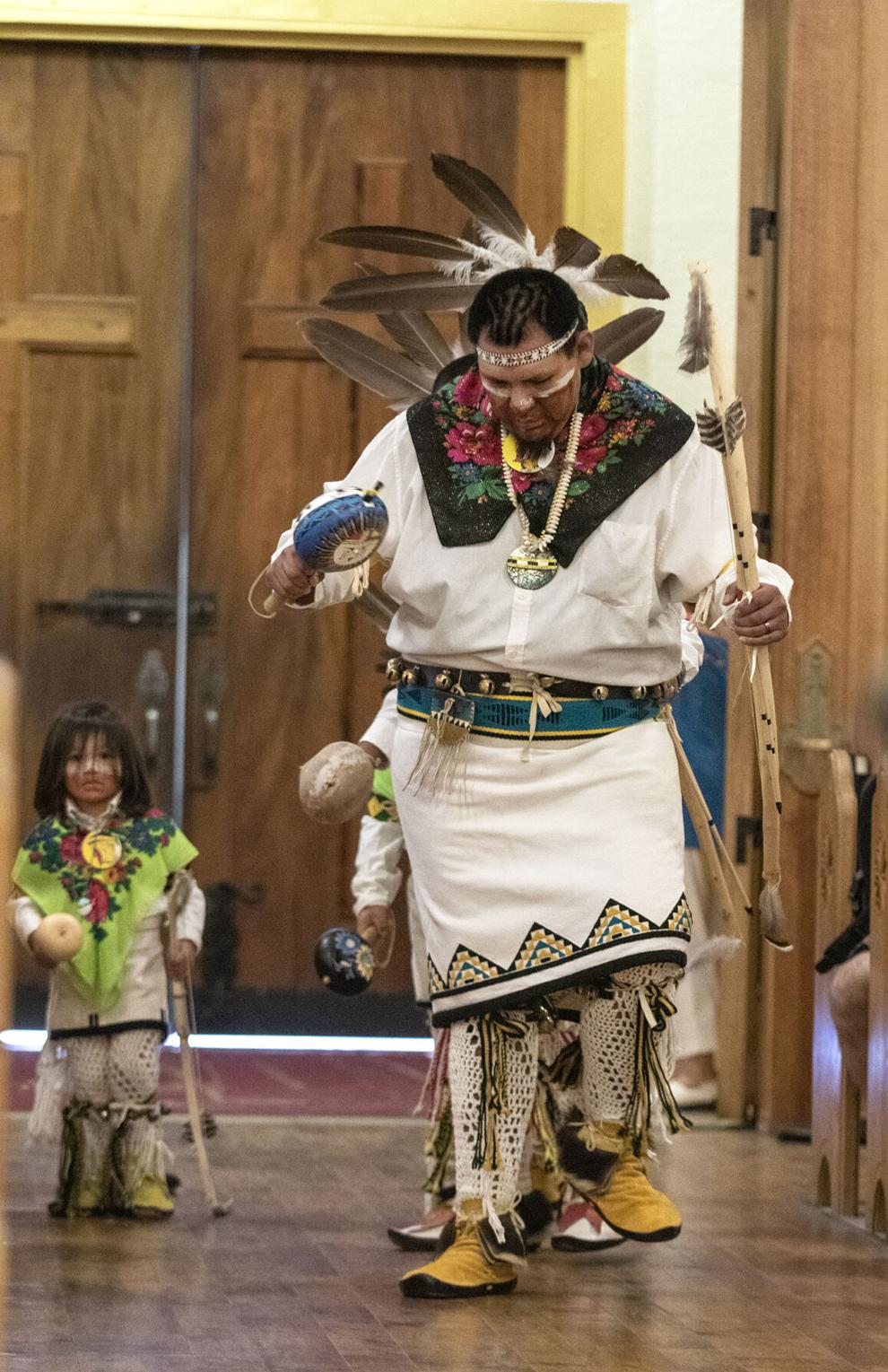 The Mass ended with a presentation of the Bow and Arrow Dance by members of Ohkay Owingeh Pueblo — a nod toward Fiesta's goal to unite all cultures.
"We can't heal all wounds of the past on both sides," said Alaina White, a member of the Montoya family of dancers who took part in Sunday's dance. "But we have to come together now for our children."
That sense of coming together, of connecting as a community, was evident in seemingly small but spirited ways Sunday.
At one point, members of the Santa Fe Police Department escorted women from the crowd to Palace Avenue for an energetic ranchero dance, drawing applause, cheers and more dancers to the street.
Meanwhile, Christine Perea, who portrayed La Reina in the Fiesta this year, moved through the crowd Sunday afternoon greeting well-wishers, supporters and a slew of little girls who seemed ready to line up just to look into her eyes, touch her crown and pose for a photo with her.
Perea's goal, she said, is to channel the energy of La Conquistadora, the carved Marian statue first brought to the area by the Spanish in the early 1600s and later returned to Santa Fe when conquistador Don Diego de Vargas brought it on his mission to retake the area in 1692 — a dozen years after the Pueblo Revolt drove the Spanish from the region.
"I want to inspire little girls that they can do anything," Perea, the mother of three children, said after stopping to talk with yet another young fan. She said she hopes her contribution as La Reina "brings unity" to the proceedings.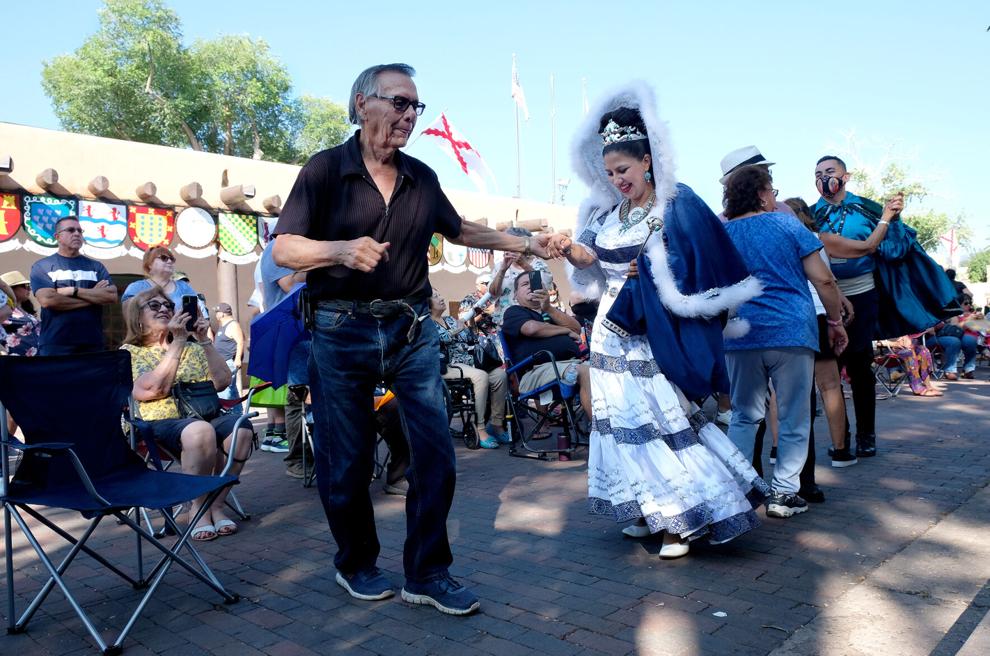 She said she was pleased to see people moving with the assistance of walkers and wheelchairs attend the weekend events, including the religious services. "It's amazing to see the dedication to people's faith," she said. "Some of these people having been going to Fiesta Mass since they were little. Some are in their 80s now."
In recent years, organizers have watched as traditional events have been canceled, such as an annual reenactment of Don Diego de Vargas reclaiming Santa Fe in 1692.
Conflicts within the community have pitted those who view those traditional observances as expressions of pride and culture against those who want a more inclusive depiction of the history of the Spanish colonization of Native land.
Garcia said Fiesta will adapt and endure. Neither he nor others involved in the festivities saw this year's celebration as a failure. People were still coming to pray, to laugh and to enjoy their community, he said. And by his estimate, thousands of people showed up Friday and Saturday night to dance in the streets.
Sitting nearby on the Plaza, Mary Baca, who said she played La Reina in 1987, said she felt this year's Fiesta was wonderful, albeit "more mellow" because of the reduced crowds.
"It still means we're keeping the tradition going," she said as people around her greeted old friends and shared stories. "These people are not here just because they want to get out. Some of them have been coming for many, many years. It's their tradition. It's like a part of them."
Then she paused for a moment before continuing.
"It's our reunion," she said. "It's our family reunion."