ESPAÑOLA — As clouds made way for the setting sun to shine, more than 500 people who gathered Wednesday evening at the plaza in Española hugged, held hands, prayed and lit candles symbolizing unity.
The tearful crowd celebrated the life of Renezmae Calzada, a little girl described by community activist Ralph Martinez as a "precious angel who made her way to heaven."
The gathering took place just hours after law enforcement officials announced they had found the body of the 5-year-old Española girl in the Rio Grande.
Investigators from both the FBI and the Rio Arriba County Sheriff's Office gave few details about her death during a news conference Wednesday afternoon, other than to say she was found in the river in Española. They also declined to take questions about her disappearance and cause of death, saying they wanted to give her family time to grieve.
But FBI Special Agent James Langenberg indicated a suspect might be at large, telling the assembly: "The investigation has not stopped. We will continue to work until we can identify the responsible party."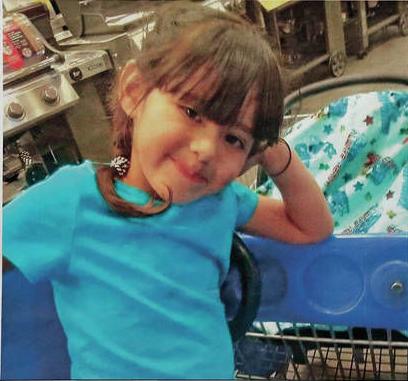 Maj. Randy Sanches, spokesman for the Rio Arriba County Sheriff's Office, echoed that thought. In an email after the news conference, he said, "It is fair to say we are now changing the focus of our ongoing investigation to find the person or persons responsible in this tragedy."
Rio Arriba County Sheriff James Lujan previously had said investigators do not believe the girl's disappearance involved her parents. A man who has a relationship with Renezmae's mother, Victoria Maestas, has been identified as a person of interest in the case.
Malcolm Torres, 25, was picked up on an unrelated warrant from Bernalillo County on Sunday, police said. An Albuquerque TV station reported Torres and the mother have a son together.
Langenberg said investigators conducted between 175 and 200 interviews in the case, which drew as many as 100 law enforcement personnel to the area. Also involved in the four-day search were community members — many on horseback or all-terrain vehicles — desperately hunting for a little girl who, based on online videos and photographs, was known as "Mae Mae."
Langenberg said federal, state and regional officers searched within a half-mile of the house of the girl's mother and another home.
They also searched some two miles along the Rio Grande, he said.
Though officials had planned Wednesday's 2 p.m. news conference, held in the Rio Arriba County complex in Española, to update the media and public on the search for Renezmae, Lujan opened the event with what he called "bad news." Several people began to weep as he and Langenberg said the girl's body had been found.
The news comes less than a year after the Española area mourned the loss of 18-year-old Cameron Martinez in a drive-by shooting. Earlier this week, several local faith leaders said that despite Española's recent tragedies, the community came together to search for Renezmae or provide support in the way of food, water and even ATVs to traverse the back trails in the mountains and forests surrounding the city.
The girl was last seen in the front yard of a family home somewhere near McCurdy Road in Española. Officials said her mother did not report her missing until about 6 p.m. Sunday. Three hours later, state police issued an Amber Alert for her.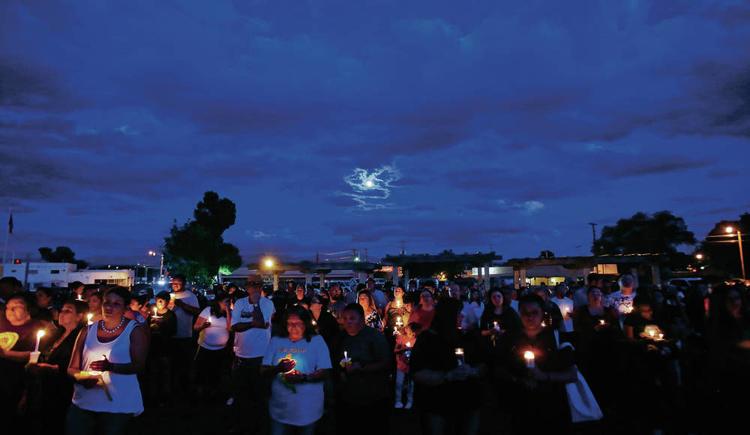 Online blogs and postings about the girl's disappearance, including Facebook updates, say Maestas was at work all day Sunday and left her daughter in the care of her mother, who did not tell her daughter about the girl's disappearance until Maestas returned from work.
But law enforcement officials at Wednesday's news conference took no questions about a timeline of Renezmae's disappearance, nor about a suspect or suspects, while the investigation moves forward.
Renezmae was enrolled in Eutimio "Tim" Salazar III Elementary School in Española.
The Rio Grande Sun newspaper reported the Rio Arriba County Sheriff's Office and FBI filed "a number of search warrants" in the U.S. District Court of New Mexico in Albuquerque. They were filed under seal and can only be released to law enforcement or with a court order.
FBI public affairs specialist Frank Fisher said in an email the agency cannot comment on that report while the investigation continues.
On Española's plaza Wednesday evening, people said they wanted Renezmae's death to unite a community that has waged a constant fight against drug addiction and violence, so it can rid the valley — as one speaker put it — of the devil.
Roger Montoya — recently named a CNN Hero for his work as co-founder and artistic director at Moving Arts Española and for his community activism — said Renezmae's death "can be used to catalyze this community to really focus on what matters. The preciousness of life is so fragile in Española. … But we can use her memory to harness and focus and transform that fragility in this community."
As the memorial vigil was set to begin around 6:30 p.m., Martinez, who served as the main host of the event, pointed to a rainbow in the sky just south of the plaza.
"That's a sign," he said, his voice full of hope. "That's a sign."