Nick Klonis is once again reveling in the action at his bar downtown.
Irish whiskeys and Mexican beers are flowing again after a 56-week pandemic drought at Evangelo's, the iconic West San Francisco Street watering hole Klonis' dad opened in 1969.
The stage in the corner of one of the few spots open past midnight stays empty, though. Outside, the April evenings are pleasant, although it gets older as the nights wear on.
Santa Fe after dark is drunk again — but still not quite dancing.
"I think the fear of coronavirus is going away. Tourism is going to go up. People are tired. They don't care. They want a drink," Klonis said. "All I can do is follow the rules. Right now, nobody sits at the bar and we don't have any live music."
Throughout the downtown area, there are buds of activity at night — a sure sign locals and tourists are shedding their pandemic-driven concerns and getting out. In the area around the Plaza and on Guadalupe Street, particularly on weekend evenings, there are people moving about, talking, drinking. And as the weather warms, that's likely to continue.
State Department of Health guidelines for Santa Fe County permit 33 percent of capacity at indoor bars and clubs. For Evangelo's, that's about 25 people, and last week, both on Friday and Saturday, the bar was full, at least briefly. Klonis said business has been consistent under the limitations with the usual mix of mostly tourists and some loyal locals.
"We've seen New Mexico has been doing really good with their COVID numbers and the vaccine. We were saying we think there are more masks here than we typically see in Colorado," Alejandro Avila, who was stopping in Santa Fe with his girlfriend for a night while driving from Denver to Phoenix, said outside Evangelo's last weekend. "We've both gotten our shots. I think everyone wants to party again a little bit. I bet business will be back for a place like this."
The same prospects hold true for other restaurants and watering holes, many reporting a mix of familiar faces and those who just arrived. For operators who writhed beneath the health orders that for months closed or limited their businesses, it's not a minute too soon.
"All of our regulars are thrilled to be back," said Alexander Pertusini, co-owner and manager of Chili Line Brewing Co. "In addition, we are seeing a lot of new clients. There is an excitement for people to go out."
The Dragon Room at The Pink Adobe also is getting "all of the regulars back that I can even imagine, and on weekends, we get tourists," owner Isabelle Koomoa said.
"I'm very pleased and very happy," she added. "We had a very rough time, trying to stay alive. When the Legislature came, they blocked our street off. People were climbing over barricades."
The bar at Sazón is seeing much the same, co-owner Lawrence Becerra said.
"People want to go out," he said. "People are feeling safe and safer with each passing day."
Restaurants can seat 75 percent of capacity indoors or outside as long as they also maintain social distancing.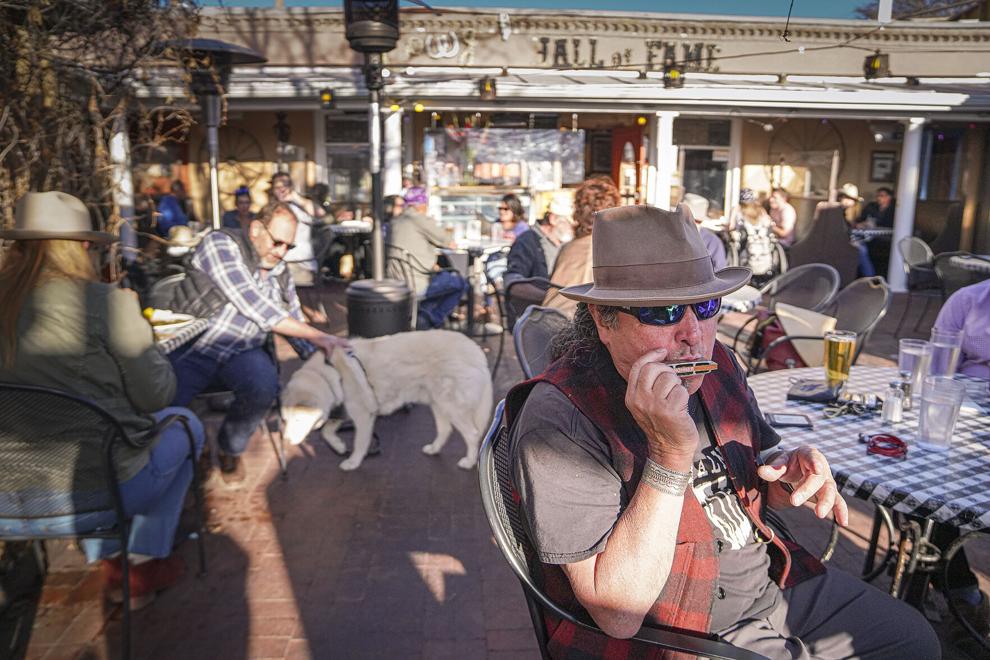 Boxcar, which has an indoor stage, says it is on standby for hosting live music. Down Guadalupe Street, Cowgirl BBQ, which opened in March after nearly four months of being closed, has room for two or three musicians behind plexiglass on the patio Thursdays through Sundays. Dancing is forbidden, and the pool tables are still off limits, but tables have been full.
"Business has been fantastic," Cowgirl BBQ co-owner Patrick Lambert said. "Knock on wood; we broke even in March. It's too early to tell, but people have a lot of pent up energy from not going out."
Inside Zalma Lofton Gallery on a recent Saturday afternoon, Santa Fe-based band The Boomroots Collective was rehearsing its blend of reggae, soul and funk for anybody walking by to hear. The band recorded in the gallery and played a few livestreams over the past year.
Now, musicians are antsy to play for a crowd — though not without reservations.
"We're excited to play for people again, but the whole party scene is still kinda scary. If you get 1,000 people butt-to-butt again, that maybe seems a little irresponsible," said keyboardist Alberto Zalma, who owns the gallery. "You worry about half with masks and half without. It's a little eerie, but we're ready to play out again."
Local concert promoters and other musicians say most bands are ready to go.
"Even rehearsing has been nourishing and medicinal, but it's the crowd that completes that whole cycle," said guitarist Ben Wright from local Grateful Dead cover band Detroit Lightning. "It's not going to take long for people to get back into their groove."
Last summer, Detroit Lightning played one of the handful of concerts hosted by AMP Concerts in the Santa Fe Community College parking lot as well as HIPICO Santa Fe, an equestrian center. On Sunday night, it played for around 70 people at Tumbleroot Brewery and Distillery on Agua Fría Street, which has been hosting live music and DJs on its patio.
Jamie Lenfestey, AMP concerts director of operations for Santa Fe and Taos, said that while nothing is official yet, he has been planning to bring back free concert and movie series on the Plaza and at the Railyard, starting in June.
"It's obviously easier to control a movie than live music," Lenfestey said. "If people say, 'screw it,' then we're in trouble. If people are willing to make it work, then I'm confident we will pull it off."
Lenfestey said the Railyard movie series would include socially distanced circles on the grass to be reserved ahead of time; however, rules and enforcement for music on the Plaza and at the Railyard are a little more unclear.
Beyond the free shows, he said venues like HIPICO and Santa Fe Brewing Co. are looking into ticketed concerts.
Still, it all depends on the pandemic.
"There are currently COVID-safe protocols for outdoor events like this. There is a pathway for doing them," Lenfestey said. "But like everybody else, we're hoping for more good news and more reopening to make everything easier."
Reporter Teya Vitu contributed to this story.