Tranquility awaits retired teacher Lorraine Mendiola when she steps into her backyard in south-central Santa Fe.
"I see mountains. I see open space. I see peace and a peaceful neighborhood," said Mendiola, who has lived in her home in the Candlelight neighborhood for nearly 18 years.
But now Mendiola worries her serenity is under threat by a massive mixed-use development project being proposed on both sides of Zia Road, just west of St. Francis Drive.
"I don't want anything in my backyard, but that's where it's going to be," said Mendiola, whose home on Candelero Street would abut the north parcel of the proposed 21-acre development.
Plans to build on the site come as no surprise to neighbors: A mixed-use, transit-oriented development project has long been envisioned on the property, which includes access to a so-called kiss-and-ride commuter train station. But the scale and density of what developers are bringing forward and the traffic it would generate are sparking stiff opposition from some neighbors, especially among longtime homeowners who say the intersection of Zia and St. Francis is already a congestion nightmare.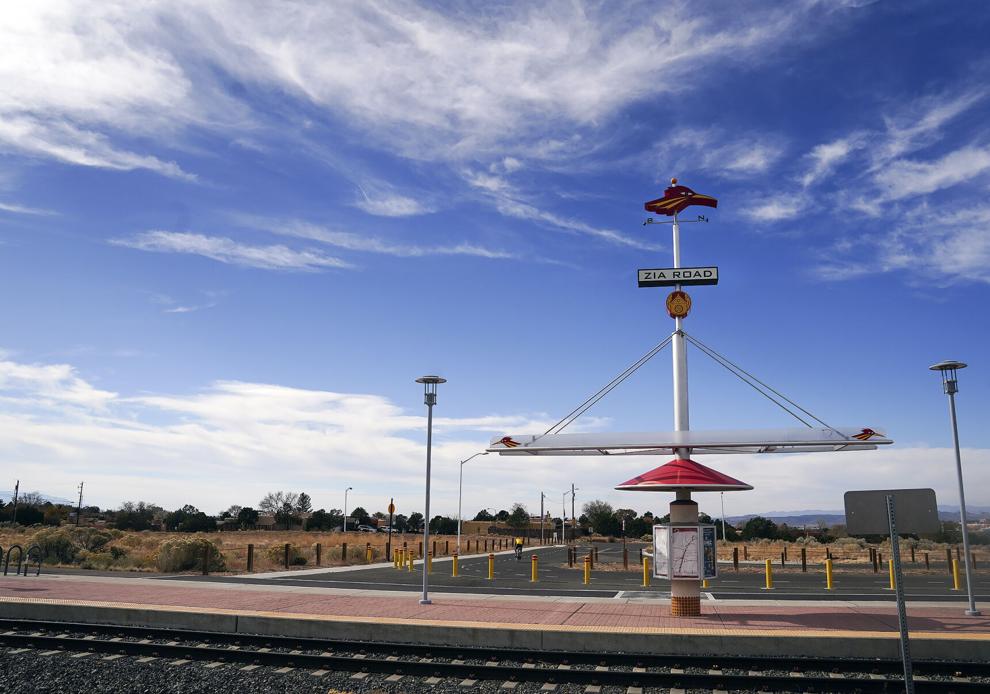 'We're critically concerned'
The project is expected to nearly double the size of the long-standing neighborhood of about 413 households within the next decade.
Plans call for a total of 392 rental units — 364 apartments and 28 townhomes — as well as a combined 120,000 square feet of commercial and office space.
All the buildings would be two or three stories high under the proposal, which is expected to be formally submitted to the city of Santa Fe's Land Use Department later this month.
"We would tentatively be heard by the Planning Commission on Jan. 7, and … we would shoot for a City Council hearing on Feb. 24," Jennifer Jenkins, principal at JenkinsGavin Inc., a Santa Fe-based development management firm representing the developers and property owners, said during an early neighborhood notification meeting conducted via Zoom in late October.
The neighborhood notification is among the first steps in the approval process. Plans are in the works for another such meeting after internet problems cut the last one short.
Under the proposal, the 12.1-acre north parcel, slated to be the first phase of construction, would be entirely residential. It would include 14 townhomes along the western edge of the property, immediately adjacent to the existing neighborhood and 244 apartments — the vast majority of which would have one bedroom.
The 8.9-acre parcel to the south, which includes the New Mexico Rail Runner Express Zia Station, also calls for an additional 14 townhomes, plus 120 apartments, 84,000 square feet of office space and 36,000 square feet of commercial space.
"We already have people reaching out to us expressing interest in locating there, whether it's an office user or a restaurant user or cafe," Jenkins told neighbors last month. "I've been hearing a lot from the neighborhood that everybody wants to make sure we've got a coffee shop, so we are really talking to our local coffee purveyors. We'd really like to have a local purveyor there."
But whether a plan on paper turns into bricks and mortar remains to be seen, as the project faces several hurdles.
Neighbors wary of developer requests
As proposed, the development would require numerous approvals that some area residents contend are only designed to maximize profits and don't take the existing neighborhood into consideration. While some neighbors are generally in favor of the project, others say the proposal on the table is much bigger and denser than they ever anticipated.
"We're critically concerned that what the developer is doing to develop this — and this is the single most important point I can distill — is trying to remove every restriction that is possible to be removed as nearly as we can tell," said Aku Oppenheimer, vice president of the Candlelight Neighborhood Association.
Developers plan to request general plan amendments to change the land use designation of the north parcel from low density to high density residential, and also to change a portion of the south parcel from low density residential to transitional mixed use.
More concerning for some area residents is a request for a rezoning to what is known as a planned unit development, or PUD, which they fear would give developers carte blanche over the property, as well as a request to remove the property from the South-Central Highway Corridor District.
According to the city code, the district establishes "a clear sense of visual openness and continuity of development as seen from major highway entrances to Santa Fe," among other guidelines. For example, the maximum height of structures in the district is 25 feet.
"The … district overlay specifies setbacks, heights and many, many other details that involve what the area looks like to motorists and the viewscape, the mountains, the sky, the works," Oppenheimer said. "It has a tremendous effect on the look and the feel of Santa Fe as you come into it."
Jenkins told neighbors last month new circumstances were at play.
"The overlay was established in 1985," she said. "At that time, there was no way anyone could anticipate the fact that there would be a commuter rail station in this location, and so we feel that the overlay is really inconsistent with the type of element that is warranted with respect to this transition from the existing neighborhood to the west to the state highway that is St. Francis Drive and also with respect to the commuter rail."
In a telephone interview Friday, Jenkins reiterated the overlay didn't take a commuter train station into account.
Though some neighbors are concerned a rezoning to a PUD would allow development to go unfettered, Jenkins said it would "limit and restrict and define what is permissible for these parcels."
"We will be governed by a development plan that has been approved by the City Council," she said. "If we want to deviate in any significant way from that development plan, guess where we are? We're back in front of City Council."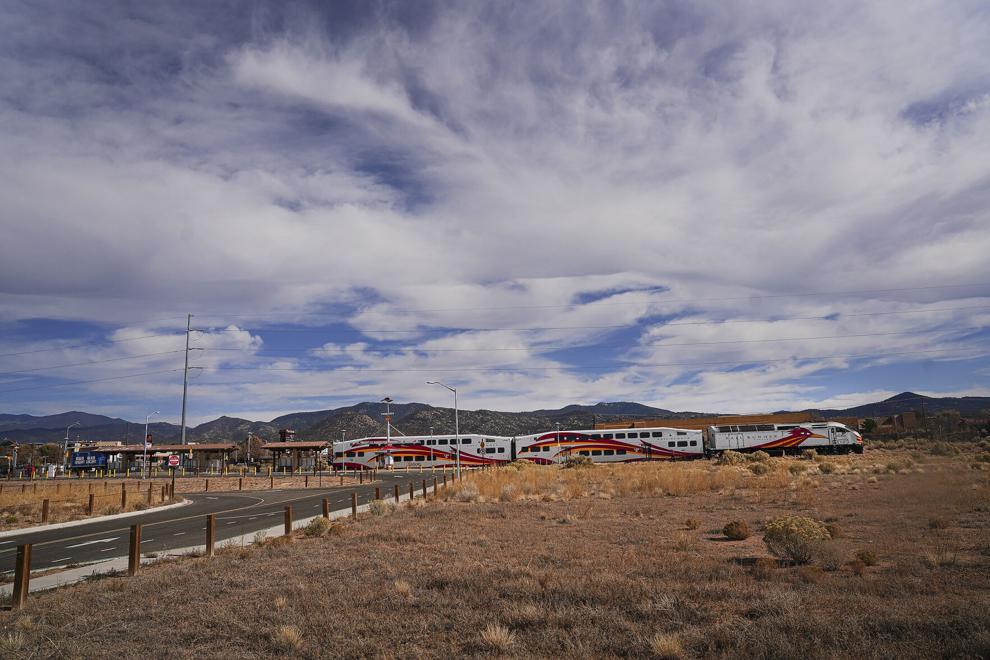 Timelines and traffic impacts
The developers and property owners are listed as Zia Station LLC, of which Santa Fe developer Merritt Brown is a partner, and Aberg Property Co., which is partnering with Brown's firm, SF Brown, to develop the proposed apartments on the north parcel.
Requests for approval of the project come as the city of Santa Fe continues to grapple with a housing shortage.
"If we are successful in the rezone request, then we would move forward with a final development plan application for the multifamily portion — not necessarily the townhomes immediately — but for the multifamily portion [on the north parcel] this spring," Jenkins said during the virtual meeting with neighbors.
Construction of the south parcel would be largely market-driven, she said.
"The south side is harder to nail down, but I would anticipate that the entire project would be built out and occupied within the next, probably, seven to 10 years," Jenkins said, eliciting comments of shock and surprise from neighbors attending the meeting.
"Oh my gosh," a man said.
"Holy [expletive]," a woman blurted out.
The development plan includes a slew of roadway changes that Jenkins said would improve the flow of traffic on Zia and St. Francis, which is often congested during the morning and afternoon peak hours.
Proposed roadway improvements include realigning Galisteo Road farther west, converting the two left-turn lanes from Zia onto St. Francis to three lanes and constructing a westbound left-turn lane at Candelero to allow for U-turns, which some neighbors believe would lead to accidents.
Jenkins said the development team worked "very closely" with the city's land use and public works departments to devise the proposed roadway improvements.
"Currently, the intersection at St. Francis and Zia does not operate at acceptable levels of service," Jenkins said. "With the proposed improvements, we have been able to mitigate all of the failing levels of service."
Jenkins said Friday a traffic study, which will become public when a formal application is submitted, is in the final stages.
"The results are even better than we thought they would be," she said.
Mixed opinions on mixed-use project
While some residents are skeptical and say they want to see the traffic study, others are eager for the development to get off the ground.
"I think this project is a valuable addition to the Santa Fe community," one area resident wrote in the chat function of the Zoom meeting. "The city needs more housing. This is one of the best sites for new apartments being next to the [Rail Runner] stop."
Longtime Candlelight homeowner LeRoy N. Sanchez said he likes the concept of being able to walk to a restaurant or coffee shop. Though he's concerned about traffic and the scale and density of the proposed development, Sanchez said the project could be good for the neighborhood.
"We're older people that live in here, and I want younger people to live in the neighborhood, too," said Sanchez, 73. "I want more diversity."
Mendiola, the retired teacher, said she wouldn't mind the construction of single-family homes. She called the proposed project "too much" and "too dense."
"It's going to destroy the neighborhood and cause a lot of traffic problems," she said. "Traffic is really bad as it is right now."
Others say development on the property is inevitable and that area residents should work to obtain conditions of approval that would protect the neighborhood.
"Something is going to be developed at that corner, and I'm generally supportive of what they have proposed so far," Anne Watkins said. "I like the landscaping. I like the Santa Fe-style look. I like their effort to deal with the traffic problems."
Watkins, however, said she "remains a bit concerned" about the proposed density and how it will affect traffic.
"I want to make sure that … the traffic changes that are proposed make sense and are workable, and especially, I want to make sure that those traffic changes happen before the development starts pouring people out onto the street," she said.
Oppenheimer, the neighborhood association's vice president, isn't sold on what the development team is proposing.
"It really is hard for us to imagine what the traffic and safety issues are even going to be, despite whatever traffic plan they have," he said.
"They want the minimum setback, and they want the maximum height, so they want to maximize all possibilities," he added. "Is this really a mixed-use community or is it something that is so free to be developed to the maximum?"