The scoreboard at the south end of Ivan Head Stadium has taken its fair share of abuse over the years. From direct hits to every type of weather imaginable, it's pretty much seen it all — until this year, that is.
As he was walking past the stadium and glancing up at that scoreboard one day last month, Santa Fe High girls soccer coach Justin Najaka was stopped cold in his tracks. He'd just heard the familiar sound of a ball clanging off the metal face of the navy blue structure.
"You hear that sound and you know someone really got ahold of one," Najaka said. "I peeked in there and saw who it was. I was like, 'Oh yeah, makes sense.'"
Standing about 35 yards away were a pair of Santa Fe High girls soccer players, Molly Wissman and Jazzi Gonzalez. This wasn't soccer practice, and the ball one of them had just pounded off the scoreboard wasn't round.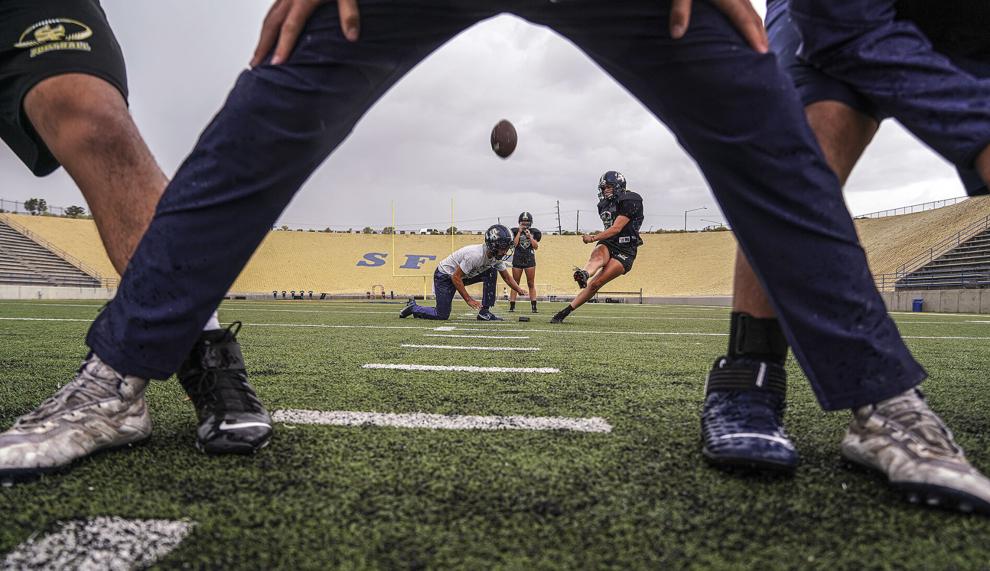 Both players are pulling double duty this fall, splitting their time between the soccer pitch and the gridiron as kickers on the Demons' football team.
On Friday, they'll be part of a historic night in one of the state's oldest and most revered rivalries. It's Horsemen-Demons week, a night when traditional intracity rivals St. Michael's and Santa Fe High renew a football fight that's been brewing since 1924.
Friday's meeting is the first between the teams since the pre-COVID days of 2019. St. Michael's has gone more than a decade without losing to the Demons, having spent the better part of this century kicking sand in big brother's face.
What makes this meeting unique is both teams have girls in the starting spot at placekicker. While Wissman and Gonzalez split time on field goals, point-after attempts and the occasional kickoff or punt for Santa Fe High, a mile down Siringo Road, you'll find St. Michael's senior Milena Keene. The starting goalkeeper on last year's Lady Horsemen state championship girls soccer team, she burst onto the football scene a couple of weeks ago by booting a field goal and three extra points in the team's season-opening win at Taos.
"I've been kicking some kind of ball my entire life, but not like this — not with all this stuff on," Keene said. "It's one thing to kick a football just standing here, but you put on a helmet, you put on pads and you have a bunch of people running at you, it's really different. It's not that easy."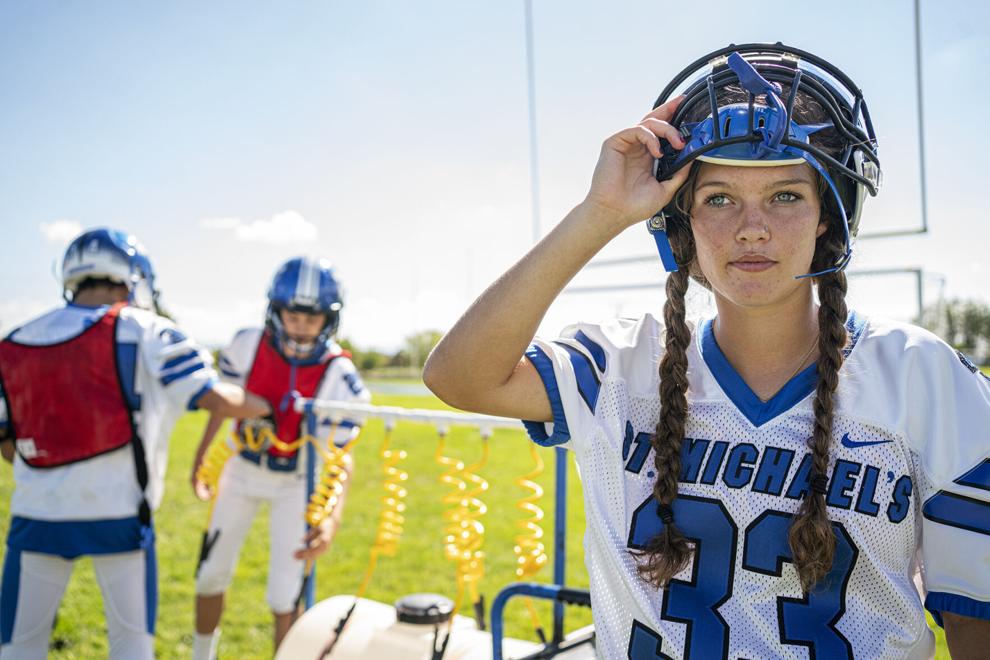 It wasn't all that long ago that girls donning football gear was such a novelty that it made local headlines or, in some cases, national news.
From the trailblazing efforts of former University of New Mexico kicker Katie Hnida to last year's celebratory arrival of Vanderbilt's Sarah Fuller, female athletes have started a new normal on the football field, one that extends from skill position stars in youth leagues to creating stirs in the biggest power conferences in the college game.
Women have even breached the sidelines as coaches and are now officials calling games.
A number of local high schools, including Taos and Los Alamos, have female players on their rosters. Keene walked off the field at Taos alongside Chantal Enriquez, a Tigers player who waited the entire game to come over and say hello.
"I mean, it's different, I guess, but it feels like I belong here," Keene said.
Santa Fe High's Gonzalez grew up with four brothers, so being tough is part of her DNA. When she told her family she was going to give football a shot with the Demons, her mom had one request.
"She said no contact, no tackling anybody," Gonzalez said with a laugh.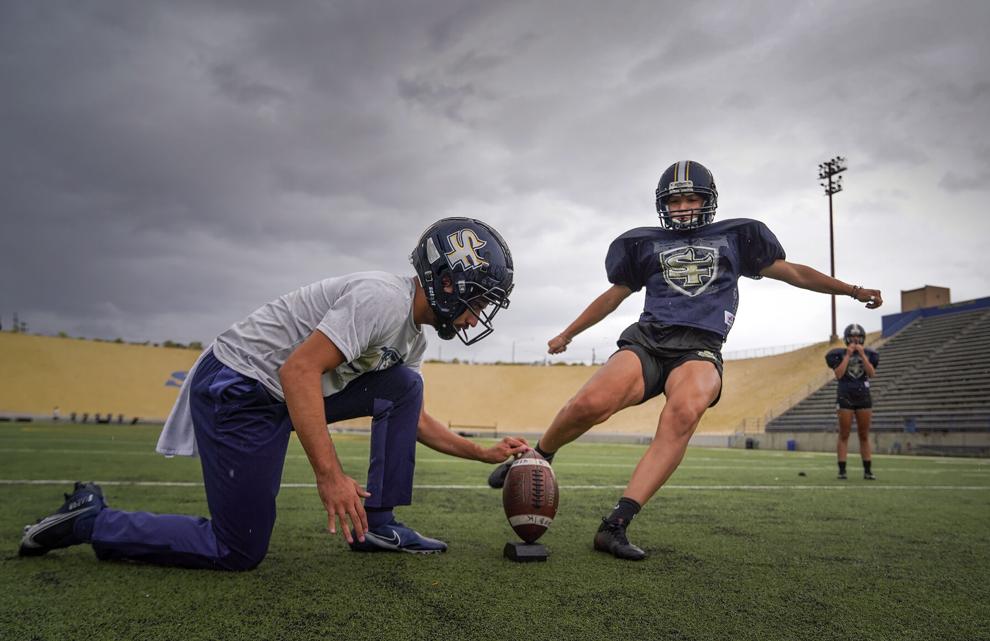 Naturally, the exact opposite happened in last week's game at Moriarty. On a kickoff, Gonzalez found herself on a direct path with the Pintos' return man. The two did bump into each other along the sideline — a collision that could best be described as a sideswipe.
"I could hear my mom's voice in my head, for sure," Gonzalez said. "But you know what? It was kind of fun. It wasn't scary, nothing like that."
For Wissman and Keene, it goes a little deeper. The Demons' goalie on the girls soccer team and the younger sister of all-state boys soccer star Michael Wissman, Molly is actually dating one of the St. Michael's players whose job it will be to stop her from doing her job. Horsemen linebacker Creed Chavez is on the special teams unit on kicks, putting he and Wissman in the unnerving position of potentially being in the wrong place at the wrong time.
Keene is dating Horsemen quarterback Lucas Coriz, although the two are rarely on the field at the same time. In St. Michael's season opener, Keene scored as many points (six) as Coriz did, successfully converting her first field goal attempt as it hit the right upright and fell straight down and just past the crossbar.
One of the first players to greet her on the sideline was Coriz.
"It's fun seeing her out there, but it's that thing where I try to look at her as just another teammate, you know?" Coriz said. "But she is pretty good."
The path to the football field was a fairly simple one for all three: The coach needed a kicker, a help-wanted sign was put up, and all-inclusive tryouts were held for any and all.
"We've always kind of sucked at kicking, and I told my assistants we're going to lose a game if we don't address it," said Santa Fe High coach Andrew Martinez. "One of my guys started asking the boys soccer coach if anyone was interested; then he went to the girls."
The boys team produced no takers, but eight girls showed up for impromptu auditions in August. Gonzalez and Wissman immediately stood out.
"I have always been able to kick a soccer ball super far, but this one, yeah, it's a lot harder," Wissman said. "Just the shape. You always get a good kick with a soccer ball. But footballs aren't easy."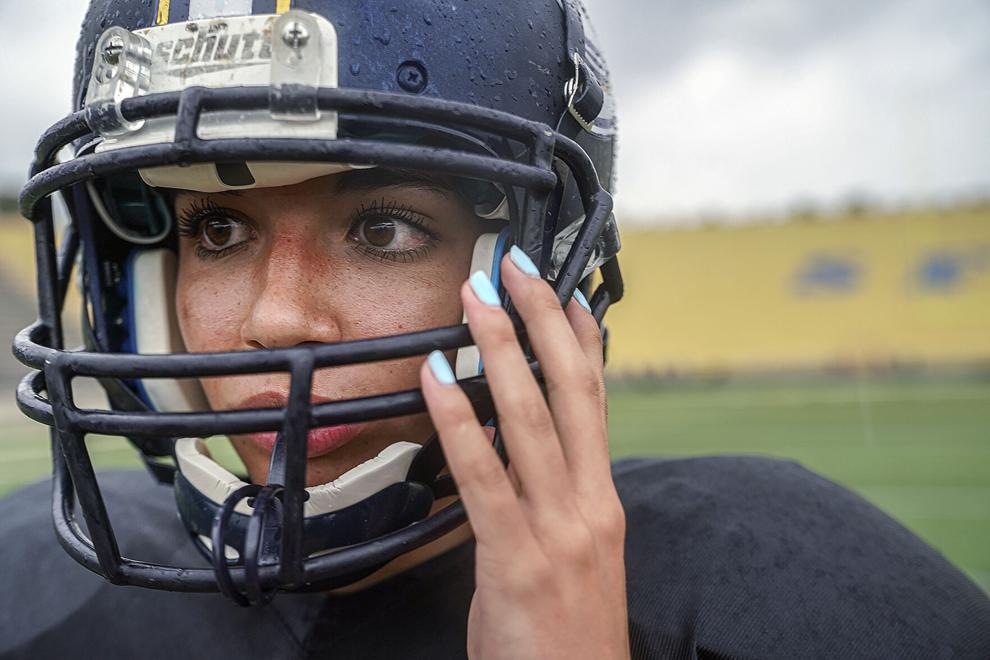 Case in point: Wissman barely missed a 42-yard field goal attempt in the rain at practice Wednesday. On her very next try, she hit a shoulder-high line drive that hydroplaned off the turf near the 5-yard line.
Keene's introduction to Horsemen football was similar. She and one of her teammates were messing around with a few kicks one day when football coach Joey Fernandez took notice. A week later, she was being fitted for a helmet and pads — with one caveat. Like Gonzalez's mom, Keene's parents want no part of her kicking off.
"Oh, wow, that's the one condition they had with all of this," Keene said. "They might run out there and carry me off the field if I went in for a kickoff."
Those duties, coincidentally, fall to Coriz. At 6-foot-3 and 220 pounds, he is 8 inches taller and a full bag of cement mix heavier than his girlfriend.
"Hey, whatever it takes," Coriz said with a smile. "She's helping our team. There's a lot of girls out there good enough to help their teams, so I don't see what the problem is, not that anyone does. Girls can play football, too."