ALBUQUERQUE — Only a few months ago, Melanie Stansbury was just another face at the state Capitol.
Now, she's headed to the halls of Congress.
Stansbury, a two-term state representative who burst into the political scene in 2018 when she scored a stunning upset and unseated a longtime Republican incumbent, sailed to victory in Tuesday's special election for the 1st Congressional District.
"First thing I want to say to you all is, it's a good day to be a New Mexican," the Albuquerque Democrat told a cheering crowd of supporters at the Hotel Albuquerque at Old Town.
"When we launched this campaign ... I could not have imagined the journey that we would be on together, but I know that when the moment demands, you have to step up with your grit and determination and get the job done," she said.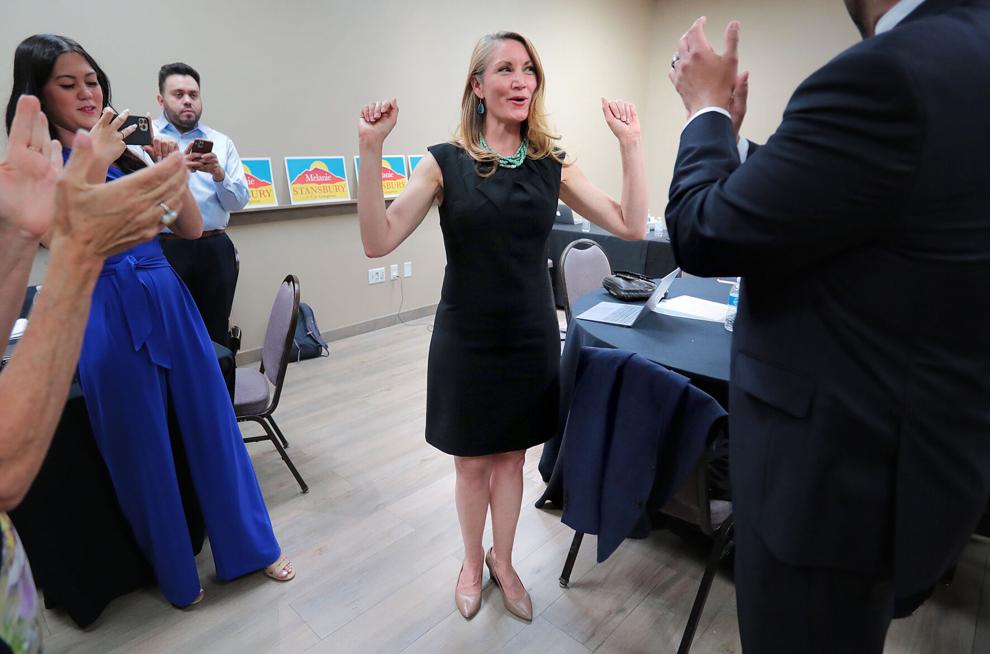 It was obvious Stansbury had gotten the job done not long after the polls closed. She took an early 30 percentage point lead over her nearest competitor, Republican state Sen. Mark Moores, the Secretary of State's Office reported on its website.
By late Tuesday, with more than 130,000 votes counted, she maintained a wide lead, with 60 percent of votes compared to Moores' 36 percent.
Stansbury and Moores, as well as Libertarian Chris Manning and Aubrey Dunn, a former Republican and state land commissioner who ran as an independent, were vying to replace Deb Haaland, who vacated the seat to become secretary of the Interior Department under President Joe Biden.
There were also two independent write-in candidates, Laura Olivas and Robert Ornelas.
Dunn had 3 percent of the votes late Friday and Manning 1 percent.
The Democratic National Committee lauded Stansbury's win in a statement Tuesday evening.
"This victory should serve as a cautionary tale to Republicans across the country," DNC Chairman Jaime Harrison said in the statement. "Standing in the way of delivering for the American people is not what voters are looking for. New Mexicans proved that tonight."
While the district was once a Republican stronghold, Democrats have held the seat since 2009. The district includes most of Bernalillo County, all of Torrance County and parts of Sandoval, Santa Fe and Valencia counties.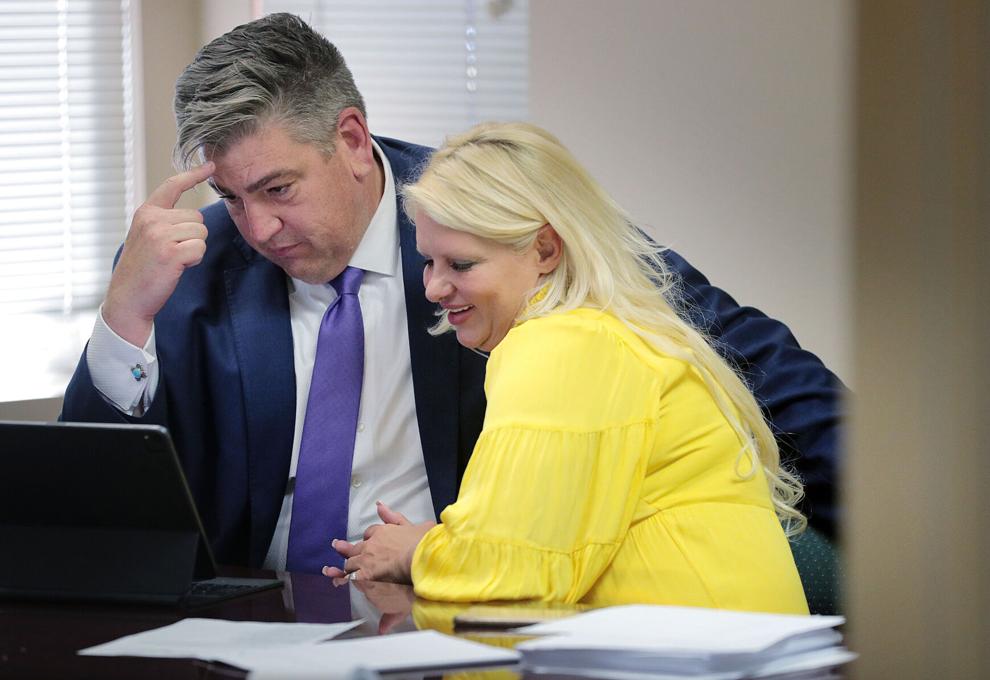 Before the polls closed at 7 p.m., Moores said he was proud of his campaign.
"We worked our tail off," said Moores, who was joined by his wife, Lisa, at the headquarters of the Republican Party of New Mexico. "We ran a really tough, strong campaign, and I'm very proud of what we've accomplished."
Asked whether he had done enough to win, Moores said Democrats fought vigorously to prevent him from victory.
"When you're facing the president, the vice president, the speaker of the House, two sitting U.S. senators and the governor spending millions of dollars to protect their control on power … it shows you how critically scared they were of this race that they had to send in every single resource from Washington, D.C., to help protect their national agenda," he said, referring to endorsements or help on the campaign trail that Stansbury received from state and national Democratic Party leaders.
Moores, a three-term state senator, made tackling crime — and portraying his opponent as a "radical" candidate who supported a proposal known as the BREATHE Act, which he cautioned would "defund police and prisons and all punishment paradigms" — a major theme of his campaign.
"I think the politicians, including Melanie Stansbury and the people who have been running New Mexico, have ignored how bad the crime is in this state, and their failure to address it is putting New Mexico in jeopardy," he said. "We cannot have economic development, we cannot have good schools, we cannot have the New Mexico we want unless they seriously take care of this crime, and they don't even seem to want to address it or acknowledge it's happening."
U.S. Rep. Sean Patrick Maloney of New York, chairman of the Democratic Congressional Campaign Committee, told Stansbury's supporters the country was watching the special election "to see if Republican attacks work."
"They threw their kitchen sink at Melanie Stansbury, and you know what we learned?" he asked. "We learned she could take a punch. We learned she is tough. We learned she could take the heat and keep fighting for you and your family. ... The message tonight is that Democrats deliver results and beat Republicans who spread lies and fear."
State House Speaker Brian Egolf, D-Santa Fe, who appeared at the election night watch party virtually, said "the whole country's eyes" were on New Mexico on Tuesday.
"We're also seeing tonight with these big, big numbers for Melanie that President Biden and his agenda, which she ran with, remain popular," he said. "It's a great sign for what's yet to come."
In an interview with reporters, Stansbury said the race had become a barometer for what may happen in the 2022 election cycle.
"So, you know, the importance not only of winning but the margin and how it all played out, and I couldn't be prouder of the work that we accomplished," she said.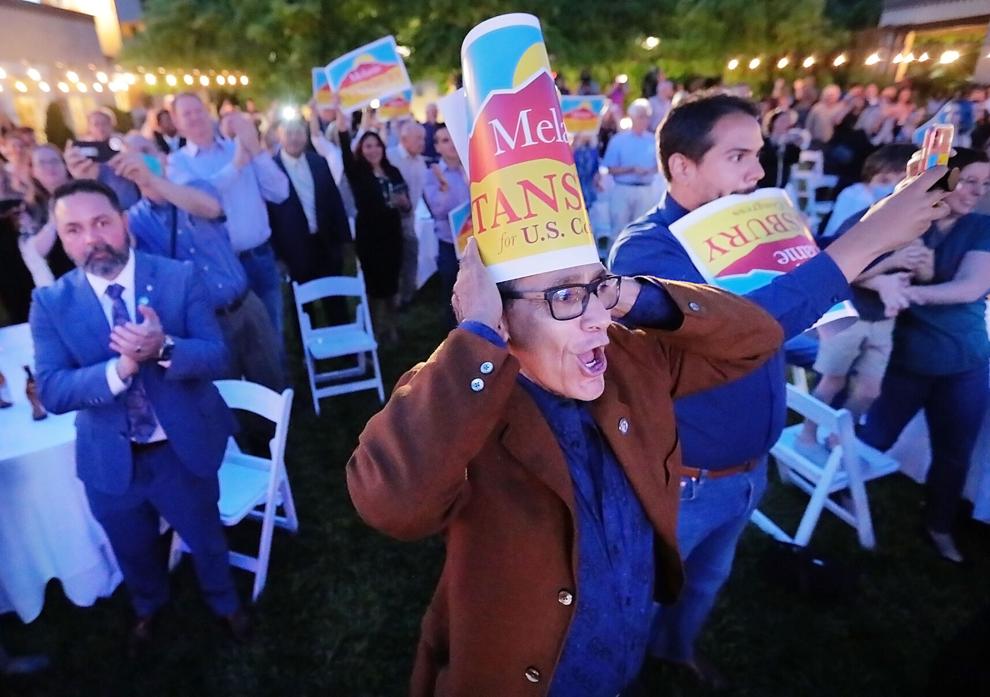 Stansbury, who planned to celebrate Tuesday night and possibly "sleep in a little bit" Wednesday, didn't know exactly when she would take office but figured it would be within weeks.
"It's very likely that it'll be on Monday [June 14] because that's the first day that they come back in session," she said.
While Stansbury and the other candidates ran different ground games, some voters who waited until Tuesday to cast their ballots were more focused on party affiliation than crime or other issues facing the district in deciding which candidate to support.
Laura Miller, an Albuquerque native who is a retired nurse, said she voted for Moores primarily because he's a Republican, though she believes he's a strong candidate who would help rein in Democrats in Washington.
"I have grandchildren, and the debts that they're going to incur is phenomenal, and it doesn't seem to matter," she said after casting her ballot at Sandia High School in the city's more affluent Northeast Heights.
"I apologized already to my children and grandchildren," she added. "I said, 'We had no choice in this. This is pathetic.' "
Miller said voter turnout in a district where Democrats make up 47 percent of the more than 458,000 registered voters — compared to 28 percent for Republicans — would be key to Moores' victory.
"When I talk amongst our Republicans, it's like enough is enough is enough," she said. "But having said that, of course, we know that New Mexico is a Democratic state, so I guess there's only so much we can do."
Ron Harrison, 53, a lifelong Democrat who has lived in Albuquerque for 12 years, said he didn't know much about Stansbury but voted for her because control of the U.S. House of Representatives is at stake.
"The balance of who is in office now is very, very important, so I wanted to come out to vote just so things stay on the right track," he said, adding he didn't consider any other candidate.
"I'm sure they're fine people, but, you know, I've always voted for Democrats," said Harrison, a San Francisco native. "I feel like they're just more in touch with what's happening in society and trying to help everybody."
In Albuquerque's South Valley, 63-year-old Tina Dixon said she voted for Moores because they share the same values.
"I'm a Christian and I follow Christian values, so I tend to go with the Republicans for that reason," she said.