Tesuque Elementary School had more than 100 students roaming its halls at the start of the 2018-19 school year. This fall, it had fewer than 70.
It's one of many schools in the Santa Fe district that has seen steep declines in that period, an ongoing trend accelerated by the coronavirus pandemic. Even south-side elementary and K-8 community schools, troubled with overcrowding in recent years as the city's population drifted away from the north and the east, have faced startling student losses, according to 40-day counts.
Sweeney Elementary lost 155 kids in those four years. Amy Biehl, 133. El Camino Real, 100. Nina Otero, 76. Ortiz Middle School saw a drop of 135 students, while the midtown Milagro Middle School — with a new $30.3 million campus that opened in 2019 — lost 110. The midtown Kearny Elementary lost 104 kids; Chaparral, 84; E.J. Martinez, 71. El Dorado Community School, in the sprawling subdivision south of Santa Fe, lost 89.
The latest 40-day count of 11,592 total students — or 11,176 so-called full-time equivalent kids — shows Santa Fe Public Schools has lost what could be more than 1,000 amid the pandemic.
That's enough to fill dozens of classrooms and several small schools.
With such a dramatic decline in students — and a crisis-level teacher shortage this year — is it time for the district to again consider closing some of its school campuses?
"We haven't discussed that," Superintendent Hilario "Larry" Chavez said. Instead, he is focused on bringing students back.
"The trend within the district has shown enrollment has been on the decline," Chavez said. "We see it, we're aware of it and we're doing everything in our power to make sure we can stabilize it."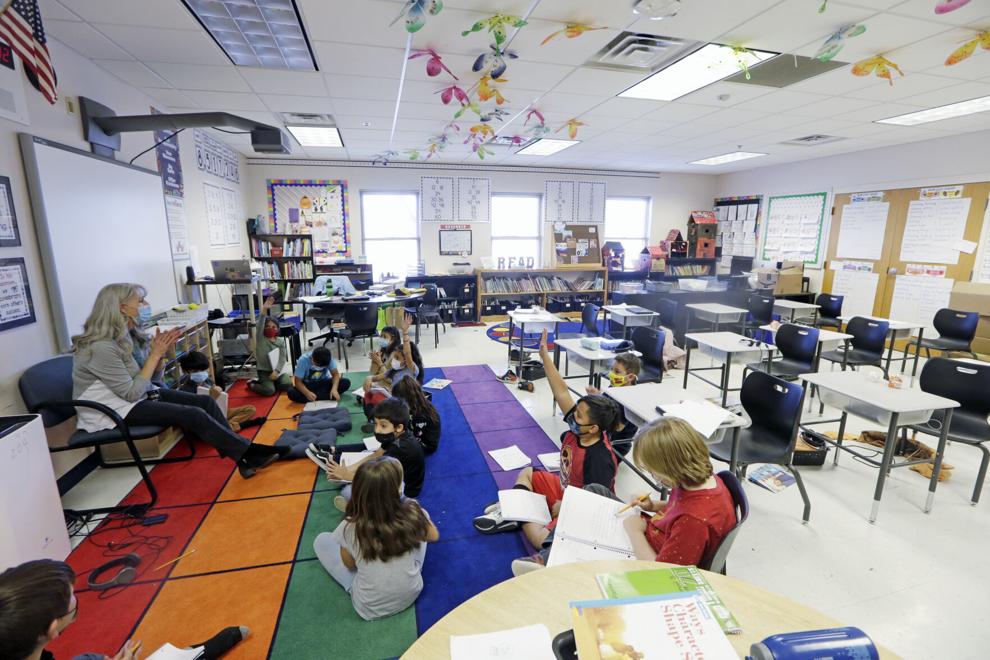 School board President Kate Noble said she doesn't see a need for fewer schools — but she noted an opportunity to reconsider the idea of geographical boundaries determining which schools students attend. She envisions filling classrooms of uniquely focused schools with students based on their individual needs.
For instance, she said, "Tesuque might be an incredible value proposition for kids who need that wraparound social emotional approach."
The four other Santa Fe school board members were silent on the district's plunging enrollment.
Newly elected Sascha Anderson declined to speak about whether she would consider closing schools to address the problem, while Rudy Garcia, Sarah Boses and Carmen Gonzales did not respond to multiple requests for comment.
Noble has said board members have an "agreement" in which only the president will speak with media, even when it comes to serious issues with district-wide effects.
Public schools statewide suffered unprecedented enrollment losses amid a pandemic that shut down schools — some for more than a year — and shifted classrooms to online platforms at a time when many families lacked adequate internet access for remote learning. State and school officials held out hope that thousands of the missing kids would return this year. So far, that hasn't happened.
While the New Mexico Public Education Department reported last week statewide enrollment numbers on the 40th day of school were flat — meaning there was little change from last year — Santa Fe Public Schools again saw significant losses. In 2020, the count was 560 kids lower than in 2019, a number that would grow to more than 600 and would cost the district $2.9 million in state funding. This year, the district saw a loss of another 425 kids on the 40th day. Administrators expect another funding hit, unless state lawmakers step in with a solution.
The school board last voted to close a school in 2016, when it decided to consolidate two middle schools to address declining populations and aging facilities. In 2010, it closed and merged three elementary schools.
School closure proposals, always controversial, have emerged in more recent years but have not succeeded.
In fall 2019 — before the first COVID-19 infections were detected — two school board members and the teachers union president pushed for the closure of three elementary schools, citing steady enrollment declines, aging facilities and equity issues across the district: overcrowded south-side campuses facing high rates of poverty and increasing numbers of English-language learners and tiny east-side campuses where more affluent families transfer their children. The measure failed. Maureen Cashmon, the board member who initiated the effort, did not run for reelection. Board member Lorraine Price, who supported the measure, died in August.
Compared to other large school districts in the state, such as Albuquerque and Rio Rancho, Santa Fe Public Schools has a much lower student-to-school ratio. Rio Rancho, with a student population in the 1,700s, lists just over 20 schools, while Santa Fe operates 28 of its own campuses and oversees the Academy for Technology and the Classics, a charter school serving grades 7 to 12, along with several preschool and special education programs.
The New Mexican only included students attending the 28 public schools in the 40-day count.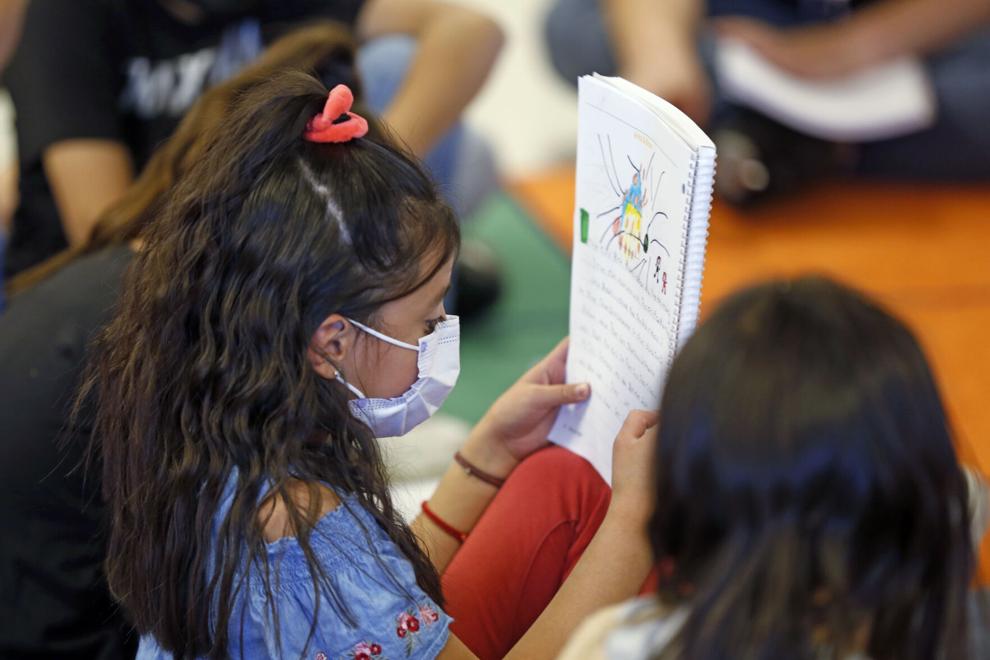 Noble said determining the "right" number of schools for a district is complicated. While operating fewer schools could lead to savings down the road, she noted closing schools bears financial and emotional costs upfront.
Chavez called Santa Fe's high number of schools a "trademark" of the district. He also cited stable enrollment or increases at some specialized schools, such as the Mandela International Magnet School, the online Desert Sage Academy and the Early College Opportunities High School.
Noble said she doesn't want to get ahead of a conversation about how to rethink school enrollment without community input, but she believes finding ways to "rebalance" schools based on their strengths may be key to reinvigorating the dwindling district.
"And if we can amplify those, I truly believe that we can attract folks back to the public schools and increase our enrollment," she added.
She noted the school board will have to draw new school zones in 2022 based on recent census data.
In the past, discussions about school closures largely were driven by budget shortfalls. A state funding loss due to lower student numbers this year would be much smaller than the $9.45 million projected gap in 2017 that first sparked fierce debate over a proposal to close two midtown elementary schools.
That year, the district considered shutting Nava and E.J. Martinez but tabled any action on the plan in the face of opposition.
The closure proposal by Cashmon and Price in 2019 added the east-side Acequia Madre Elementary to the list.
Administrators have blamed declining birth rates for the more gradual, long-term decline in the district's enrollment before the pandemic.
It lost nearly 1,400 students across all of its schools and programs in the six-year period between 2013 and 2019, according to the Public Education Department's 40-day enrollment data, compared to a loss of more than 1,000 in the last two years.
Noble pointed to another issue that could be driving away both families and educators: Santa Fe's soaring housing prices.
Santa Fe Public Schools tracked the hundreds of students who left last year and determined the highest numbers of kids went to neighboring districts, like Rio Rancho and Albuquerque, or transferred to state charter schools.
Others chose home-schooling or moved out of state.
The state-chartered Turquoise Trail Charter School south of Santa Fe saw record enrollment this fall, with 742 students from preschool and eighth grade, Head Administrator Chris Eide said.
Many kids have come from public schools, he added, though he declined to specify where new students previously were enrolled.
Some of those transfers enrolled in the online option at Turquoise Trail, which now has 75 students this year.
Santa Fe Public Schools may take another hit when the new south-side Thrive Community School opens in the fall for up to 160 kids in grades K-6.
Chavez acknowledged any new school will draw away public school students.
"You're going to see a loss in enrollment," he said. "It's just like opening a new store."