After a 24-year-old man with schizophrenia injured his social worker with a knife and barricaded himself inside his apartment, members of the Santa Fe Police Department's crisis negotiation team responded.
Police reports written by more than two dozen officers depict the tense standoff. Officers arrived at a central Santa Fe apartment complex off Miguel Chavez Road, the reports say, with several strapping on riot gear and rifles near an armored vehicle called a BearCat. A sergeant trained in crisis negotiation waited for a cellphone to arrive from the police station so negotiators could toss it into Apartment 1205 in hopes of communicating with the troubled man inside, Anthony Benavidez.
Two other members of the department's crisis team, including Sgt. Aaron Ortiz, were on their way when they learned they no longer would be needed. Ortiz later wrote in his report that he heard a radio dispatcher say "shots were fired and the suspect was down."
Benavidez died at a nearby hospital soon after two SWAT officers fired 17 shots at him through a window frame.
Santa Fe police Lt. Ben Valdez, one of the on-scene commanders, said in an interview after the incident that he sent in the five-member SWAT team to smash Benavidez's window to "open up other options" in order to stop the man's "ongoing deadly behavior."
Weapons prevailed over words in ending the standoff — an example of how police, even with a greater emphasis on training for such situations, still struggle to balance the dichotomy between force and de-escalation.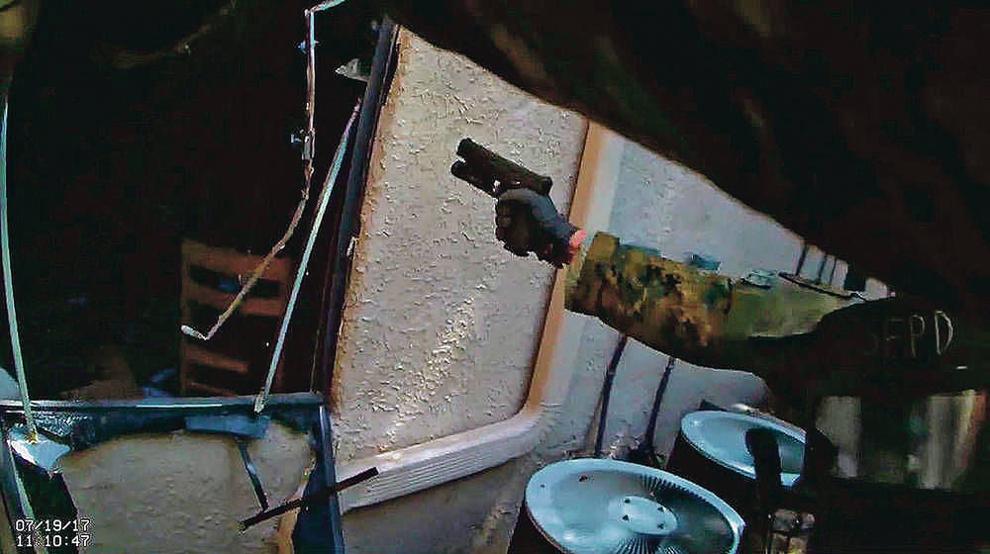 Despite dispatching trained crisis negotiators to the scene on the morning of July 19, the city of Santa Fe likely will face a wrongful death lawsuit over the encounter; an attorney representing Benavidez's family members said Thursday the family will sue the city.
In addition to the police crisis negotiators, four mental health professionals with Presbyterian Medical Services — who together have more than 90 years of experience in the field — also were on the scene that day to help Benavidez, The New Mexican has learned.
Cops and mental health experts agree encounters between officers and people with mental illness are among the most difficult situations for police — and that such confrontations often end badly. Studies show that between a quarter and half of people fatally shot by police across the nation have been diagnosed with a mental illness. And local law enforcement officials say as many as half of their encounters are with people experiencing mental health or substance abuse issues.
The Benavidez shooting notwithstanding, a review by The New Mexican of police training materials and interviews with law enforcement officials, as well as medical and mental health professionals, show there is the beginning of a cultural shift among the state's law enforcement leaders, who are now advocating for more training for officers in community policing, de-escalation and mental health. Much of the push for a different way to handle such incidents follows the outcry over the Albuquerque Police Department's fatal shooting in 2014 of a homeless camper with schizophrenia, James Boyd.
In Santa Fe County, law enforcement agencies are dispatching trained clinicians to encounters with people suffering from untreated mental illness and drug addiction. The teams are called Mobile Crisis Response Units.
The "hospitals on wheels" have helped de-escalate such encounters, academic studies have shown. And the clinicians said they serve as on-the-job trainers for Santa Fe officers who are picking up on techniques employed by medical professionals with graduate degrees.
The New Mexican's review shows all incoming Santa Fe police officers receive a basic, 40-hour training course at the New Mexico Law Enforcement Academy in ways to de-escalate confrontations. A national study of 42 states published in January says the length of such training — out of 675 hours of total training over 16 weeks — is at the top of the range for all states surveyed.
Of the 167 officers at the Santa Fe Police Department, 67 were certified as officers after the 2011 law requiring the 40-hour crisis intervention training went into effect, according to records provided by department spokesman Greg Gurulé. (Some officers also go through an FBI training course in crisis intervention).
Once on the job, New Mexico's law enforcement officers also are required to take a two-hour course in de-escalation and mental health once every two years.
One training video employed at the academy teaches officers to be more empathetic than authoritarian with suspects in crisis, and it informs officers that their very presence at a scene may escalate a situation.
"Right from the get-go out of the gate you can be increasing the level of anxiety just by showing up," said Paul Lilley, a training instructor.
Matthew Hirschtritt, a resident physician at the University of California-San Francisco School of Medicine who regularly treats people with schizophrenia, said psychotic disorders are often characterized by paranoia and hallucinations, both auditory and visual. Other possible symptoms include delusions, depression, lethargy and delays in speaking and in processing information.
"Obviously, for any of us, even if we don't suffer from psychosis, having armored vehicles and guns outside of your home is alarming," Hirschtritt said. "It's even more so, it's magnified, if you're paranoid and you believe that people are out to get you and that people are listening to you, or are trying to insert thoughts into your mind, or are able to steal thoughts from your mind."
Hirschtritt said the San Francisco Police Department recently launched an effort to train 100 percent of its officers in crisis intervention.
New Mexico State Police Chief Pete Kassetas, whose department is investigating the Benavidez shooting, said he believes a 40-hour training block at the Law Enforcement Academy provides adequate preparation for such encounters. But Kassetas added that the two-hour block of crisis intervention and mental health training that officers are required to take every two years is not sufficient.
"We can and we should do more," he said.
To illustrate his point, Kassetas emailed The New Mexican a state police mental health strategy update, saying his goal is to have 25 percent of his force trained in crisis intervention. According to the document, 49 state police officers who received such training responded to 61 calls for service from January to September.
A state police spokeswoman said Friday there are approximately 650 officers on the force.
It used to be that cops were "taught to apply pressure and always move forward," Kassetas said. "And now we're teaching officers to be smarter, to slow them down."
Santa Fe police Chief Patrick Gallagher agreed, adding, "There's never enough training on that issue."
Gallagher, who recently accepted the Las Cruces police chief position, acknowledged that time and distance work in officers' favor in such situations. But he said negotiation in Benavidez's case was complicated by two factors: Police had no ability to communicate with the man as he was barricaded inside the apartment — an attempt to call a cellphone number listed for Benavidez failed because the number did not work. And Benavidez had tossed potentially dangerous objects from the apartment window, including a propane tank with a firework attached to it and a bottle of liquid that smelled like bleach or ammonia.
"Had that not occurred, we could still be there today talking to him, and I'd be fine with it," Gallagher said in a September interview.
Local law enforcement do have significant help in dealing with people with mental illness. Since July 2015, local first responders have used the Mobile Crisis Response teams. The teams are run by Presbyterian Medical Services through a four-year, $450,000 grant from Santa Fe County. The units have responded to 523 calls in the county over 20 months, helping police stabilize individuals in a mental health crisis and link them with mental health resources after such encounters.
There also is a unit connected to Presbyterian Medical Services' Program of Assertive Community Treatment — a more intensive case-management team that cares for about 65 enrollees suffering from the most severe mental illness — people who often encounter police because of lack of treatment. The treatment program is separate from the Mobile Crisis Response Units, but its teams often include the same medical staffers who ensure clients are getting the mental health treatment they need.
Benavidez was one of those clients, said Mark Boschelli a clinical social worker and psychologist who administers the teams, and who was on the scene the day of the Benavidez shooting.
The Presbyterian Assertive Community Treatment program in Santa Fe consists of mental health professionals in psychiatry, nursing, counseling and peer advocacy — someone also living with mental illness.
Boschelli has been dealing with crisis situations involving people suffering from untreated mental illness for decades. Asked if he believes Santa Fe police are properly trained to handle such situations, Boschelli said even if officers receive the 40-hour basic training in de-escalation, "most of these officers have been out of the academy for a long period of time."
"Second of all, quite frankly, their job is to protect us from criminals," he said. "That's why they got in the business."
But Boschelli said law enforcement officers are picking up techniques used by Presbyterian Medical Services' clinicians, and he's seen about 40 percent of them display a keen interest in caring for individuals with untreated mental illness.
"So, most of the time they will stand around and pick up pointers, and they will use those skills later on," Boschelli said. "We've been surprised by that, but it's been pleasant to watch."
The encounter with Benavidez in July is the first time since July 2012, when the program launched, that a local Presbyterian team has responded to a call that ended with police shooting a client, Boschelli said.
Normally, he said, the teams see success in de-escalating such encounters by making them safer for both law enforcement and clients. Reduced hospitalizations, jail stays and suicide attempts countywide are among the teams' successes, Boschelli said.
"This is why it was such an aberrant experience," Boschelli said of the fatal shooting. "It had never happened before."
But police say it's not easy to go with de-escalation tactics when lives are at risk; Juan Valdez, the caseworker whom Benavidez wounded with a knife, said police may have saved his life that morning. Yet he said he wishes SWAT officers would have later backed off and given more time for Benavidez — whom he had known as a quiet man who wanted to be left alone — to compose himself.
Laura Schauer Ives, one of the attorneys representing Benavidez's family, contends Santa Fe police officers should have tried harder to have meaningful communication with Benavidez — not "barking orders" at him over a loudspeaker.
"They treated this young man in a mental health crisis like he was disposable," Ives said. "He deserved patience."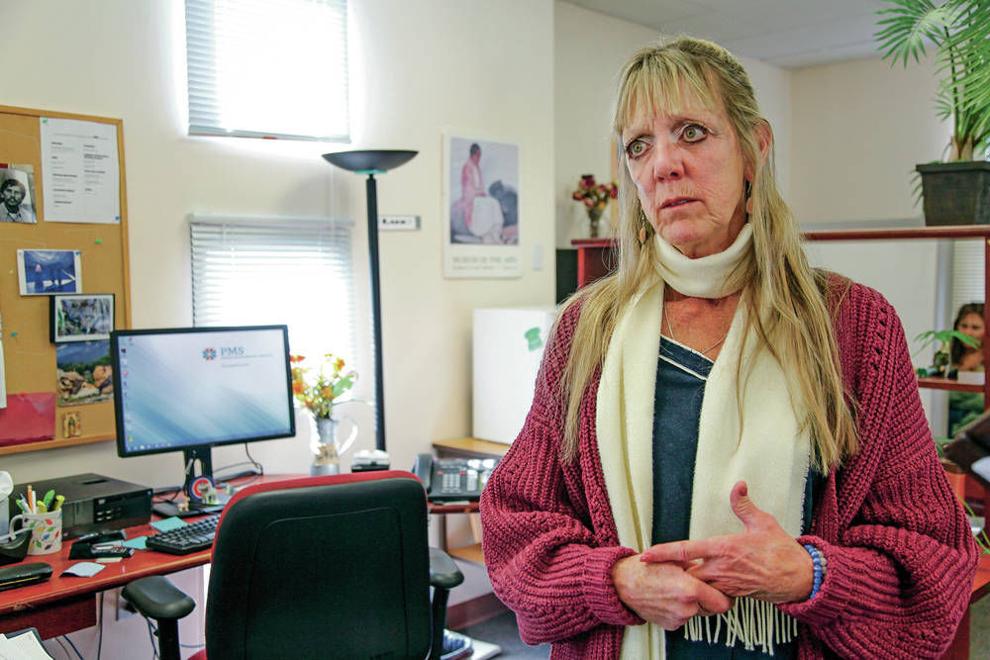 Luz Ovalle, Benavidez's psychiatric nurse, said three of the Presbyterian professionals on the scene after Benavidez wounded Juan Valdez each asked police to let them go into the apartment alone to talk to Benavidez.
"They didn't even give us a chance," she said.
The police department's Ben Valdez, no relation to Juan Valdez, countered that Benavidez's actions — throwing the items from the apartment, in addition to wounding Juan Valdez, according to police reports — prompted the need to send SWAT officers to break the apartment window, which had been tinted, in an effort to get a better view of Benavidez.
"One key part of crisis negotiation is you need cooperation with them," Ben Valdez said.
Santa Fe police Lt. Paul Joye, who has been with the department for more than 10 years, is one of the roughly 100 Santa Fe officers who have not received the basic 40-hour mental health training block at the academy. He said he hopes the training requirement at the academy helps new officers more quickly identify the state of mind of a person in crisis.
And yet, Joye says, the real training comes in the field.
"At the end of the day, we aren't psychiatrists, we aren't psychologists," Joye said. "So all we can do is work with the person based on how they're acting around us."
Both police and advocates for training acknowledge the stakes get higher. State police are investigating Benavidez's death, and a report is expected soon. In the Boyd case, the two officers who fired at him were charged in his death, but a jury was unable to reach a verdict. The district attorney decided not to retry the case, and the U.S. Justice Department declined to bring federal civil-rights charges against them. The city of Albuquerque, however, settled with the family for $5 million.
The specter of the Boyd shooting — and the fallout from it — are palpable.
"We need to note law enforcement isn't properly equipped to handle the problems of mental illness," wrote Elliott Guttmann, the legal director for the state Department of Public Safety in a 2016 newsletter item that discussed the Boyd shooting. "We accept that officers need to be held accountable. But state legislators also need to be involved and we need to be vocal about this. We need them for issues such as mental illness, a drug strategy, etc."
Hirschtritt, the UC-San Francisco resident physician, noted individuals like Benavidez, when confronted by police, are likely to be frightened. At the same time, he said, officers are trying to do their job in protecting the community.
"And again, hindsight is 20/20," Hirschtritt said. "I think this really gets to the heart of why this is a community-level intervention — and the need to really get on board before the crisis happens."