Colorado Gov. Jared Polis, the target of a recall campaign after only six months in office, has made time to start a war with New Mexico.
Fields of chile are the fertile battleground. They have given Polis something to crow about in his summer of discontent.
You see, Whole Foods Market is now selling chile from Pueblo, Colo., instead of New Mexico in most of the Rocky Mountain region.
Stores in Colorado, Utah, Idaho and Kansas are stocking their shelves with chile from Pueblo. Whole Foods stores in New Mexico will be the only ones carrying chile grown in Hatch and other rich farmland on New Mexico's southern border.
"We felt the time was right to make that move," Kenny Meyer, Whole Foods associate product coordinator in the Rockies, said in an email. "There is tremendous pride in Pueblo on their chiles. … I stand behind it since we personally had brought Hatch/New Mexico chiles to markets outside of Colorado for years. Now it's all about Pueblo!"
Polis, a Democrat, also favors exclamation points when instigating a chile war. He took to Facebook to brag about his state's peppers and denigrate New Mexico's.
"About time! Whole Foods Market will soon offer Pueblo Chile, widely acknowledged as the best chile in the world, in Colorado and throughout the Rocky Mountain region," the governor wrote. "… New Mexico stores will unfortunately not be offering the best chile and will instead keep offering inferior New Mexico chile."
Polis retreated when I asked if he stood by his statement.
"Some say Hatch and other New Mexico chiles are flavorful, but it is widely known that the Pueblo chile is the best in the world," he said in a statement Tuesday.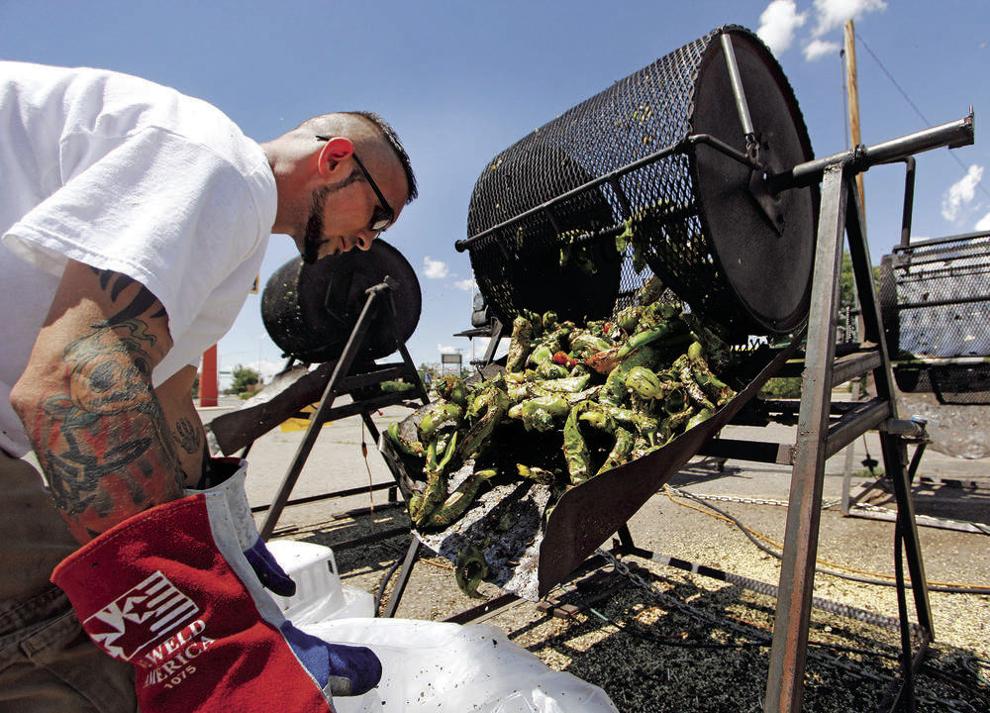 I also asked New Mexico's governor, Democrat Michelle Lujan Grisham, if she had a response to Polis' pronouncements. Lujan Grisham, who served with Polis in Congress, didn't hesitate.
"If Pueblo chile were any good, surely it would have been on national shelves before now. But if Gov. Polis wants to go chile to chile, I assure him New Mexico can bring the heat," Lujan Grisham said. "New Mexico Hatch chile is, has always been and will always be the greatest in the world. It's very sportsmanlike of Whole Foods to give an inferior chile a chance, but most importantly I'm glad to know that they'll still be carrying Hatch chile so customers around the country can continue to enjoy the best of the best."
State Rep. Nathan Small, D-Las Cruces, represents the Hatch Valley. He took Polis' jab more personally than Lujan Grisham did.
"The need to call names, that's just disappointing," Small said. "The Hatch brand of chile speaks for itself because of its worldwide acclaim. No amount of bluster or posturing will change that fact."
Hatch for years fought to protect its chile growers from unscrupulous competitors. New Mexico legislators even passed a law aimed at farms in Peru, India, China and Mexico that had labeled their chile as being from Hatch — a cheap marketing ploy to increase sales.
The New Mexico Chile Advertising Act of 2011 gave state agricultural inspectors the power to audit records of companies doing business in the state. Though the law was more symbolic than enforceable, it gave Hatch chile publicity across the globe.
Pueblo, about four hours north of Santa Fe, wasn't always marketed as a chile capital.
It is home to a steel mill built by the Rockefeller family. More than 6,000 people worked at the mill in its heyday.
Most of those high-paying jobs vanished in the early '80s. Crews tore down the blast furnaces that had created sort of a city skyline along Interstate 25.
A mini mill still exists. Steelmaking, though, no longer is bedrock of the city's economy. Once called the Pittsburgh of the West, Pueblo is better known now for chile than steel.
In the process, its politics have become less predictable.
With its blue-collar workers and labor unions, Pueblo was a Democratic stronghold. But it went for Republican Donald Trump in 2016.
His promise to revive cities with a decaying manufacturing base was welcome in a place that has spent almost 40 years trying to lure companies, often with incentives paid for with a special sales tax.
Polis founded ProFlowers.com, an online floral shop. His success as an entrepreneur impressed many of the same voters who believed Trump might be good for business. Pueblo backed Polis in last year's gubernatorial election.
The group trying to recall Polis must collect a staggering 631,266 valid signatures in 60 days to force a special election. It has a shoestring budget for a monumental job.
Polis looks safe. The insurgents trying to throw him out of office seem overwhelmed, and most of the enemies he's made this week don't live in his state.
From the governor's mansion in Denver, he's turned New Mexico chile into a burning issue and a welcome diversion.
Ringside Seat is an opinion column about people, politics and news. Contact Milan Simonich at msimonich@sfnewmexican.com or 505-986-3080.