Northern New Mexico got a glimpse of the future Saturday when a caravan of solar cars traveled through Santa Fe and San Miguel counties as part of a cross-country journey commemorating the Santa Fe National Historic Trail's 200th anniversary.
The vehicles were designed and driven by college students competing in the American Solar Challenge, a 900-mile road race that began Tuesday in Independence, Mo., and ended Saturday in Las Vegas, N.M.
Nine schools competed in the event, each with around two dozen team members. In addition to the solar car, each team had a convoy of three or four vans as well as a truck and trailer that carried the other crew members.
"It was just cool to be part of," said Sam Cheatham, a rising senior at Appalachian State University in Boone, N.C. "It's a project I'll be able to talk about for the rest of my life."
Soon, streets and highways will be filled with electric cars. Half of all vehicles sold in the U.S. would be electric by 2030 under an executive order signed by President Joe Biden on Thursday. And a bipartisan infrastructure bill being debated in the Senate contains billions of dollars for charging stations. The shift from gasoline-powered cars to electric vehicles would dramatically reduce carbon dioxide emissions, experts say.
The car operated by Appalachian State runs on a battery charged by a solar array on top of the car.
"It's a solar vehicle, but it works not that different from an electrical vehicle," Cheatham said. "A lot of teams are thinking of [the race] as an engineering challenge, which is great. But our school is focusing on it as a sustainability challenge and just trying to advance our knowledge and hopefully make it so we can be driving solar cars in the next few decades."
Appalachian State's squad was divided into business, electrical and mechanical teams. The electrical team designed the battery and power systems, the mechanical team worked on the body of the car to make sure it was street legal, and the business team was in charge of fundraising and logistical planning.
"It's been a really cool challenge to get everything ready," said Cheatham, who was part of the business team. "We were a little bit behind, but we pulled it all together at the last minute."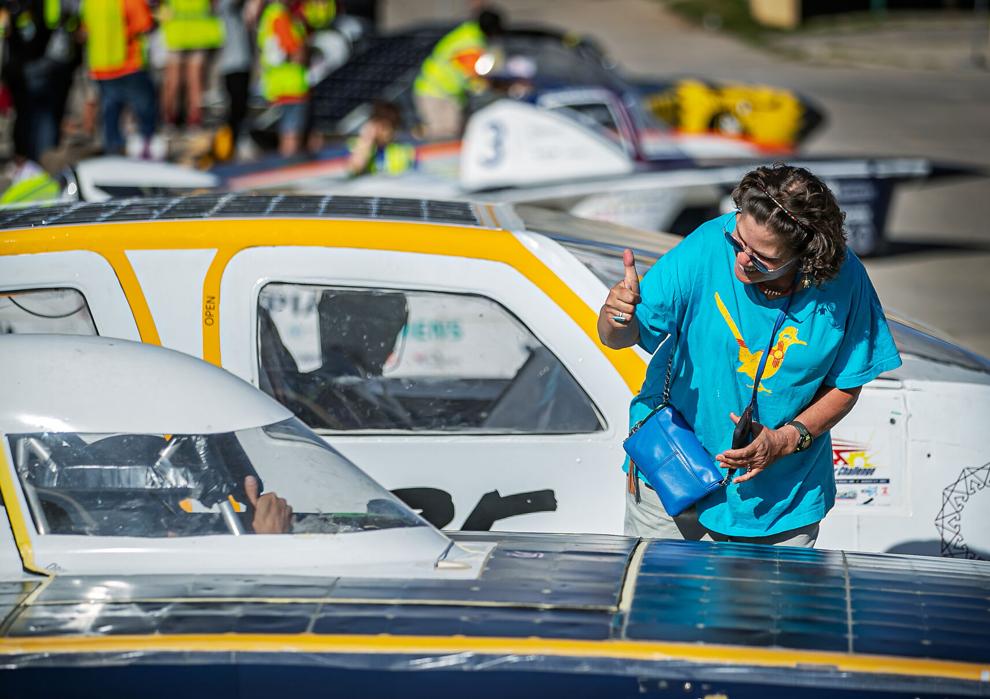 He said the most memorable moment of the trip was when the solar car went over the Raton Pass, a stretch of highway that gains 1,400 feet in elevation in about two miles.
"That hill was super steep," Cheatham said. "When we saw the car come over the hill, about half our team was already waiting at the top. To see it come over was pretty exciting. It felt like we had accomplished something big."
The race was a collaboration between the Innovators Educational Foundation, the National Park Service and the Santa Fe Trail Association. Gail Lueck, the event director, competed in the race when she was a student at the former University of Missouri-Rolla — now the Missouri University of Science and Technology.
"A lot of our volunteers out here are former competitors," Lueck said. "It got in their blood, and they wanted to keep the sport going. And that's the best way to do it."
Rebecca Lizarde, a soon-to-be sophomore at the Massachusetts Institute of Technology, helped manufacture her school's solar car.
She made a lot of friends on the team, and "overall, I would say it's been a really positive experience," she said. "I definitely want to do it again next year."