Heavy rainfall that has drenched Santa Fe and other areas of New Mexico for more than a week — causing some flash flooding and plaguing homeowners with roof leaks — was expected to give way to a dry weekend with warmer temperatures and sunshine.
The weather shift, following two days of rain that brought between half an inch and 1 1/2 inches of rain to various areas of the city, according to a weather forecaster, will come just in time for the opening of the Albuquerque International Balloon Fiesta and prime leaf peeping in the Sangre de Cristo Mountains.
There could be some lingering showers Friday on the plains of Eastern New Mexico, said Randall Hergert, a forecaster with the National Weather Service in Albuquerque, and the day was expected to be breezy. But Saturday and Sunday will bring calmer winds to Santa Fe with high temperatures in the upper 60s, possibly as high as 70, he said. "It's looking like a pleasant weekend."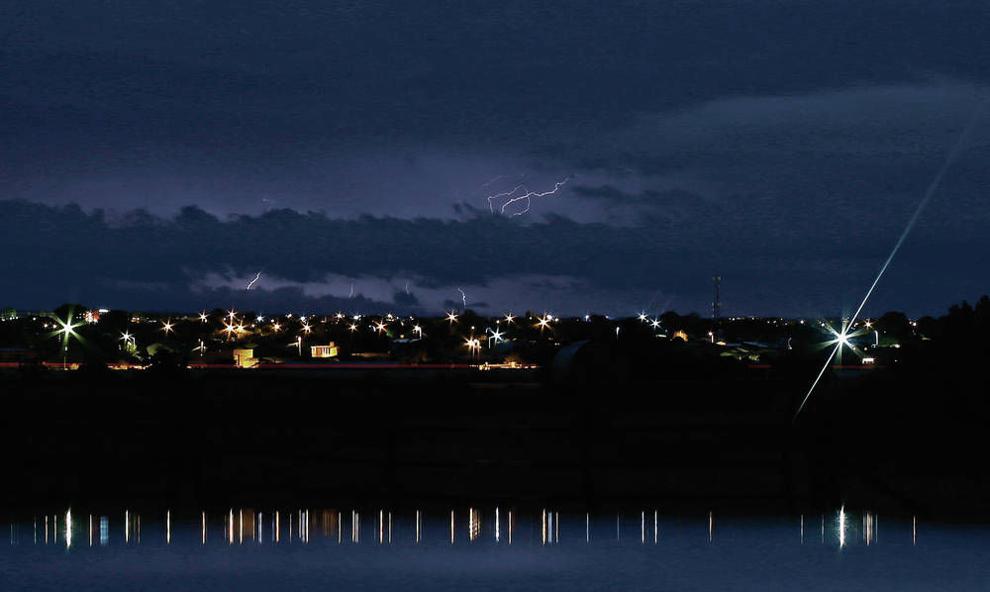 That was good news for balloonists, as well as locals and visitors hoping to attend events at the annual Balloon Fiesta, a nine-day hot air balloon festival in Albuquerque that kicks off with a mass ascension Saturday morning.
The weekend weather also should be perfect for those hoping to venture into the mountains to see fall colors, said Candy DeJoia of Ski Santa Fe. The ski basin will offer chairlift rides throughout the week, beginning Saturday.
"The leaves are starting to turn," DeJoia said. "They're just getting gorgeous. Some of the trees have a red pop to them."
The Super Chief Quad Chair will run from 10 a.m. to 3 p.m. daily. Tickets cost $15 for a round trip and $10 for one-way passengers who want to hike down the mountain. On Saturdays and Sundays for the next two weekends, DeJoia said, Ski Santa Fe also will host live music shows.
The Super Chief had been running on weekends in September, DeJoia said, but late-September storms led to some shutdowns.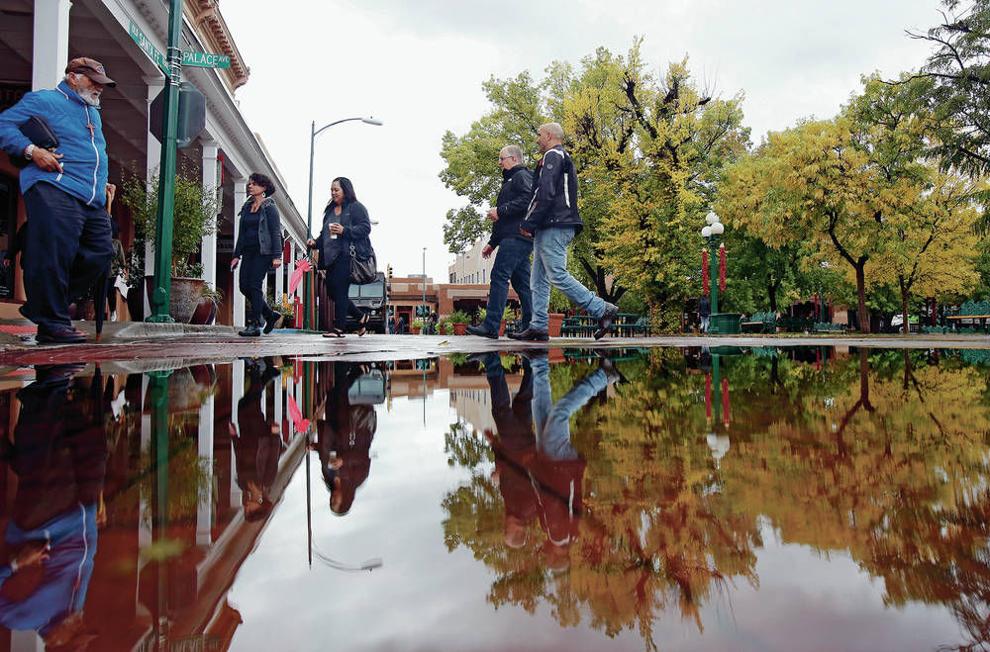 September was wetter than usual in the state, with rainfall levels totaling about 3 1/2 inches for the month, according to AccuWeather data. That's nearly twice the amount that fell in September 2016. Wednesday and Thursday's rain totals alone surpassed precipitation levels for all of October 2016, the data show.
Hergert, of the National Weather Service, said some of the heaviest showers Wednesday fell south of Santa Fe, between the village of Madrid and the Glorieta Pass, causing the Glorieta Creek to breach its banks. There also were reports of flooding on U.S. 550 between Bernalillo and San Ysidro, and in Clovis, he said, slowing traffic.
The late September and early October rains followed a late monsoon that, when the season arrived, largely sidestepped Santa Fe and instead hit the mountain ranges around the city.
The fall showers have helped stave off drought conditions throughout most of New Mexico — leaving just one dry sliver on the far western side of the state — and have left reservoirs with more water than usual for this time of year, just ahead of what experts say could be a fairly warm, dry winter.
But the moisture has been vexing for some homeowners.
An employee at Lopez Roofing Service in Santa Fe said the fall downpours, like most heavy rains, prompted a surge in calls about roof leaks. "They call you when it's raining," she said, and when snowpack on rooftops starts to melt.
JoAnn Lopez, who owns the roofing business with her daughter, said, "We have had a sizable increase in phone calls due to this issue. … When the weather is sunny, people kind of forget about their roofs."
Instead of waiting for the storms to discover leaks, she said, homeowners should check their roofs twice a year for damage, which can be caused by natural occurrences such as sunlight, hail and expansion during a hard freeze.
Lopez's advice for anyone who has noticed even a small leak in recent days: Have the roof examined before winter sets in. "The freezing weather comes, and it just makes it worse," she said.
A taste of winter could be coming Monday or Tuesday, Hergert said, explaining that forecasts show a cold front might drop a dusting of snow on mountaintops and "bring a nice fall chill into the northern half of New Mexico."
Temperatures will rise when the front passes, he said, "but it will still feel like fall out there."