From Silver City to Taos, birds are dying.
The state Game & Fish Department said it has received reports from all corners of the state about an alarming number of bird deaths, but officials aren't yet able to determine a cause nor estimate the scale.
"We started receiving calls a week ago on Tuesday the eighth and they haven't really stopped since then from all across the state," Game & Fish Department spokeswoman Tristanna Bickford said. "We can't say any official cause at this time. That would be pure speculation."
Wildfires could be changing migration timing or patterns and poisoning the air. The recent early freeze could have dampened feathers or killed off food sources.
The department's Santa Fe-based biologists have been collecting samples and receiving others from the public over the past week. Bickford said the department will send samples to the National Wildlife Health Center on Wednesday for an examination that could take anywhere from two weeks and three months.
As officials await results, surveys of other Western states indicate what's happening in New Mexico may be an abnormality.
"We are not seeing reports from biologist in neighboring states of similar mortality," Bickford said. "We have to wait to get those results back to confirm with facts what happened."
Hawks Aloft Inc. Executive Director Gail Garber said she thinks the common thread among the dead is they are insectivores. Both migratory birds and year-round local species, such as bluebirds in the Jemez Mountains, have been found dead.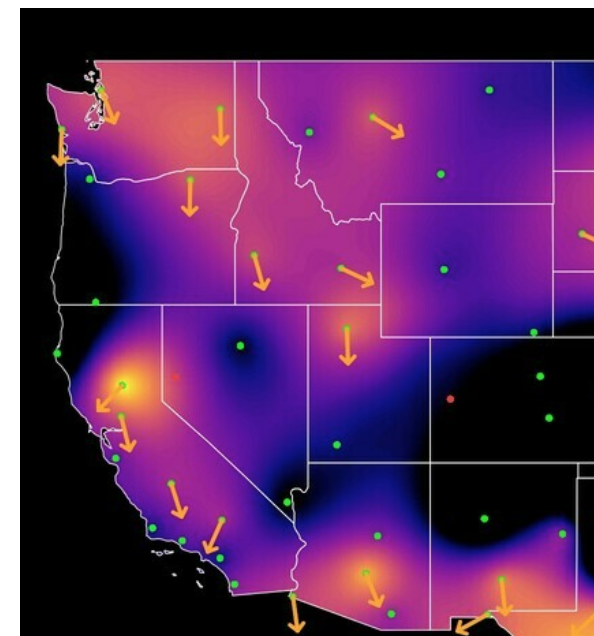 Garber, who heads the Albuquerque-based avian conservation and research organization, also points to bird migration maps on Birdcast.info, a joint-venture between Cornell and Colorado State universities as well as the University of Massachusetts-Amherst, from Sept. 8-9. They show large numbers of birds leaving the Pacific Northwest and heading southeast toward Mexico through the Rocky Mountains, when they might normally fly due south over California.
Those dates correspond with record wildfires raging in Oregon and California as well as a cold front from Canada that brought historic low temperatures to much of New Mexico last week.
"They could have been affected by toxins from those fires," Garber said. "They could have been forced to leave early without enough reserves. They could have been forced into a longer journey they weren't ready for. The cold front might have killed off insects to eat.
"I've seen it suggested that millions of birds have died," she added. "At this point, [it] will take more research to determine what happened, but it seems like it could be a perfect storm of a couple factors."