CIUDAD JUÁREZ — The road to the U.S. has long been dangerous for migrants. But these days, there's a new obstacle, and it's a formidable one: the Mexican National Guard.
Take Kevin Flores, a Guatemalan migrant who fled his home after gang members bashed his head, knocked out his front teeth and threatened to kill his kids. As he and his 18-month-old son approached the U.S. border in Ciudad Juárez earlier this month, he said Mexican soldiers ran after them.
"When I got tired, they grabbed my arm so I wouldn't flee again," Flores said later. "I prayed and asked them to let me cross and they said no."
Flores said the troops called Mexican migration officers, who detained them, kept them in a jail in Chiapas for several days and then sent them back to Guatemala.
On a second attempt, the pair was caught by Mexican troops in Oaxaca and again returned to their home country. It wasn't until a smuggler got them fake Mexican identification cards for a third attempt that they were able to traverse Mexico unscathed and cross into the U.S., where they requested asylum.
Since June, the government of Mexican President Andrés Manuel López Obrador has deployed thousands of troops to its country's southern and northern borders to crack down on migration. The effort has become one of President Donald Trump's greatest assets in his efforts to slow the flow of asylum-seekers coming across the Southwest border.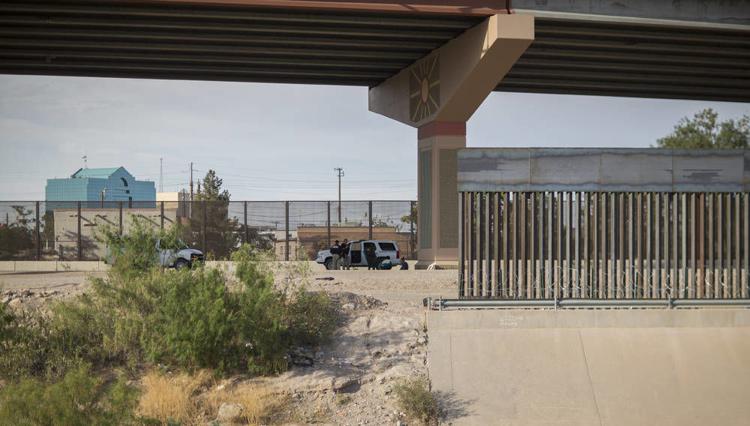 Mexico said this month the strategy has reduced the number of migrants reaching its northern border by 36 percent, while the Department of Homeland Security said cooperation with Mexico helped reduce the number of apprehensions on the Southwest border by 28 percent in June compared with May.
Some of the decline is likely due to the summer heat, when crossings typically decrease, but Homeland Security pointed out this year's May-to-June decline outpaced last year's by 11 percent.
The deployment is part of a deal reached in June in which Mexico promised to reduce the number of undocumented migrants traveling from Central America to the U.S. border. In doing so, it was able to avoid U.S. tariffs on Mexican exports that had been threatened by Trump.
"The [Mexican] National Guard has been very effective at stemming the flow," said Dylan Corbett, director of the Hope Border Institute in El Paso. "I witnessed them at the border restraining people."
In Juárez, dozens of National Guard troops can be seen patrolling Mexico's side of the dry riverbed that separates the border city from El Paso.
As an infernal, 100-degree sun beat down on a recent afternoon, troops were carrying black assault rifles and sweating under full-camouflage military uniforms.
Suddenly, as the troops stood watching, two female migrants appeared on the far side of the riverbed, walking slowly along the base of the tall, steel border fence toward a section where the barrier ends. One guardsman acknowledged their presence with a nod, and although these women were already too far across the river to be detained, the troops said they usually try to deter such people from crossing.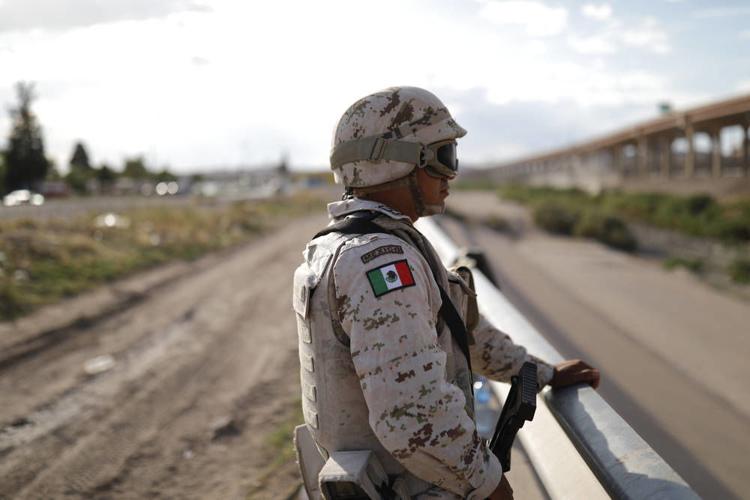 "Sometimes we run after them," one of the troops said, speaking on the condition of anonymity. "We invite them to stop and go to a shelter instead."
As the two migrants continued along the fence, one of them slowed, hunching over and coughing as the other pulled her along. They then turned the corner around the end of the fence, and sat down under a highway under construction, now clearly in U.S. territory. The woman who had fallen behind kneeled on the ground and appeared to be vomiting.
Soon, two U.S. Border Patrol vans approached, and three agents got out and spoke to the migrants for several minutes before the sick woman was able to stand. The agents detained them, put them in one of the vans and drove away toward a processing center.
While the Mexican troops failed at preventing these two migrants from crossing, there is plenty of evidence that they use a heavy hand. Flores said Mexican guardsmen spoke pejoratively to him and his son, using demeaning phrases, including a homophobic slur.
"I told them they weren't supposed to touch me," Flores said in an interview after he had reached a shelter in Deming, about 100 miles away. "They told us we were crazy. They said they had just eaten breakfast and they were going to charge us for it because now they had an upset stomach from chasing us. They treated us badly."
Last month, photographs circulated in the Mexican news media of guardsmen chasing and detaining female migrants.
Asked about the images in a June 25 press conference, López Obrador said troops didn't have orders to detain people and needed to "respect the human rights of migrants."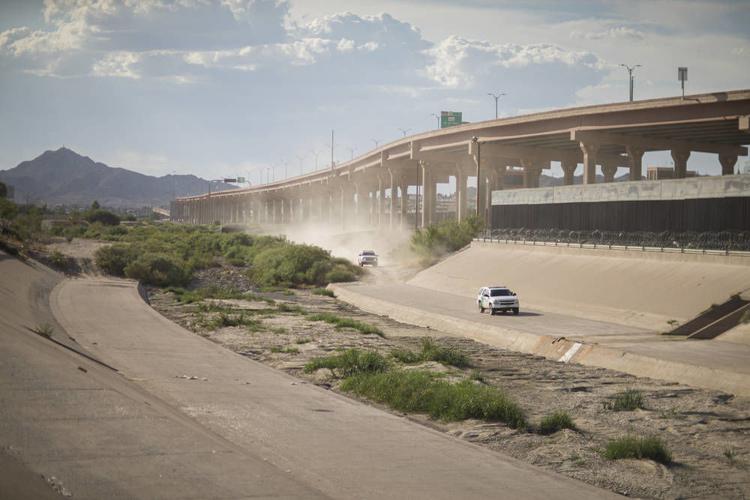 A guardsman in Juárez said that protocol was being carried out, claiming troops could not touch the migrants and emphasizing that they only "invite" them to stop.
"We have to respect their human rights," he said.
Last week, another image appeared in the media of a Mexican soldier holding a rifle pointed at the ground and standing between a crying migrant mother and the border.
Former Mexican President Felipe Calderón, who is a critic of López Obrador's immigration policy, retweeted the photo. "What a shame!" he wrote. "The Mexican government shouldn't have accepted this."
There has also been criticism from within López Obrador's own party over the policy. Porfirio Muñoz Ledo, president of Mexico's lower house of Congress, has called it unconstitutional.
"This is an electoral thing that is serving the type of reelection that Trump wants," Muñoz Ledo said last week, according to Mexico's El Universal newspaper. "I wouldn't have done it."
Yet much of the Mexican public appears to support the policy. A survey released this month by the Washington Post and Mexican newspaper Reforma found more than 6 in 10 Mexicans say migrants are a burden on their country, and 55 percent support deporting migrants who travel through Mexico to reach the U.S.
López Obrador's stance on immigration hasn't done much to hurt his popularity, which remains strong eight months after he took office. The same Washington Post/Reforma poll showed he had a 70 percent approval rating, down from 78 percent in a March Reforma poll.
Mexico's beefed-up collaboration with the U.S. has taken a toll on local infrastructure, staff and resources, too. That was apparent on a recent day at Chihuahua's State Population Council office, where director Enrique Valenzuela leads efforts to give migrants health care and basic supplies such as mattresses, blankets, pillows and goods for personal hygiene.
"Excuse me," Valenzuela said after yawning during an interview. "I haven't slept much for days."
Part of what makes the job so difficult for Valenzuela is that migration policies have been changing so often — and many of the changes have brought a heavier burden for Mexican officials.
For instance, Valenzuela's office is in charge of implementing the metering system in Juarez, which is used to limit the number of people allowed to apply for asylum at U.S. ports of entry. It has also had to help find shelters for the thousands of migrants who have been returned to Juárez under the "Remain in Mexico" policy, as well as helping the many undocumented Mexicans who are deported from the U.S. They're doing all of this while Juárez shelters are currently over capacity.
"This has been very exhausting," Valenzuela said. "Very demanding."
But Mexico's government shows no signs of diminishing its level of involvement in U.S. efforts to curb migration, and Trump has said the country may deploy even more troops. The current commitment seems to have satisfied the U.S. president and warded off any potential tariffs, at least for now.
"Apprehensions are way down because Mexico has now 22,000 soldiers," Trump said July 24. "They mean business because they know what happens; the alternative is not good for them."
Flores, the Guatemalan at the Deming shelter, said last week he was afraid he might not see his wife and daughter again. A smuggler had advised them to try to cross the border separately, and after Kevin and his son made it through, his wife and daughter remained stuck in Juárez.
Yet a couple of days later, his wife and daughter also crossed successfully, and the family reunited in Deming, where they planned to travel to another part of the U.S. to await court dates.
"I'm very happy because it's my wife and daughter, and I missed them," Flores said by phone from Deming.
A big part of that happiness was knowing they were no longer subject to Mexican National Guard patrols.
"We suffered a lot in Mexico," he said.